LADIES HELP LINE
1091, 1090
Woman Police Satation - 0755 - 2443860
...................................................................................................................................................
Woma Cell - 0755-8989016510,11
...................................................................................................................................................
Woman & Child Development Commission - 0755 - 2548599
...................................................................................................................................................
Police Control Room - 100
...................................................................................................................................................
Childline - 1098
..................................................................................................................................................

---
---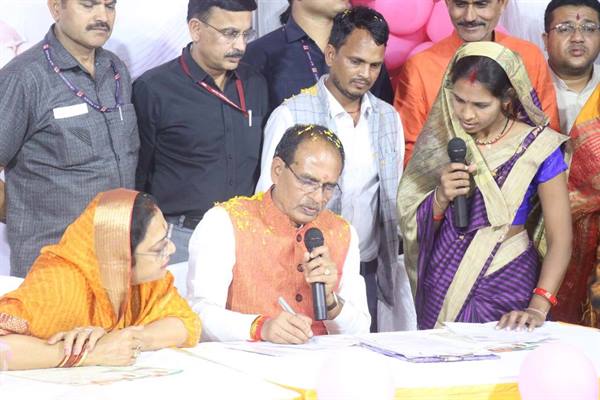 Ladli Bahna Yojana is a scheme that came from my heart: CM Shri Chouhan
Bhopal:MMNN: 28 March 2023


Bhopal.Chief Minister Shri Shivraj Singh Chouhan has said that Ladli Bahna Yojana is a scheme that came out of my heart, which will prove to be a boon for women. The aim of my life is to make the life of women simple and pleasant. After women have been empowered politically and socially, now it is my aim to empower them financially as well. In order to ensure that women do not have to face any difficulty for their small needs and need of money, Rs one thousand will be made available to them every month under Ladli Bahna Yojana. The Chief Minister expressed the confidence that the women will use this amount for the strengthening and betterment of the family. Chief Minister Shri Chouhan attended the camp organised for filling forms of Ladli Bahna Yojana in Salkanpur.
Chief Minister Shri Chouhan said that Ladli Bahna Yojana is a Mahayagya to increase the dignity of women. A strong women will lead to strong family, society, state and country. He said that the women need not go anywhere to apply for the scheme. Camps are being organised in every village-ward and staff has also been put on duty to help in filling the applications. He warned them not to fall in the trap of any middlemen and broker to take advantage of the scheme.
Chief Minister Shri Chouhan said that the women in the age group of 23 to 60 of such families whose annual income is less than Rs. 2.5 lakh and who have less than 5 acres of land, who have no income tax payees in their families, are eligible in the scheme. By getting the amount of the scheme, the whole family along with the women will be benefited. The women can fill the application forms till April 30. The applications will be scrutinized in the month of May and the first installment will be deposited in their bank accounts on 10th June.
Chief Minister Shri Chouhan said that our government is committed to the educational, social, economic and political empowerment of women. Mukhya Mantri Ladli Bahna Yojana has been made for the empowerment of women. The most important thing in empowerment is economic empowerment. If women have money, then they also have self-confidence and a sense of self-respect is also awakened. People's representatives including Chief Minister Shri Chouhan, his wife Smt. Sadhana Singh, former MLA Shri Rajendra Singh Rajput and Shri Ravi Malviya were present.

Women can fill the forms in the village itself and need not go anywhere

Chief Minister Shri Chouhan said that it is my duty to ensure that my sisters do not face any problem. Hence the application process in the scheme has been made very simple. The forms of the scheme are being filled in the wards of your village and city. Women do not need to go to Public Service Center or anywhere else. Forms are being filled by sending employees to all village and urban wards. He said that although the last date for filling the form has been kept as April 30, the camps will continue till the applications of all the eligible women are filled.

If someone asks for money, complain on CM helpline number 181

Chief Minister Shri Chouhan said that no fee is being charged for e-KYC. Rs 15 will be paid by the government to the respective Common Service Centers for one e-KYC. If someone asks any woman for money for e-KYC, then you can register a complaint by calling the CM helpline number 181. There is no need to give a single penny. E-KYC is being done so that the money goes into the accounts of only the women. Women can rest assured and need not worry.

CM fills the application of Smt. Pooja Malviya

Chief Minister Shri Chouhan filled the application of Smt. Pooja Malviya with the aim of informing the women about the process of application in the scheme and after completing the entire process of application, also gave her an acknowledgement. The Chief Minister said that the Samagra ID number and Aadhaar number are necessary for the application. Apart from this no other documents are required. During this, Smt. Pooja Malviya tied Rakshasutra to Chief Minister Shri Chouhan and wished him good health. Chief Minister Shri Chouhan blessed Smt. Pooja and offered her sweets.
---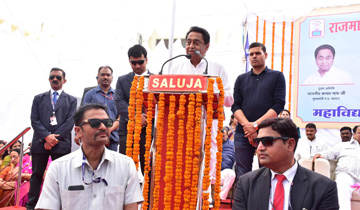 Girls should fulfill responsibilty of protecting social values: CM Shri Kamal Nath
Bhopal:MMNN: 20 February 2020

Bhopal.Addressing the Annual Social Gathering of Rajmata Scindia PG College in Chhindwara, the Chief Minister Shri Kamal Nath said that he has the responsibility for the development of Madhya Pradesh. He called upon the girls to fulfill the responsibility of protecting social values. Contribute to connect the future generation with social values. He said that the culture of unity and respect towards family values is the biggest strength of India. It is the responsibility of the girls to pass this culture to the next generation.
The Chief Minister Shri Kamal Nath said that when this college was established, he was a young parliamentarian, he did not have much experience, but had a dream to create a distinct identity of Chhindwara district in the state. He said that Chhindwara was totally different from today; there were no roads, no broad gauge railway line, the people of Paltalkot used to survive on flour of mango seeds and leaf vegetables. There were no colleges and skill centers in Chhindwara and no good institution for medical treatment and the farmers were living in poverty. The smile of the children was sweet, but there was a disappointment somewhere. He said that he took a resolution to remove that disappointment and create a new Chhindwara for the future generation and moving in that direction. The Chief Minister said that he did not make announcements but has worked. Shri Kamal Nath said that the development of Chhindwara district today is not hidden from anyone. He said that he wants to make Chhindwara a horticulture hub. It is also his goal to increase the means of transport.
The Member of Parliament Shri Nakul Nath said that he had a dream that Chhindwara should become an education hub. We are moving in this direction. The name of Chhindwara University has been included in the list of University Grants Commission. Referring to the changes and developmental works in various areas in Chhindwara district, Shri Nakul Nath said that we are making efforts to have police posts in all the colleges of the district.
On this occasion, the Chief Minister felicitated Kumari Prerna Dahriya, the state topper in the Lingua test and student of the Government Autonomous PG College and the girl students who have achieved feats in various fields. The programme was attended by former Head of State Advocates Association Shri Ganga Prasad Tiwari, former Minister Shri Deepak Saxena, Member of State Agricultural Advisory Council Shri Vishwanath Okte and distinguished citizens.
---
Madhya Pradesh tops in implementation of Pradhan Mantri Matra Vandana Yojana
Bhopal:MMNN: 31 January 2020


Madhya Pradesh has bagged the first position for the implementation of Pradhan Mantri Matra Vandana Yojana. Indore district has bagged the first place for better performance of the scheme. Along with this, the state has also got the third place for the implementation of Pradhan Mantri Matra Vandana Saptah which was observed in the state from December 2 to December 8, 2019. Minister for Women and Child Development Smt. Imarti Devi and Principal Secretary Shri Anupam Rajan will receive the award in New Delhi on February 3.
So far, total 14 lakh 55 thousand 501 beneficiaries have been registered under the Pradhan Mantri Matra Vandana Yojana. The first installment has been paid to about 13 lakh 40 thousand 224 beneficiaries, second installment to 12 lakh 60 thousand 304 and third installment to 8 lakh 80 thousand 517 beneficiaries.
The main objective of the Matra Vandana Yojana is to provide incentives in the form of financial compensation to compensate for the loss of wages of working women and ensure their proper rest and nutrition. The payment of the incentive amount is deposited directly into the bank account or post office account linked to the beneficiary's aadhar. The first installment of Rs one thousand on the registration of pregnancy is payable to the eligible woman beneficiary, the second installment of Rs 2,000 after at least one prenatal check-up (after 6 months of pregnancy), and the third installment of Rs 2,000 is payable after and the birth registration of the child and completion of the first round of vaccination.
---
National Girl Child Day to be celebrated on 'Jagruk Balika-Samarth Madhya Pradesh' theme
Bhopal:MMNN: 20 January 2020


The National Girl Child Day will be celebrated on 'Jagruk Balika-Samarth Madhya Pradesh' (Aware Girl Child-Enabled Madhya Pradesh) theme in the state under the 'Beti Bachao-Beti Padhao' (Save Girl Child-Educate Her) Yojana on January 24. Its aim is to create awareness among the people in the society about the rights of girl child and to provide her new opportunities.
The Women and Child Development Department will organize Division and District level programmes on January 24. On this occasion, exhibition focusing nutritious food, health, tribal welfare, education, sports, police, horticulture, agriculture and the service & schemes of the Women and Child Development. Films will be screened and painting competitions will be held during the programmes. Along with this, health checkup of girls will also be conducted.
National Girl Child Week to be observed on January 24
A National Girl Child Week will be observed by the Women and Child Development Department in the state from 24 to 30 January. During this week, important social awareness programmes like 'Beti Bachao-Beti Padhao' Signature Campaign, Mass Oath, Prabhat Pheri, Ghar-Ghar Dastak (Knocking at every door) by Aaganbadi and Asha Workers will be arranged, also stickers and posters will be pasted at Panchayat and Public buildings. Apart from this, posters and slogans on importance of girl child will be displayed at all the Government and Private Colleges/Universities. At Aaganbadi level, deliberations will take place on 'Beti Bachao-Beti Padhao'. Gender Champions will be selected and public awareness programmes will be held at local level.
During the National Girl Child week, audio of programmes like Nukkad Natak, Puppet Show, Jingles etc. will be broadcast on F.M. and Community Radio. Apart from this, plantation on name of daughters and drive for putting girl child's nameplate at her house will be held. Discussion will also take place on laws related to women rights, health and nutrition.
---
"तादात्म्य"
'Hardwire your brain for calm, confidence and contentment'
Bhopal:MMNN: 1 January 2020


How does a parent's mind influence the development of a baby before he or she is born?
What processes take place in the pregnancy period that influence the baby's developing mind?
•What can we do to cope up with stress, anxiety and entune ourselves to the higher source of energy.
•What practices can be learned to make a better pregnancy experience ever.
What can we do during pregnancy and the post-natal period to support parents who are experiencing difficulties.
A complete child is healthy physically and mentally .There could not be a better time to learn so
please join with us to know how you can manage the difficulties during pregnancy and be a compassionate parents.
On 8th January 2020 at Swaraj Bhawan Sabhagaar, Polytechnic square, Bhopal
Email -mindfulness@gmail.com
Connect with us-
9522560786
8109710625
( Organized by Being Mindful Living Foundation Bhopal)
---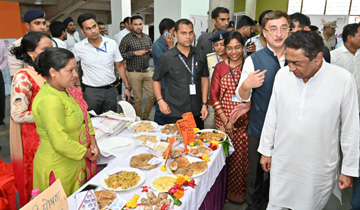 Government committed to protect the rights of women
Bhopal:MMNN: 21 September 2019

Bhopal.Chief Minister Shri Kamal Nath has said that the government is committed to preserving the rights of women. Women are capable of planned development along with building a family and society. It is necessary that we provide them the opportunity so that they can showcase their skills. Shri Nath was went around the Nutritious Food Exhibition of Women and Child Development Department in Jabalpur today. It was organized on the occasion of National Nutrition Month.
The Chief Minister said that the government is making constant efforts to empower women in the state. Their skills will be used in every field, so that the state can get the benefit of their skills. The Chief Minister signed a Sankalp Patra to preserve the rights of women on the occasion. He also released a CD prepared on nutritious food activities.
The Chief Minister also honoured Kumari Ishita Vishwakarma, brand ambassador of Lado Abhiyan who won the first place among girls across the country in the Saregama singing competition, silver medal winner in archery at the Asian Games and brand ambassador of POSCO Muskan Kirar and national kabaddi player Unnati Tiwari. The Chief Minister distributed certificates of Ladli Laxmi Yojana. He gave a cyclical amount of Rs 18 lakh 35 thousand to 150 women self-help groups of Livelihood Mission, community fund of Rs 36 lakhs to 48 groups and Rs 1 crore 36 lakh credit limit amount to 133 groups.
Energy Minister Shri Priyavrat Singh, Finance Minister Shri Tarun Bhanot, Minister for Social Justice and Disabled Welfare Shri Lakhan Ghanghoria, MP Shri Vivek Tankha, MLA and other dignitaries were present in the programme.
---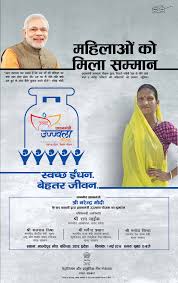 Ujjwala Yojana brings light into the lives of poor women.
Bhopal:MMNN: 17 January 2018


Fifty-year-old Shakuntalabai Sisodia of Chandana village in Dewas district would cook food from the leftovers from the khajur leaves with which she used to make brooms for a living. But due to the leaves, her house would be enveloped in smoke resulting in burning sensation in eyes and cough among all the family members. When she came to know about the Ujjwala Yojana she along with her friends applied for a free gas connection and soon got it. Earlier Shakuntalabai could make only 20 brooms a day. Several times the whole day would be spent in search for fuel and cooking. Now with a gas connection she cooks in a jiffy and does not have to go outside to collect wood. It has also helped to double her income. Similarly, Tarabai of Mukundkhedi in Dewas district would find it very difficult to cook food particularly in the rainy season as wood would be soaked in water and would not burn. The whole house would be enveloped in smoke, eyes full of tears and the family would have a tough time coughing. At times they even had to go without food. Same way, Rukmabai was finding it very hard to cook on wood and cow dung cakes. Their house had become blackened with constant smoke which left them embarrassed whenever guests came home. With free gas connections and stoves provided by the government, these poor women are now able to cook without wasting time. It has also saved their energy and they do not have to bear with smoke. Jasodabai of Tikakhurd had to suffer serious eye ailment due to smoke from wood. Now she is relieved. Like Shakuntalabai, Tarabai, Rukmabai and Jasodabai, 47 thousand 927 poor women of Dewas district have been provided with free domestic gas connections and stoves. Now these women are able to cook delicious food quickly. Their cooking utensils do not turn black and are easily washable also. Their houses do not get blackened and they do not have to suffer from burning of eyes and cough. Most importantly, time spent on collecting wood for fuel, cooking and washing utensils has been saved and they have all the time for themselves
---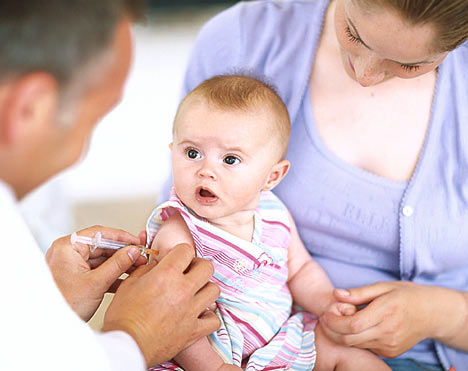 Vaccination of Children in All Women Jails in Next 3 Days
Bhopal:MMNN: 16 January 2018


First time in the country, vaccination of 4 children living along with the prisoners in women jail of Vidisha has been carried out under the Saghan Mission Indradhanush. Union Minister for Health and Family Welfare Shri J.P. Nadda lauded this activity on twitter. State Vaccination Officer Dr. Santosh Shukla has informed that vaccination of all the children living with the women prisoners in jails of the state will be completed during the next 3 days. All the necessary arrangements have been made for this. Vaccination of 2,66,821 Children and 56, 793 Women Over 47 thousand sessions have been completed under the 4 phases of Sghan Mission Indradhanush till now. Under these sessions, vaccination of 2 lakh 66 thousand 821 of new born babies up to the age of 2 years and 56 thousand 793 pregnant women has been carried out. Mission was started by the Prime Minister Shri Narendra Modi on October 8, 2017, after the different phases conducted in October, November and December, the last phase is being conducted from January 8 to 18. Union Minister Maximum Praised Madhya Pradesh Under the Saghan Mission Indradhanush, a group has been formed by the Union Government including Principal Secretaries, State Vaccination Officers of all the states and in this group, most of the tweets of the Union Minister in praise have been received by Madhya Pradesh. The vaccination team of Madhya Pradesh along with the people has reached families dwelling in the remote regions of the state for vaccination. Vaccination calendar is also being provided to the women after the deliveries in the hospitals to spread awareness. Families are getting their children vaccinated on time. State's 14 districts namely Alirajpur, Chhatarpur, Jhabua, Panna, Raisen, Rewa. Sagar, Shahdol, Sheopur, Sidhi, Singrauli, Tikamgarh, Vidisha and Indore (Urban) are included in the Saghan Mission Indradhanush. Children are being given vaccination for diphtheria, whooping cough, tetanus, polio, BCG, T.B., measles et
---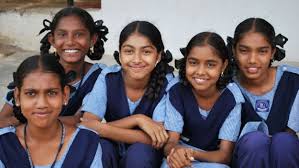 Highest Girls born in Bhind district known for its lower Girl Child Population.
Bhopal:MMNN: 11 January 2018


Integrated and constant efforts of the State Government, PCPNDT, Collector, Women and Child Development Department for the last few years have yielded positive results in Bhind district. According to census-2011, Bhind was the district with the lowest sex ratio in Madhya Pradesh. The district, once was at the bottom not in the country but in Asia for its lowest sex ration, is now writing a new script. The highest number of girls born in Bhind district among the districts of Beti Bachao-Beti Padao campaign. According to the 2011 census, there were only 896 daughters on one thousand boys in Bhind, the figure now has reached 929 in the year 2017. In Bhind district, 13,829 girls and 15,050 boys were born in the year 2014-15. There was a difference of 1221 in both. In the year 2015-16, there were 16,231 boys born and 14,547 girls and there was difference of 1684. Next year, in 2016-17, 13,797 girls were born, and there are 14,845 boys born and the difference between two genders was reduced to 1,048. In order to remove disparity between girls and boys in Bhind district and create public awareness, Beti Bachao-Beti Padao Chauraha was constructed under the guidance of authority of PCPNDT and collector. The spots at Squares were successful in communicating silent ethical message to all passers-by. Regular meetings of PCPNDT under the collector's leadership were held. Special discussions were held by collector on implementation of Ladli Laxmi Yojana in the review meetings. The villages, where girls could not live up to the age of five years after birth by conducting special studies to find out reasons of deaths of maternal and infant mortality rates, were earmarked. Special attention was paid to these villages. In the year 2015-16, police action was taken by carrying out sting operation at illegal abortion racket in Bhind under PCPNDT Act under the guidance of Bhind Collector and Superintendent of Police. Case is pending in the court. Such actions put control over illegal abortion racket. Girls making the district proud were made brand Ambassador of Beti Bachao-Beti Padhao Campaign. Posters of these girls, who were selected in sports, prestigious services were displayed at public places and they were awarded in the programs. Winner of National and International Canoeing-Kayaking Competitions, Ku Puja Ojha was feted on the arrival of chief minister on December 18. Gauri- Kaksh was constructed at district hospital in Bhind and there, aadhar card of mother giving birth to girl child, providing mamta kit on priority to mother after delivery and opening of bank account on zero balance was opened for providing amount of Janani Suraksha Yojana. The Superintendent of Police and other officials of the district adopted the meritorious girls and provided economic help and worked for their progress and to increase respect for girls in the society. Free Sankalp coaching was launched for preparations of public service commission and union public service commission examinations on the initiative of collector. The girls were given priority and motivation for preparations for the prestigious service examinations. Special vigilance was carried out in execution of all schemes for caring of girls. District registered first case against female foeticide in Country Sarpanch of village Kharoa, Shri Ram Akhtia Singh Gurjar, informed the police about the killing of new born girl child by former Sarpanch Shri Suryabhan Singh Gurjar in Bhind, defamed for the highest sex ratio after birth in Asia. It was first time in the country that first case under 302 of IPC was registered for the killing of new born child.
---
District-level Women Self-help Groups Sammelan from January





Bhopal, 20 December 2017


Chief Minister Shri Shivraj Singh Chouhan said that district level camps of women self-help groups should be organised. The work of depositing Rs 1000 every month in the bank account of women belonging to Special Backward Tribes like Sahariya for nutrition of children should be commenced from December 25. Shri Chouhan was reviewing the announcements made at the Women Self-help Groups Sammelan at the Mantralaya. He instructed to ensure compliance of the announcements within the prescribed time limit. Chief Secretary Shri B.P. Singh was also present during the review. CM Shri Chouhan said that a new force is emerging in the form of women self-help groups towards strengthening women financially and put an end to social injustice. The need is to give it the right direction. To link financial activities of women self-help groups, their help should be taken in works like marketing and packaging and facilities should also be made available to them. District level women self-help group sammelans should be organized in all districts from coming January to March. The Chief Minister said that the work of branding of products of self-help groups is must. He himself will inspire people to use products of local self-help groups in programmes organized at the district level. He said that the Take Home Ration Nirman Yojana is a unique initiative of empowerment of self-help groups. Its successful implementation will be an important work towards empowerment of women. The responsibility of running the factory of Take Home Ration Nirman of the women SHG federation will prove to be an effective source for economic and social empowerment of women. Shri Chouhan said that all departments should work towards malnutrition on war footing. Camp should be organized at Karahal in Sheopur district on December 25 on the occasion of the birthday of former Prime Minister Shri Atal Behari Vajpayee for battle against malnutrition. A health examination camp will be organized on the occasion. Availability of pulses at low rates for nutrition will be made. The Chief Minister was apprised with the progress of work related to compliance with 17 announcements made during the women self-help groups sammelan by Principal Secretaries of 9 departments. On the occasion, information was given about compliance with 2 announcements by Women and Child Development Department, 3 each by Farmers-Welfare and Agriculture Development Department, 6 by Panchayat and Rural Development Department and one each by Finance, Commercial Tax, Energy, Urban Development and Housing, Tribal Affairs Department.
---
Conduct Campaign to inform about Laws made for Girls' Security: CM Shri Chouhan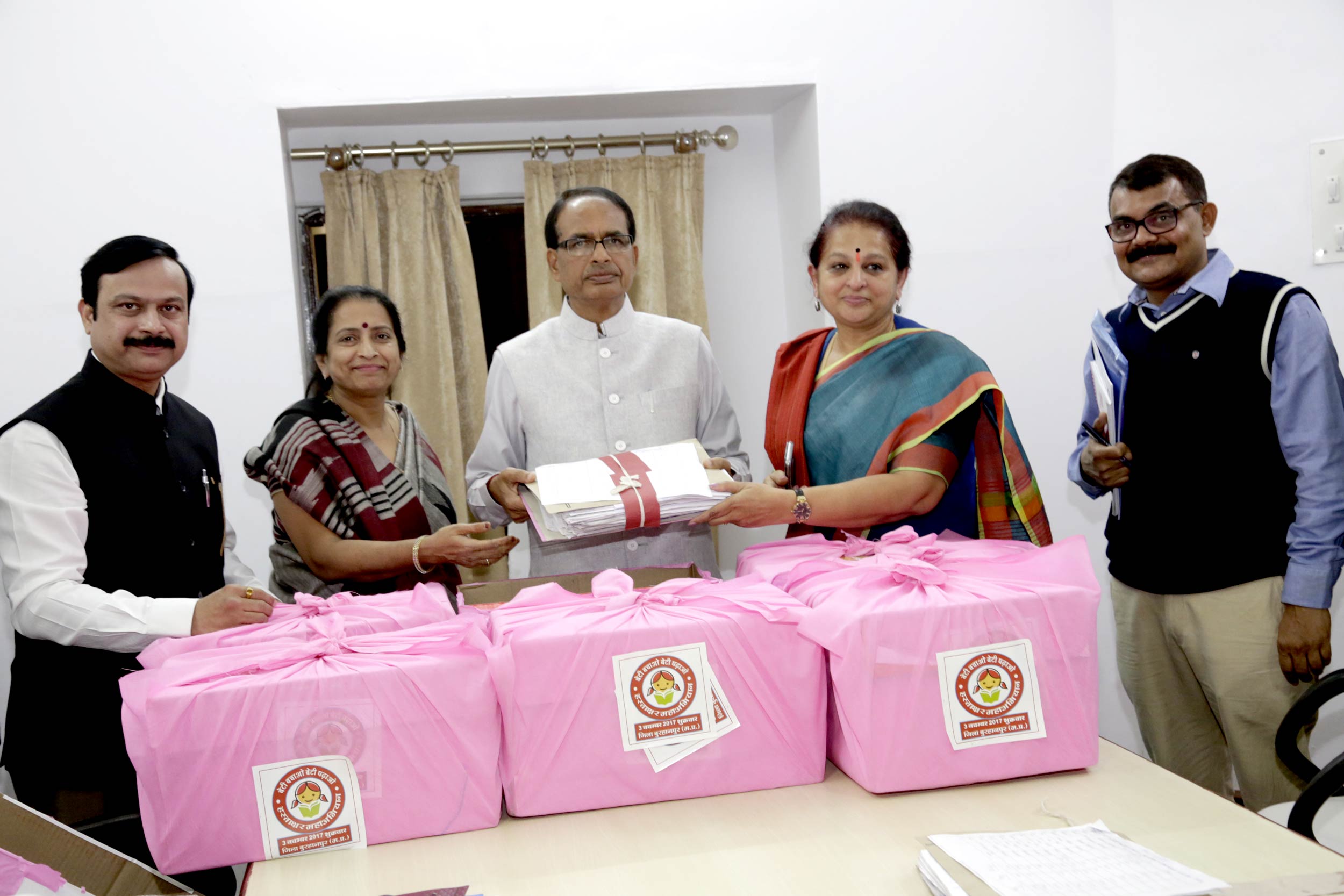 Bhopal, 20 December 2017


Chief Minister Shri Shivraj Singh Chouhan instructed to conduct a campaign for providing information on laws made for the security of girls. Shri Chouhan was presented with the pledge letters by the Minister for Women and Child Development Smt. Archana Chitnis here today. The pledge letters were signed by the citizens under the signature campaign conducted for 'Beti Bachao-Beti Padhao' in Burhanpur district. It may be mentioned that the large signature campaign was conducted for 'Beti Bachao-Beti Padhao' in Burhanpur district recently. Over 1205 signature booths were set up for this campaign. One thousand 300 Sahayata Dal were formed with the cooperation of government and non-government persons. Total 6 lakh 53 thousand 330 pledge letters were signed under the campaign. Lauding the signature campaign, Shri Chouhan has issued instructions to the women and child development department to prepare the signature campaign for the entire state. Moreover, Shri Chouhan said that the state government and the society must work together to protect the dignity of girls, for their education and progress. He also instructed for conducting small sessions to inform about the women empowerment related laws to the participants of signature campaign. Giving instructions for making this signature campaign as the public campaign, Shri Chouhan said that activities like celebrating girls' birth and social boycott of eve teasers must be implemented on priority. Commissioner Women and Child Development Smt. Jaishree Kiyawat, Collector Burhanpur Shri Deepak Singh and Senior officers connected with the campaign were present on the occasion.
---
Adivasi woman farmer adopts modern farming technique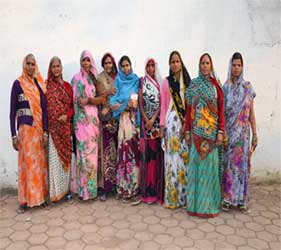 Bhopal, 19 December 2017


State government has advised farmers to take traditional crop besides horticulture crops to make farming a beneficial profession in Madhya Pradesh. Adivasi woman farmer Chintabai of Vicharpur village, about 20 kms away from Shahdol district headquarters has benefitted after adopting modern farming techniques. Chintabai would grow vegetables earlier on land taken on contract and would earn benefits from the sale. Later she purchased 4 acre land at Vicharpur village and obtained Rs 50 thousand for installing a tubewell under the scheme. Owing to her inclination towards growing vegetables, the Department of Agriculture and Horticulture imparted training to her in vegetable production. She was advised to adopt modern Shankar seeds. She was also told how she could take crops that needed less water. Chintabai learnt the modern production technique and grew several vegetables in her 4-acre land including cauliflower, cabbage, onion, potato, garlic, bitter gourd etc. The yield turned out productive as she had adpoted modern farming technique. Today she is selling vegetables from her field and having a good income. Now she is able to spend for her children's education also. She has got a pucca house constructed near her field. Chintabai has now set an example for other women.
---
Equality for women does not mean like being men: Smt. Chitnis





Bhopal, 10 December 2017


Women and Child Development Minister Smt. Archana Chitnis said that equality for women does not mean like being men. Women have special place which the society accepts. She said that women's priority should not be considered as their weakness. if, woman, because of maternal related reasons, gives less time to some activities in special period, it is not their weakness, but they have special rights and they must be seen in sensitivity to their priority. Smt. Chitnis said that we have to develop way of thinking, according to our environment, rich and healthy traditions. It is great challenge to be free from colonial mindset that describes our past as full of darkness. Smt. Chitnis was addressing workshop on women's rights are human rights on International Human Rights Day, which was organised by Madhya Pradesh Human Rights Commission. Woman and Child Development Minister Smt. Chitnis said that laws are necessary to create fear among people with criminal mindset. Special campaign will be launched through Shaurya Dal constituted in 92, 000 Aaganwaris in the state to create awareness for laws framed for providing security and empowerment to women and their woman rights. Smt. Chitnis said that Chief Minister Shri Shivraj Singh Chouhan has clearly instructed that FIR of every woman victim, who reach police station, should be lodged. Addressing the workshop, Justice JP Gupta said that the UNO has set a time limit for achieving the goal of women empowerment by 2030. He explained the need for extension of legal process and rights in the rural areas, especially in Scheduled Castes, scheduled tribe dominated areas. Shri Gupta said that 40 percent cases in courts are related with woman harassment and in which percent of dowry and domestic violence cases are higher. Shri Gupta pointed out a need for making laws and process practical. Addressing the workshop, the acting chairman of the Human Rights Commission Manohar Mantani said that increase in crime against women is a matter of concern for the government as well as for the society. He said that we all have to be involved in this direction. There is a need to change mindset of a person and society. Tendency to raise protest against woman harassment and break silence will have to be promoted. Shri Mantani underlined need to set up permanent system for speedy redressal of crimes against women. He expressed views on lack of continuing education by women, live-in-relationship and PCPNDT Act. Member of Human Rights Commission Shri Sarabjeet Singh said that role of parents, providing equal environment to boy-girl and boosting confidence in girls are required. Regarding woman rights, he said that execution of laws framed in this regard, change the way of thinking of society will be effective. Principal Secretary, women and child development department Shri J.N. Kansotiya said that there is a need to take initiative in social security of women, higher education along with defence from violence, issues related with nutrition and equal wages. On the occasion, first prize was given to Ku. Sumayara Yasin in competition of article writing on 'Mahilaon ke Adhikaar Manavadhikaar hain'. Souvenir published by Madhya Pradesh Human Rights Commission was also released. Justice of Madhya Pradesh High Court, Jabalpur Shri J.P. Gupta, Acting Chairman of Human Rights Commission Shri Manohar Mantani, Member of Human Rights Commission Shri Sarabjeet Singh, Principal Secretary, women and child development Shri J.N. Kansotiya, Additional Director General of Police Smt. Aruna Mohan Rao and other subject experts were present in the programme held in Jagran Lake City University.
---
Life Becomes Marvelous with Beautiful Face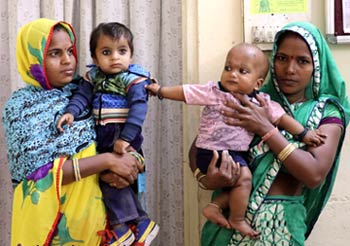 Bhopal, 29 September 2017


The Rashtriya Bal Swasthya Karyakram (RBSK) has proved to be a blessing for the children leading life with cleft lip and other deformities. Deformities of thousands of children have not only been treated but their confidence level has been boosted for a good future. Shrimati Suman Ojha of Guna, a mother of one and a half year old Dev says, that her life has changed on seeing her beautiful childs face after surgery. First of all, it gave her pain to see the deformed face of the child along with the taunts of the people and to top it all lack of funds for such a major operation were like a horrific dream. When she consulted the local doctors during these difficult times, her case was forwarded to the health department. The Officers of the Health Department not only got her son's free surgery done for his cleft lip and palate in a prestigious medical institute of Bhopal, but also all the expenses towards travelling, lodging and medicines were borne by the medical institute. Suman who used to be filled with pain and sorrow on seeing her son, after the surgery feels that her son is the most beautiful child in the world. The tale of Rashmi, a resident of Guna is the same as that of Suman. The nine month old son, Vedansh had a neural tube disorder on the skull. People used to talk indifferently about her sons deformity which pierced her heart always but it was not possible for her to bear the expenses of the costly surgery, owing to her poor economic condition. On getting information about RBSK, she contacted the Health Department. Rashmi came to Indore with Vedansh and got her son operated free of cost. Today her son is free of any deformities. Rashmi is happy that her son will not have to bear the pain of this deformity when he grows up. It may be mentioned that free surgeries of 112 children have been carried out in Guna district under the RBSK. Free treatment is given to the children aged between 0-18 years under the Rashtriya Bal Swasthya Karyakram.
---
Livelihood Mission Becomes Medium of Livelihood of Imrat Bai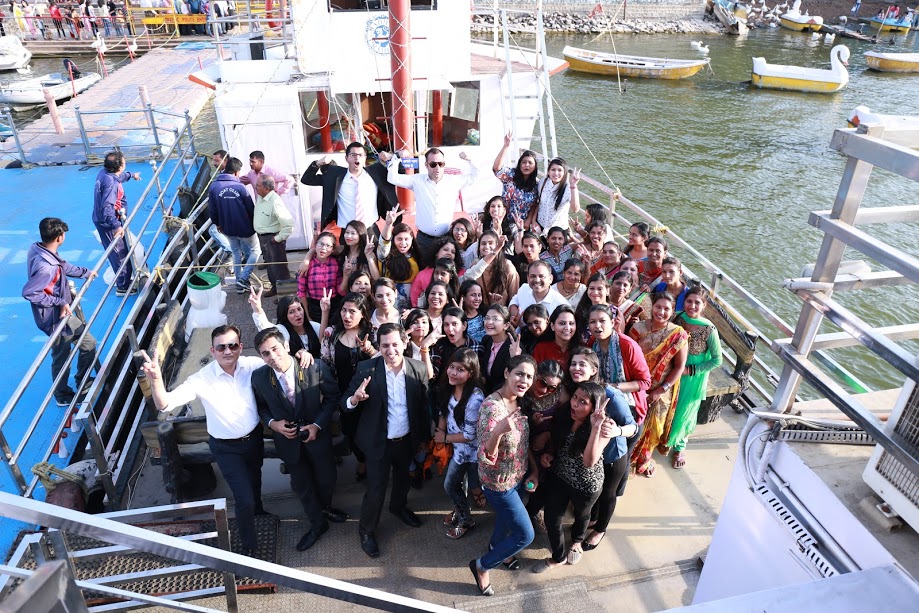 Bhopal, 28 September 2017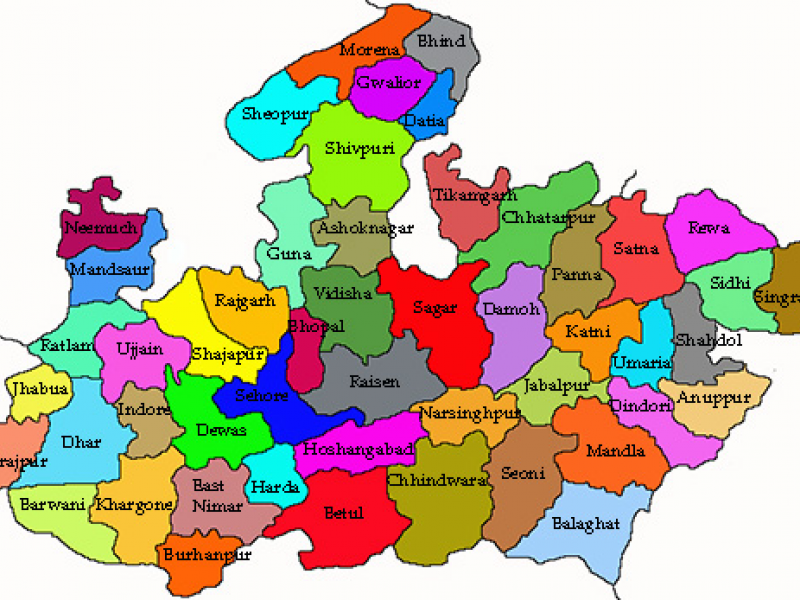 Madhya Pradesh Livelihood Mission has become a good medium of livelihood for needy persons of the rural areas. A live example of this can be seen at village Virpur of Sironj block situated in Vidisha district. Imrat Bai, a resident of village Virpur used to make her familys both ends meet by traditional farming. Officers of the livelihood mission reached the village and advised her to work by forming a group. Imrat Bai formed the group and sowed chilies through drip mulching method in one bigha land by taking economic assistance from the group. She earned a profit of Rs. 60 thousand from this venture. Moreover, she earned an income of Rs. 80 thousand by vegetable production which increased her enthusiasm. Furthermore, Imrat Bai purchased masonry tools for her husband Ramdayal by taking money from the group. Hard labour of husband and wife together improved the economic condition of the family. Her family used to work in the agriculture fields of others earlier, today this family has become economically strong through their own work. As their income grows, they have purchased tractor trolley through bank loan. Now they are counted among the prosperous people of the village. This group of Virpur has availed benefit of bank linkage owing to its continuous dealings with the bank. Women of other nearby villages have received inspiration from the success of the Virpur group. These women are also being advised by the Madhya Pradesh Livelihood Mission.
---
Dangal girls being prepared in Indore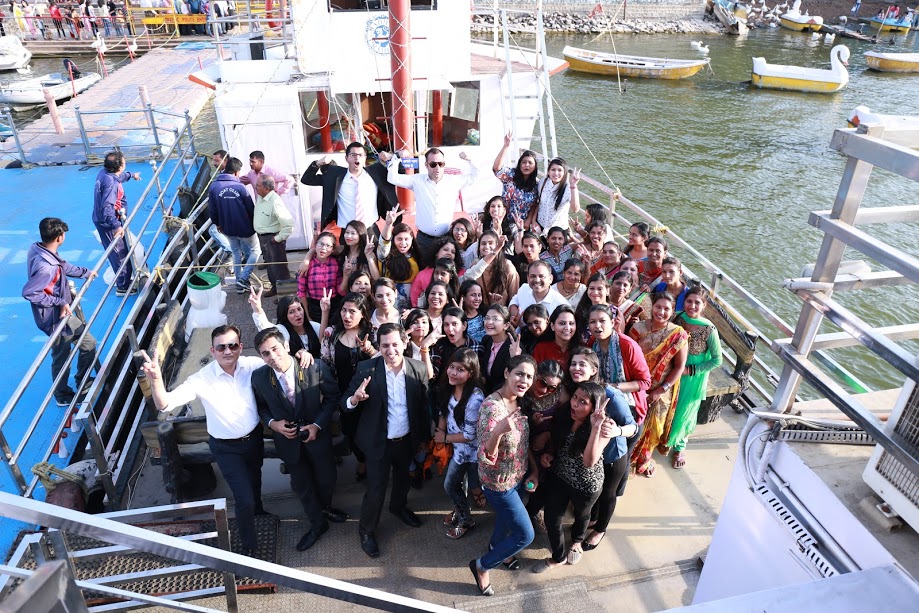 Bhopal, 28 September 2017

Girls and women are strengthening their hold in every field today. Be it sports or social sector, all women are moving fast ahead on the basis of their performance and abilities. One such Dangal girl is Neelima Bourasi from Indore. She has carved a niche in the field of wrestling and shastra kala. Having trained Bollywood actors like Anushka Sharma and other artists in films like Sultan and Dangal, Neelima who has earned a name in Madhya Pradesh is now training more Dangal girls like herself. Born in a poor family Neelima is teaching girls the finer points of wrestling through her skills. Many children prepared by Neelima have played national games. At Shri Ramnath Guru Vyayam Shala and Balika Shastra Kala Kendra run by Neelima, young girls are being taught to wrestle, sword strokes and to use baneti, pata, bana, bhala and danda to strike in defence. Nearly 50 girls in the age group of 8 -18 are learning wrestling every day at the Kendra. Neelima acquired the knowledge of Shastra kala from her father Munna Baurasi. She did not leave her art despite antagonism from the society. The same Neelima is now being appreciated for her capabilities and the uncountable medals. Neelima has won several national medals for her art. She bagged bronze medal in Senior National Championship in 2013 in Kolkata. She has won 8 gold medals so far in state level competitions. Several organizations have honoured and awarded her
---
Lady Associates Of Courtyard Marriott Celebrated Women's Day At Boat Club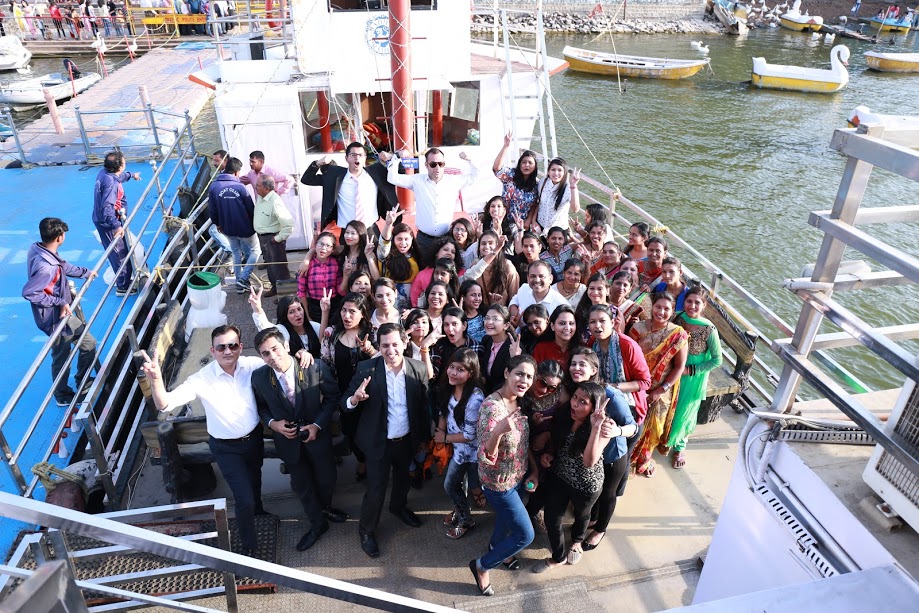 Bhopal, 8th March 2017



The lady associates at Courtyard Marriott, Bhopal had a fun filled Women's Day at boat club. The Hotel celebrated the day on #BeBoldForChange theme.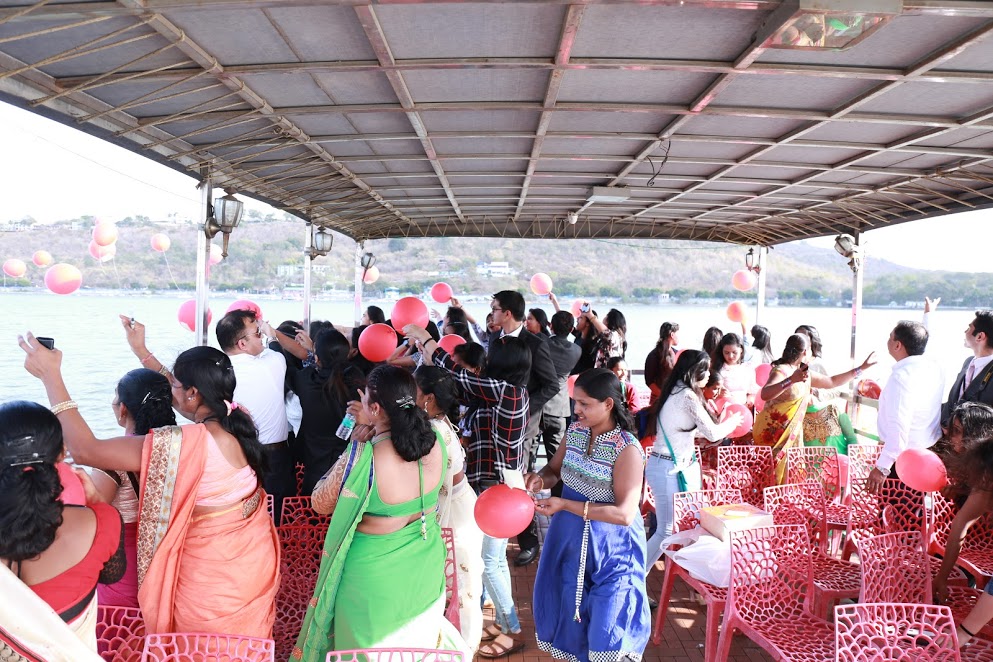 The male members of Hotel wore pink tie and pocket square to show their respect. The Hotel had also made special brunch for its lady guests between 12.30 am 3 pm wherein these guests were offered free mehandi session with an expert.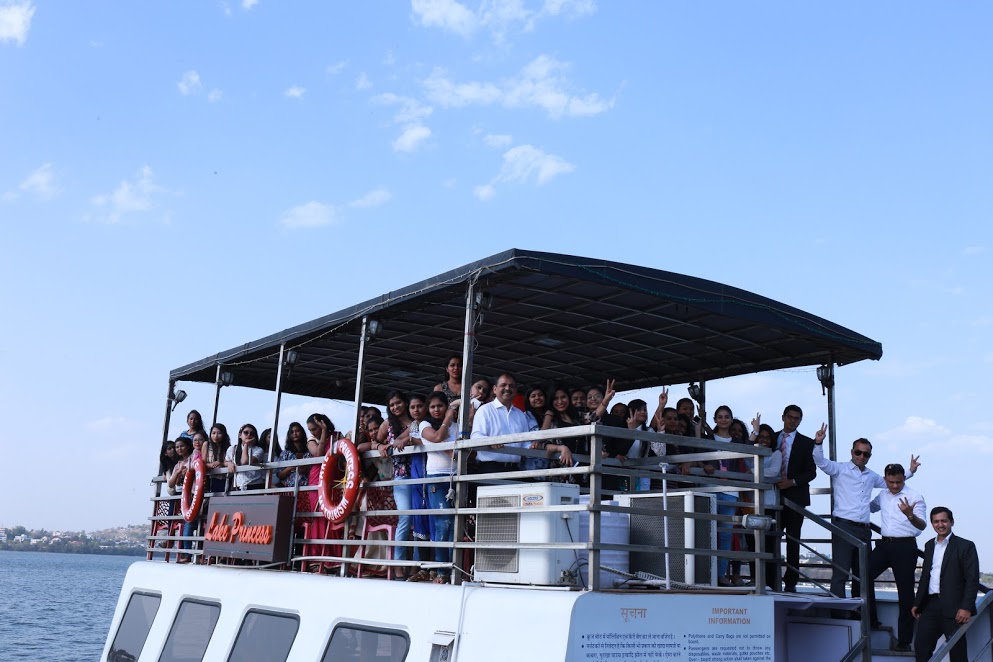 Earlier in the day the lady associates were offered a lavish lunch at hotel and were shown a women centric documentary. At 4 O'clock these lady members reached Boat Club where they participated in a game 'Free to Dream' wherein they wrote their dreams on a paper, pasted them on balloons and set them free in the sky. They also enjoyed a trip of Upper Lake in a cruise.
---
Equality in the World of Workplace - Dr. Sasha Raikhy


Bhopal, 8 March 2017
This year Women's Day theme focuses on Equality in the World of Work: Planet 50-50 by 2030.
Although workplace world is changing for women, we are still long way to go for "Work place equality". We need more focus on equality of pay, leave entitlement, especially paid maternity and extended child care leaves, special leave entitlements for family elderly care, protection during pregnancy, sensitivity during breast feeding leadership positions even sexual harassment at work place.
We also need to encourage our girls to pursue broad range of careers (like military sports) and choices beyond the traditional soft jobs like teaching banking etc. We need to teach our girls to dream big.
Another barrier in women's career is their own self defeating belief and bias. Marriage, pregnancy child birth, breastfeeding and child care should not be considered as barrier or full stop in a woman's career.
Women these days are facing lot of challenges at workplace, home and society due to multiple roles that they perform. We expect women to perform perfectly the role of a homemaker, a daughter, a daughter in law, a wife and many more roles besides a demanding job. As a result, women suffer from false guilt for not fulfilling expectations of the family and people around. It leads to increase in anxiety, depression, panic disorder and eating disorder among women. Apart from good working environment at workplace, attitude of society toward working women needs a drastic change. She should not be pressurized to push her limits to emerge perfect both at work and at home.
We also need to positively acknowledge workplace success of women. Women tend to face hostilities both at workplace and home if they are successful, despite the fact that the quality of life improves significantly when the woman of a family also works. Women should not be made to feel guilty for their professional work as having both parents working outside is good for child's overall development especially for girls. 'She is very career oriented' is still viewed as negative compliment in our society.
We need to inculcate such values in the youngsters that they grow up as more supportive colleagues. We need to have families who share household responsibilities to provide for healthy working environment.
Families where there are less gender discrimination (like mother going for work and father sharing household responsibilities) produce more confident children. As Prime Minister had once exhorted the Nation in his 'Mann Ki Baat' that we need to bring 'attitudinal' change in our boys so that they learn to respect the women. The men of young generation should contribute to career of their partners. We need to change many gender stereotypes. We need to make our boys learn to be gentle in their personality, to love cooking, washing, serving and tending to the needs of children and elderly people at home. We need to make them learn the value of balancing family and careers too. We need to make them learn that although anatomically and physiologically women also have the same dreams and desires. Beside teaching girls to be bold strong, we need to change our 'nurturing' attitude towards boys too.
Although, there has been a vast improvement in women representation in higher jobs and their financial empowerment, we need to change our unconscious bias for working women. There is also the need for attitudinal change in women. They should feel confident to honour the huge potential that dies daily within them. It is not only about equal wages, but it is also about opportunities, career choices and gender roles.
On Women's Day, women should resolve to 'Be bold for change' by challenging bias, inequality celebrate journey of achievement. Let's reinforce support women's triumphs in careers after overcoming all barriers. Let's create new work opportunities for women, let's be bold for change.

---
Sexual Harassment Act provides protection to innocents - Prof Asha Shukla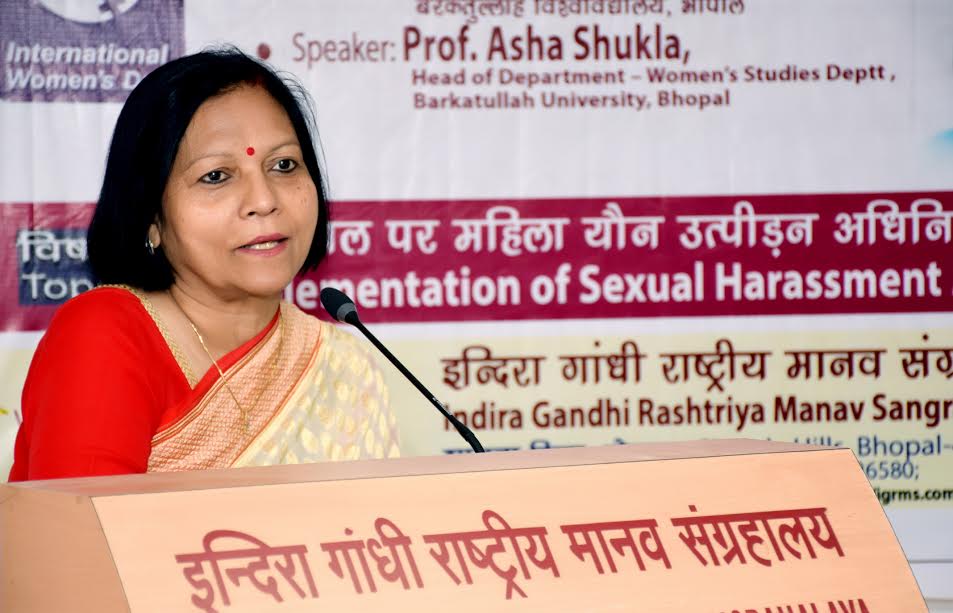 Bhopal, 8th March 2017
Today, on the occasion of International Women's Day, Indira Gandhi Rashtriya Manav Sangrahalaya organized a special lecture, where Prof Asha Shukla (HOD, Women's Studies Deptt, Barkatullah University) spoke on 'Implementation of Sexual Harassment Act at workplace'. This lecture was chaired by Prof. Rekha Singhal, IIFM, Bhopal.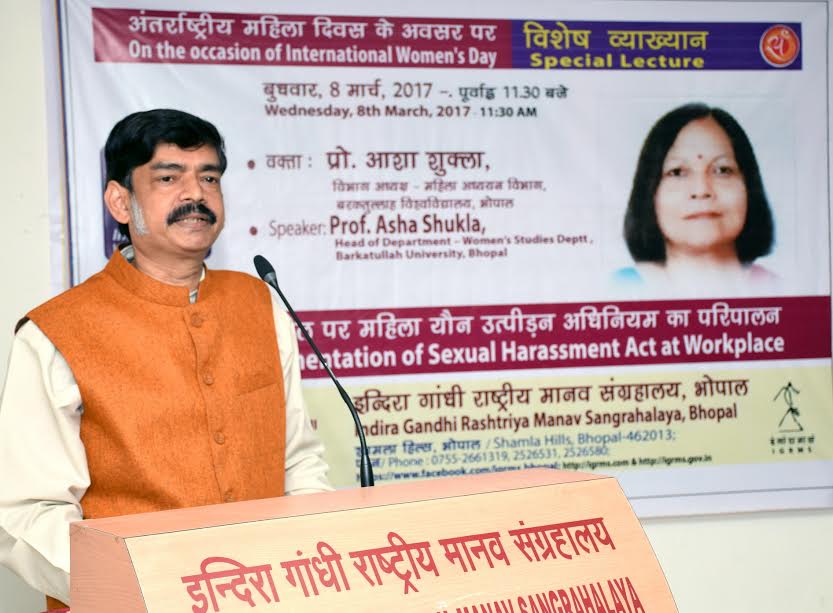 In the beginning, delivering the welcome address, Director, IGRMS, Prof Sarit Kumar Chaudhuri said "The condition of women in North-East India is not very different from the rest. Even now the women are fighting for their right to ancestral property". He congratulated Women Cell, IGRMS for successfully organizing the programme.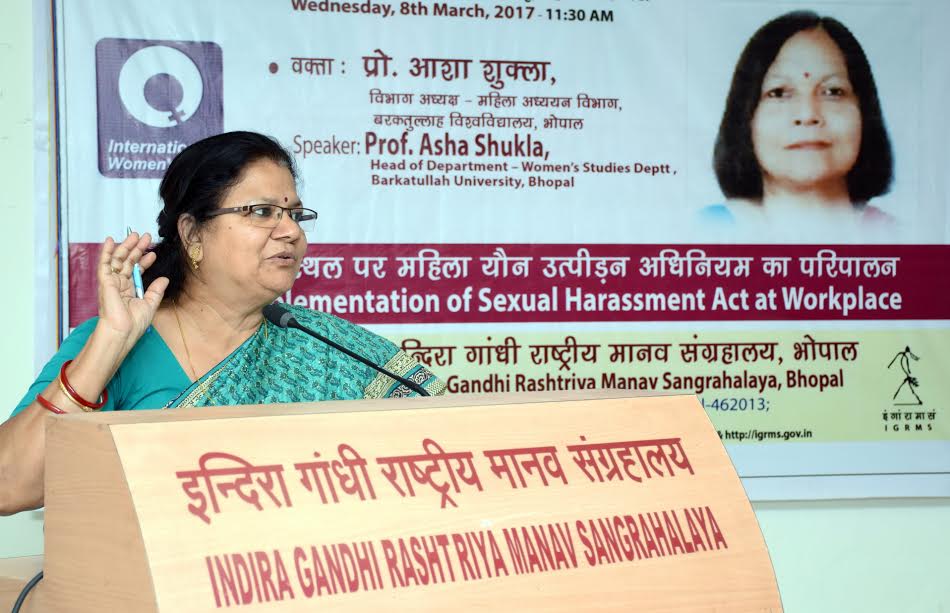 Prof Shukla began her lecture by pointing out that the Women's Studies Deptt in Barkatullah University is the sole department in Madhya Pradesh dedicated to Gender & Women's studies. The first part of her lecture described sexual harassment at workplace and society's role. Prof Shukla gave emphasis on identifying women as Human first rather than Goddess, slave, daughter, wife or sister. In the second part of her lecture she said "When exploitation of women's fundamental and human rights began, then law moved forward from Vishakha guidelines to Sexual Harassment Act, 2013.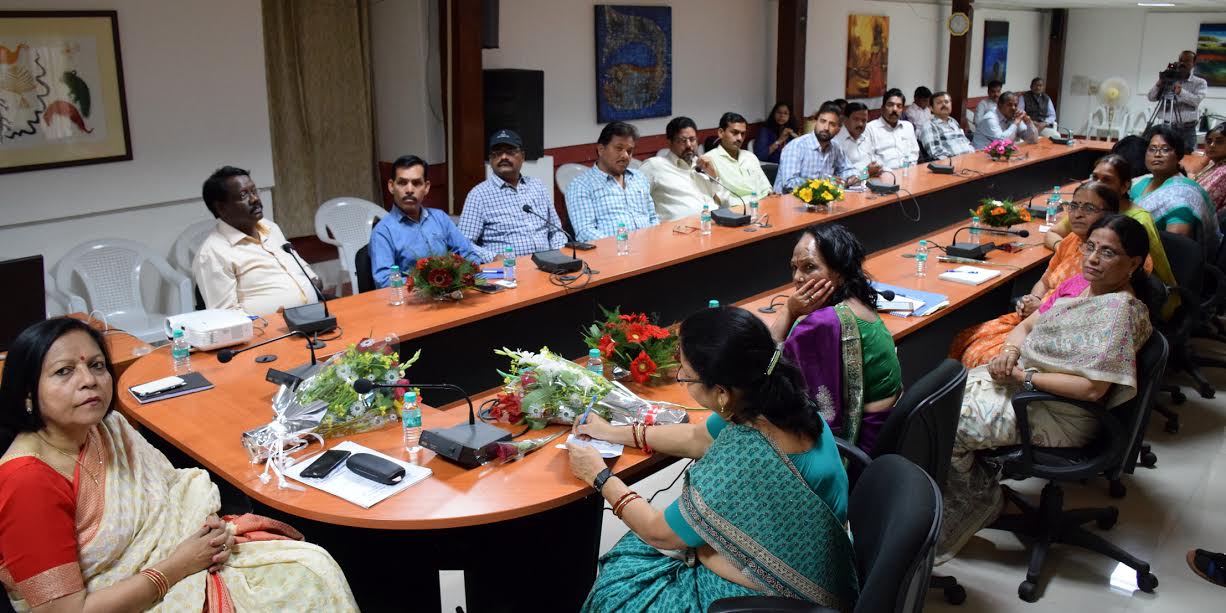 Under this act all offices in India must have a Women's Cell headed by a lady official and the cell must have a male and external member as well. The works on the line of Civil Court and has the right to give judgment". Prof Shukla further explained "It is the duty of the head of the organization to aware every official about this act by organizing workshops and to provide an atmosphere of gender equality and safe working environment to all lady officials". Prior to this, Chairperson, Women Cell and Assistant curator, Dr Soma Kiro gave Prof Asha Shukla's introduction.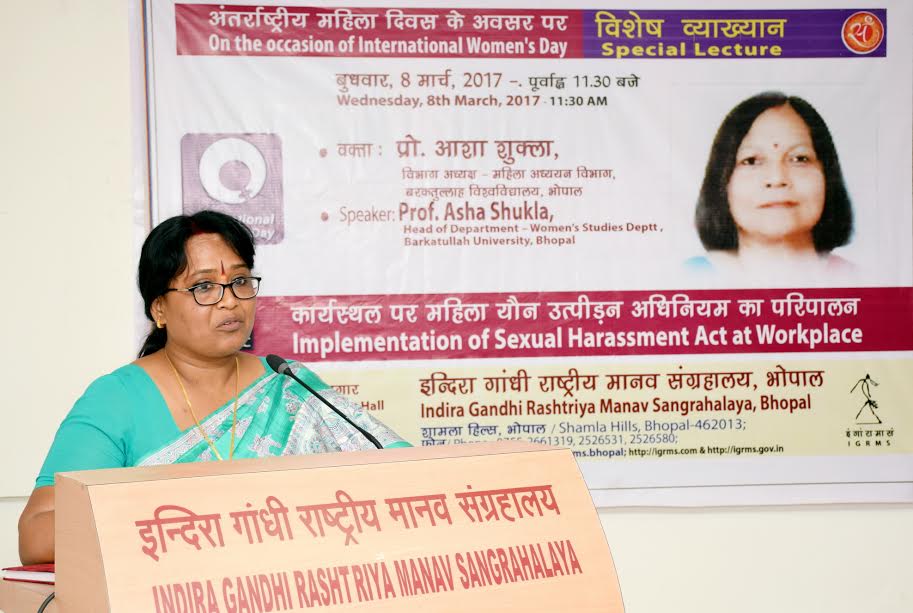 Chairing the lecture, Prof. Rekha Singhal criticized the society for difference in treatment of girls and boys. She said "If we have same thinking and behaviour for boys and girls, then perhaps this Act might not be required. A person joins office at the age of 25-30 years, at that time his bad intentions can only be suppressed by fear and but can be not changed". The programme was coordinated by Mrs Garima Anand (Musuem Associate) and Dr Sudipa Roy gave vote of thanks.
---
Road show from CM House to Ravindra Bhavan

Bhopal, 8th Mar. 2016
Madhya Pradesh is possibly the first state in the country where a Chief Minister will take part in a road show for women's empowerment. On International Women's Day - March 8, Chief Minister Shri Shivraj Singh Chouhan will take part in the road show on the theme '10 Years of Women's Empowerment' from CM House to Ravindra Bhavan. Women and Child Development Minister Smt. Maya Singh will also attend the road show.
With this, programmes marking International Women's Day will start in entire state. On the first day, Special Gram Sabhas will be held in all 52 thousand villages. Special Jan-Sunwai will be held in 51 districts where Nari Shakti Chupals will also be held.
Programmes marking International Women's Day to create atmosphere for women's respect will begin from CM House. Girls benefited under Ladli Laxmi Yojana will pin a batch to the Chief Minister. Shri Chouhan will flag off Shakti Raths from his residence.
These vehicles will publicise women's empowerment schemes and programmes throughout the state. Shaurya Dals with their orchestra band will take part in the road show from outside the CM House. The women members of Shaurya Dals who have done commendable work for women's empowerment will take part in the show as Gender Champions.
As the road show progresses from CM House to Shyamla Hills crossing, a signature campaign in favour of women will be started. Women players will join the road show from Akashwani Bhavan road. Girls getting free cycles, dresses etc for education will join the procession from near Manas Bhavan. From here also, women members of SHGs formed under Tajaswini project will join the show. A street play will be held at Polytechnic Crossing. The road show will conclude at Ravindra Bhavan.
At the concluding function, the Chief Minister will distribute driving licences to women and launch Anmol-2. The Chief Minister will also felicitate persons for excellent works towards women's empowerment.

---
International Women's Day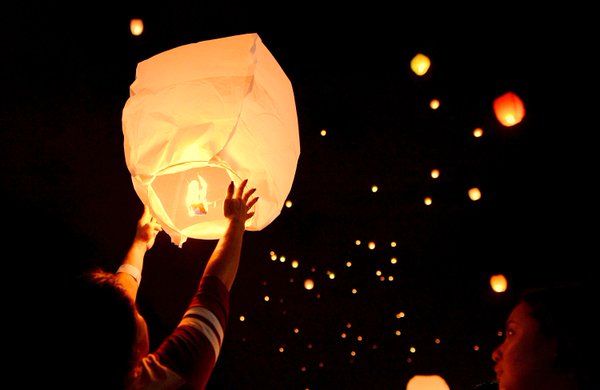 From Shivraj Singh Chauhan
CM, M.P, BLOG
Bhopal, 8th Mar. 2016
Today is World Women's Day. On this occasion I want to congratulate all of you. This year's theme for International Women's Day is "Planet 50-50 by 2030: Step It Up for Gender Equality." United Nations wants to improve the ratio of males and females and bring it to parity. In many countries around the world, the condition of sex ratio is very poor which is dangerous and alarming for all. I can proudly say that it is much better in our Madhya Pradesh. On various fronts, girls are proving themselves to the society. A woman plays many roles in an individual's life like mother, sister and wife. These empowered individuals eventually contribute to an empowered country. In my opinion, actually, we celebrate Worlds Women's day to change public opinion about women. In our society, we need respect, equality, opportunity and leadership for the women as we celebrate women's day once a year. I think we can't bring all these changes in society in a single day. Upliftment of women is our priority. So for me and for the government of Madhya Pradesh, every day is Women's Day. MP government is trying to give a favourable environment to women. That is why; we have launched many schemes and programmes for their betterment. To end the perception of considering the girl child as a burden, schemes called Ladli Laxmi Yojana and Beti Bachao Yojana have been running since. In year 2001, the male female sex ratio was 919: 1000. This was an alarming moment for us. We made constant efforts on right time and improved it to 932: 1000 in year 2011. )
Healthy women, Healthy society
The first step toward women empowerment and improve gender ratio is prevention of gender test during the pregnancy. The discrimination with the girl child starts from her birth itself which continuous throughout her life. I decided to take care of them by starting many schemes so that they live their life happily, healthily and respectfully. Swagatam Laxmi Yojna has been started to provide them better education, better medical assistance, safe nurturing and upbringing. Under the emergency transportation service, more than 900 vehicles are always kept ready for the pregnant ladies and ill children. For this, 50 call centers have also been constituted. The maternal mortality rate has been decreased from 379 to 277 per lakh births. Because of the Janani Suraksha Yojana, the institutional delivery percentage which was 22% in the year 2003 has increased to a whopping 90%. The present scenario of Madhya Pradesh is changing impetuously.
Equality in every walk of life
Each and every section of the society should get equal attention and importance. Till now, the movable and immovable properties were registered in the name of members of the family but I will not allow this to happen at least under government schemes. The residential plots which are provided by the government will consist the name of wife first and then the husband. Other than this, in all the other housing schemes, the name of the woman will always be on top. A child care leave of 730 days has been decided for the female government employees. To make women politically strong, the government is taking measures by starting many other schemes. Females now get 50% reservation in panchayat, municipal corporation elections while 50% in teachers' recruitment. In government jobs also, females get 33% reservation.
Respect of women in a society is a true indictor of its development
Chief Minister Women Empowerment scheme is for those women who are in a troublesome situation. This helps them to include themselves in the mainstream of the society as well as they get to live life in a better way. Because of quality training and proper guidance, Chief Minister Women Empowerment scheme and Tejaswini program has got 'SKOCH Merit of the year' award and also included in the top twenty schemes of the country. As many as nine lakh sixty six thousand female entrepreneurs have been benefitted through the Tejaswini program while twelve thousand seven hundred and fifty nine self help group came into existence. With the implementation of Sabala scheme, teenage girls are becoming independent, self-reliant, healthy, and capable. They are getting life skill training so that they get success on every front. We are trying to give more respect to women, Because we believe that respect of women in the society is indicator of developing society.
Secured Women, Secured Future
There are many areas in Madhya Pradesh which are affected by child marriage. This malpractice puts the life of a young girl in a vicious cycle. Not only her, but next few generations also get affected. Around 52,000 such marriages have been stopped by the Lado Abhiyan. In the early days, people used to take loan or sell their land to collect money for the marriage of their daughter. We started a Chief Minister Girls' Marriage Scheme under which poor fathers get financial assistance for the marriage of their daughters. Not only they get to organize a grand function, but they also get the items which are generally used by a family like utensils, bed, LPG connections and many other things. Hindu as well as muslim marriages are organized at the same time. Around 21 lakh girls have been benefitted with the Ladli Laxmi Yojana.
Shaurya Dal: Shaurya Dal is active in as many as twenty districts and is giving a strong message to the society by fighting against violence, dowry, discrimination and other social evils. Dial 1090 is another example of providing security to the women.
I feel proud when I see that the government is standing behind every girl from her birth, throughout her adolescence and until her marriage and career.
We can say that Madhya Pradesh doesn't need to celebrate Women's Day. The women of this state celebrate it on every day by becoming more powerful day by day. I request all of you to make such an environment where girls are treated in a special manner. They should get socially secured, better health facilities, quality education and equal rights. Women empowerment is one of mine as well as state's main motive and I am sure that with your support, together we will make Madhya Pradesh as a model state.
Again, I want to wish you Happy Women's Day.
---
Mother Teresa Biography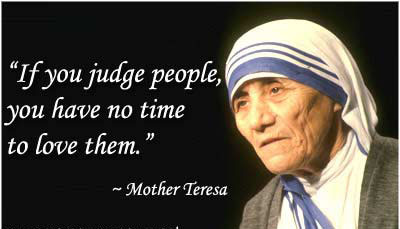 Bhopal, 8th Mar. 2016
Mother Teresa was the founder of the Order of the Missionaries of Charity, a Roman Catholic congregation of women dedicated to helping the poor.

Early Life

Catholic nun and missionary Mother Teresa was born on August 26, 1910, in Skopje, the current capital of the Republic of Macedonia. The following day, she was baptized as Agnes Gonxha Bojaxhiu. Her parents, Nikola and Dranafile Bojaxhiu, were of Albanian descent; her father was an entrepreneur who worked as a construction contractor and a trader of medicines and other goods. The Bojaxhius were a devoutly Catholic family, and Nikola was deeply involved in the local church as well as in city politics as a vocal proponent of Albanian independence.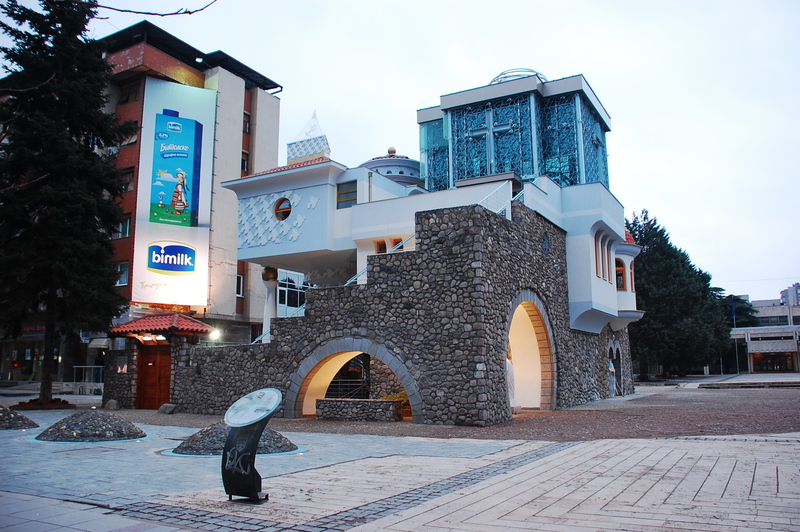 In 1919, when Agnes was only 8 years old, her father suddenly fell ill and died. While the cause of his death remains unknown, many have speculated that political enemies poisoned him. In the aftermath of her father's death, she became extraordinarily close to her mother, a pious and compassionate woman who instilled in her daughter a deep commitment to charity.
Although by no means wealthy, Drana Bojaxhiu extended an open invitation to the city's destitute to dine with her family. "My child, never eat a single mouthful unless you are sharing it with others," she counseled her daughter. When Agnes asked who the people eating with them were, her mother uniformly responded, "Some of them are our relations, but all of them are our people."

Religious Calling

Agnes attended a convent-run primary school and then a state-run secondary school. As a girl, she sang in the local Sacred Heart choir and was often asked to sing solos. The congregation made an annual pilgrimage to the Church of the Black Madonna in Letnice, and it was on one such trip at the age of 12 that she first felt a calling to a religious life. Six years later, in 1928, an 18-year-old Agnes Bojaxhiu decided to become a nun and set off for Ireland to join the Sisters of Loreto in Dublin. It was there that she took the name Sister Mary Teresa after Saint Thérèse of Lisieux.
A year later, Sister Mary Teresa traveled on to Darjeeling, India, for the novitiate period; in May 1931, she made her First Profession of Vows. Afterward she was sent to Calcutta, where she was assigned to teach at Saint Mary's High School for Girls, a school run by the Loreto Sisters and dedicated to teaching girls from the city's poorest Bengali families. Sister Teresa learned to speak both Bengali and Hindi fluently as she taught geography and history and dedicated herself to alleviating the girls' poverty through education.
On May 24, 1937, she took her Final Profession of Vows to a life of poverty, chastity and obedience. As was the custom for Loreto nuns, she took on the title of "Mother" upon making her final vows and thus became known as Mother Teresa. Mother Teresa continued to teach at Saint Mary's, and in 1944 she became the school's principal. Through her kindness, generosity and unfailing commitment to her students' education, she sought to lead them to a life of devotion to Christ. "Give me the strength to be ever the light of their lives, so that I may lead them at last to you," she wrote in prayer.

A New Calling

However, on September 10, 1946, Mother Teresa experienced a second calling, the "call within a call" that would forever transform her life. She was riding a train from Calcutta to the Himalayan foothills for a retreat when Christ spoke to her and told her to abandon teaching to work in the slums of Calcutta aiding the city's poorest and sickest people.
Since Mother Teresa had taken a vow of obedience, she could not leave her convent without official permission. After nearly a year and a half of lobbying, in January 1948 she finally received approval from the local Archbishop Ferdinand Périer to pursue this new calling. That August, donning the blue-and-white sari that she would always wear in public for the rest of her life, she left the Loreto convent and wandered out into the city. After six months of basic medical training, she voyaged for the first time into Calcutta's slums with no more specific goal than to aid "the unwanted, the unloved, the uncared for."

The Missionaries of Charity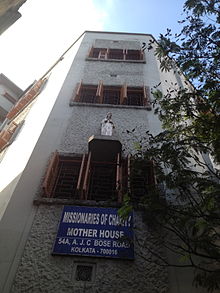 Mother Teresa quickly translated this somewhat vague calling into concrete actions to help the city's poor. She began an open-air school and established a home for the dying destitute in a dilapidated building she convinced the city government to donate to her cause. In October 1950, she won canonical recognition for a new congregation, the Missionaries of Charity, which she founded with only a handful of members—most of them former teachers or pupils from St. Mary's School.
As the ranks of her congregation swelled and donations poured in from around India and across the globe, the scope of Mother Teresa's charitable activities expanded exponentially. Over the course of the 1950s and 1960s, she established a leper colony, an orphanage, a nursing home, a family clinic and a string of mobile health clinics.
In 1971, Mother Teresa traveled to New York City to open her first American-based house of charity, and in the summer of 1982, she secretly went to Beirut, Lebanon, where she crossed between Christian East Beirut and Muslim West Beirut to aid children of both faiths. In 1985, Mother Teresa returned to New York and spoke at the 40th anniversary of the United Nations General Assembly. While there, she also opened Gift of Love, a home to care for those infected with HIV/AIDS.

International Charity and Recognition

In February 1965, Pope Paul VI bestowed the Decree of Praise upon the Missionaries of Charity, which prompted Mother Teresa to begin expanding internationally. By the time of her death in 1997, the Missionaries of Charity numbered more than 4,000—in addition to thousands more lay volunteers—with 610 foundations in 123 countries on all seven continents.
The Decree of Praise was just the beginning, as Mother Teresa received various honors for her tireless and effective charity. She was awarded the Jewel of India, the highest honor bestowed on Indian civilians, as well as the now-defunct Soviet Union's Gold Medal of the Soviet Peace Committee. And in 1979, Mother Teresa won her highest honor when she was awarded the Nobel Peace Prize in recognition of her work "in bringing help to suffering humanity."

Controversy

Despite this widespread praise, Mother Teresa's life and work have not gone without criticism. In particular, she has drawn criticism for her vocal endorsement of some of the Catholic Church's more controversial doctrines, such as opposition to contraception and abortion. "I feel the greatest destroyer of peace today is abortion," Mother Teresa said in her 1979 Nobel lecture.
In 1995, she publicly advocated a "no" vote in the Irish referendum to end the country's constitutional ban on divorce and remarriage. The most scathing criticism of Mother Teresa can be found in Christopher Hitchens's book The Missionary Position: Mother Teresa in Theory and Practice, in which Hitchens argued that Mother Teresa glorified poverty for her own ends and provided a justification for the preservation of institutions and beliefs that sustained widespread poverty.

Death and Legacy

After several years of deteriorating health, in which she suffered from heart, lung and kidney problems, Mother Teresa died on September 5, 1997, at the age of 87. She was beatified in October 2003.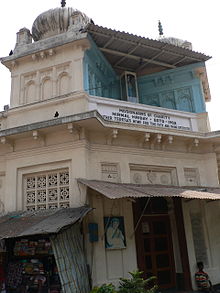 Since her death, Mother Teresa has remained in the public spotlight. In particular, the publication of her private correspondence in 2003 caused a wholesale re-evaluation of her life by revealing the crisis of faith she suffered for most of the last 50 years of her life.
In one despairing letter to a confidant, she wrote, "Where is my Faith—even deep down right in there is nothing, but emptiness & darkness—My God—how painful is this unknown pain—I have no Faith—I dare not utter the words & thoughts that crowd in my heart—& make me suffer untold agony." While such revelations are shocking considering her public image of perfect faith, they have also made Mother Teresa a more relatable and human figure to all those who experience doubt in their beliefs.
For her unwavering commitment to aiding those most in need, Mother Teresa stands out as one of the greatest humanitarians of the 20th century. She combined profound empathy and a fervent commitment to her cause with incredible organizational and managerial skills that allowed her to develop a vast and effective international organization of missionaries to help impoverished citizens all across the globe.
However, despite the enormous scale of her charitable activities and the millions of lives she touched, to her dying day she held only the most humble conception of her own achievements. Summing up her life in characteristically self-effacing fashion, Mother Teresa said, "By blood, I am Albanian. By citizenship, an Indian. By faith, I am a Catholic nun. As to my calling, I belong to the world. As to my heart, I belong entirely to the Heart of Jesus."
On December 17, 2015, Pope Francis issued a decree that recognized a second miracle attributed to Mother Teresa, clearing the way for her to be canonized as a saint in 2016. The second miracle involved the healing of a man in Santos, Brazil, who was diagnosed with a viral brain infection and lapsed into a coma. His wife, family and friends prayed to Mother Teresa and when the man was brought to the operating room for emergency surgery, he woke up without pain and cured of his symptoms, according to a statement from the Missionaries of Charity Father. Mother Teresa's canonization is expected to be scheduled for September 2016 around the date of her death.
---
PROTECTION OF HUMAN RIGHTS OF WOMEN
Dr. P.J. Sudhakar, Addl. Director General (M C), PIB, Bhopal

Empowerment of Women,National Policy for Empowerment of Women: The National Policy for Empowerment ofWomen (NPEW) was formulated in 2001 as the blueprint for the future, with the expressive goal ofbringing about the advancement, development and empowerment of women. The NPEW laid downdetailed prescriptions to address discrimination against women, strengthen existing institutions whichincludes the legal system, provide better access to health care and other services, equal opportunitiesfor women's participation in decision-making and mainstreaming gender concerns in the developmentprocess. The policies and programmes of the Government are directed towards achieving inclusivegrowth with special focus on women in line with the objective of the National Policy for Empowermentof Women. The Government introduced Gender Budgeting in 2005-06 in order to ensure that policycommitments are backed by financial outlays and that the gender perspective is incorporated in allstages of a policy or a programme. The objectives of Gender Budgeting are for committing to initiativeswith the objective of influencing and effecting a change in the Ministries' policies, programmes in a way that could tackle gender imbalances, promote gender equality and development and ensure thatpublic resources through the Ministries' budgets are allocated and managed accordingly. Thegovernment also made all efforts to ensure a definite flow of funds to women was the introduction of aWomen's Component Plan (WCP) in the 9th Five Year Plan whereby all Ministries/Departments weredirected to ensure at least 33 percent funds for women.
National Mission for Empowerment of Women: Government of India launched the NationalMission for empowerment of women (NMEW) on International Women's Day in 2010 with the aim tostrengthen overall processes that promote all-round development of women. It has the mandate tostrengthen the inter-sector convergence; facilitate the process of coordinating all the women's welfareand socio-economic development programmes across ministries and departments. The Mission aims toprovide a single window service for all programmes run by the Government for Women under aegis ofvarious Central Ministries. The Mission has been named Mission Poorna Shakti, implying a vision forholistic empowerment of women. The Mission focussed on access to health, drinking water, sanitationand hygiene facilities for women, coverage of all girls especially those belonging to vulnerable groupsin schools from primary to class 12th, higher and Professional education for girls, Skill development,Micro credit, vocational training, Entrepreneurship, Self-Help Groups development , Gendersensitization and dissemination of information and taking steps to prevent crimes against women and asafe environment for women.
National Commission for Women: The National Commission for Women was set up asstatutory body in January 1992 under the National Commission for Women Act, 1990 to review theConstitutional and Legal safeguards for women ; recommend remedial legislative measures ; facilitateredressal of grievances and to advise the Government on all policy matters affecting women. TheCommission initiated various steps to improve the status of women and worked for their economicempowerment. It organises consultations, constituted expert committees on economic empowerment ofwomen, conducts workshops and seminars for gender awareness and took up publicity campaignagainst female foeticide, violence against women, in order to generate awareness in the society againstthese social evils and human rights of women.
Women constitute almost half of the population of the world. Education for women is the bestway to improve the health, nutrition and economic status of a household that constitute a micro unit ofa nation economy. The lack of woman education can be an impediment to the country's economicdevelopment. In India, women achieve far less education that of men. As per the Census report 2001,the literacy rate of women is 54.16 per cent and that of men is 65.38 per cent. There has been a sincereeffort to improve the education attainment of women by both government and voluntary organizations.The changes in the policies and infrastructural supports on primary, secondary and higher educationreflect the initiatives of the Government of India towards women education. The divergences in theliteracy rates between sexes indicate the difference in the growth rate of literacy levels between malesand females over a period of time. Another area of concern is to reduce the gap between the rural andurban female literacy. Though there has been a steady upward trend in both the rural and urban femaleliteracy rates, it is observed that the rural female literacy is increasing much faster than that of urban.
In economics we often talk of discrimination which means denial of equality and human rightsto women and the freedom to make decisions which affects their lives and results in wideningdisparities in the human capabilities and functionings associated between man and woman. The addgender discrimination severely limit expansion and utilization of human capabilities in women and ithas critical implications for economic growth. It is assumed that the status of women anddiscrimination against them are inversely related and therefore measuring women's status is equivalentto measuring gender discrimination. This issue, though, is receiving increasing academic and policyattention in the recent years, there is still a dearth of research in this area, particularly quantitative andempirical research. Until recently, it was assumed that development was gender-neutral – that both menand women could benefit equally from development, and that the benefits of developmentalinterventions spread evenly across society. The historical legacy of gender inequality existed in allsocieties across the world implies that there is no "level playing field". Gender inequalities can alsohave instrumental impacts through creating constraints in the achievement of a number of developmentgoals. For example, studies have shown that gender inequality in education and access to resources mayhamper the process of reduction of child mortality and lowering of fertility, which in turn impacts the expansion of education for the next generation. Gender inequality also has a negative impact oneconomic growth. There is now overwhelming evidence that countries that adopt specific measures toprotect women's rights and increase their access to resources and schooling have less corruption andachieve faster economic growth than countries that do not.
There is a need for political empowerment of women Globally, women hold slightly less than20 per cent of seats in Parliament. In Asia-Pacific region, just over 18 per cent of all members ofnational Parliaments are women. India is far below these countries with 11 per cent women in the LokSabha. With 60 women members of Parliament out of 545 (11 per cent), nationally, India's LowerHouse ranks only 105th worldwide in this context. With 37 per cent of members at rural and districtbodies, India has achieved a better gender balance at sub-national level. Not less than one-third of thetotal number of seats to be filled by direct election in every Panchayat to be reserved for women andsuch seats to be allotted by rotation to different constituencies in a Panchayat (Article 243 D(3)), Notless than one- third of the total number of offices of Chairpersons in the Panchayats at each level to bereserved for women (Article 243 D (4)), Not less than one-third of the total number of seats to be filledby direct election in every Municipality to be reserved for women and such seats to be allotted byrotation to different constituencies in a Municipality (Article 243 T (3)) Reservation of offices ofChairpersons in Municipalities for the Scheduled Castes, the Scheduled Tribes and women in suchmanner as the legislature of a State may by law provide (Article 243 T (4)). The 73 rd and 74thConstitution Amendments provided reservations for women. The Bill for providing 33 percentreservation for women in legislatures is not yet enacted.
Media and Women,MAG Study (1994) revealed that there are now more women in the media workforce than theywere twenty years ago. The decision making in these organizations remain overwhelmingly the domainof man. Senior decision makers with a gender sensitive perspective can use their persuasive power toempower others and change the image and status of women in print and electronic media organizations.As far as print media is concerned, late seventies and eighties in India witnessed the emergence of lot ofwomen journalists. The choice of many educated women to take to this profession which was tillrecently considered a bastion of men is a sign of women of India joining the main stream decisionmaking process in an important way. The last twenty years of print media is a story of women'sparticipation in an area that focuses on the national agenda of great public interest. Communicationresearchers should take up studies on women's employment in various mass media. This may provideguidelines for bringing gender equality in the employment in mass media. It is true that women arelagging behind men in the media work force. At the same time, it is also a fact that there has beenprogress in this regard. There is more number of women employed now in media organizations andGovernment media of radio and Doordarshan in senior positions. Once they acquire positions of powerin the media workforce, the task of improving women's images in media will become easier. There is aneed for projecting the positive image of women in film media.
Awards, Government of India instituted five national awards which are to be called 'Stree ShaktiPuraskar for recognition of achievements of individual women in the field of social development. Theseawards will be in the name of the eminent women personalities in the Indian history, who are famousfor their personal courage and integrity like Devi Ahilya Bai Holkar, Kanngi, Mata Jijabai, RaniGaidenlou Zeliang and Rani Lakshmi Bai. The award will carry a cash prize of Rupees one lakh and acitation. These awards will be given to women who have triumphed over difficult circumstances andhave fought for and established the rights of women in various fields. Also, women achievers whohave worked in the areas of education, health, agriculture and rural industry, protection of forests andenvironment and those who have created awareness and consciousness on women's issues through artsand media would be recognized and awarded by the Government.
* 8th March is being observed as International Women's Day every year acrossthe globe.
---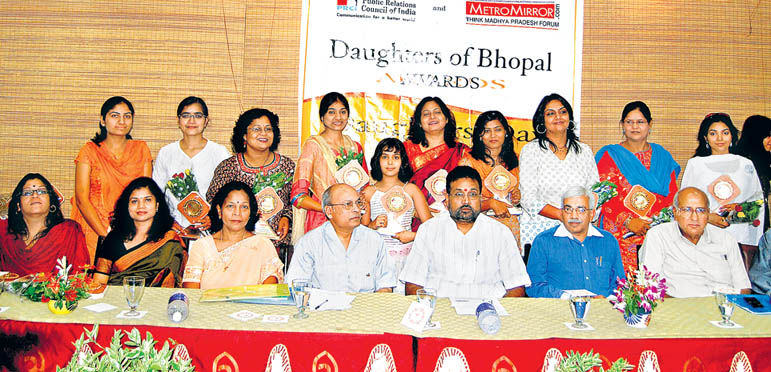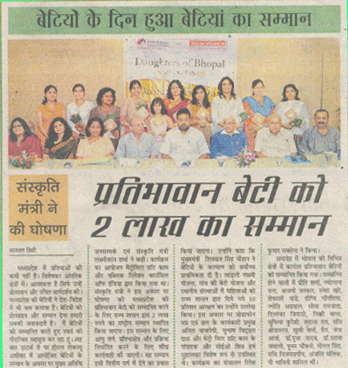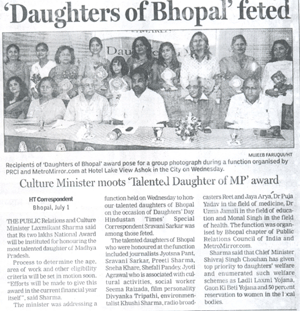 PRCI Daughters day 1July
Bhopal 1 july: MM Correspondent .
I appreciate the exclusive initiative of PRCI and Metromirror.com & I am happy to announce the Rs.2lakh National Award for the talented Daughter of MP from the next year- Laxmikant Sharma PR Minister.
Following are the recepients of the 'Daughters of Bhopal Awards'
Ujma zamali Journalist (PHD in Journalism), Suchandana Gupta Journalist (Times of India) ,Deepti Chaurasia Journalist (AAj tak) ,Shaifali Pandey Journalist (Voice of India) ,Shravani Sarkar Journalist (Hindustan Times), Jyotsana Panth Journalist(DB star) ,Preeti Sharma Journalist (City Bhaskar), Sneha Khare Journalist (Patrika) ,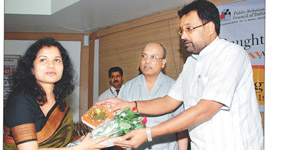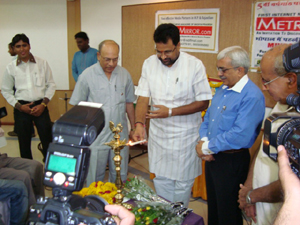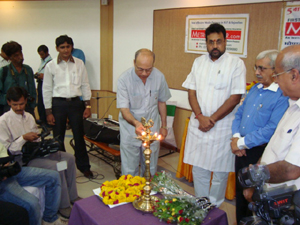 Seema Raizada Professor(Nutan College), Meenakshi Natrajan Politican ,Monal Singh Blood Donation Activist,Jaya Arya Social Worker, Jyoti Agarwal Abhivyakti Kala Kendra, Divyanka Tripathi TV Artist, P.Bhawani Singer, Kushi Sharma Child Artist ,Reet Radio Jockey (98.3 Radio Mirchi),
Captain Ruchi Vijayvergia Business Women(Peoples Group) ,Anju Mallick Business Women (CI Hyundai) ,Poonam Chauksey Director (LNCT Group), Sahana Roy Director(Time Institute) ,Sufia Khan Young IAS ,Ruchi Shrivastava IPS (ASP), Nikky Baba Spa Treat(Beautician) ,Doctor Pooja Yadav MBBS Topper (GMC) .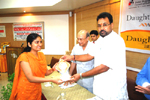 SEE Programme all Photo Click Here ---More

Readers views about the awards...
Honouring talented daughters
Public Relations Council of India, Bhopal Chapter & Metro Mirror.Com created history by honouring talented 'daughters' of Bhopal at a function recently. This is a laudable step and needs to be supported by all citizens claiming to be for women empowerment. One can just visualise how these talented daughters, drawn from different fields, would have felt thrilled on getting recognition for their contribution in their respective professions. The presence of the Public Relations Minister, Shri Laxmikant Sharma and other dignitaries is a testimony of their support to such a cause. Mass media is also to be lauded for giving good coverage to this event thereby recognising the awardees and motivating other 'daughters' of Bhopal. In fact, parents, teachers and the society should take it as their moral responsibility to do everything to encourage and motivate their wards (both women and men) to be performers and achievers -- road to overall progress of the nation.
C.K. Sardana
[(General Manager BHEL (Redt)]
M - 09893556483
M-177 Gautam Nagar Bhopal-462023
---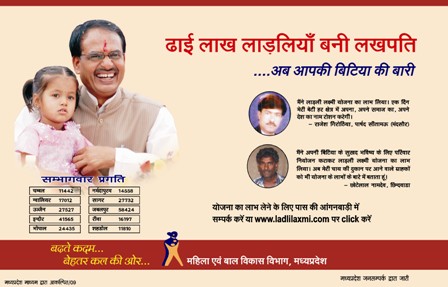 ---
Mutual Understanding is must between 'Saas' & 'Bahu'
When a newly married girl enters her new home that is 'Sasural', she is surrounded by many conceptions towards her 'Saas'. The same thing occurs to her Sass. In both the cases, both of them are often in dilemma of their new positions in the home.
In Indian films, ' the Saas' has not been given a positive look toward ' the Bahu'; nevertheless, exceptions do exist. All these films & some prevailing horrible stories posing the negative aspect of the Sass in the society create fear.
However, this is one aspect of a coin, the other aspect is not horrible & you may be marked with this positive aspect if you try to become a kind & mother-like 'Sass' to your 'Bahu'.
If you have become or are going to become a member of the "Saas club" you should take care of…
1....that everything has now changed. In past days, the 'Bahu' was made only for taking care of her 'Sasural', but, nowadays a 'Bahu' is normally educated & having her own ideas. You should not expect your Bahu to change herself completely. You should create such an environment in which she could feel free & not suffocated.
2....that if she wants to utilize her education in some job, you ought to give her a hand. If she does something remarkable, it would be good for your family alone.
3....that "It takes two for clapping". There must be a reciprocal co-operation between a Saas & a Bahu. You should not deliver hot or insulting words for her parents or relatives, it may reduce your respect in her sight.
4....that if your relation with your Bahu is in good tune it will keep your whole family happy & bring prosperity for it.

TIP OF THE WEEK - Turn useless into useful
The dried up breads are often regarded as good for nothing & discarded. However, nothing is useless & can be made useful in someway. Here are some tips to make the dried up bread eatable in an interesting way-
If parched, do not throw it away; soften it by using a Pressure-Cooker; and you will see it can be eaten again.
Souse it with milk & keep in an oven for 10 minutes & it will turn crisp & tasteful.
It also can turn into sweetmeat if soused with 'Chashni'.
Fry it's pieces in oil & serve with soup.
In addition, it can help you clean your oily utensils..
Thumb-Sucking kid? Do not be worried. .
Thumb-sucking is a common problem among kids, every mother has to face it. Generally, kids from 8 month to 1 year are found having this practice. In realty, the kids are very eager & keen about his surroundings & in an effort to know it, he just finds his mouth alone fit for knowing it by test.
TIPS FOR THE PREGNANT WOMEN
TRY TO KEEP YOUR COOL
Sperm develops best in cool surroundings.
Men who sit with computers on their laps can have reduced fertility levels. Men should also avoid long, hot baths. One study found that switching to cool shwers increases sperm production by five times. Also, swap tight pants for roomier boxer shorts.

SOAK UP THE SUNSHINE
Sunlight boosts fertility in both men and women by increasing levels of Vitamin D. Studies have found Vitamin D increases levels of the female sex hormones progesterone and oestrogen, which regulate periods and make conception more likely. It also boosts sperm count.

TAKE TIME TO RELAX
Stress can have a huge impact on female fertility. It can also slow male sperm sperm production and lower libido.

EAT MORE DAIRY
Women, who eat one serving of fullfat dairy a day, reduce their risk of infertility by more than a quarter, a study found. Dairy fat helps the ovaries work well.

TRY POPPING A
MULTIVITAMIN FOR HEALTH
Research showed taking a daily prenatal vitamin - containing key nutrients for conception like folic acid, Vitamin B12 and selenium - could more than double pregnancy chances.

STUB OUT THE CIGGIES
Male smokers are 50% more likely to be impotent and have lower sperm counts. Female smokers have a 30% lower fertility rate than non-smokers. Smoking can also prevent embryo implantation in the uterus.

THINK BEFORE DRINKING
If you're trying to get pregnant, it's a good idea for you and your partner to drink less alcohol. Drinking too much has been found to impair ovulation and sperm production.

USE A PHONE APP
Free apps like Period Diary, Fertility Friend and Menstrual Calendar work out when you're at your most fertile from your daily body temperature and the dates of your period.

GET THE POINT
Try acupuncture to stimulate specific points on the body. It's thought it may help control ovulation and increase blood flow to the uterus, and therefore improve the chances of a fertilised egg implanting.

HAVE SEX!
Chances of conception rise from 15% for couples having sex once a week to 50% for couples having sex three to four times a week. Sex keeps sperm healthy. Its quality falls if it's retained in the body for more than three days.
KNOW YOUR WINDOW
For baby success, you need to have sex

BE A CLEANING QUEEN
Women who do the housework, gardening or other forms of moderate exercise are three times more likely to conceive through IVF than those with sedentary lives, according to new research. Exercise stops the body from producing excessive insulin,which is thought to harm development of healthy eggs.

during your most fertile time of the month. In an average 28-day cycle, this usualiy falls between day 10 and day 17.

LOSE WEIGHT
Body fat produces oetrogen, which confuses the body's ovulation cycle. Overweight women often have less regular periods than women who weigh less. Losing just 5% of your body weight can boost conception chances by about a fifth.

BUT DON'T GET SKINNY
Being under weight can switch off your body's ability to reproduce eggs, as it senses there isn't enough fat to sustain a healthy pregnancy.

CUT DOWN ON CARBS
Some experts believe a diet high in refined carbohydrates, like white bread, pasta and biscuits, can affect conception. These foods raise blood sugar quickly, causing an insulin surge that can impair fertility.

SAY NO TO DRUGS
Recreational drugs, such as cocaine and marijuana, have been found to lower sperm counts and increase abnormal sperm, while female drug users can face ovulation problems.

EAT MORE OILY FISH
Some studies show omega-3s, which are found in oily fish, such as salmon and in linseed, may reduce risk of miscarriage and improve sperm quality. These essential fats are crucial for healthy hormone functioning, but many of us don't get enough.

KICK THE CAFFEINE
Research has shown that just one cup of coffee per day could halve your chances of conception. Experts say caffeine may reduce the activity of the Fallopian tube muscles, which carry the eggs from the ovaries.

CUT OUT PAINKILLERS
Some over-the-counter pills, like paracetamol and ibuprofen, affect s conception if taken around the time of ovulation. They may suppress hormones called prostaglandins, which help release eggs into the Fallopian tube.

DRINK MORE WATER
If you don't drink enough water, the reproductive system will lose out as the body ensures that the more vital organs receive what they need first. Water creates plump egg follicles and a strong blood supply to the womb lining. Plus, if you're dehydrated, your cervical fluid-the stuff that helps the sperm find the egg-will be sluggish.