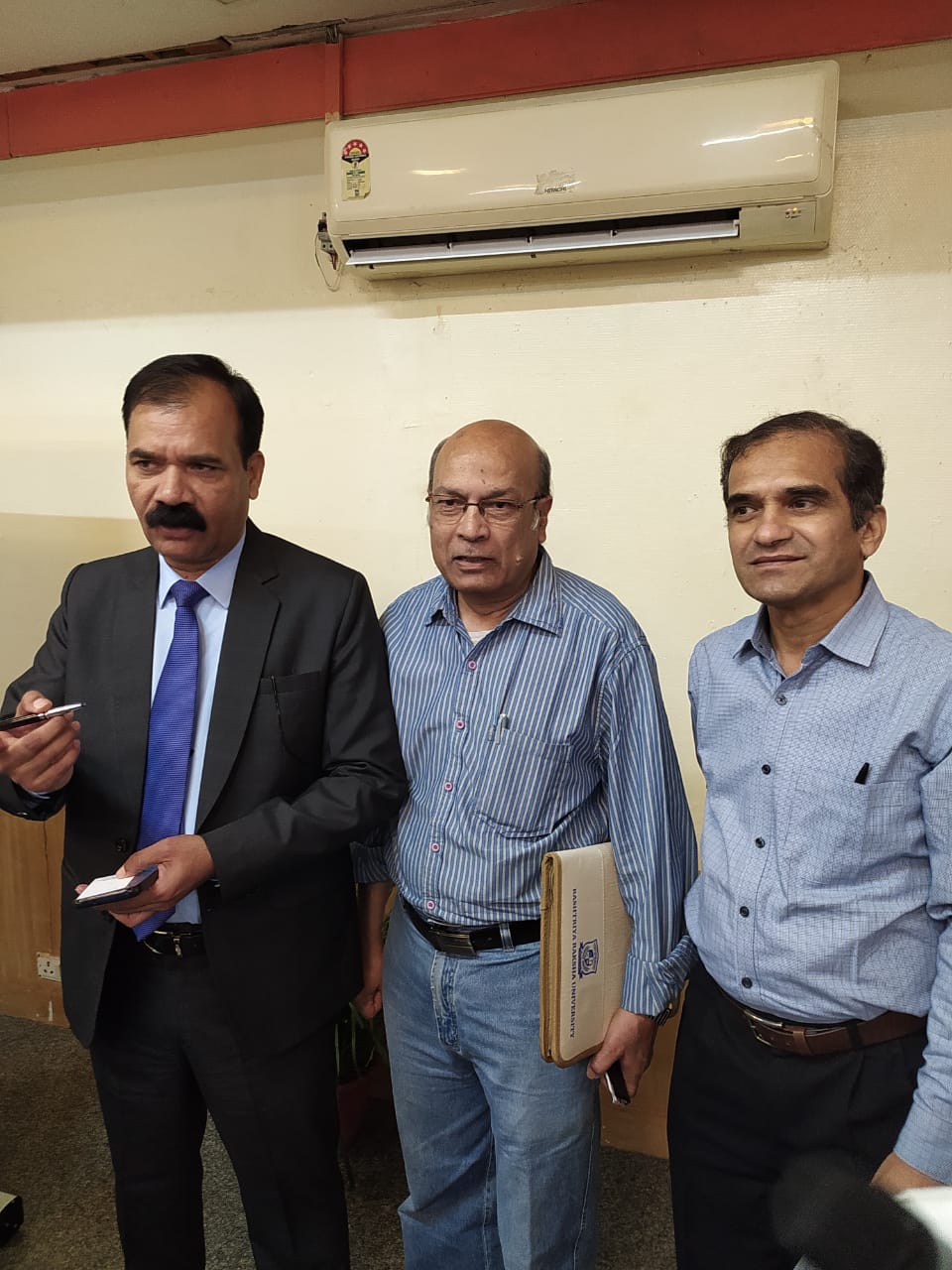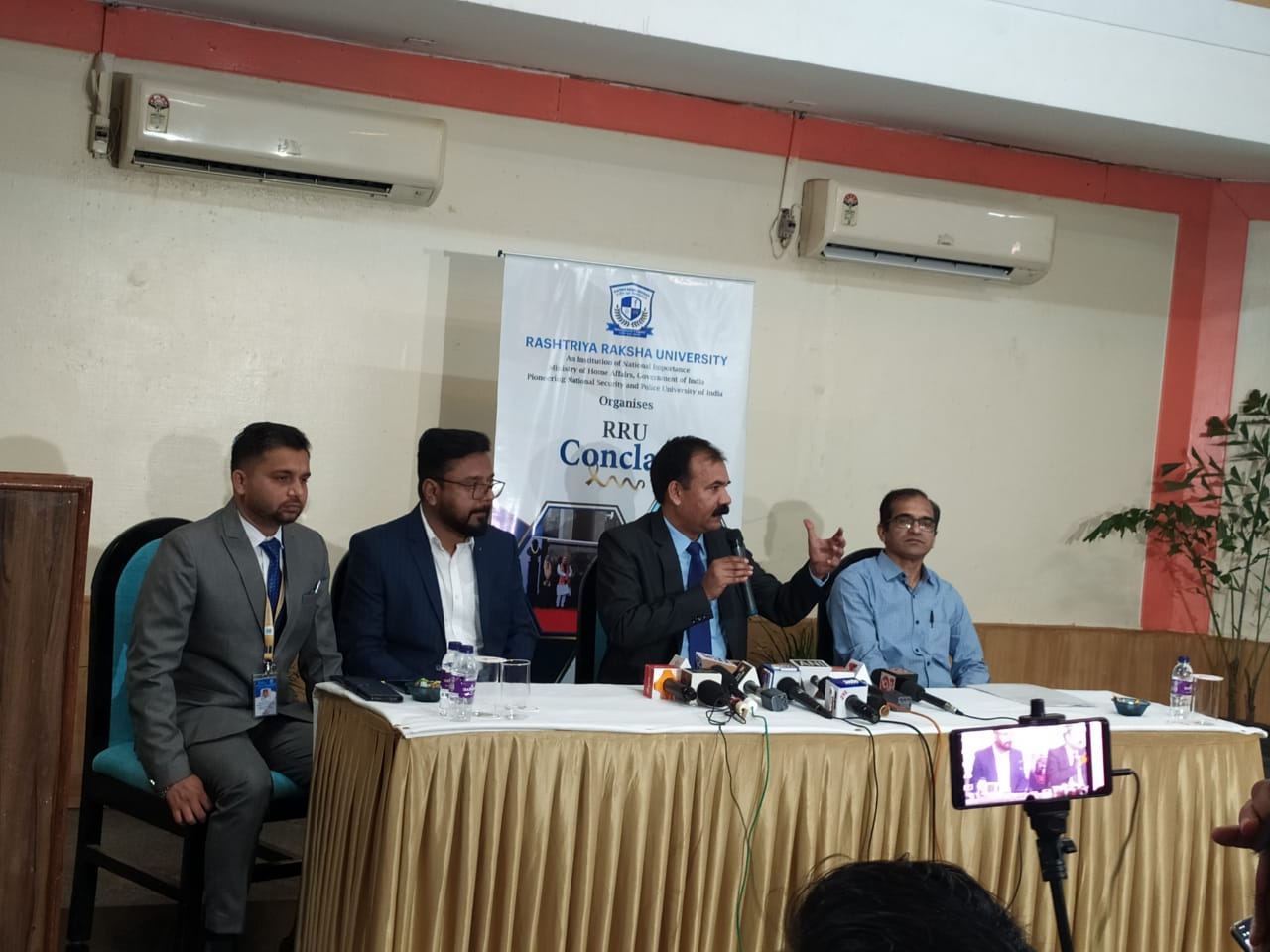 Rashtriya Raksha University Media Conclave We Invite Bright Graduates to make Career in National Security - Dr Anand Kumar Tripathi
Bhopal:MMNN: 30 March 2023

Bhopal.We invite Bright Graduates and School Passouts to pursue Career in National Security at the only Pioneering National Security and Police University of India at Gandhinagar with State of the Art 230 Acres Campus, said Dr Anand Kumar, Pro VC Incharge at the Media Conclave at Lake view Residency. He said " We have innovative courses related to National Security, Cyber Crimes, Criminology, Security and Police Administration. We also have 60% Placement record "
In the Conclave Sh Prashant Pathrabe, Add. DG, PIB, Sh Kumar Sabyasachi, Outreach Officer of the RRU and Sh Prem Kumar Gupta, Media Officer, PIB were also present.
---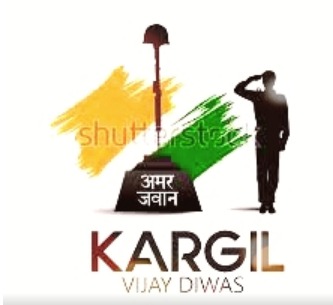 With one of the Hero of "Kargil Vijay" Subedar Major Yogendra Singh Yadav youngest winner (19 year) of Param Vir Chakra (PVC) , the India's highest gallantry award, he is Commissioned Officer (JCO) of the Indian Army, he has got PVC for his bravely effort on 4 July 1999 action during the wining of TIGER HILL,Kargil. I salute him on "KARGIL VIJAY DIWAS -26 JULY "
---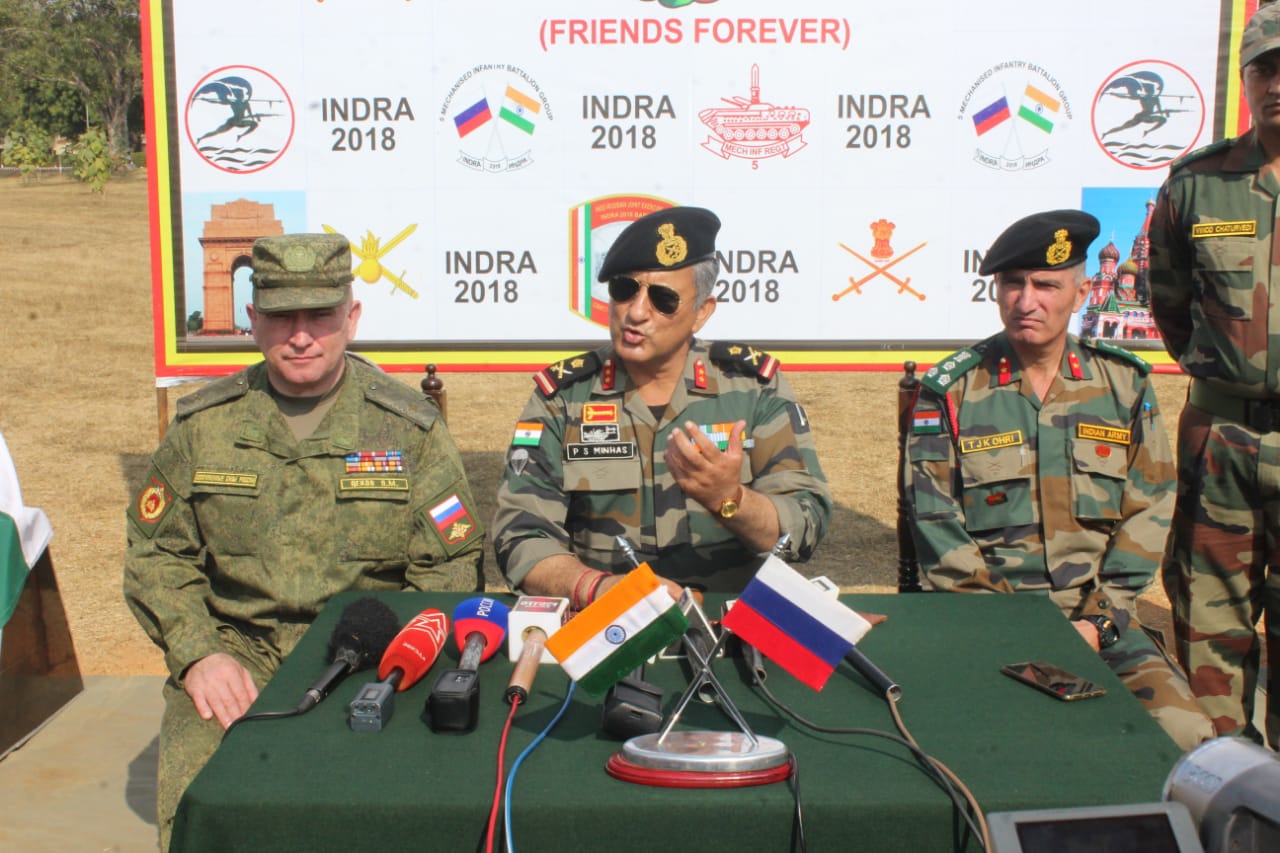 JOINT INDO-RUSSIAN EXERCISE INDRA COMMENCES AT BABINA MILITARY STATION
Bhopal:MMNN: 19 November 2018


Opening ceremony for the Tenth Indo-Russian Joint Exercise, INDRA-18 scheduled from 18 November to 28 November 2018 was held on 19 November 2018 at Babina Military Station. Company sized contingents of the 5 th  Army of the Russian Federation and a Mechanised Infantry Battalion of Republic of India are participating in the exercise. Contingents of the participating nations came together for the opening ceremony. Major General PS Minhas, General Officer Commanding, White Tiger Division and Major General Tsekov Oleg Mussovich, Commander Eastern Military Districts from Russia, jointly reviewed the parade in presence of a number of officers and officials of the participating nations. There was a fly past of Army Aviation helicopters which carried the national flags of both the participating nations during the parade. The members of both the participating nations also interacted and familiarised with each other after the opening ceremony.   The aim of the exercise is to practice joint planning and conduct to enhance interoperability of the two armies in the peace keeping environment under the aegis of United Nations.  The eleven days exercise focuses upon training on enhancing team building and tactical level operations in a counter insurgency environment in semi urban terrain.
---
Ranjeet's sacrifice will be remembered for ages: PR Minister Dr. Mishra
Bhopal:MMNN: 9 July 2018


Public Relations, Water Resources and Parliamentary Affairs Minister Dr. Narottam Mishra today took part in the last rites of army jawan who laid down his life in Kashmir three days ago, Shri Ranjeet Singh Tomar of Rev village, at Datia district today. The last rites of Shri Tomar were performed with state honours at Rev village Raipur Sahni this morning in which thousands of people took part. PR Minister Dr. Mishra reached martyr Shri Tomar's residence, laid a wreath and carried the martyr's body during the funeral procession. Dr. Mishra said that the sacrifice of martyr Shri Tomar will be remembered for ages. He also met and consoled the bereaved family. The martyr was given a salute by a legion of jawans.
---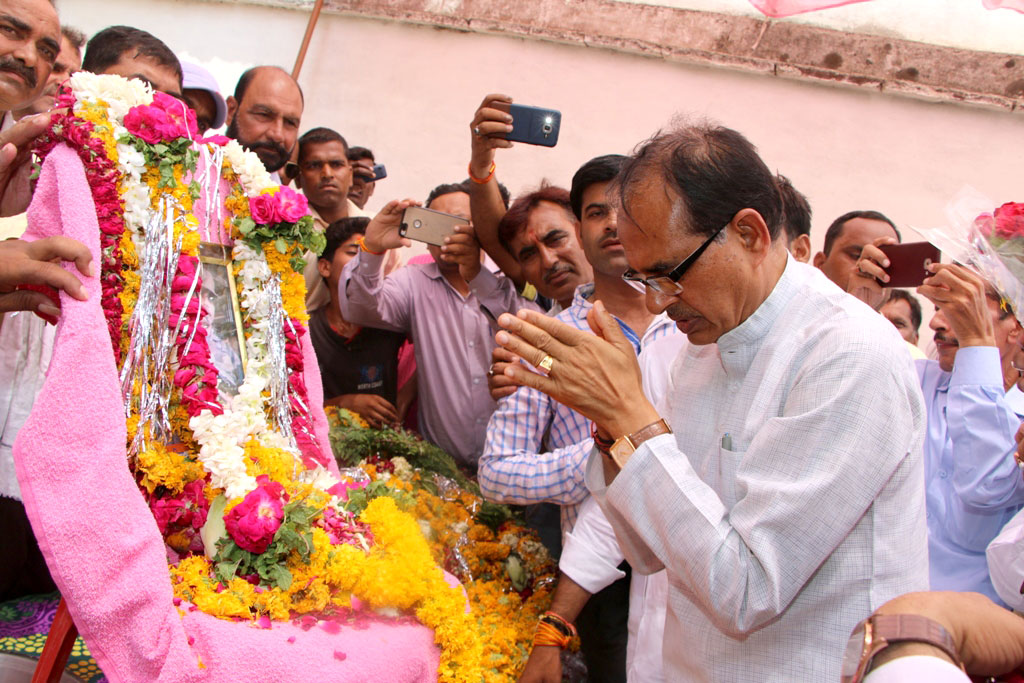 CM Shri Chouhan reaches Martyr Ranjeet Singh's village and pays tribute
Bhopal:MMNN: 9 July 2018


The Chief Minister Shri Shivraj Singh Chouhan reached village Reva of Datia district today and paid floral tribute to the soldier of Indian Army Martyr Shri Ranjeet Singh Tomar. While consoling the family members, Shri Chouhan said that Shri Ranjeet was the true son of Bharat Maa. He has glorified the country by sacrificing his life. He further mentioned that martyrdom of brave Ranjeet will always be remembered. The Government of Madhya Pradesh is with the family of Martyr Ranjeet Singh at every moment. CM Shri Chouhan has announced that Samman Nidhi of Rs. One crore and the government service to one member of the martyr's family will be given. Along with this, one residential flat will be given to the family in Datia city, martyr's statue will be installed and the government institution will be named after him. It may be highlighted that Samman Nidhi of Rs. One crore each to the families of 6 martyr jawans of Police and Army has been given by the state government till now. Consoling the father Shri Pratap Singh Tomar and Mother Smt. Dropadi of the Martyr soldier, Shri Chouhan told them that the Madhya Pradesh Government is with them, your family is our family and it is our moral duty to take care of the family, which we will perform. Minister for Public Relations, Water Resources, Parliamentary Affairs Dr. Narottam Mishra, Members of Parliament Shri Prabhat Jha, Shri Rakesh Singh and Dr. Bhagirath Prasad, Vice Chairman of M.P. Text Book Corporation Shri Avdhesh Nayak. MLA Shri Ghanshyam Pironiya, other Public Representatives, Senior Officers of Administration and Police besides villagers in large number were also present at this moment of grief.
---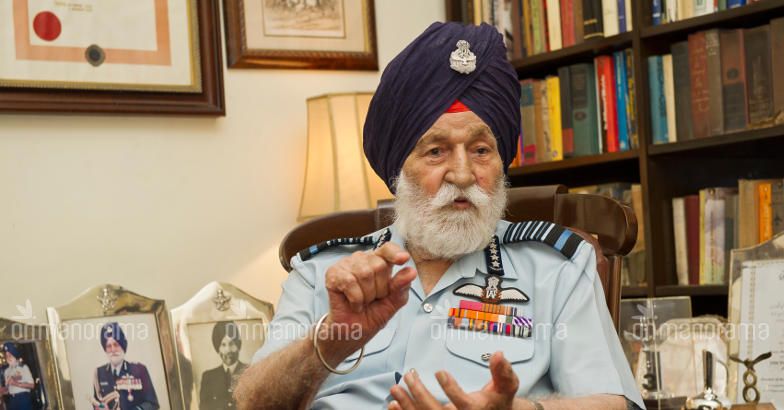 Marshal of Indian Air Force Arjan Singh passes away at 98...
Bhopal:MMNN: 17 September, 2017


NEW DELHI, SEPT 17: War hero Marshal Arjan Singh, who led the Indian Air Force during the 1965 India-Pakistan conflict, died tonight. IAF sources said he passed away around 7.30 p.m. Ninety-eight-year-old Singh, the only officer of the IAF to be promoted to five-star rank, equal to a Field Marshal in the Army, was admitted to the Army's Research and Referral hospital this morning after he suffered a cardiac arrest, the defence ministry said. Earlier in the day, Prime Minister Narendra Modi, Defence Minister Nirmala Sitharaman and the three Service chiefs — Gen. Bipin Rawat, Admiral Sunil Lanba and Air Chief Marshal Birender Singh Dhanoa — visited Singh at the hospital. An icon in the country's military history, Singh had led a fledgling IAF in the 1965 Indo-Pak war when he was just a 44-year-old. As Pakistan launched its Operation Grand Slam with an armoured thrust targeted at the vital town of Akhnoor in Jammu and Kashmir, he led the IAF through the war with courage, determination and professional skill. The fighter pilot, who inspired the IAF despite constraints on the full-scale use of air combat power, was awarded the Padma Vibhushan, the second highest civilian honour, in 1965. Born on April 15, 1919 in Lyallpur in Punjab in undivided India, his father, grandfather and great grandfather had served in the cavalry. Educated at Montgomery, British India (now in Pakistan), he had joined the RAF College, Cranwell in 1938 and was commissioned as a Pilot Officer in December the following year. Singh had led an IAF squadron into combat during the 1944 Arakan Campaign and was awarded the Distinguished Flying Cross (DFC) that year. He was the IAF chief from August one, 1964 till July 15, 1969. Field Marshals Sam Manekshaw and K M Cariappa of the Army were the two other officers with a five-star rank. After his retirement from the air force, Singh was appointed as the India's Ambassador to Switzerland in 1971 and concurrently served as the Ambassador to the Vatican. He was also the High Commissioner to Kenya in 1974. Singh served as a member of the National Commission for Minorities and was also the Lieutenant Governor of Delhi. He was made Marshal of the Air Force in January 2002. The fighter aircraft base at Panagarh in West Bengal was named in his honour on his birthday last yea
---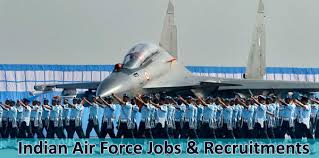 INDIAN AIR FORCE RECRUITMENT RALLY IN BHOPAL
Bhopal:MMNN: 22 Aug, 2017


Indian Air Force is conducting a recruitment rally for eligible unmarried Male Indian Citizens of selective districts of Madhya Pradesh from 27 Aug to 30 Aug 2017 at Lal Parade Maidan, Bhopal for Group 'Y' (Non-Technical). Recruitment for districts Thar, Dindori, Gwalior, Harda, Jhabua, Katni, Khandwa, Khargone, Raisen, Rajgarh, Satna, Sheopur, shivpuri, Vidisha and Ujjain is scheduled on 27 Aug 2017 and for Agar, Alirajpur, Anuppur, Ashok Nagar, Barvani, Bhopal, Burhanpur, Indore, Mandala, Mandsaur, Neemach, Ratlam, Rewa, Umariya and Sehore is scheduled on 30 Aug 2017. The exact details of qualification and eligibility criteria are available on the website www.airmenselection.gov.in . Candidates can also contact AIRMEN SELECTION CENTRE, BHOPAL. Token for the rally will be issued from 0500 to 1000 hrs on the day of recruitment rally. Candidates can participate after obtaining token. Candidate should have passed Intermediate / 10+2 / Equivalent Examination in any stream/subjects approved by Central /State Education Boards with minimum 50% marks in aggregate and 50% marks in English. The candidates should bring 07 passport size colour photos, 02 white envelopes size 26x12 cms, original marksheet and certificates of class 10th and 12th or equivalent, original NCC certificate if any, Residence certificate issued by authorised officer (for those who have not completed 12th or equivalent from the districts mentioned above), all original and 03 photocopies of self attested certificates. For exact information and details visit www.airmenselection.gov.in
---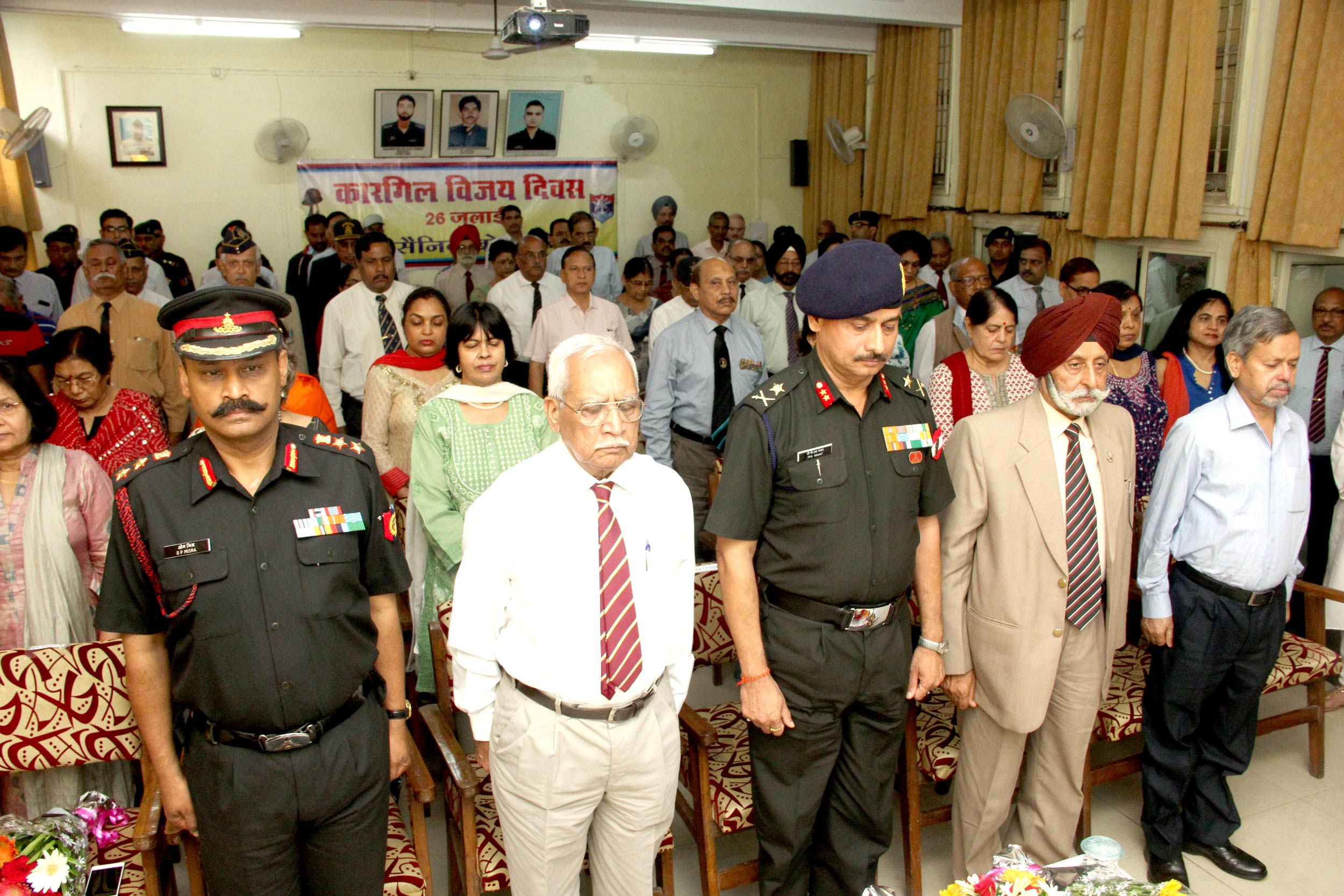 Kargil victory a saga of Army's courage, patience and valour – Major Gen. Rawat
Bhopal:MMNN: 26 July, 2017


A special programme was organized here at Sainik Rest House on Kargil Vijay Diwas. Detailed information related to Kargil war was given to the masses through a movie. Addressing the programme Chief Guest Major General T.P.S. Rawat said that our forces are fully capable to protect the country's border and people. The Army had displayed great patience and courage under adverse circumstances and won the Kargil war. It was impossible for the Army of any other country to win this war. Major General Rawat told that our Army fought against all odds and defeated the enemy at such a distant place. He said that our jawans dedicate maximum time and a golden period of their lives to the country. We should also keep a feeling of oneness and extend our cooperation to them. Maj. Gen. Ashok Kumar, Col. O.P. Mishra, Col. V.P Tripathi, Col. Pranav Mishra (Retired) gave detailed information about the conditions of Kargil war in the 16500 feet high snowy mountains and other wars that were fought and the Army strategy etc. Eight jawans lost their lives and 48 were injured in this war. The programme ended with the national song after tributes were paid to the Kargil martyrs. Col. Girijesh Saxena conducted the programme while Col. Yashwant K. Singh proposed the vote of thanks. Director Sainik Welfare Brig. R.S. Nautiyal, Bhopal Ex-Services League President Col. S. Kumar, working/retired armymen, their relatives, government servants and elite citizens were present during the programme.
---
EXERCISE BOLD KURUKSHETRA -2017 TERMINATES AT BABINA
Bhopal: 20 March 2017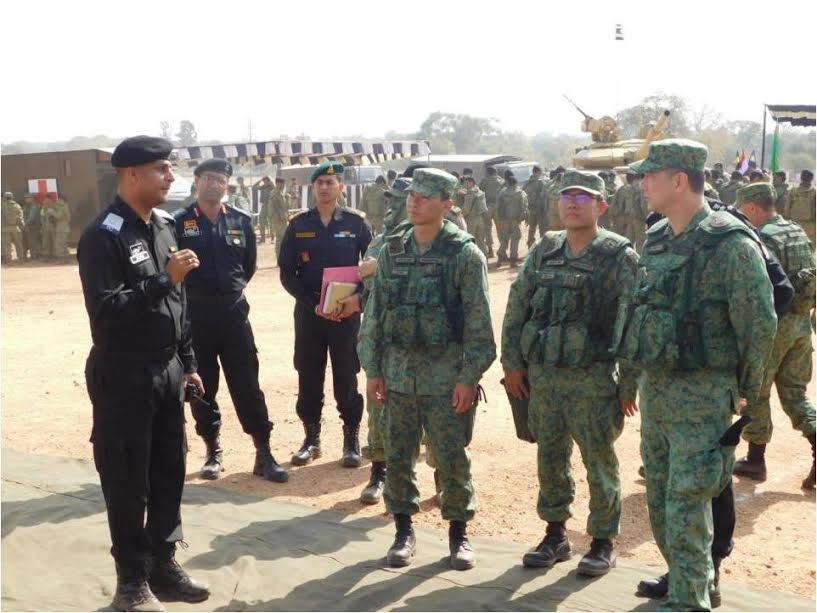 The Joint training of the Indian Army and Singapore Armed Forces (SAF), Ex BOLD KURUKSHETRA-2017 terminated at Babina Field Firing Ranges on 17 March 2017 with a Live Fire Demo conducted jointly by troops of both the armies. The Bilateral exercise was terminated with a closing ceremony presided over by Officiating GOC, White Tiger Division and Division Commander of SAF wherein customary handing over of company flag to SAF battalion and exchange of mementos was done.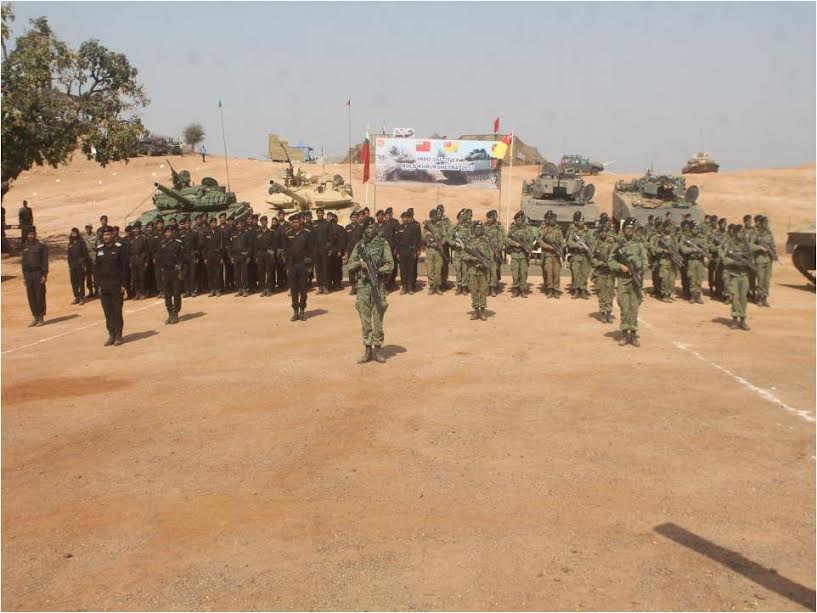 The bilateral exercise involved troops of both countries operating together to achieve inter-operability, mutual understanding and familiarisation with each other's equipment, drills and operational procedures. 250 soldiers each of Indian Army and SAF participated in the exercise. The exercise involved conduct of various drills by the troops operating in complete integration as Joint Combat Teams.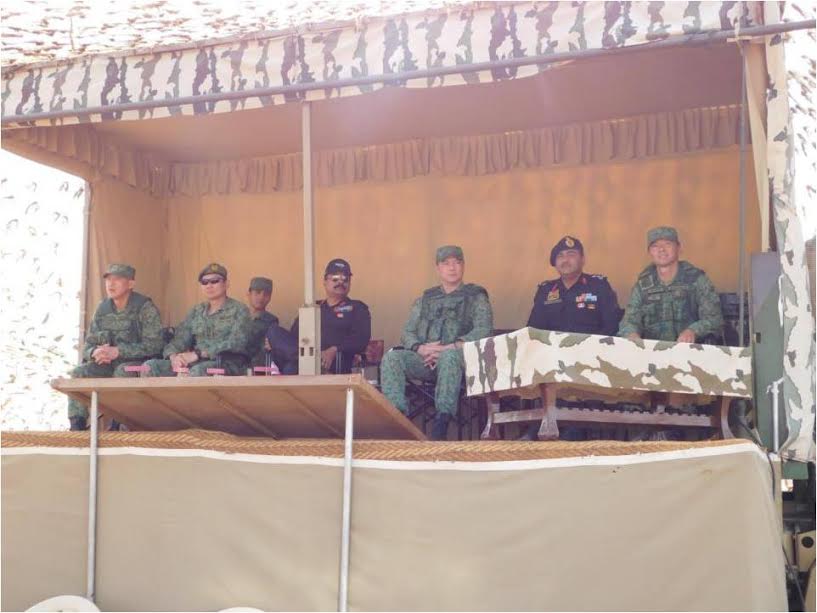 The exercise was conducted in a well coordinated, friendly and cooperative atmosphere. Both the Armies have shared their expertise and benefited with each other's experience. The Joint Military Exercise shall be yet another milestone in defence co-operation and military relations between the two countries.


---



Country's First and Unique Effort-Shaurya Smarak




Bhopal: 10 Oct. 2016


The Government of Madhya Pradesh has developed Shaurya Smarak, a War Memorial in the prominent locality of Arera Hills in Bhopal. Shaurya Smarak, Bhopal is intended to provide a precinct for paying tribute and homage to all those who lay down their lives in service of the Nation's security. This is a tribute to personnel from Madhya Pradesh in all the Armed Forces. The Smarak has been built on a 12.67 acres (approx. 51,250 sqm) campus at a cost of Rs 41.00 crores. The built up area of the project is approximately 8,000 sqm.

SHAURYA SMARAK, BHOPAL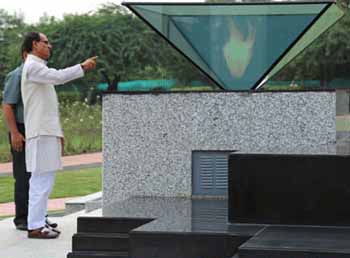 The concept for the design of Shaurya Smarak being interpreted as a shrine has taken reference from the historical edifices of traditional Indian Temples like those at Ellora, Khajuraho and Modhera. The sanctity of the temple axis is represented in the memorial with the final place for paying homage to those departed in War.
What is paramount is that the memorial be perceived in a manner that it firstly concerns the feelings of an individual and the entire community and appropriately responds to it.
The memorial being located in a city that is endowed with natural water bodies and huge expanse of undulating greens, the addition of the memorial is an act of enhancement of these natural attributes in the city of Bhopal. The programme dives into the site rather than rising out of it to remain in harmony with its immediate context.

THE MEMORIAL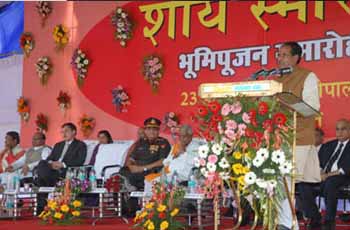 The Memorial has been envisaged as a journey through the various experiences of Life, War, Death and the liberation of the Spirit (Victory over Death), all exhibited through an extremely non-archetypal design. The forms, volumes and textures conceived in each of these zones depict, metaphorically, various aspects of this journey. Designed as a quasi-subterranean structure that is more submerged than visible on ground, it is intended to influence the mind and soul of the visitor by being contemplative in spirit and could possibly initiate a silent dialogue between the visitor and the departed. This emotional engagement of the viewer allows the individual's mentation to take precedence.
Life: The arrival of life on earth is symbolised by a public square – the amphitheater of life (ups and downs of life) which are defined by the hard and soft textures of earth – represented by earthen brick steps, grass and water.
War: The circular geometry represents a crater inflicted on earth. Humanity is distressed by calamity, deprivation and destruction. The texture is symbolic of the harshness of war – rough, chiselled local stone.
Death: The small dark cube signifies death - an arena of melancholy, sorrow and lost hopes. It is the opportunity to experience the sudden darkness of death. Because of its darkness and scale there can be hope for Victory Over Death.
Victory over Death: In death, the physical form vanishes; the spirit survives. Being indestructible, we use the analogy of the eternal spirit in the final experience zone. The installation of a grid of transparent rods illuminated at the base and composed in disciplined military formation are symbolic in their aesthetics.

THE STAMBH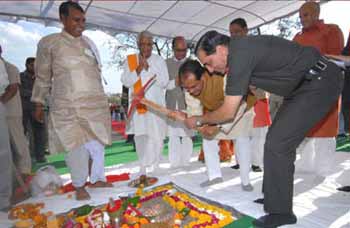 The 62 feet high Stambh, rising from the ground, depicts the life of a soldier – nurtured within an atmosphere of freedom of choice, built on a foundation of inner strength and courage; the guardians of our country are steered by a sense of patriotism. Their sacrifices at various stages of life, and ultimately of life itself, have stemmed from love, ownership and fulfilment achieved by the prosperity of this large family, hence elevating them to a higher power - the sentinels of the almighty.
Each granite disc of the Stambh represents this ascent. The earth (Army), water (Navy) and air (Air Force) are represented through the solidity of the granite stambh, the water body and the lightness of the white granite stone pedestal respectively.
ETERNAL JYOT
The traditional lamp, the eternal lamp which is lit in reverence to a martyr, is represented by a state-of-the-art holographic image.
GLASS PLAQUES
Names of the individual martyrs have been engraved for eternal remembrance and homage, in aluminium plates fixed on glass plaques. These plaques have been placed in close proximity to the Stambh.
RED SCULPTURE
The abstract form of the sculpture is intentionally interpretative. It is a 'Vandana', a 'Namaskar' from the main axis and it also represents a 'Drop of Blood' from other view points.
INTERPRETATION CENTRE
The interpretation centre is designed as a semi- open congregation space with an information display system, explaining the essence of the Memorial and providing a preview to visitors before physically experiencing it. It will describe the concept for the design of Shaurya Smarak, providing details of the different zones and the vision behind the design of this non-building Memorial. A film/walk through with picture clips along with write-up in Hindi and English, both the languages would facilitate Indian as well as foreign visitors coming to this Memorial.

THE MUSEUM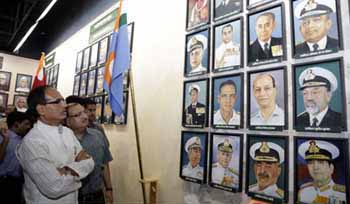 As an integrated part of the Memorial, a War Museum commemorating patriotism and valour of the Indian forces has also been planned. This Museum is a small showcase of the Indian Army, Navy and Air force containing thematic paintings of 'shaurya ' starting from Mahabharata period to freedom struggle, presenting a cultural history of our time along with paintings based on gallantry award winners like Paramveer Chakra and Mahaveer Chakra as proud exhibits. Different diorama of Army, Navy and Air force along with small models of aircrafts, tanks and ships will be a centre of attraction. It is imaginative and colourful presentation of valour of Indian forces and a humble tribute to the martyrs.
ENVIRONMENTAL PLANNING & COORDINATION ORGANISATION (EPCO)
EPCO, an organisation under the Environment Department was entrusted with the job of providing consultancy services for the architectural designing of the Memorial. EPCO conducted a National level competition for selection of Architect and M/s UCJ architecture & environment, Mumbai was selected. Capital Project Administration (CPA) is the Executing Agency for the project. Memorials bhoomi poojan was performed by the Chief Minister Shri Shivraj Singh Chouhan in the presence of the then Army Chief General Deepwak Kapoor on February 23, 2010. The Memorial will be dedicated by the Prime Minister Shri Narendra Modi on October 14, 2016.
---
TOP