VISION
- To be the most respected & Innovative Media House in the SME category. Ours is an integrated Media House engaged in the Varied Media / Communication activities, with the core strengths of Innovation, solutions that work and our strong belief in Leadership Through Brainpower.
DIVISIONS
PUBLISHING:
The credit for introducing quality web-Journalism goes to www.METROMIRROR.COM - A leading & respected Newsmagazine published since 2003 for the forward looking readers who are looking for crisp News and Innovative reader - friendly features to keep themselves well - informed and ahead of others in the fiercely competitive world. Born at Bhopal,
METROMIRROR.COM
in now a National Brand through its Nine English & Three Hindi Editions with Lakhs of readers spread allover India & abroad.
METROMIRROR.COM
will soon have its Singapore, Dubai & Bangkok editions. Also, Brainpower Media will soon launch a
National Newsmagazine
in Print as well as innovative online initiatives
MEDIA CONSULTING :
We provide turnkey Media consulting for those Business Houses who are looking for an opportunity to diversify into media business - Print, Television or online, through team of experienced and competent Journalists & Media, Public Relations, Advertising and Marketing Professionals.
PUBLIC RELATIONS :
The most important and valuable possession of any organization or person is its "IMAGE" Public Relations is the Art of effectively managing the "IMAGE" through various tools & techniques relating to the disciplines as varied as Advertising, Marketing, Branding, Psychology, Sociology, Management & Economics. we have the competent team of professionals to effectively plan and execute the
Image Management strategy
- led by Mr. Shiv Harsh Suhalka, Leading Journalist, Media & PR professional, Management Guru, Trainer & Motivator. Mr. Suhalka is Past Chairman Public Relations Council of India ( PRCI ) & Director (Media) in the National Executive of the PRCI, headquartered at Bangalore.
We have the National Network to plan and execute the Press conferences meticulously within the targeted budget with effective media coverage targeted at the right audience at the right time.
Advertising & Brand Activation :
We can visualize effective Multi-media Advertising campaigns and Brand Activation Strategies to reach out to the targeted audience leading to the desired results.
Our Right Media - Planning
and
Most Cost - Effective Media - buying
across Print, Television, Digital and other Specialized Media will definitely help you cut the cost but not the impact that you really deserve. We specialize in
corporate events / conferences / Awards functions
to be organized any where in India or abroad.
TRAINING & HRD :
We Train & Develop professionals in Public Relations, Advertising & Marketing communications, Branding & Corporate Communications, Communications & Soft - Skills for Leadership everywhere. Our competent high - caliber team of professionals with real experience in the relevant areas train the fresh graduates, MBA's, Engineers as well as the working professionals looking forward to improve their skills for higher positions of responsibility where the above skills are considered necessary for the leadership positions.
Educational Institutions, corporate & Government Sector organizations & other organizations may send us their request to ascertain their training & Development needs.
TV / Radio / Corporate Film Production :
We have the high-caliber creative and Production team to visualize and produce the TV Program, Radio Program, wedding film, Industrial and corporate film /Ad film, as per the requirement and budget.
TO KNOW MORE ABOUT OUR SERVICES OR ABOUT YOUR SPECIFIC REQUIREMENTS,
PLEASE MAIL US / CALL US AT :

The Public Relations Officer
BRAINPOWER MEDIA GROUP

Bungalow -35 , Navdoorsanchar Colony,Palash Parisar, E-8 gulmohar Bhopal-462039

Email : BMIPLINDIA@GMAIL.COM / SHSBHOPAL@GMAIL.COM

Ph : 0755-4942880 : 0755-4919927 M. 09893096880

www.METROMIRROR.COM

Please mention Name of the Division in your Subject line.

Regd Office: UGF -36, Block-3, Green City, E-8 Gulmohar , Arera Colony, Bhopal 462039
---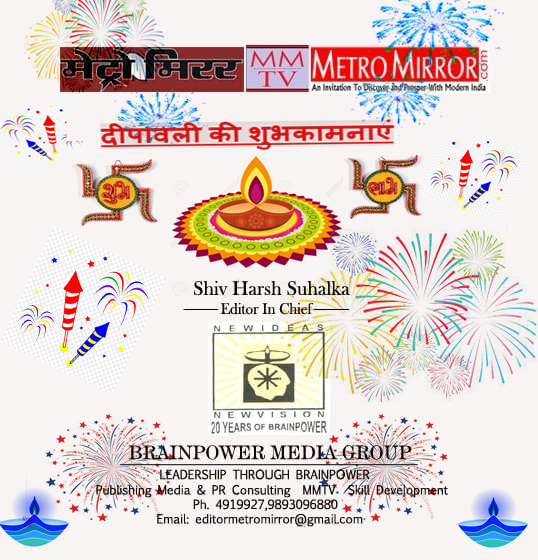 ---