---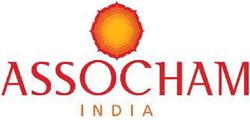 ASSOCHAM for forming effective MSME policy in MP
Bhopal, June 5, 2013: Apex industry body ASSOCHAM today suggested the formation of a high-power committee headed by Minister of Commerce and Industry of Madhya Pradesh (MP), Mr Kailash Vijayavrgia to draft an effective policy to accelerate the growth and development process of marginal, small and medium scale (MSME) industries operating in various sectors across the state of Madhya Pradesh.

"There is an urgent need to evolve an effective strategy comprising various significant aspects like marketing, working capital management, technological upgradation, interlinkage amid MSMEs, cluster development, skill development, facilitating micro credit, financial inclusion and revival of sick industrial units in wake of rising land prices," said a study titled 'Madhya Pradesh-Enhancing Capacity for Sustainable Growth,' released by The Associated Chambers of Commerce and Industry of India (ASSOCHAM).

"The MSME sector accounts for about 45 per cent of India's total manufacturing output, about 40 per cent of India's exports, thereby employing over seven crore people in over three crore units spread across the country manufacturing over six thousand products ranging from traditional to high-tech items," highlighted the study released at the '8th SMEs Sammelan- Enhancing Capacity for Sustainable Growth,' organized by ASSOCHAM in Bhopal today.

"High cost and lack of availability of adequate and timely credit, limited access to equity capital, problems relating to storage, designing, packaging and product display, lack of access to global markets and modern technology, inadequate basic infrastructure facilities, dearth of manpower, multiplicity of labour laws and others are certain key challenges faced by the MSME sector in India," according to the ASSOCHAM study.

Suggesting a roadmap to promote and develop marginal, small and medium enterprises (MSMEs) in Madhya Pradesh (MP) the ASSOCHAM study has recommended for adopting a consortium approach to solve the marketing related problems of the MSME sector.

Besides, the study has also suggested to periodically review the activities of ensuring effective financial arrangements for the MSMEs.

Technological upgradation is another significant area which requires immense government attention to promote growth and development of MSME sector in MP.

The potential to create synergies between tiny, small, medium and large enterprises must be exploited so they can thrive collectively leading to industrial development, thus ASSOCHAM study has suggested the MP government to encourage developing and strengthening linkages between tiny, small and medium industries.

The apex chamber has also suggested for organizing seminars and workshops to impart technical know-how to the MSME workforce with due support from central government, technology institutes and universities.

Garment, leather, silk and soya processing industries be placed in the thrust sector to fully exploit their export and employment potential.

There is also ample of scope to develop the entrepreneurial culture and be further improved through specialized training, technical assistance and general consultancy services through professional institutions.

A cluster development approach should be implemented to ensure sustainable growth of industries and this requires major initiatives to develop ancillaries and voluntary organizations to provide necessary linkages. Besides, ASSOCHAM has also suggested for extending external assistance from agencies like UNIDO, UNDP, ESCAP and others.

The MSME units venturing in information technology(IT), e-commerce, networking, multimedia, data communication, value added services and others must be assisted through the venture capital which is ideal for knowledge and technology based industries.

There is also the need to undertake skill development initiatives at all levels to ensure that MSMEs are able to hire skilled and competent manpower.

A comprehensive, district-wise drive must be undertaken by the state government through Directorate of Industries for identifying potentially viable sick units.

Considering there is a gap between demand and supply of micro credit, it is suggested that state government together with leading microfinance companies, non-governmental organizations (NGOs), self-help groups(SHGs) and others should come forward and provide loans to micro-entrepreneurs esp. in handicrafts and handloom sector.
---
The Making of an SME
There exist several definitions of the ferm small and medium enterprises(SMEs), varying from country to country and varying between the sources reporting SME statistics, Accourding to the Micro, Small and Medium Enterprises Development Act, MSME's are defined on the basis of their investment in plant and machinery and equipment for enterprise rendering services

| | | |
| --- | --- | --- |
| | Manufcturing Enterprise | Service Enterprise |
| Micro | Up to Rs 25 lakh | Up to Rs 10 lakh |
| Small | Above Rs 25 lakh and up to Rs 5 crore | Above Rs 10 lakh and up to Rs 2 crore |
| Medium | Above Rs 5 crore and up to Rs 10 crore | Above Rs 2 crore and up to Rs 5 crore |
The MSMEs play an essential role in the overall industrial economy. In recent years, the MSME sector has consistently registered higher growth rate compared with the overall industrial sector. The MSME sector in India is highly heterogeneous in terms of the size of the enterprises, variety of products and services, and levels of technology. The sector not only plays a critical role in providing employment oppotunities of comparatively lower capital cost than large industries but also helps in industrialisation of rural and bockward areas, reducing imbalances and assuring more equitable distribution of national income and wealth. MSMEs complement large industries as ancillary units and cantribute enormously to the socioeconomic development of the country.

Considering the importance of the MSME sector in the overall growth of the economy, a task force under the chairmanship of the Principal Secretary to the Prime Minister was constituted in The task force has laid emphasis on timely implementation of the recommendations and has set up a system for its continuous monitoring in the Prime Minister's Office. A council on MSMEs under the chairmanship of the Prime Minister has also been constituted to lay down the brood policy guidelines and review development of the MSME sector.

Issues concerning the MSME sector

The problems faced by MSMEs such as access to bank credit, access to capital, technology, skill, market, etc. are quite unique to the nature of the sector. Some of the major bottlenecks impeding the growth of the MSME sector are:

Access to credit: Access to adequate and timely credit at a reasonable cost is the most critical problems faced by this sector. The major reason for this has been the high risk perception among the banks about this sector and the high transaction costs for loan appraisal. While the quantum of advances from the public sector banks(PSBs) to the MSEs has increased over the years, the Net Bank Cdredit (NBC) has declined.

Access to equity: Access to Equity capital is a genuine problem. At present, there is almost negligible flow of equity capital into this sector, despite the fact that that overall capital may pose a serious challenge to development of knowledge-based industries, particularly those that are sought to be promoted by the first-generation entrepreneurs with the requisite expertise and knowledge.

Lack of competitiveness: To ensure competitiveness of the MSMEs, it is essential that the availability of infrastructure, technology and skilled manpower are in fune with the global trends. MSMEs are either located in industrial estates set up many decades ago or are functioning within urban areas or have come up in an unorganised manner in rural areas. The state of infrastructure, including power, water, roads, etc. in such areas is poor and unreliable. Further, the MSE sector is mostly characterised by low technology levels, which acts as a handicap in the emerging global market. Although there is a large pool of human resources, the industry continues to face deficit in manpower with the right skill set for specific areas like, manufacturing, service, marketing, etc. The HR problem is further exacerbated by the low retention rate.

Lack of support: The present mechanism available in India for MSMEs is archaic. It does not focus on revival. Hence, business failure in India is viewed as a stigma, which adversely impacts individual creativity and development in the country. An enabling policy environment, which helps viable enterprises facing temporary disruptions to continue while allowing others to close down speedily, with an appropriately structured social secial security base, is essential for the promotion of MSMEs.

Regulations : Although the government has provided on overarching legislation in the form of Micro, Small and Medium Enterprises Development (MSMED) Act, 2006 for the MSME sector, there are a large number of regulatory issues which impact on the development of entrepreneurship generally and on the efficiency of MSMEs in particuar. The regulatory aspects concern compliance with labour, environment, urban and various taxation laws (both state and central). An understanding of the concerns from all perspectives, including regulatory, labour and MSMEs, will help in formulating a friendlier regulatory environment whch would facilitate promotion and ensure better compliance.

Major initiatives undertaken by the government in FY12 to revitalise the MSME sector :

* BSE and NSE launched the SME platforms, which will serve as on opportunity for Indian SMEs to raise funds from capital markets.
* To achieve the overall target set by the Prime Minister's National Council on Skill Development, Ministry of MSME and the ogencies conducted the skill Development, Ministry of MSME and the agencies conducted the skill development programmes for 478,000 persons during FY12. During FY13, the Ministry aims to provide training to 572,000 people through its various programmes for development of self-employment opportunities as well as wage employment opportunities in the country.
* To improve the productivity, competitiveness and capacity building of MSMEs, the Government of India has adopted a cluster-based approach. During Apr-Jan 2012, the government has taken 8 new clusters for diagnostic study, 5 for soft interventions, and 4 for setting up of common facility centres. Till Jan 2012, the government has taken total 477 clusters for diagnostic study, soft interventions and hard interventions and 134 infastructure development projects.

The SME exchange

After five years of deliberations between small firms, industry representatives, merchant bankers and the market regulator, the Securities and Exchange Board of India (Sebi); earlier this year both the BSE and the NSE set up the SME exchange. The BSE SME Exchange took off with the listing of BCB Finance Ltd in March 2012 and the NSE took off with the listing of Thejo Engineering Ltd.

Why SME platforms?

When an organisation is starting out, either promoters use their own funds or get the help of financial investors such as private equity funds and venture capitalists. Of course, there is an option of adding debt, which also helps improve the overall return on equity, but the cost of raising debt for SMEs is relatively higher. High interest expense does not look very good on the profit and loss statement of a growing company. Thus, in order to fund the next stage of growth without excessive interest cost burden, companies look to access equity funds via capital markets. This is where listing on an exchange comes into the picture.

Unlike regular companies, the SME's IPO papers will be vetted by bourses rather than Sebi. Any company with an issue capital smaller than Rs 10 crore at the IPO time, will be allowed to list on SME platform. Any firm can list on the main bourse if its issue capital crosses Rs 25 crore subsequently as per Sebi guidelines.

While an SME can also list on a main exchange, there are two distinct advantages of using a dedicated SME exchange. First, listing norms are written to specifically suit SMEs. Second, the initial punlic offer (IPO) process for SMEs is simplified and this means that time taken to prepare for an IPO is much less than for listing on a main exchange. Third, it helps the SME get attention in the stock market. For an interested investor it's easy to identify, rather than sifting through at least 2,500 smal-and medium-cop stocks on a main exchange.

The platforms are an opportunity to raise funds through sophisticated investors. Listing here means that they don't get lost in the plethora of stocks in the main exchange Moreover, listing is perceived as a prestigious step for a company and it can help them raise more capital in the future. Along with increased visibility and reputation, it also helps in better price discovery and fair valuation opportunity.

However, this is not the first attempt at clearly distinguishing SMEs. The OTC Exchange of India (OTCEI) set up in the early 1990s was probably the first exchange specifically designed for SMEs to list. However, trading volumes didn't pick up much as compared with NSE and BSE and ultimately for an SME stock to get recognized, liquidity or trading volume has to pick up.

Liquidity is the key

The OTCEI experience demonstrated that the pick-up in trading activity or liquidity is really the key factor for the success of these exchanges. As of now, the stocks listed on BSE SME exchange have very low liquicity starting from around a couple of thousand shares, and not all the listed stocks get traded every day. It is early days and on e has to watch out how liquidity picks up.

A large group of investors could be interested in the exchanges like private equuity(PEs) to venture capital(VCs) or angel investors, High net-worth individuals (HNIs) to strategic investors, VC-assisted companies looking for next round of funding, subsidiaries of large firms looking to unlock value, are some who would be interested to invest on SMEs listed on these platforms as they are virtualluy barred since the minimum lot size for an IPO as well as trading is Rs. 1 lakh. All these gains will be visible once trading picks up and market liquidity is enough, then perhaps it would be better for retail investors to consider these stocks actively.
---