ZANJEER – CHIRANTAN BHATT, MEET BROS ANJJAN, ANAND RAJ ANAND
T-SERIES; Rs. 175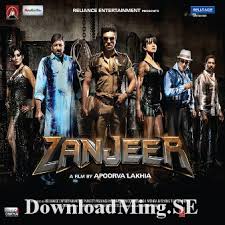 Bollywood : Zanjeer was always going to be shackled by high expectations. And while the new soundtrack has no reworking or reimagining of any hit number of the 1973 film, one expected it to at least rise above par, if not match the standards of the original. With three composers pitching in, it should have had a lot going for it. It doesn't. Mumbai Ke Hero, composed by Chirantan Bhatt and sung by Mika and Talia Bentson, is one of the better efforts. With select Bachchan dialogues from the 1973 film peppered throughout the track, this is something of a tribute to the lawkeepers. It's a song that makes no bones about being massy and entertaining. Next is Pinky, a Meet Bros.
As item numbers go, it doesn't sound like it will stick in your head, Wajhi Farooki and Palak Mucchal feature on a romantic track called Lamha Tera Mera, a Chirantan Bhatt composition. While it's a decent enough track, Wajhi's voice seems a little too nasal and gravelly and in stark contrast to Palak's. Khochey Pathan Ki Zubaan is a throwback to the era when qawwalis were a dominant part of the Bollywood soundscape.
It's supposed to be a nod to Yaari Hai Imaan mera. Composed by Meet Bros Anjjan, it has Sukhwinder Singh and Shabab Sabri go back and forth in a competent track that's bravely trying to hold its own. Next, is another Meet Bros Anjjan composition, a cabaret-ish number called Kaatilana sung by Shweta Pandit, that tries its best to sound as 1970s as it can. The remix sounds like the only thing they've added is jhankaar beats. Shreya Ghodhal follows on Shakila Banoo, an Anand Raaj Anand composition. Ghoshal tries to up the oomph quotient. It's a decent try at best. As far as this album goes, it's a disappointment. All the composers have done better work before, and it doesn't show on this outing.
---
PIONEER – THE BAND PERRY
UNIVERSAL, Rs. 395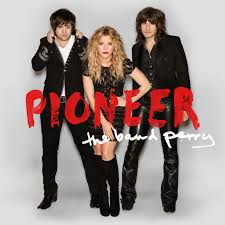 Country & Western: At first listen, the group's second album marks a step in the right direction and picks up from where their debut album left off.
Both melodically, the sibling trio – Kimberly Perry (lead vocals, guitar, piano), Reid Parry (bass, vocals) and Neil Perry (mandolin, drums, accordion, vocals) – show progression on tracks like Done, Forever Mine Nevermind and Chainsaw evidence the fact that the group have raised the bar.
The songs are also more personal – Back to Me Without You is about losing a friend or a lover.
Forever Mine… is more upbeat, with a good chorus to support the verses. Done has a decidedly 80s retro vibe to it, while I'm a Keeper is as country as it gets, where they loosen the strings and jam a little.
Going the family way, the sweet-sounding Mother Like Mine is a touching ode to.
In that sense, Pioneer does not have a paucity of different styles and flavors – something quite noteworthy for a group just two albums old.
---
THE BLUE ROOM – MADELEINE PEYROUX
DECCA, Rs. 395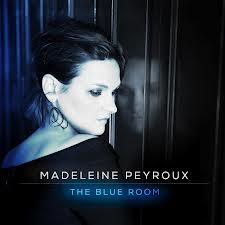 Vocal/jazz: Madeleine Peyroux is an American jazz singer and songwriter who also plays jazz guitar. For The Blue Room, she has teamed up with the producer Larry Klein(he's worked with the likes of Joni Mitchell and Herbie Hancock in the past) to do what sounds like a very tasteful suite of music.
They've also included versions of Randy Newman's Guilty, Warren Zevon's Desperado's Under the Eaves, John Hartford's Gentle On My Mind, Leonard Cohen's Bird on a Wire and the really nice Changing All Those Changes by the legend, Buddy Holly. Eschewing the flashy, showiness of contemporary female performers, Peyroux is tastefully understated, which is fine because her clean voice needs little adornment.
Guilty, a Randy Newman tune, gets a country tinge, while Bye Bye Love – previously famously covered by the Everly Brothers and written by Felice and Boudleaux Bryant, gets the complete blues treatment here.
The use of the electric piano adds enhances the jazzy feel to the songs. It's not easy to perform songs of such pedigree with minmal backing, but Peyroux does with the consummate ease of a professional.
---
NEON – JAY SEAN
UNIVERSAL; Rs. 395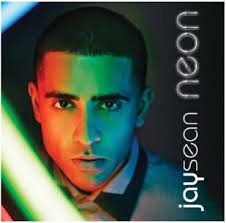 Pop: Singer Jay Sean (a Londoner of Punjabi descent) has enjoyed commercial success since his Bhangra-flecked 2003 debut with Rishi Rich Project. His decade-long career is a chequered one, with major setbacks and minor flaws. However, his fourth full-length album might succeed in putting his critics to rest. It took Sean four years to complete, and is his most soulful work to date. It smoothly blends pop, hip hop and R&B into a radiofriendly record.
The opening title track has a solid hook. It flows easily into 'Luckiest Man' that contrasts percussion with emotionally fragile lyrics. Sean channels Usher in 'Mars' (featuring Rick Ross) and Miguel in 'Miss Popular'.
'Passenger Side' is the requisite heartbreak song about how the girl he loved left him for a rich man, who rides a Bentley. The singer moves back into catchy and shallow territory with the tracks Sucka For You and Break of Dawn (featuring legendary rapper Busta Rhymes), which are clearly meant for the dance floor.
For the most part, Sean manages to walk the thin line between artistic creativity and pandering to commercial interests. It is a sign of how much he has matured since the start of the new millennium.
---
Celluloid Man movie review: A masterful documentary on how one man's obsession saved the history of Indian cinema
Shivendra Singh Dungarpur's documentary on noted Indian film archivist PK Nair is a fitting tribute to 100 years of Indian cinema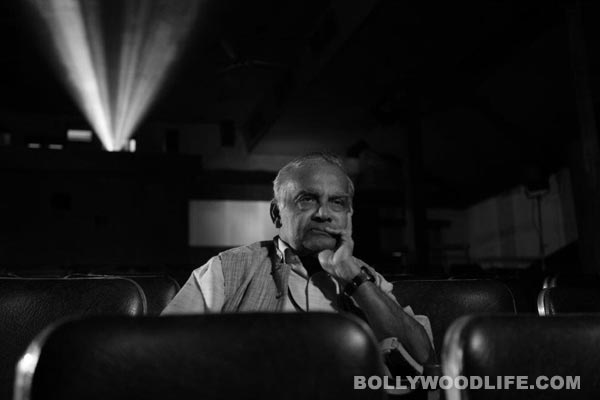 'A generation that ignores its history has no past' is the one quote that stands out in Celluloid Man, a brilliant 150-minute documentary by Shivendra Singh Dungarpur on the life of legendary film archivist PK Nair, and how his obsessive attitude and steel determination to preserve films helped India retain its century-old culture of making movies. The director looks at his subject with a starry eyed devotion of a fan; he treats Nair almost like a movie character, as he delves into investigating the how and why of the old archivist's obsession with cinema.

On its surface, the documentary is about Nair who single-handedly built the movie archive at FTII Pune, and started work of film preservation in India. Like a Sherlock Holmes, Nair would chase old movies and attempt to preserve them without any bias. Larger questions about which movies are worth preserving and how it affects the current generation of filmmakers and viewers in their attitude towards films are made evident as the docu progresses. For example, even a C grade film like Hunterwali Nadia, 50 years later, becomes a rare walk through the history of cinema.

The movie shows Nair as a complete fan of the talkies, whose obsession with cinema began in the makeshift theatres of Trivandrum where he would sneak in and watch movies, with his heels dug in the white sand that acted as the floor. "The experience was almost spiritual, as sometimes I would lie down on the white sand and see movies," says Nair, now in his 80s, with milky eyes and a bad back. The docu shows how the archivist had to fight the governments and at times producers' callous attitudes towards film preservation to save precious films from a sorry fate.

Nair here is treated at par with legendary cinematic figures including the noted French film archivist Henri Langlois, and rightly so. His style may be different from a Langlois who was known to be boisterous and almost rogue, but his affection for the talkies is the same, and a legion of directors vouch for it. Like Langlois, Nair would cheekily 'dupe' films and take part in piracy which now looking back worked out for the best. What's also heartening to see is how Nair's efforts helped so many filmmakers come into their own. The old archivist was always ready to help out young students with tips on which movies to watch, often lending them rare prints to study. Filmmakers including Ritwik Ghatak, Vidhu Vinod Chopra, Rajkumar Hirani, Santosh Sivan, Aziz Mirza and Mahesh Bhatt are among the many FTII students who benefitted from Nair's generosity.

Shivendra Singh Dungarpur works his way patiently through Nair's story and turns the film on its head making it about so much more than just a documentary about cinema. With Nair's retirement, an era has come to an end. And with the FTII's same babu like attitudes, film preservation is again at a fragile state. Nair is no longer a welcome sight at the FTII campus, as his dictatorial style and iron clad approach towards preserving films is not appreciated by the higher ups at the government sponsored film institute. The mantle has passed, yet the problems remain the same. Nair is a dinonsaur and a revered figure, yet his era is over. But has it gone to someone worthy? Sadly, that is the debate that the movie wakes its viewers up to.

So catch this film to simply know how rich and diverse the history of Indian cinema is. And the 100 years that Indian cinema completes are not only of insane song and dance affairs but with films so beautiful, it would make your heart sing with joy if they were accessible. And some of them are too, thanks to one man's magpie like obsession with preserving films.
---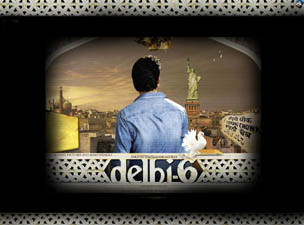 EXPECTATIONS Delhi 6
A.R. Rahman is in a peculiar state . Whatever he churns out, especially when a film is as big as Delhi 6, is expected to be huge now, especially after a powerful trail that he has left behind in 2008. No wonder, Delhi 6 comes with expectations of the highest order, especially with names like Rakeysh Omprakash Mehra, UTV, Prasoon Joshi, Abhishek Bachchan and Sonam Kapoor attached to it.
MUSIC
Why such excitement about the soundtrack of Delhi 6? Well, one hearing of 'Masakali' and you know that this would be a song remembered for months to come. An instant chartbuster from the word 'Go', it has a characteristic Rahman flavor to it and sounds a unique and extremely fresh piece of music. The orchestra is kept at bare minimum and still makes a huge impact in bringing on a recollection value.
Reminding of 'Pia Haji Ali' and 'Khwaja Mere Khwaja', 'Arziyan', as required by the genre, has tabla and harmonium taking it through its 9 minute long duration. The impact of this devotional track with a haunting sound is such that after a couple of minutes, a listener completely surrenders by loosing himself in the ambience created by it.Well, if one thought that Delhi 6 was more inclined towards rustic music then watch out for the title song that comes next. 'Delhi 6' is what 'Paathshala' and 'Khalbali Hai Khalbali' were to Rang De Basanti. This is the track that deserves to be placed at number of instances in the film's narrative and if at all a music video is created around it, rest assured the number would be hummed by every campus goer. The beats are simply groovy and don't be surprised if the pubs and lounges, at least in North India, have the number playing on in a few days from now. In fact there is a number that goes as 'Hey Kaala Bandar' and is set in a mode similar to that of Delhi 6 if one has to consider the intrinsic groovy elements that it carries.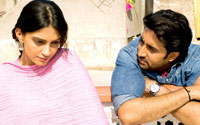 Most remarkable of the enterprise so far, 'Rehna Tu' is melody at its best with a Western base to it. A kind of number that can be instantly associated with Rahman, it has its strength in the smooth flowing narrative that makes it an ideal candidate to be played on your date with the one you love! And if the date extends for another hour or so, don't forget to play on 'Dil Gira Dafatan' which is just an ideal follow up to 'Rehna Tu' and keeps the romantic tempo on when it comes to melody. In fact there is hardly any instrument that plays in the background, hence making 'Dil Gira Dafatan' even more special!For about 50 seconds, 'Genda Phool' appears to be all rustic and rooted but soon Western arrangements come into picture hence making it a cool fusion number that continues to get on variety for the soundtrack of Delhi 6.Composer Rajat Dholakia comes into picture for this unique number which leaves one wondering that in which situation it would be used.
Surprise comes in the form of classical 'Bhor Bhaye' which is based on raaga Gujri Todi followed by an aarti 'Tumre Bhavan Mein', both of which promise to add on to the narrative of Delhi 6 in the background. Essence of love is all over again, though for a mere 50 seconds, as Amitabh Bachchan runs his commentary on 'Noor' that concludes the album.
LYRICS
Prasoon Joshi certainly likes to write something that has never been heard before. When he plays it all around to mix and match with words that could either be totally poetic or straight out of day to day conversations, songs like 'Masakali' are made. He gets devotional with 'Arziyan' and 'Aarti (Tumre Bhavan Mein)' with the classical 'Bhor Bhaye' and folk based 'Genda Phool' showing an altogether different facet of his writing.
Prasoon returns with the love songs 'Rehna Tu' and 'Dil Gira Dafatan' and gives Rahman quite a lot to experiment around. On the other hand, he would have certainly given Rahman a tough time to compose lyrics that go as 'Hey Kaala Bandar'. Viviane & Claire are the guest lyricists for the title song 'Delhi 6' where they bring in the flavor of Delhites. This one is an ultra cool and modern number where lyricists cleverly mix words written in both English and Hindi.
VOCALS
Mohit Chauhan gets to sing on a completely different pitch, something that he hasn't been known for much after a slew of mushy romantic numbers that he has sung so far.He is terrific with 'Masakali' that would add on to his ever increasing repertoire. Javed Ali opens 'Arziyan' and Kailash Kher joins him later to create a mesmerizing impact that makes the number a heartfelt experience.Blaaze, Benny, Viviane, Tanvi and Claire would have certainly had fun while coming together for Delhi 6 which is the first 'cool' number to make an appearance in the soundtrack. Another teamwork is seen in 'Hey Kaala Bandar' where Karthik, Naresh, Srinivas and Bony Chakravorty come together to make it an all-boys outing.
Certainly, this makes for an enjoyable journey! Rahman goes selfish with 'Rehna Tu' as he saves the best track of the album for himself and comes behind the mike for it. Just hear it to believe it as he is just so perfect in his rendition and makes you play on the number repeatedly. However, Ash King, a male singer who hasn't been heard on the Bollywood scene so far, gives Rahman tough competition as a singer with the number 'Dil Gira Dafatan'. He makes an excellent debut with Chinmayee doing well as a backup vocalist. Ustad Bade Ghulam Ali Khan and Shreya Ghoshal come together for 'Bhor Bhaye' and the latter especially shows her prowess as a singer as she comfortably slips out of her playback singing veil and gets into the groove of hardcore classical mu sic.
OVERALL
Delhi 6 is near perfect. Period. If one thought that Slumdog Millionaire, Ghajini and Jaane Tu Ya Jaane Naa were superb then just listen to Delhi 6 once. Rahman beats his own score with Delhi 6 which would easily go down as one of his best scores till date.
Simply said, even though the year has just begun with some exemplary soundtracks like Dev D, Slumdog Millionaire and Luck By Chance already making a very good impression, Delhi 6 would qualify as a comfortable nomination amongst the Top albums of the year. And to thing of it, 2009 still has more than 11 months to go!
---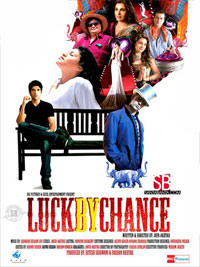 On the whole, LUCK BY CHANCE is an outstanding film in all respects.
Cast: Hrithik Roshan, Farhan Akhtar, Rishi Kapoor, Konkona Sen Sharma, Isha Sharwani, Dimple Kapadia, Juhi Chawla, Sanjay
Kapoor, Aly Khan.
Lyrics: Javed Akhtar
Music: Shankar, Eshaan & Loy
Producers: Ritesh Sidhwani and Farhan Akhtar
Director: Zoya Akhtar
One has often heard, read and seen the positive and negative aspects of Bollywood. It would be erroneous to state that LUCK BY CHANCE does a pol-khol of the glamorous industry.If you're associated with Bollywood, if you know how the machine works, you'd laud and applaud, laugh and smile, identify and understand and at times, empathize and sympathize with the characters in LUCK BY CHANCE. Zoya Akhtar's take on an industry that attracts millions of hopefuls year after year is bang on target.Let's put it this way: The film mirrors the behind-the-scenes drama and manoeuvring exactly the way it occurs in showbiz.
Watching LUCK BY CHANCE is like experiencing it first-hand.Along with the core issue, the film highlighted the behind-the-scenes hard work and labour that went into making movie LUCK BY CHANCE taps almost every important facet of Bollywood and presents assorted characters you've encountered some time in life: An over-ambitious aspirant who knows to make the right moves; an actress trying hard to get that big break, even if she has to compromise; an icon of the 1970s who desperately wants her daughter to be a star; a producer who looks at riding on big names, script be damned; a failed actor now looking at direction to redeem his career.The interesting part is that each of these characters has a story running parallel to the main story. Although the writing is foolproof, this review would be incomplete if one failed to acknowledge a number of scenes that are the hallmark of this enterprise... *Note the sequence when Rishi Kapoor breaking down after Hrithik has walked out of his movie. It moves you! Right from the characters, to the individualistic scenes, to the way Zoya puts them in a sequence, LUCK BY CHANCE is easily one of the most cohesive scripts this side of the Atlantic.
Ghajal Singer Pankaj Udhas has completed 25 years of his Sangeet Yatra. His First album'Aahat was released in 1980. Recently T-Series has released 'Hasrat. This Album has total 9 Ghajals. Lyrics are by Sunil Jogi, Nusrat Budar & Praveen Bhardwaj. Pankaj Udhas has sung all the Ghajals very gracefully as it shows.