POWERGRID Jabalpur Transmission Limited successfully commissions 'Transmission System Strengthening associated with Vindhyachal-V'
POWERGRID Jabalpur Transmission Limited, a 100% wholly owned subsidiary of Power Grid Corporation of India Limited, secured though Tariff Based Competitive Bidding (TBCB), has successfully commissioned the Vindhyachal Pooling Station – Jabalpur Pooling Station 765kV Double CircuitTransmission line. The project is part of the Transmission System Strengthening associated with Vindhyachal-V and has been established on Build, Own, Operate and Maintain (BOOM) basis. The transmission system is put under commercial operation with effect from 1 st January, 2019. The 765kV D/C transmission line is one of the longest transmission lines comprising more that more than 750 circuit km. The line traverses through seven districts in the state of Madhya Pradesh. Despite severe Right of Way and hindrance by miscreants during the construction, the transmission line was successfully commissioned with the meticulous coordination with all stakeholders including support from the administration. The project was reviewed by Hon'ble Prime Minister under PRAGATI and also followed up by regular monitoring by PMG/PMO and Ministry of Power for its commissioning. The transmission system facilitates supply of power with reliability & security and more than 2500MW power flow has been recorded on commissioning of the Transmission line. Beyond Jabalpur Pooling Station, dispersal of power is through existing/planned transmission network under Inter-State Transmission System.
---
NPCI launches RuRay e-Com
NPCI launched the much-awaited RuRay e-Com solution, which was inaugurated on June 21, 2013 at Mumbai, by chief guest H. R. Khan, Deputy Governor, Reserve Bank of Baroda; M. V. Tanksale, CMD, Central Bank of India; M Balachandran, Chairman-Management Committee, NPCI Board; A.P. Hota, MD & CEO, NPCI; Uday Kotak, Vice Chairman & MD, Kotak Mahindra Bank; V.R. lyer, CMD, Bank of India and top bank officials.
---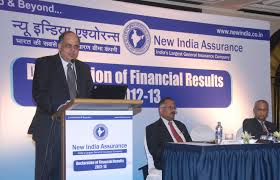 New India Assurance PAT rises to Rs. 843.66 Cr
New India Assurance declared its financial results for the year of 2012-13 at Mumbai.
G Srinivasan, CMD; K.Sanath Kumar, Director and GM, and A. R. Sekar, Director and GM during the announcement of the results.
---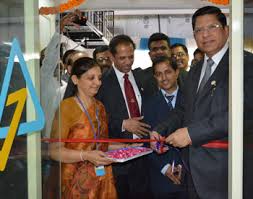 Canara Bank inaugurates SME Sulabh branches
R.K. Dubey, CMD, Canara Bank Inaugurated two SME Sulabh branches at Naraina Vihar and Mangolpuri in Delhi to cater to the needs of MSM industries.
ED of the bank, V.S. Krishna Kumar and T. Sreekanthan, GM, Delhi circle, also graced the occasion.
---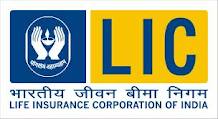 LIC conkucts annual strategy conference
The 53rd annual strategy meeting of LIC of India is being held in Mumbai.
The meeting shall be addressed by CMDs of LIC of India. Zonal heads from eight different zones as well as all operational heads in the rank of Executive Directors from corporate office shall be present in the meeting.
Divisional heads representing 108 divisions all across the country shall also be present to participate in deliberations for finalizing strategy on various aspects of marketing and policy servicing.
---
United India Insurance net soars by 36 pc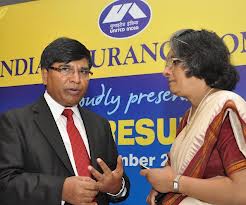 Ull reported PAT of over Rs. 527 Cr against Rs. 387 Cr for the previous year.
They clocked and premium of Rs. 9266 Cr, growing over 13% and proposed a dividend of 70% for the year. Ull managed the claim ratios at 84.61% for the year.
The investment income for the period stood at over Rs. 1777.41 Cr up from Rs. 1600 Cr last year.
The net worth grew to Rs. 4952.63 Cr as on March 31, 2013. Seen in the photograph are Director and GM S. Surenther, CMD Milind Kharat and Director and GM Asha Nair.
---
SBI donates school bus to RMSV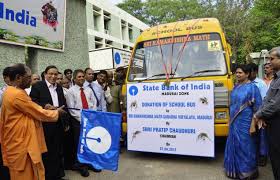 Pratip Chaudhuri, Chairman, State Bank of India, donated a school bus to Ramakrishna Math Saradha Vidyalaya, Madurai.
The chairman also donated an ambulance van to Sacred Heart Hospital, Tuticorin in a function arranged at State Bank of India, ZO, Madurai in the presence of A. Krishna Kumar, MD and Group Executive(NB), Corporate Centre, Mumbai; Varsha Purandare CGM; Krithivasan and Sanjiv Chadha, GM, LHO Chennai and Sundar Rajan DGM, Madurai.
---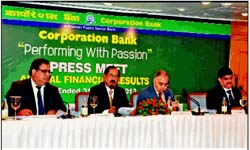 Corporation Bank performance highlights
Ajai Kumar, CMD, Corporation Bank announcing the performance highlights of the bank for the yoar ended March 31, 2013, in the presence of Amar Lal Daultani and B. K. Srivatav, EDs, and C. G. Pinto, GM of the bank
---
Indian Oil Corporation raises Rs 1,700 crore via bonds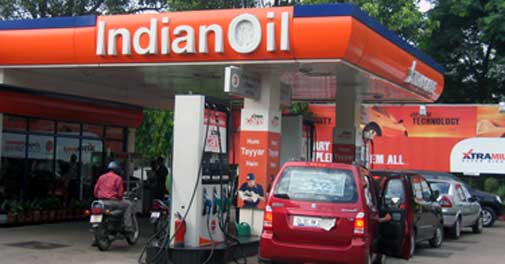 Indian Oil Corporation has raised Rs 1,700 crore from the domestic bond market to meet working capital requirements.
"IOC's issue of Secured Redeemable Non-Convertible Bonds opened for subscription on private placement basis Thursday and received an overwhelming response from all segments of investors", a statement from the company said.
The state-run company raised capital through a domestic bond issue at a new benchmark low interest rate of 8.14 per cent.
"The issue, launched with an original size of Rs 500 crore, was over-subscribed by over six times with overall subscription aggregating to over Rs 3,000 crore," the statement added.
The AAA-rated bonds have a maturity of five years with put and call options at the end of 18 months and 36 months.
Shares of Indian Oil Corporation on Friday were trading 2.28 per cent down at Rs 296 on the Bombay Stock Exchange in noon trade.