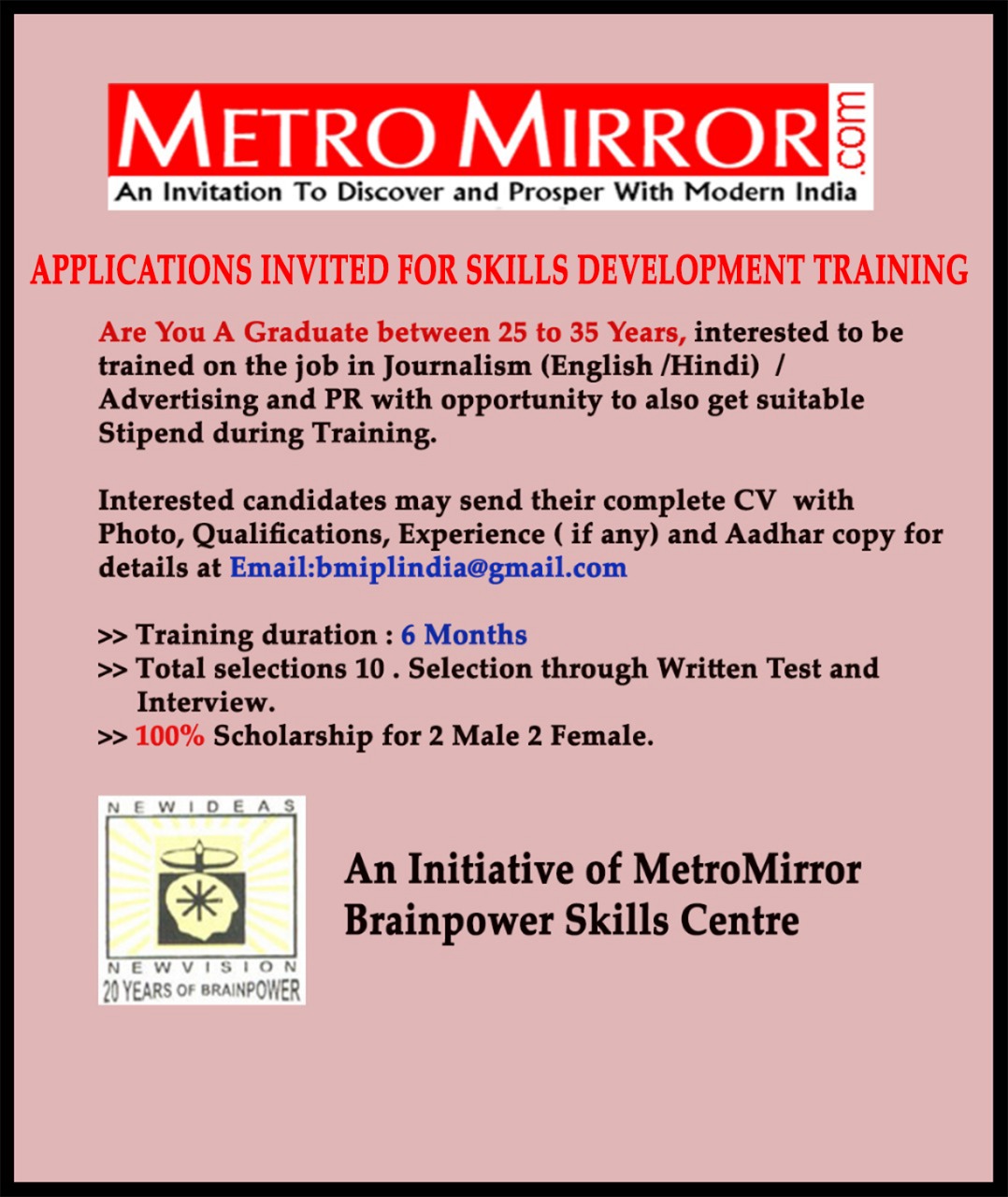 ---
---
MCU to launch Self Financed Course in English Journalism
MMNN:27 May 2023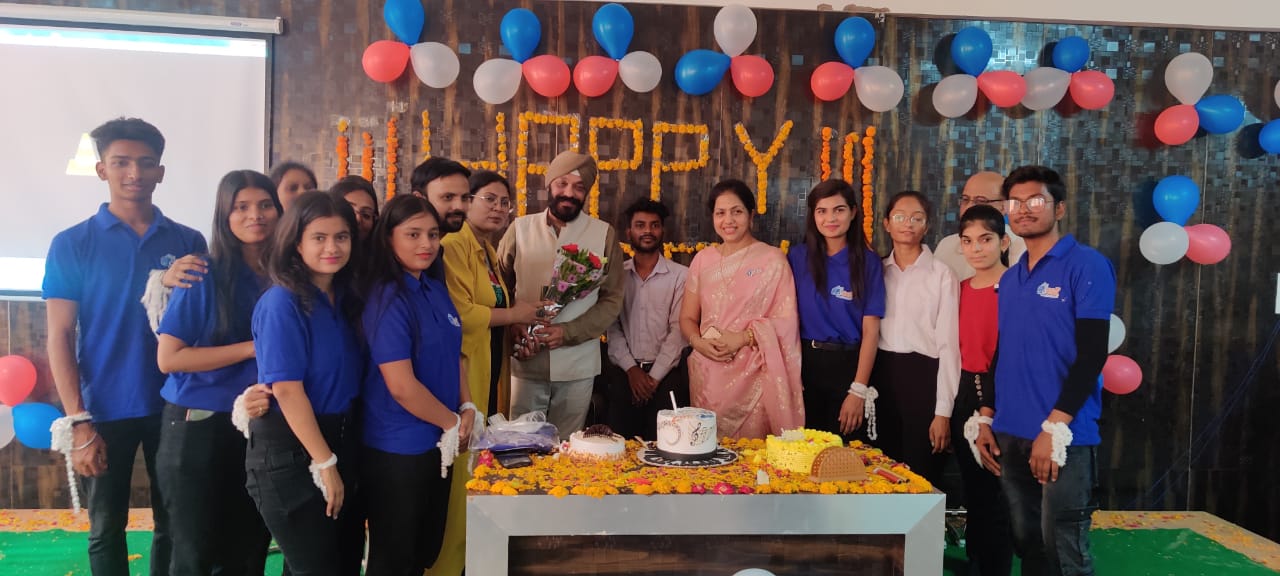 Bhopal : The Makhanlal Chaturvedi National University (MCU) of Journalism and Communication is all set to start new course BA English Journalism (Honours /Research) from this academic session (2023-24) . The University's vice chancellor Prof Dr KG Suresh said that, "The course would be in self finance mode which will also help the university in garnering much needed financial resources. This an exclusive opportunity for students to equip themselves as media professional in English media and news industry" .Most of the Journalism courses conducted in the State are either in Hindi or Bilingual. Further he added that there is a great demand for English Journalism program in Madhya Pradesh and outside the State .Many prestigious colleges do not have enough seats to accommodate the huge demand. The main objective of this course will be to provide basics of English language adaptability in media field .Besides giving knowledge about English language it will also focus on orienting and training students to enhance their skills in spoken English, reporting, writing and other digital communicating methods which can also be useful in any kind of media research. This course will run under Self finance mode. This will be an four year Full time Under graduate course based on NEP module with multi entry and multi exit options. The minimum eligibility for the course is 10 plus 2 in any discipline). Students will be provided with exit options after completion of one year, and will earn certification. After 2 years Diploma will be provided and after three years basic Bachelor's degrees. Students will receive a Bachelor's degree with Honours/Honours with Research on successfully completing four years of the UG programme. This course has been started for students to facilitate with contemporary English language and professional skills which can further help them to become journalist in English media, content strategist, Editorial Assistants, Columnist, News Anchor, Content creator. Social media communicators, Communication Specialist, Influencers, Food critic, etc The last date to apply for admission to this course is May 31.Students can register online at the university website.
---
MOU between MCU and UNFPA
Power rests with the teachers to unlock the potential of the young generation : Prof K.G Suresh,
MMNN:4 May 2023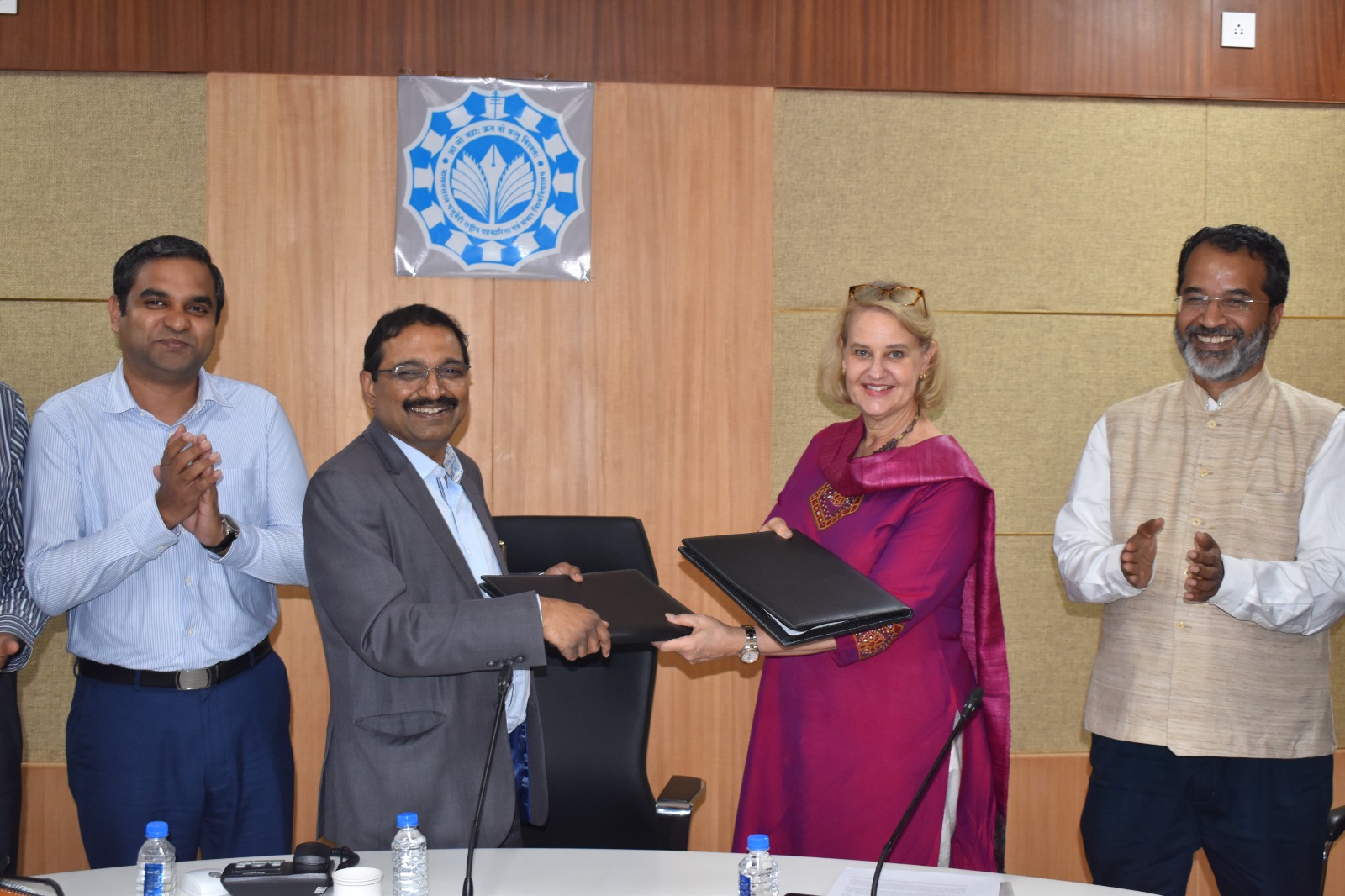 Bhopal : Makhanlal Chaturvedi University of Journalism and Communication and United Nation's Population Fund (UNFPA) signed a MOU to establish a long term cooperation and partnership in advancing the agenda of sustainable development goals in the state. The main objective of the collaboration is to institutionalize and integrate the population dynamics, adolescent development and well-being and gender concerns in the curriculum of the University with a focus on orienting and sensitising the young students of journalism and communication and equipping them to enhance their skills in reporting and communicating these issues effectively. The Vice Chancellor of the University Prof. Dr. K.G. Suresh and Ms Andrea Wojnar, UNFPA India Representative and Country Director Bhutan signed the MOU in a grand ceremony organised in the university campus.Makhanlal Chaturvedi University of Journalism and Communication is the only university chosen by the UNFPA to collaborate with them to train the students, Faculty members, research scholars as well as journalists. The Vice Chancellor of the University Prof. Dr. K.G. Suresh expressed his happiness and said that it is moment of great pride and honour for the university as this will give the students and the faculty members an access to international exposure on population and gender issues. Ms. Andrea Wojnar,UNFPA India Representative and Country Director Bhutan said that men and women should share the same responsibilities and opportunities ; journalists and media professionals play a key role in shaping public narratives and social norms and integrating gender issues in their curriculum will positively impact social norm change. She also presented the copy of 8 Billion Lives, Infinite Possibilities - State of the World Population Report 2023 to Prof. Dr. K.G. Suresh.Deputy Country Representative,India,Mr. Sriram Haridass ,State head of UNFPA MP office Shri Sunil Thomas Jacob, Registrar of the University Dr Avinash Bajpai, Dean Academics Dr. P. Sashikala ,HOD's and faculty members were also present on the occasion.
---
India is the future of the world and the future of India are youths: Governor Shri Patel
MMNN:26 April 2023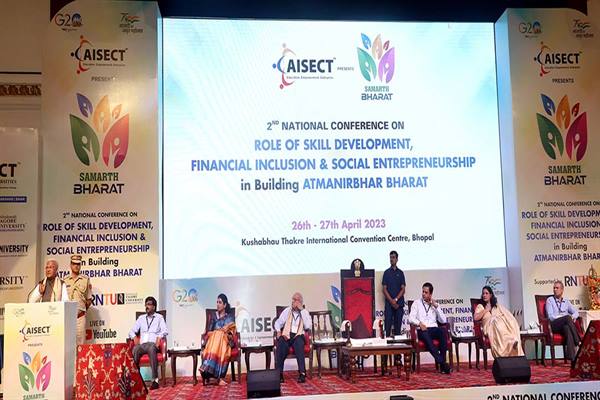 Bhopal : Governor Shri Mangubhai Patel has said that India is the future of the world. The future of India are youths. Till the year 2070, India will remain the young country of the world. India will account for 21 percent of the world's labour force by 2047. He has said that the size and quantity of the needs and demands for housing, infrastructure, food, education, water, health, recreation and social security in the India of the future will be immense. He called upon the youths to come forward with their skills and entrepreneurship to take advantage of the new opportunities being created in the service and production sectors. Governor Shri Patel was addressing the inaugural session of AISECT National Seminar at Kushabhau Thakre International Convention Centre today. The two-day seminar has been organised to discuss the topic Social Entrepreneurship and Skill Development for Atmanirbhar Bharat. Governor Shri Mangubhai Patel said that today under the leadership of Prime Minister Shri Narendra Modi, the government is providing unprecedented opportunities for skill and entrepreneurship development to the youths, both in terms of size and scale. The government is encouraging rapid commercialization through capital investment from around the world, bringing in best innovation practices and committed policy interventions. Prime Minister Shri Modi has created a strong inclusive environment for promoting startup culture, innovation and entrepreneurship in a strong, capable and prosperous, self-reliant India. Governor Shri Patel said that the government has created Fund of Funds, Seed Fund Scheme and Credit Guarantee Scheme to meet the funding needs of startups. New opportunities have been created for startups in the knowledge-based digital economy, innovation in futuristic technology, logistics, defence space sector in the country. The Green Hydrogen Mission has received Rs. 20 thousand crore. Defence exports have increased 6 times in the last years. The agriculture budget has also reached Rs. 1 lakh 25 thousand crore. A new programme has been launched to promote research and innovation in the field of pharmaceuticals through Centres of Excellence. The government is opening 30 Skill India International Centres, three Artificial Intelligence Centres of Excellence and 100 labs for 5G application development in the country for skill training under Pradhan Mantri Kaushal Vikas Yojana. Chancellor Rabindranath Tagore University Shri Santosh Choubey informed that Central India's first skill development university is being established by AISECT. This will be the sixth university of the institute. He told that AISECT is running 37 thousand centres based on social entrepreneurship in 27 states. The model of the Centre is based on Indian languages and social connect. He told that along with technology, initiatives have also been taken by the institute in the field of agriculture. Smt. Shalini Singh, CEO, Capital Goods SSC, presented the key note of the conference. She said that the conference should focus on efforts to make India self-reliant and increase exports by skill upgradation based on India's demographic characteristics. Director AISECT Dr. Aditi Chaturvedi gave information regarding the activities of AISECT and the books published. AISECT Secretary Dr. Siddharth Chaturvedi, highlighted the outline of the seminar. He told that the seminar is being organised in series. 15 such conferences are to be organised by AISECT. Initially, the ceremony was inaugurated by lighting the lamp by the guests. A mutual agreement was signed between AISECT and Microsoft on social entrepreneurship. Along with this, young entrepreneurs were also felicitated.
---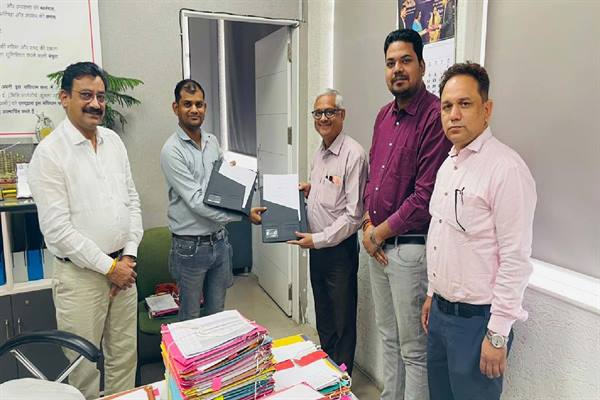 Voltas Limited will give training to the youth of ITI
Bhopal:MMNN: 21 April 2023

Bhopal.Voltas Limited has signed MoU with Government Divisional ITIs Gwalior, Indore and Bhopal under Dual System of Training (DST) of Central Government. As per the MoU, the trainees will get training in Mechanic, Refrigeration and Air Conditioning trade. The youth will also get stipend during the training.
Trainees of Government ITI Gwalior, Indore and Bhopal will get practical training in manufacturing, engineering solutions, maintenance services and repair facility of Voltas Limited after getting theoretical training in the institute. The main objective of the training is to provide practical experience to the trainees in real world working environment and focus on skill development in the field of Refrigeration & Air Conditioning Mechanic. Along with employment, self-employment opportunities will also be available through training. It will also help in bridging the gap between the requirements of the industry and the skills of the workforce. Trainees will be able to take admission in government ITIs from academic session 2023-24.
MoU Shri G.N. Agarwal was executed under the guidance of Additional Director Skill Development Directorate, Madhya Pradesh. Principal of Government ITI Indore Mr. G.S. The MoU was exchanged in the presence of Sajapurkar and TPO Mr. Vipin Purohit, Principal of Government ITI Bhopal Mr. Shrikant Golait and TPO Mr. Vilas Nagdawne and Mr. Ravi Sharma of Voltas Limited.
---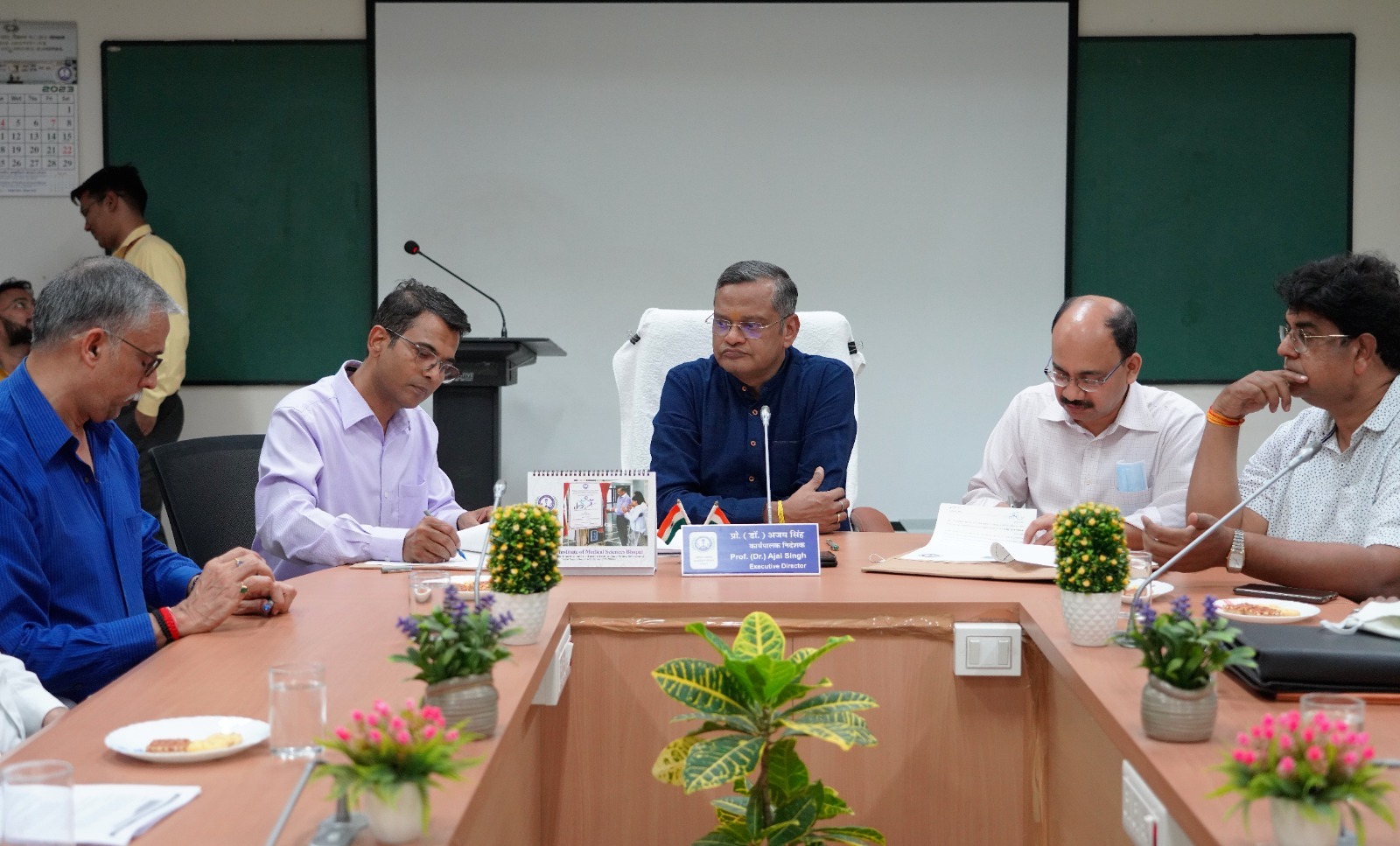 AIIMS Bhopal and MANIT Bhopal sign MoU to improve academic cooperation and research in health sciences and engineering.
Bhopal:MMNN: 19 April 2023

Bhopal.All India Institute of Medical Sciences (AIIMS), Bhopal and Maulana Azad National Institute of Technology (MANIT), Bhopal have signed a Memorandum of Understanding (MoU) on 18th April 2023 to increase academic cooperation & stimulate research in the field of health sciences and engineering. The MoU was signed by Col. (Dr.) Ajit Kumar, Deputy Director (Admin), AIIMS Bhopal and Dr Manmohan Kapshe, Dean (Research & Consultancy), MANIT Bhopal. During the MoU signing ceremony, Dr. Ajai Singh, Executive Director & CEO, AIIMS Bhopal emphasised on the importance of effective partnership between the institutes which should eventually result in enhanced translational research with a societal impact and further provide solutions to policy makers. AIIMS Bhopal is an autonomous Institute of National Importance (INI) functioning under the Ministry of Health and Family Welfare (MoHFW) with the objectives of correcting regional imbalances in the availability of affordable and reliable tertiary healthcare services, augmenting facilities for quality medical education to create a critical mass of healthcare professionals and conducting research in the country relevant to the area. MANIT Bhopal, on the other hand, is one of the seventeen Regional Engineering Colleges of India in the year 1961established with total commitment to quality and excellence in academics with the mission to produce technical professionals abreast with competence, logical mindset, moral and ethical values and inner strength synchronous with the futuristic requirement of global business to strengthen the national economy. The MoU between the two institutes will focus on mutually beneficial relationship built on academic and scientific cooperation including exchange of ideas on research, publications, academic programs, and research projects in the fields of healthcare engineering and technology.
---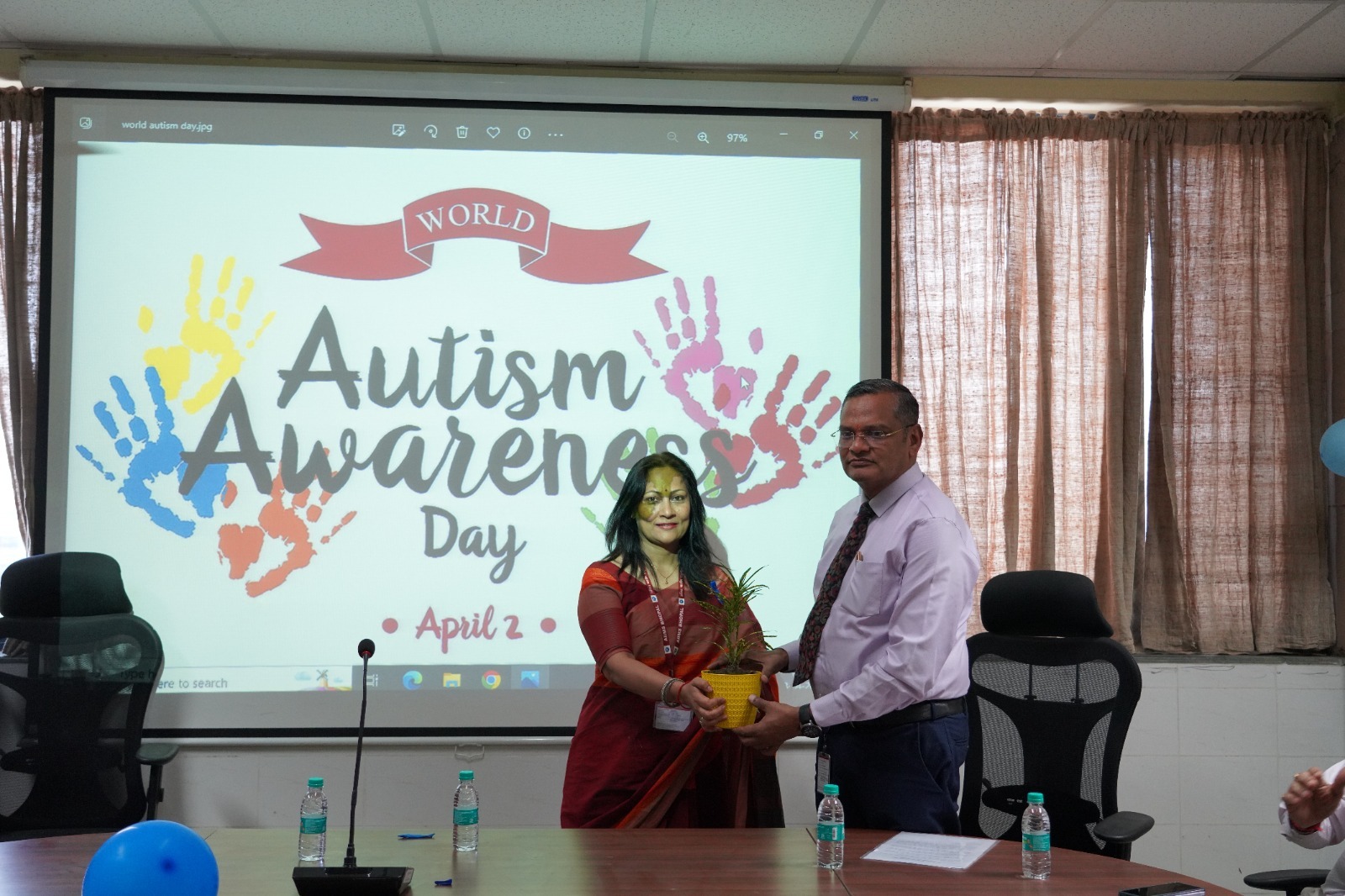 2nd convocation held with great enthusiasm in AIIMS Bhopal.
Bhopal:MMNN: 3 April 2023

Bhopal.The much awaited Mega event 2nd convocation has conducted successfully at AIIMS Bhopal. The Honorable minister of state of health and family welfare Dr. Bharti Praveen Pawar was the chief guest on the Occasion, who in her speech advised the new degree holders to serve the people of the country to mitigate the sufferings of the patients. She distributed certificates and gold medals to the meritorious students, who included Shweta Sharma, Tatikond Niharika, Uppalapati Priyanka, Machani Hema Lata, Arun Kumar, Priya Maheshwari, Rahul Patki, Akhil Venu Gopal, V. Sai Krishna, Shetotomy Rachna, Soumya Singh etc.
On this occasion, foundation stone ceremony and Bhumi Pujan was performed by Hon'ble Minister for establishment of 150 bedded Critical Care Unit under PM Ayushman Bharat, Health Infrastructure Mission. Apart from this, Human Milk bank, ECMO (Extracorporeal Membrane Oxygenation) machine facility, 27 bedded NICU (Neonatal Intensive Care Unit), ART centre, Cardiac Cath Lab facility also inaugurated by the Honorable Minister. During this, she also visited the various facilities available in the hospital. Plantation was also done by the Honorable Minister in the AIIMS campus.
Honorable Minister of Medical Education Shri Vishwas Kailash Sarang was the guest of honour, who advised the pass outs to not insist for money when a poor patient expresses inability to pay as the power of goodwill is more valuable & powerful than money. He expressed his pleasure being part of the convocation. Shri Vivek Krishna Tankha, Honourable Member of Parliament, Rajya Sabha and Mrs. Malti Rai, Mayor Bhopal also graced the occasion.
President of the institute Prof. (Dr.) Y. K. Gupta allowed the starting of the Convocation proceedings and congratulated the new graduates, Post graduates & Scholars & their parents, who silently made many sacrifice to see the present day of their children. He advised the passouts to come up to the expectation of the parents and the society.
Executive Director Prof. (Dr.) Ajai Singh presented the report card of the institute before the dignitaries, faculty, students & media person, present on the occasion. He said that AIIMS Bhopal in on the continuous path of progress in research, patient care and teaching.
The dignitaries, faculty, students & other institute employees were seen enthusiastically participating & volunteering for successful completion of the events. Students and their parents were thrilled at the mega events, and were seen taking selfie at the selfie points to celebrate the success.
---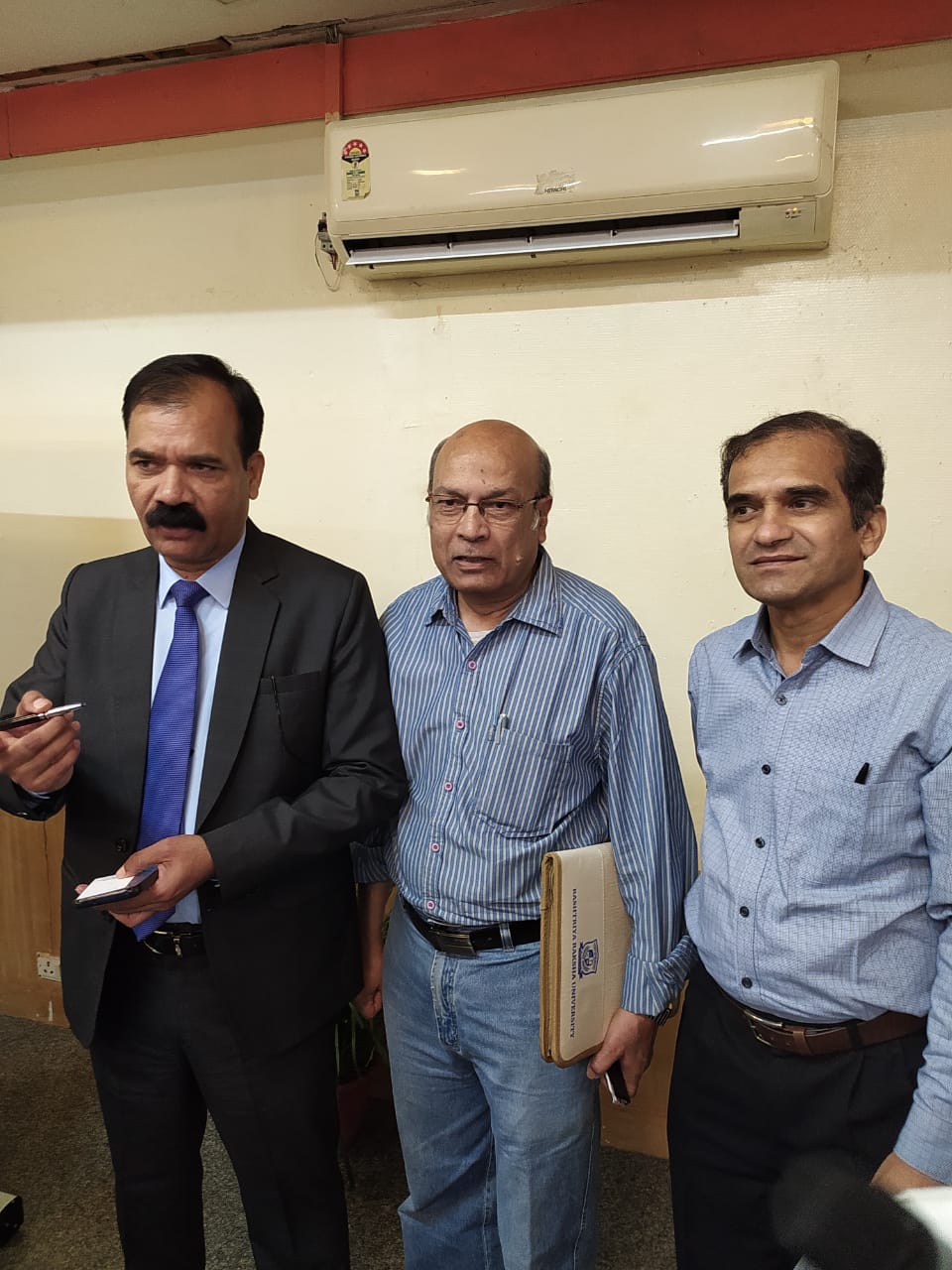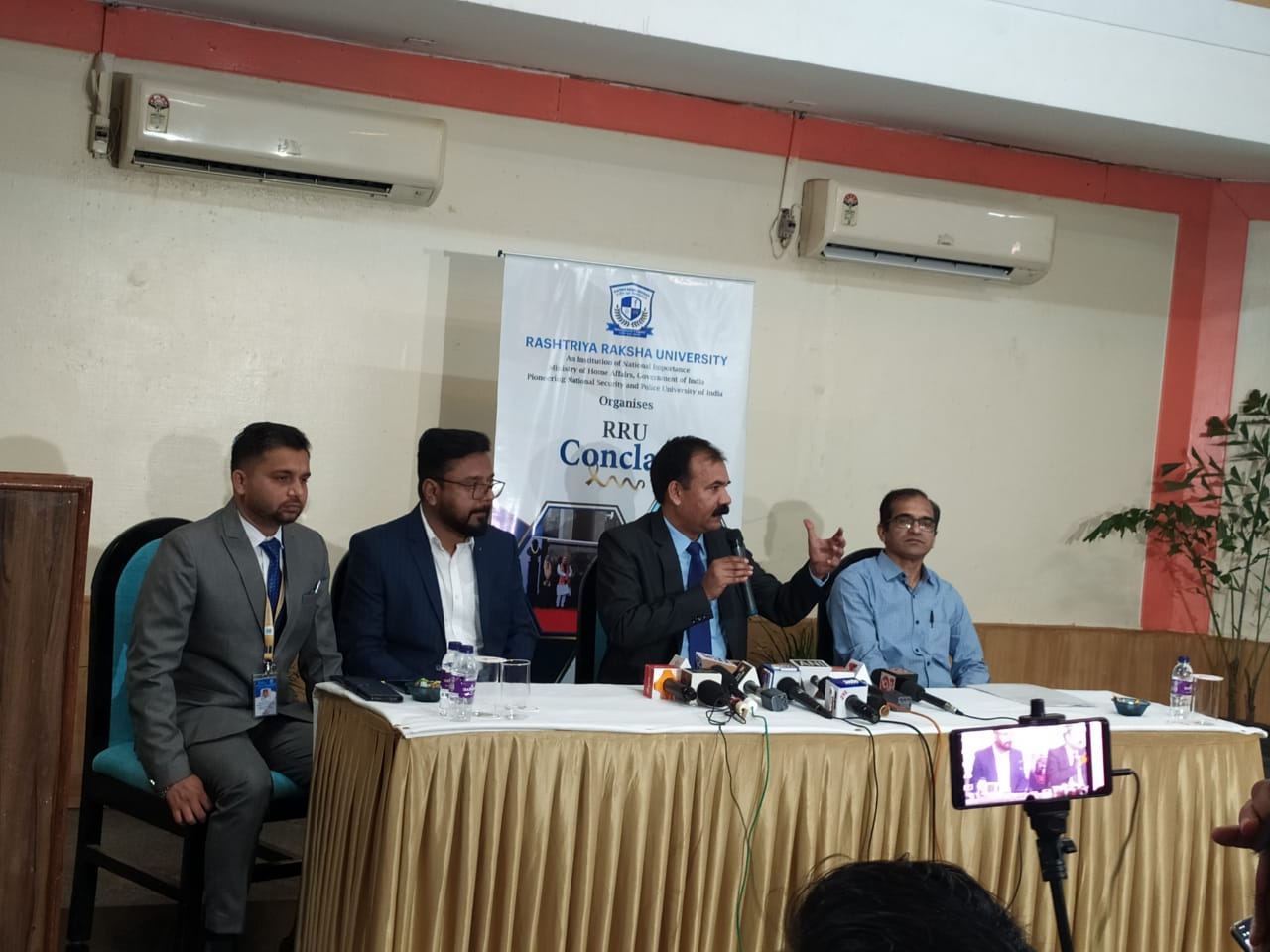 Rashtriya Raksha University Media Conclave We Invite Bright Graduates to make Career in National Security - Dr Anand Kumar Tripathi
Bhopal:MMNN: 30 March 2023

Bhopal.We invite Bright Graduates and School Passouts to pursue Career in National Security at the only Pioneering National Security and Police University of India at Gandhinagar with State of the Art 230 Acres Campus, said Dr Anand Kumar, Pro VC Incharge at the Media Conclave at Lake view Residency. He said " We have innovative courses related to National Security, Cyber Crimes, Criminology, Security and Police Administration. We also have 60% Placement record "
In the Conclave Sh Prashant Pathrabe, Add. DG, PIB, Sh Kumar Sabyasachi, Outreach Officer of the RRU and Sh Prem Kumar Gupta, Media Officer, PIB were also present.
---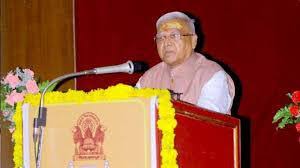 Universities should be agents of change: Governor Shri Patel
Bhopal:MMNN: 17 March 2023

Bhopal.Governor Shri Mangubhai Patel has said that universities should be the agents of change. Their role and responsibility is important for the progress of the society. He said that the universities are the building centres of the future generation of the country. On the Amrit Mahotsav of Independence, emphasis should be laid on efforts to inculcate love and service towards the nation, society among the youth. Through National Service Scheme and National Cadet Corps, students should be made aware and active towards social concerns.
Governor Shri Patel was addressing the Vice Chancellors of Government Universities of the state at Raj Bhavan today. Additional Chief Secretary Higher Education Shri K.C. Gupta, Principal Secretary to Governor Shri D.P. Ahuja and other officers were present.
Governor Shri Patel said that universities should become useful for the society. They should come forward in presenting solutions to the challenges and problems of the society. He explained the various dimensions of the pleasant results of the milk distribution initiative to the children in the tribal dominated areas of Gujarat State. The Governor said that by drinking milk, children's eye disease night blindness has been cured. The vision improved. Due to the distribution of milk in the schools, the attendance of the students became regular and malnutrition was cured. He asked the Vice-Chancellors to universities understand the root cause of the problem with the same spirit and co-operate in the multi-faceted efforts for rural development. Discuss the problems of the communities surrounding the university. Come forward in efforts to change the social thinking towards the fallcious beliefs and perceptions of the community. He said that university professors and teachers should also visit the villages. Review the economic conditions of the villages. Understand the needs of poor deprived families. Illuminate the path of their development.
Governor Shri Patel said that the university courses should be made useful for the society. Undertake a study of the human resource requirement of business establishments and industries under the university area and create courses to fulfill them. The relevance of the duration of the courses should also be considered. The Governor said that in the same way information about the health related problems of the community should be taken. The courses can be developed to meet the regional health requirements. He inspired for co-operation in eradication of other diseases like sickle cell anaemia disease, TB, filariasis and thalassemia in tribal dominated areas.
---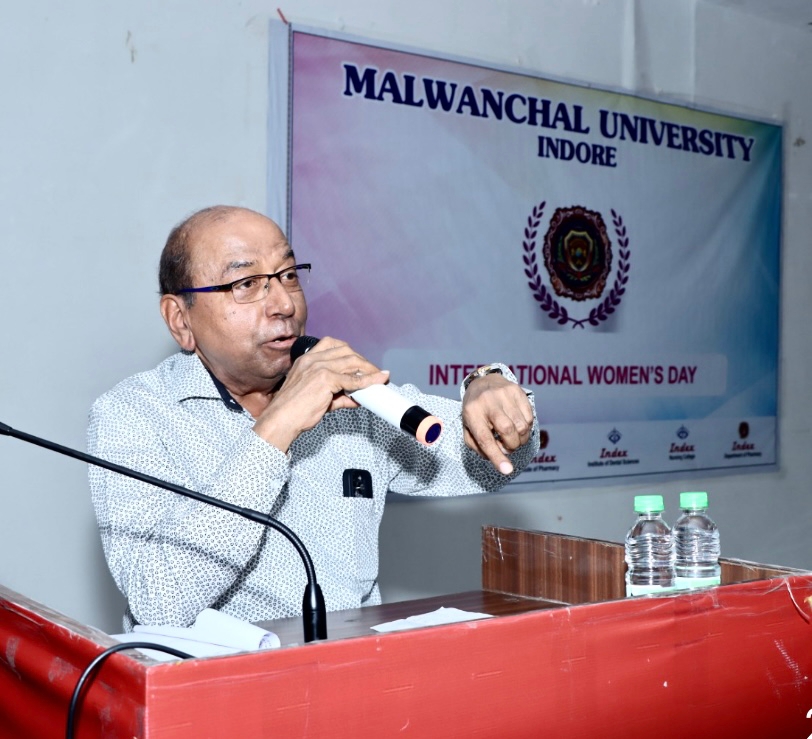 International Women s Day
Bhopal:MMNN: 03 March 2023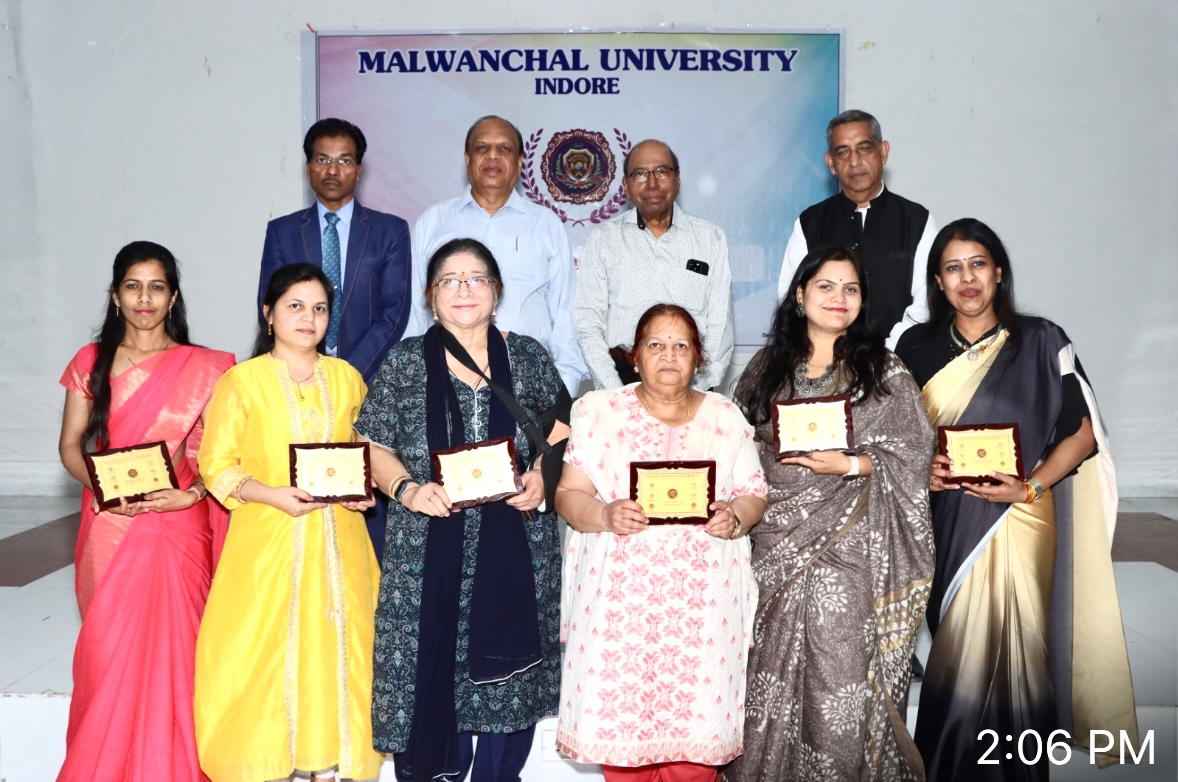 Bhopal. In Malwanchal University, we celebrated International Women s Day. Six women from teaching and non teaching staff were awarded with the honour of Woman of the Year . An inter-institutions group dance competition was organised with women empowerment theme. The girls from the Department of Para Medical bagged the first prize.
I highlighted the discrimination against women and pleaded to the boys to take a pledge to respect women in their whole lives.
---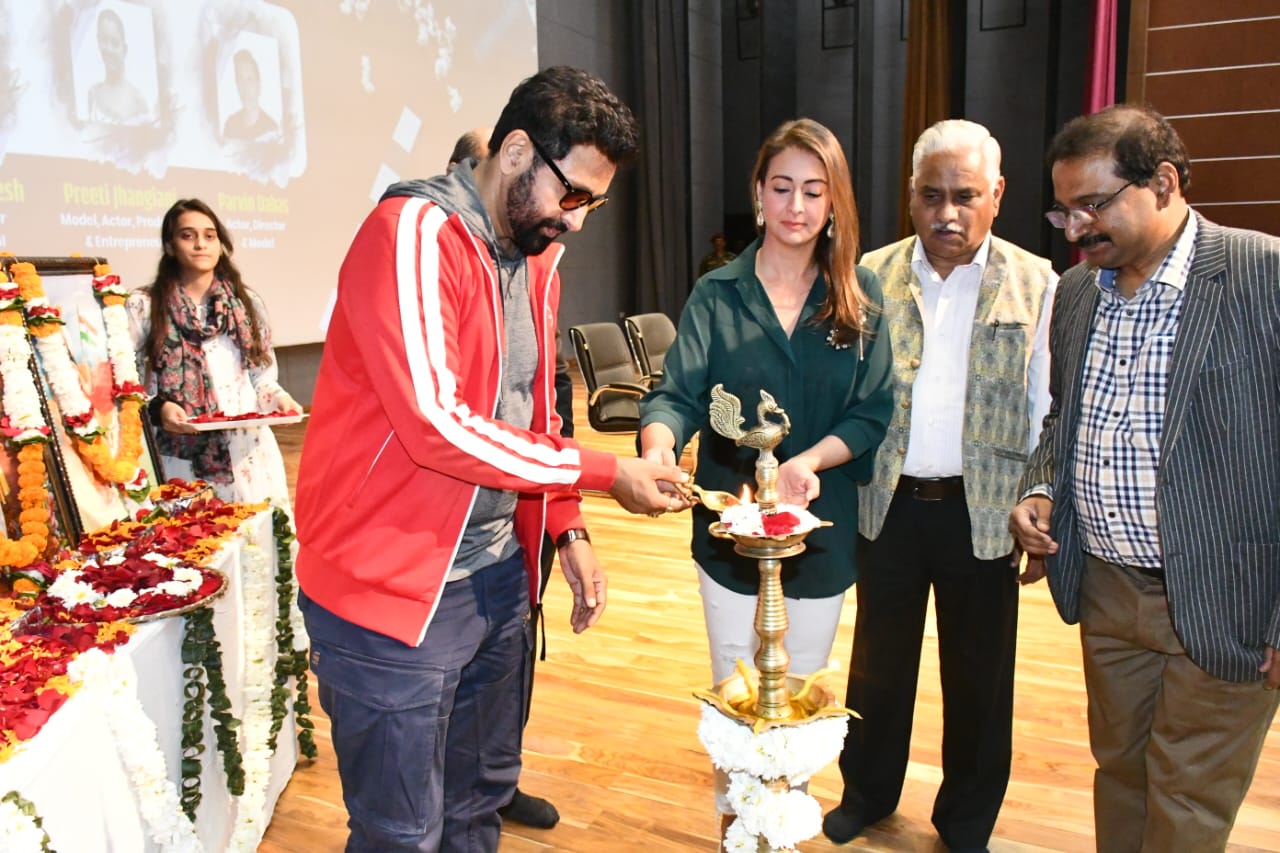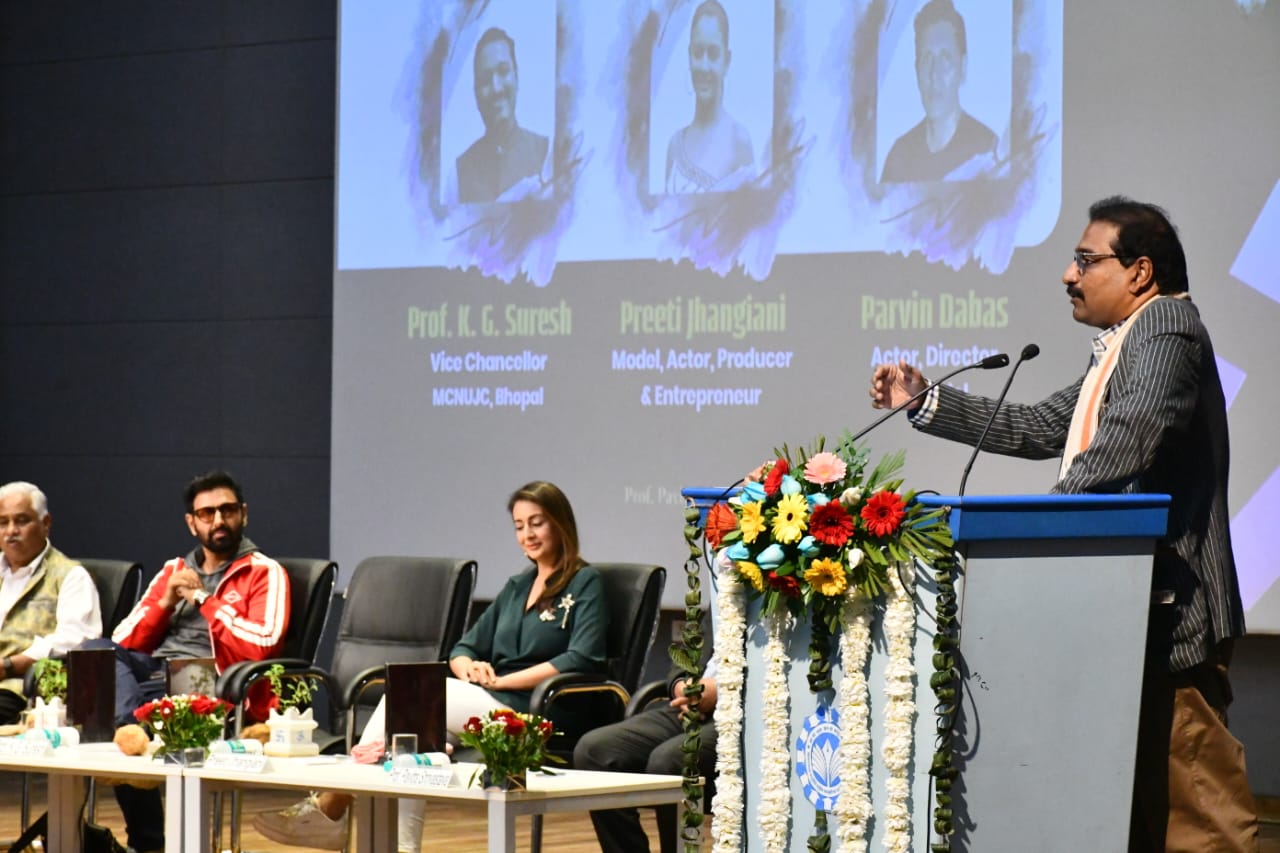 Lots of opportunities in entertainment and film journalism - Prof. K. G. Suresh
Bhopal:MMNN: 23 Feb 2023

Bhopal. Entertainment journalism encompasses more than just paparazzi and there is a lot to learn in this field - Prof. K.G. Suresh Do journalism with honesty - Preeti Jhangiani Identify and follow the passion - Parvin Dabaas Cinema celebrities in special session on entertainment journalism held at Makhanlal University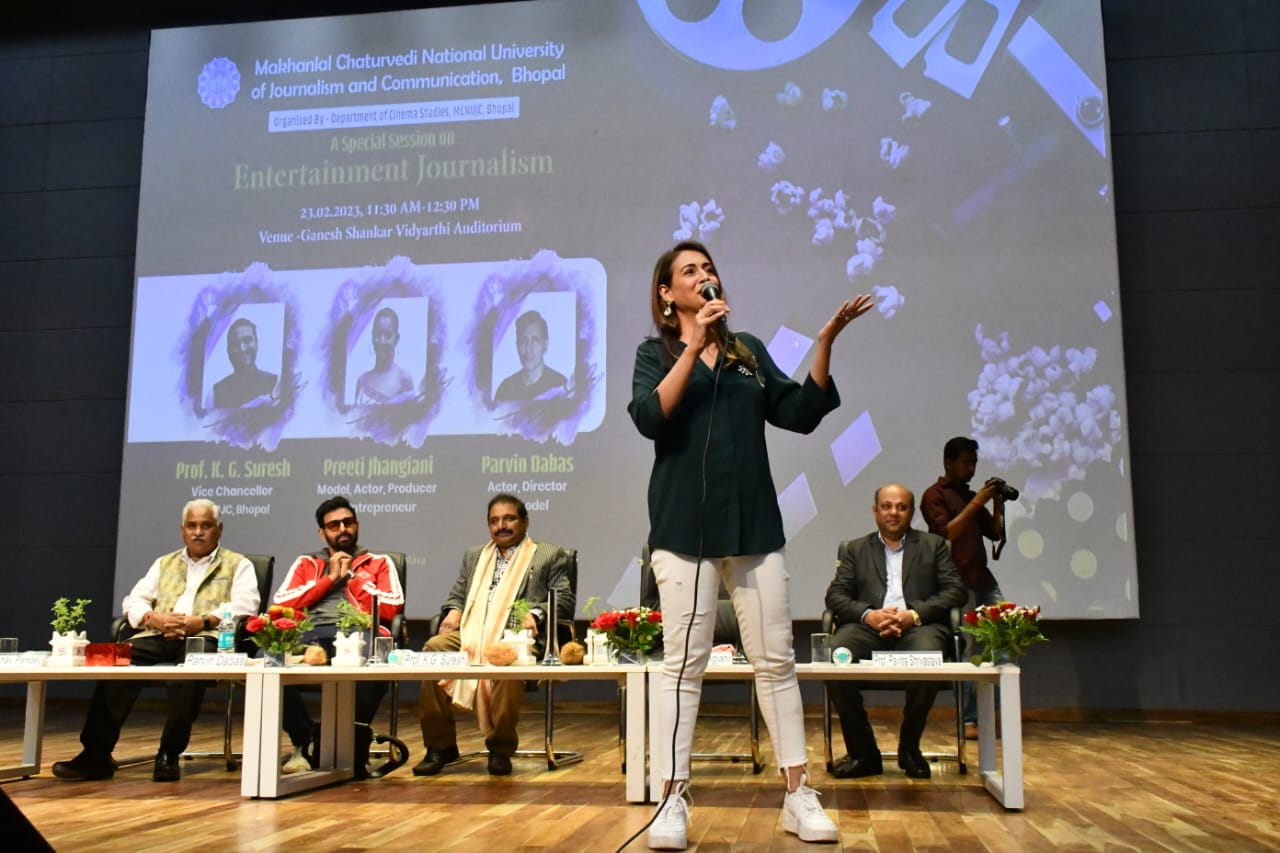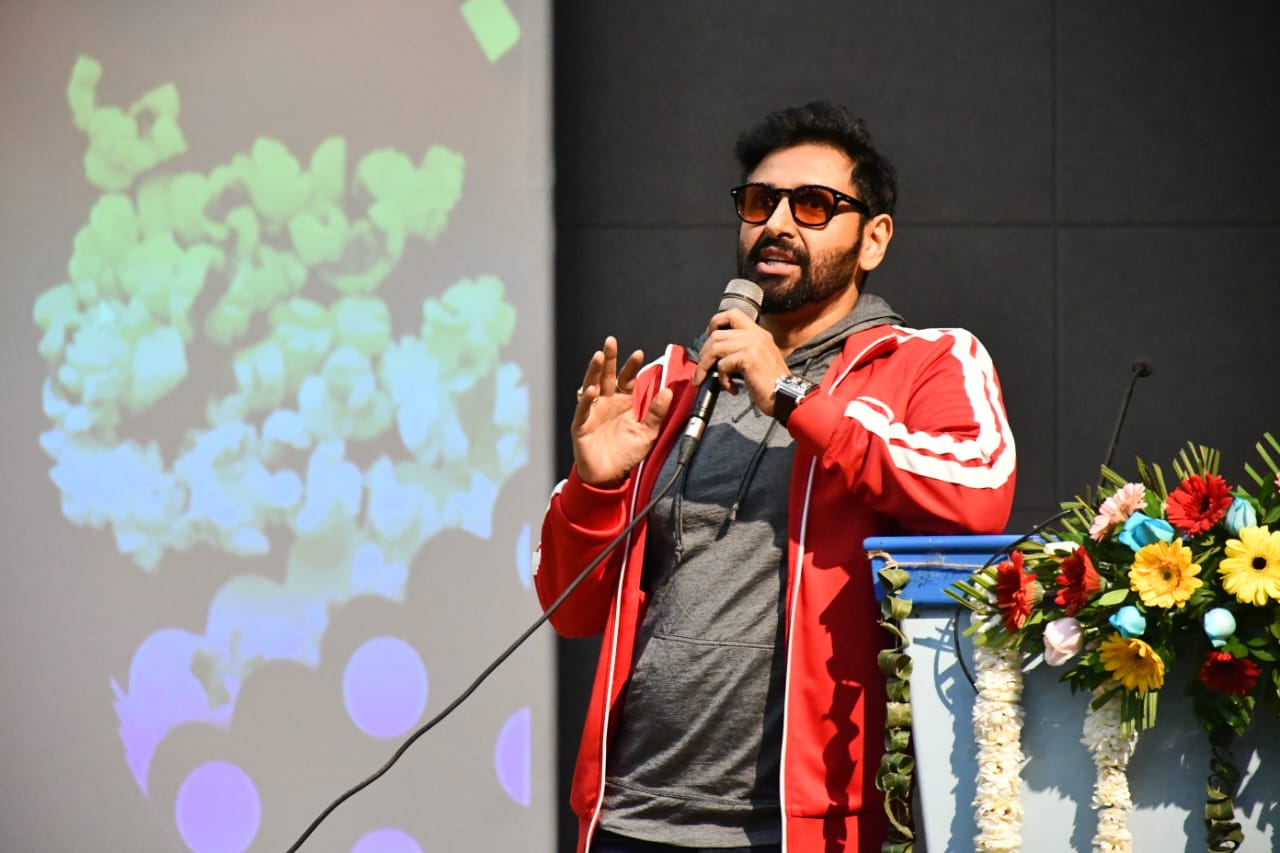 Makhanlal Chaturvedi University of Journalism and Communication in Bhopal organized a special session on entertainment journalism at its new Bisankhedi campus. Famous Bollywood actors Preeti Jhangiani and Parvin Dabaas were invited as chief guests in the programme. Addressing the session, Prof. K.G. Suresh stated that the university is preparing aspiring cinema professionals. He emphasized that cinema is the field in which there are many opportunities. He also said that our city is a film-friendly place. Mohabbatein fame Preeti Jhangiani spoke about the importance of honesty and integrity in journalism, and advised media professionals to keep their passion for life and enjoy their work. Popular actor, Parvin Dabaas said gossiping is not the correct way for film journalism. He highlighted that film journalism should not be done for the sake of likes and publicity, but rather with integrity. He said this is New India and it has the power, just identify the passion and follow it. The speakers also answered questions of university students, with Parvin emphasizing that comedy is a serious business and that where there is a will, there is a way.They also stressed on the power and dignity of the media. Preety Jhangiani described the relationship between media and actors as delicate and incomplete without each other. Along with Keshav Pandey (Senior Journalist ) , Arm Wrestler Champion, Manish Kumar, was also present in the programme as special guest. Faculty and students from various universities in Bhopal, along with Makhanlal Chaturvedi University staff and students, attended the program. Prof. Pavitra Srivastava, HOD of the Department of Cinema Studies concluded the session with thanks to everyone for their participation in the event.
---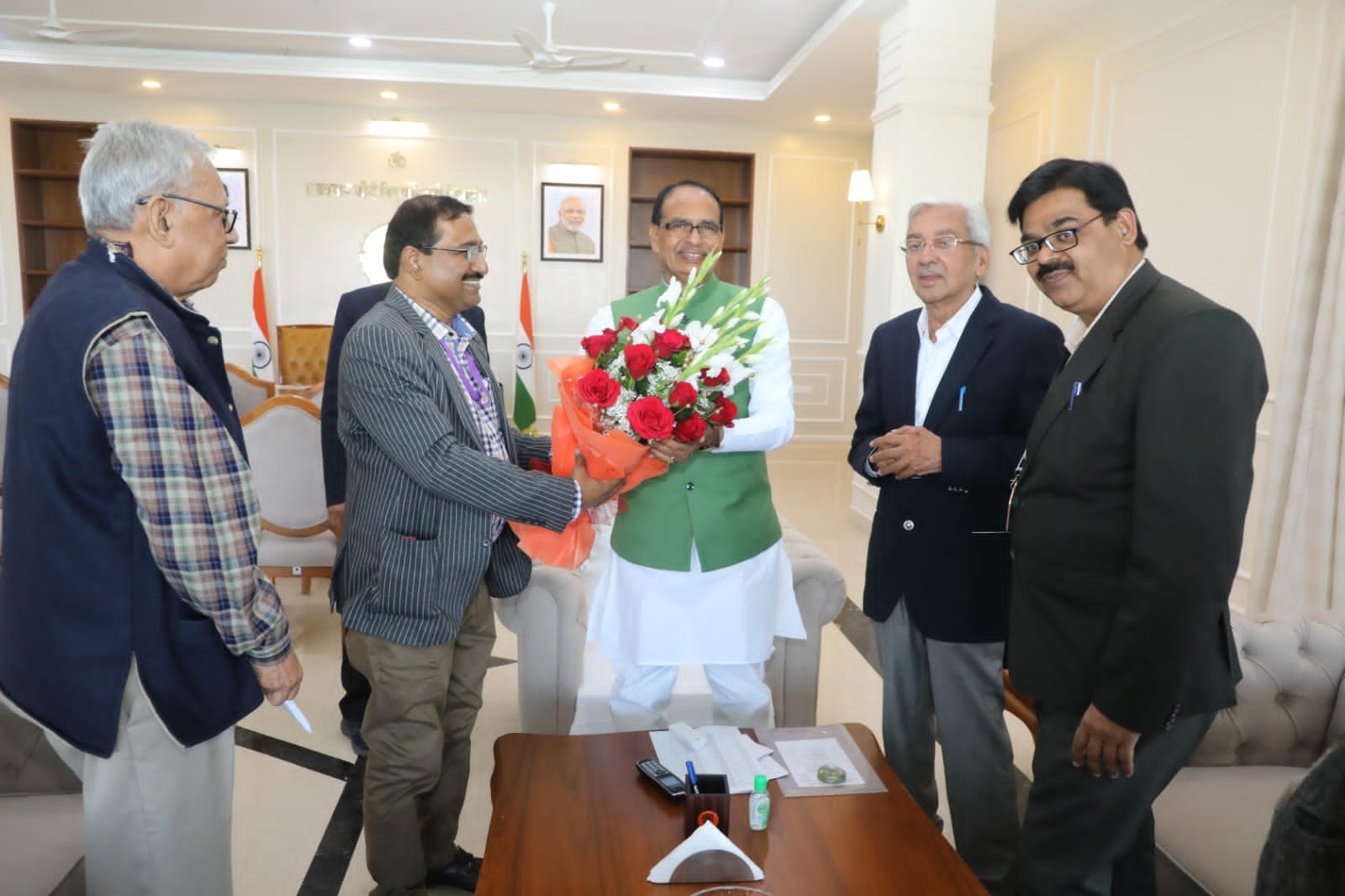 VC, PCI Sub Committee Members meet CM
Bhopal:MMNN: 8 Feb 2023

Bhopal. Plant Saplings @ Smart City Park
Members of the visiting Press Council of India Sub Committee to consider essential qualifications for journalists alongwith Vice Chancellor of Makhanlal Chaturvedi National University of Journalism & Communication Prof K G Suresh today met Chief Minister Shivraj Singh Chouhan & apprised him of their deliberations with stakeholders in Bhopal.
The sub committee has met senior journalists & media educators at the new & old premises of the university since Tuesday & received diverse range of suggestions in this regard, Prof Suresh informed the Chief Minister.
Mr Chouhan expressed confidence that the suggestions received by the sub committee in Bhopal would prove helpful & constructive in their task. The committee led by eminent educationist & former NCERT Director Prof J S Rajput included Prakash Dubey, Group Editor, Dainik Bhaskar, Ms Suman Gupta, Editor, Janmorcha, Lucknow & Shyam Singh Panwar, representing small & medium newspapers.
Later, Vice Chancellor Prof Suresh & the PCI members planted a sapling alongwith the Chief Minister at the Smart City Park
---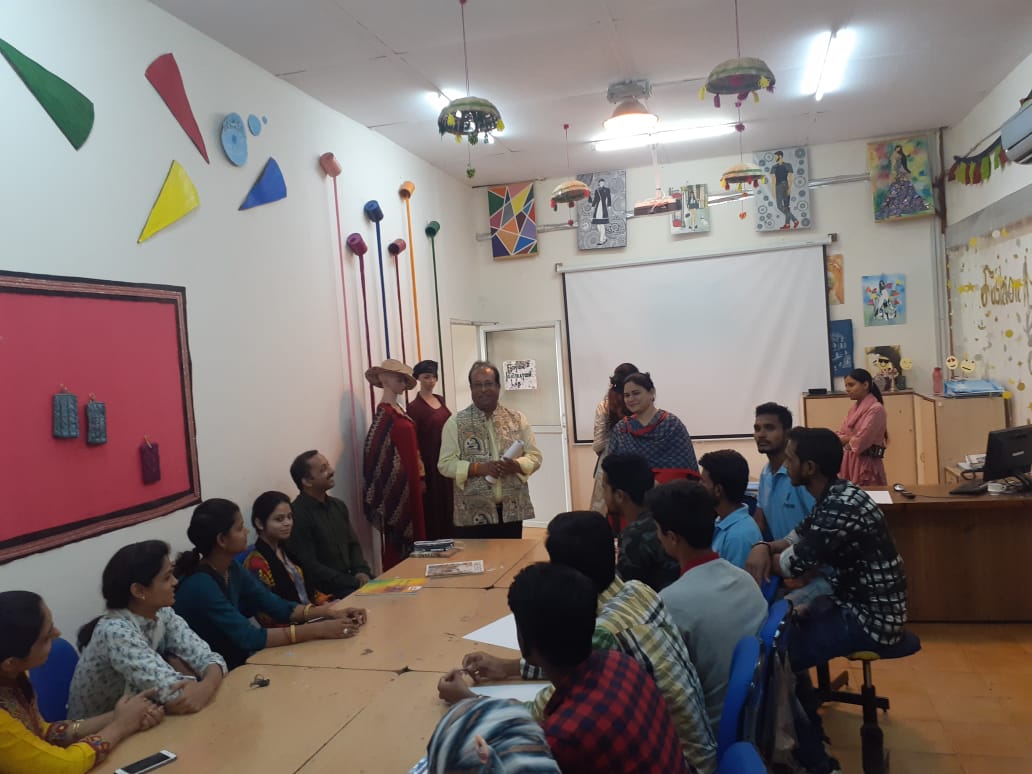 Vaastu Shastra Workshop held in CRISP Bhopal
Bhopal:MMNN: 19 January 2020

Bhopal.Bhopal : A one day workshop on Vastu Shastra was organized by CRISP, in which Mr. Suyash Kulshrestha, a well-known and renowned town planner of the state, gave information about Vastu Shastra to students and teachers of interior design.
Interacting with students , Suyash said, "Vastu strives to accomplish the best in the primeval Indian Science of Astrology and Vedic Vastu. Indian lifestyle often depends on Vastu Shastra as it has a huge connectivity with astrology .
Vastu Shastra is an ancient Hindu system of architecture that's supposed to have its origins in around 6000 BC. This ancient word basically translates into 'science of architecture' and represents a conduit between man and nature and provides laws on the construction of homes along appropriate guidelines for a healthy, wealthy, and peaceful abode.
According to Hindu mythology, it is believed that Lord Brahma asked Vishwakarma to develop an architectural system that included the powers of the basic five elements- air, water, earth, fire and space. This system helps in the organization of space within a structure based on their function in relation to one another as well as to their usage.
Mukesh Sharma, CEO , CRISP Said" Indian Vastu is unique in its approach, concept, content, deliverance and presentation to explore the basic human psychology. Delving into it, we can know much more about the future and leading a successful life. Moreover it's a verified and well-observed science which manipulates the forces of Mother Nature to work in our favour".
CRISP organizes such workshops from time to time, so that the students of interior designing are prepared for various sources of the market and the demand of the respective customer
---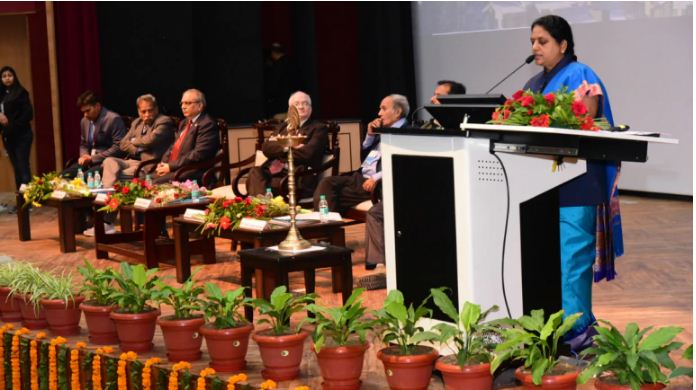 IIT Mandi hosts fourth International Conference on Machines and Mechanisms
Bhopal:MMNN: 5 December 2019


The Indian Institute of Technology (IIT) Mandi under the aegis of Association for Machines and Mechanisms (AMM) and the International Federation for the Promotion of Mechanism and Machine Science (IFToMM) is hosting the fourth International and nineteenth National Conference on Machines and Mechanisms (iNaCoMM 2019) from December 5 to 7, 2019.
The conference is jointly sponsored by IIT Mandi, Indian Space Research Organisation (ISRO), Department of Science and Technology (DST), Ministry of Electronics and Information Technology (MEITY), Council of Scientific and Industrial Research (CSIR) and Bharat Heavy Electricals Limited (BHEL) among others.
Aim of the conference: iNaCoMM 2019 aims to bring together researchers, industry experts and students, working on various aspects of design and analysis of machines, mechanisms and robotics, to deliberate through oral and poster presentations on recent, novel advances. Along with several keynote lectures and contributory paper presentation by eminent researchers and experts from academia and industry, an exhibition by ISRO will also be a part of the event.
Tessy Thomas, famously known as the 'Missile Woman' of India, the first women scientist to head a missile project in India, was the chief guest of the conference.
The purview of Machines and Mechanisms is very vast and encompasses the applications that include but are not limited to micromechanical systems, bio-medical devices, automotive, mechatronic systems automation industry, space science, and so on. Recent Research and Development activities clearly indicate the growing interest of engineers as well as scientists in this area; thus offering newer avenues for the generation, advancement and application of scientific knowledge.
Participants:
The participants include research scholars, senior B. Tech and M. Tech students from reputed colleges and universities across the country, including IIT Kanpur, IIT Kharagpur, IIT Delhi, IIT Bombay, IIT Madras, IIT Guwahati, IIT Roorkee and IISc Bangalore.
Several participants from government agencies including Indian Space Research Organisation (ISRO), Defence Research and Development Organisation (DRDO) and Indira Gandhi Centre for Atomic Research (IGCAR) are also attending the conference.
The major topics that are being discussed in this conference include:
>> Kinematics and dynamics of machines, Compliant Mechanisms
>> Robotics and automation
>> Gear, Cams and power transmission systems
>> Man-Machine System, Mechatronics and Micro-Mechanisms
>> Fault diagnosis and health monitoring
>> Biomedical Engineering
>> Acoustic & Noise
>> Mechanisms and Machines for Rural, Agricultural and Industrial Applications
>> Mechanisms for Space Applications
Extensive exchange of information and networking:
iNaCoMM 2019 will help in identifying the latest developments and future trends in the topics covered as well as assess the overall importance. This will result in extensive exchange of information and networking among the participants in the new technologies leading to collaborative research projects in the future.
An ISRO plenary session with PV Krishnan, Director, Capacity Building Programme Office (CBPO), Indian Space Research Organisation (ISRO), as the Chief Guest and Commodore Mukesh Bhargava (Retd), Vice President, Member of the Board, L&T Defence, as the Guest of Honour will be held during the conference.
---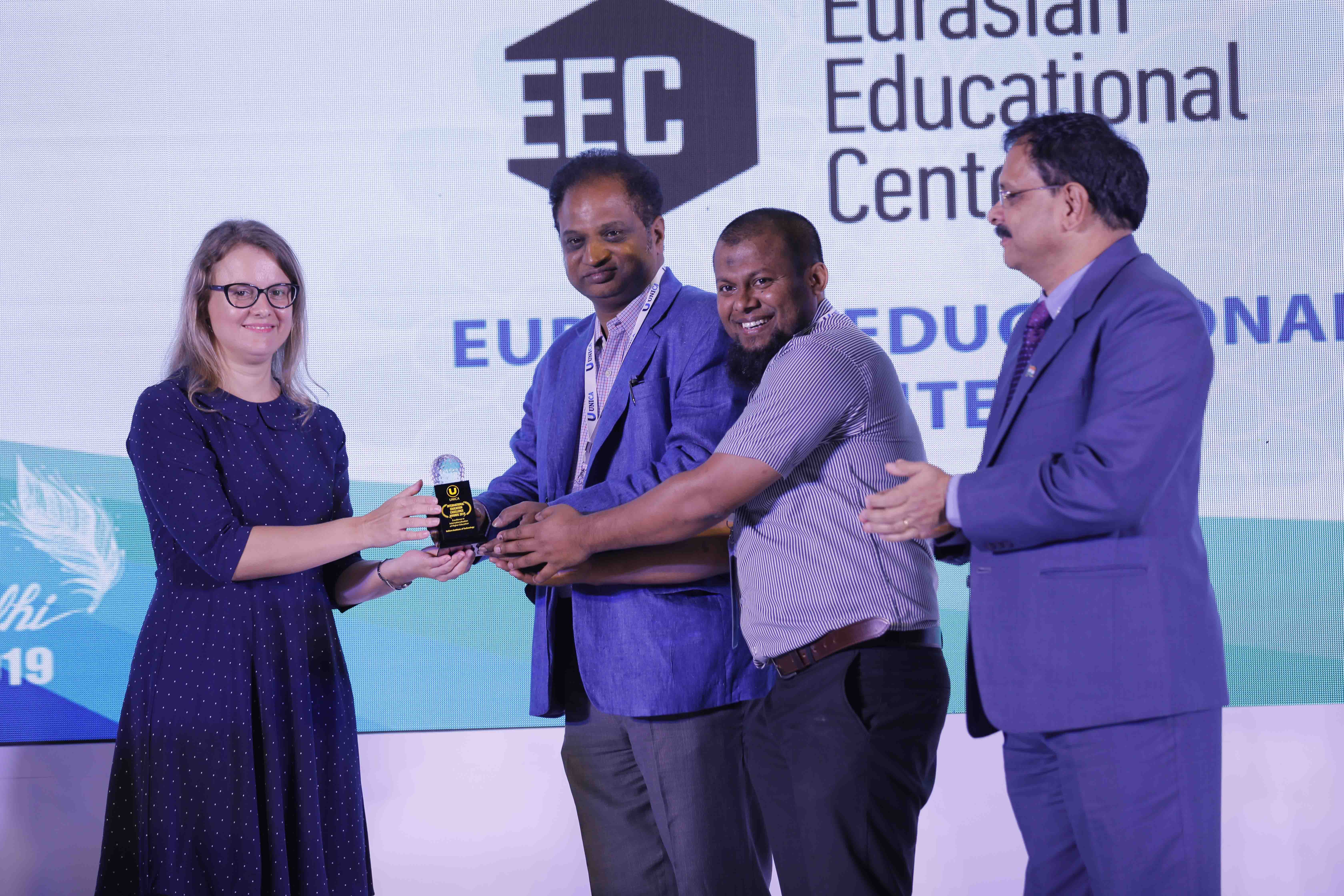 VIT conferred Best University for Excellence in Internationalization of Higher Education award by UNICA
Bhopal:MMNN: 11 July 2019


Vellore: Vellore Institute of Technology (VIT) has been conferred the best University in India for Internationalization of Higher Education by UNICA, a network of Universities from the Capitals of Europe, with its headquarters at Brussels, Belgium.
UNICA is an institutional network of 51 universities from 37 capital cities of Europe, which facilitates international collaborations and promote academic leadership through understanding and sharing between its members throughout the European higher education area.
In a felicitation session of the Annual Summit meeting (UAS 2019) held recently at New Delhi, Mr. Sankar Viswanathan, Vice-President, VIT received the award from Ms. Eva Chmelíková, Vice-Consul, Embassy of the Czech Republic in New Delhi. Dr. Vijayakumar. C Director, International Relations and Dr. Muhammad Rukunuddin Ghalib, Asst. Director, International Relations, VIT were also present at the felicitation ceremony.
---
ABVP will reach the unreached through #SelfieWithCampus Campaign: Ashish Chauhan
Bhopal:MMNN: 28 July 2018


Akhil Bharatiya Vidyarthi Parishad (ABVP) has decided to reach the unreached educational institutions and students across the country with a unique initiative to engage young people in schools & colleges to share stories of achievements, social activism, creative outlook among students and finest of practices as an institution to connect students with larger cause of society and the nation. The campaign has been named "#SelfieWithCampus" under which ABVP activists are proposed to visit +2 Schools and Colleges across India with a target to touch 1 lakh campuses from 30th July, 2018 to 4th August, 2018 to inspire students towards the concerns of nation. ABVP's National General Secretary Shri Ashish Chauhan points out the idea behind the ambitious campaign "ABVP has its presence across the country and is the largest students' organization of the country. The number of students' union posts held by us makes us the most trusted and voted students' organization. In the last decade, we have reached and have active units in several distant parts of the country and that has brought the student community closer. Through this campaign, we wish to reach all those institutions where we have hitherto no presence, to enable the students there to raise their issues at the appropriate levels." ABVP has come up with an android app specially for the campaign which will enable its activists to upload full information about the places they visit onto the app and will help in networking as well. As part of this campaign, the organization has identified the hitherto unreached campuses across the country and has planned visits there by local activists. Detailed state level and Vibhag / Zila level workshops for this campaign were held earlier this month to prepare the activists well. National level office bearers were part of the state level workshops where the activists were trained to actively implement the campaign.
---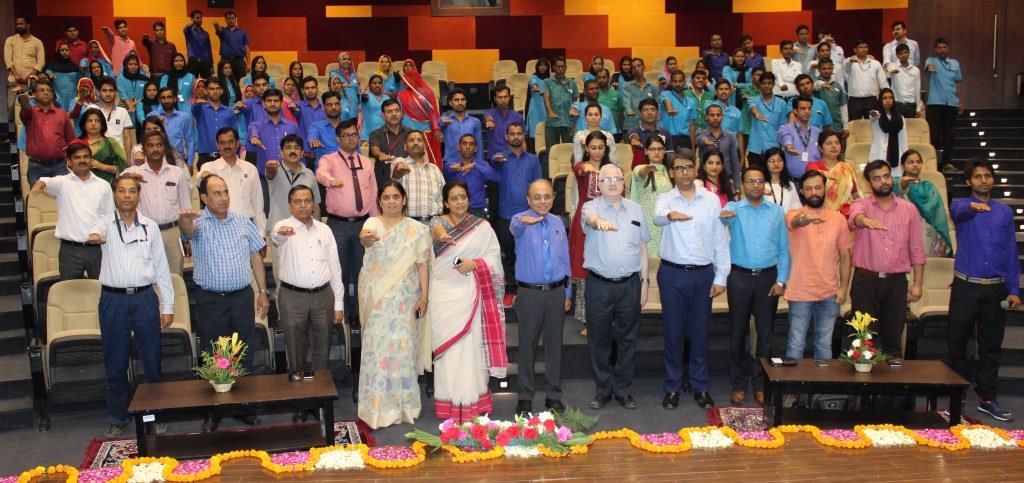 World Environment Day,2018 celebrated at Manipal University Jaipur
Bhopal:MMNN: 5 Jun 2018


To celebrate in spirit the World Environment Day, the day at MUJ began with the tree plantation by all the Senior University Officials. Further, to mark this occasion, CUTS International joined hands with Manipal University Jaipur to make its campus plastic free by 2021 and administered an oath to all faculty and staff members. CUTS conducted an awareness drive amongst the officials & staff of Manipal University Jaipur on the harmful effects of plastic. In the beginning of the programme team members from CUTS International including Mr. Shantanu Srivastava, Associate Director, Heads Grassroots initiatives and Fund Raising for the Organization, Mr. Samir Bhattachrayya, Regional Coordinator for Organization's Operations and designs sustainable, Mr. Amar Deep Singh, Head Urban Governance Interventions and sustainable development, Mr. Sheikh Zuber, Head communication and Media Relations created awareness on reduced use of plastics and recycling. The drive was successfully conducted through speeches, powerful presentation, videos on the said theme, quiz and question-answer session. On this occasion Chairperson, MUJ, Prof. K. Ram Narayan, Registrar, Prof. Vandana Suhag, Dean Faculty of Art and Law, Prof. Mridul Srivastava extended a warm welcome to all CUTS team members and presented mementos to them as a token of appreciation. This event was planned on the lines of United Nations' Global Theme for 2018 - "Beat Plastic Pollution". Enthusiastic MUJ fraternity spanning from senior university officials to housekeeping staff members in massive numbers attended the event. CUTS has already initiated a drive to sensitize faculty members on 26th May. Speaking on behalf of CUTS International, Mr. Shantanu apprised that relevant efforts are planned to make MUJ plastic free by 2021. A strategic roadmap is being designed and deliberated upon to help MUJ to reduce, reuse, recycle plastic and gradually replace them with more environment friendly products. As concluding remarks, Prof. N. D. Mathur and Prof. M. L.Vedhara expressed their views with insightful anecdotes.
---

Now youths to get job as per their qualification
Bhopal:MMNN: 21 May 2018


Chief Minister Shri Shivraj Singh Chouhan launched 'My MP Rojgar Portal' in 'Ham Chhu Lenge Asman' 'Mukhyamantri Career Counselling programme 'Pahal' in Model School of Bhopal. This portal is equipped with providing jobs to youths as per their educational qualification, skills and interest and ensuring availability of able candidates to employers as per need of their business. This portal has been prepared by Madhya Pradesh Skill Development and Employment Generation Board under youth empowerment mission. On this portal, youth can get opened employment account by registering his profile as per qualification. He can choose place of employment, job sector, sector and job role through the portal. On searching in profile account, he could know the number of jobs and posts and employers as per this interest and ability. On line applications can be submitted for jobs in the companies. Information given in employment account can be updated online and employment account can be used even after getting job. Employer company can also open account without any charge. The employer will put information regarding necessary qualification, training etc. in the account. As employer updates job role/skill set, the portal will avail list of job seekers and their profile on the portal before him. Employer can seek application and can call applicant for interview through the portal. Portal features For youth: Youth will get facility for self registration, update job preference, information regarding employers, sector and online application on the basis of sector and job role. Information regarding interview and job fair can be obtained on registered email and mobile. For Employer: Employers will get facility like self registration, update sector and job roles and upload demand on portal on the basis of this. List of abled candidates can be available on the basis of demand. Endeavour has been made to bring close the employer companies and youths seeking jobs in match making system through 'My MP Rojgar Portal'.
---

Students should select career according to their basic inclination and interest
Bhopal:MMNN: 21 May 2018


Chief Minister Shri Shivraj Singh Chouhan today showed the way of living a successful, meaningful and happy life to students at the inauguration of the 'Hum chhoo lenge aasman' career counselling initiative at the Model School auditorium here today. Shri Chouhan said that there are several opportunities for better career. Students must choose their career as per their basic inclination, interest and expertise. They must discuss with known persons and relatives. Determine the goals and create a roadmap for detailed and advance action plan and be determined to succeed. The Chief Minister said that no work or goal in the world is impossible. There are infinite powers in every person. We become what we think. The Chief Minister shared the experiences of his life, studies and related incidents with the students. CM Shri Chouhan said that he wanted to see that children should always smile. If children move ahead the state will also move ahead. Every child must make his life successful. The state will definitely get the benefit of the child's success and capacity. In order to make Prime Minister Shri Narendra Modi's concept of building New India a success, we have to create a new Madhya Pradesh. He said that the state government has made arrangements for the payment of higher education fees of the children. Career counseling has been arranged with this intention so that children are able to move forward in the right direction. Shri Chouhan said that higher education is not compulsory for success. There are several people in the world who are not highly educated but have touched the peaks of success. They have established several new and big establishments and have created new records. He cited his own example that his family wanted that he should become a doctor but the nature of work did not match his basic inclination. He was more attracted towards philosophy and he started moving towards this direction. The Chief Minister urged parents not to put pressure on their children. He urged them to support their children to choose a career of their interest and inclination. Referring to the happiness that a poet attains from reciting poetry, he told that happiness can be attained only by working according to one's basic inclination. The happiness of a poet by his poetry and a painter by his painting is invaluable. Shri Chouhan said that the initiative to support students in choosing a career comes from the core of his heart. He wishes to see the youth move fast in the right direction. He said that meaningless education is a waste. The objective of education is to provide knowledge, culture and skill. Employment-oriented education is also must. Expressing happiness over the fact that 1 lakh 12 thousand 625 children have secured more than 70 percent marks by appearing in the Board of Secondary Education this year, Shri Chouhan said that until last year students securing more than 75 percent marks were being given benefits under Mukhya Mantri Medhavi Vidyarthi Protsahan Yojana. On the demand of children, this score limit has been reduced to 70 percent. He told that the state government is paying the fees of the bright students under the scheme. Last year the state government has paid the fees of more than 750 medical students. Up to Rs 40 lakh medical fees is being paid by the state government. He said that he will not allow the dreams of the children to shatter. For this schemes right from distribution of free books, uniforms, cycles to fee payment of higher education have been implemented. At the outset, the Chief Minister dedicated the Employment Department's "My MP Rozgar' portal. This portal will be a strong platform for establishing contact with the planner and the unemployed. There are as many as 180 job roles in 38 sectors. Chairman of Board of Secondary Education Shri S. R. Mohanty told that the free career counselling has been organized in three phases. In the first phase from May 21 to May 31, counselling will be given to Class XIIth students who acquire more than 70 percent, in the second phase from June 4 to June 14 students securing less than 70 percent and in the third phase from June 18 to June 28, students failing in Class XIIth and passed in Class XIth will be counselled. As many as 500 trained counsellors have been arranged for counselling. The information of counselling is being given through SMS. As many as 112 centres have been set up for counselling. A career exhibition has been organized. A guidance brochure will also be distributed. Commissioner Public Instructions Smt. Jaishree Kiyawat welcomed the guests at the programme. He invited queries and suggestions of students on the portal of the department. Higher Education Minister Shri Jaibhan Singh Pawaiya, School Education Minister Kunwar Vijay Shah, Chairman of Employment Board Shri Hemant Deshmukh, Additional Chief Secretary Higher Education Shri B.R. Naidu and Principal Secretary to the Chief Minister Shri Ashok Vernawal were present on the occasion.
---

All possible efforts to be made to resolve students' issues" CM Shri Chouhan
Bhopal:MMNN: 21 May 2018


Chief Minister Shri Shivraj Singh Chouhan has called upon the students not to become disappointed in life. He assured the children that he is not the kind of person who is confined to any line. He will create new paths and new line for children. No obstruction will be allowed to remain in their lives. All arrangements will be made to let children move ahead in life and facilities will be provided to them. Shri Chouhan told the students to inform him if they faced any problem. Every problem will be resolved. If need arises new provisions and new scheme will also be made. Chouhan was in a direct conversation with students during the live phone-in programme at Model School auditorium today. As many as 60 thousand 592 students present at various places took part in the programme. Students asked direct questions to the Chief Minister. Shri Chouhan resolved their issues patiently. Instructions for full support to Kumari Aditi Thakur Class Xth pass Model School student Kumari Aditi Thakur told CM Shri Chouhan about the difficulties her family had to face after her father's death. The Chief Minister held a separate discussion with her and consoled her. He instructed officials to extend all possible assistance to Aditi. Yashasvini Bhabor of Jhabua district expressed the need for an e-library for preparation of competitive examinations. The Chief Minister told that a fully equipped library building is coming up soon in Jhabua. On information about lack of Engineering College building by Falguni Nahar of the district Shri Chouhan said that the building has been approved. Once it is built several of its branches will also become functional. Expressing his desire to take admission in J.N.U. Delhi University, Rohit Shrivastava of Bhind district enquired about information on the mode of fee payment. The Chief Minister informed him that state government will bear the fees of the education of children from families with annual income up to Rs 6 lakhs whether they get admission in J.N.U. or Delhi University. On student Lalit Patel's problem of distance between his residence and the college being too much, the Chief Minister said that there is arrangement of transport expense up to a fixed limit for students coming from villages to the city to study. Replying to student Mohan Soni's query on how the CM chose his career, the Chief Minister replied that he could not carry out dissection during his Biology class. He was always willing to help others in removing their difficulties. He had to face the wrath of his family when he took out a procession demanding increase in wages for labourers of the village when he was a student of Class VII but he was happy with this work. He had even sent to jail for opposing emergency. He said that one should give priority to what one's heart says. On student Ankit Gupta's fear of failure, the Chief Minister narrated the Arjun-Sri Krishna samvad from The Gita. He said that one should make continues efforts with patience and enthusiasm as a pious worker without worrying about the outcome. The Chief Minister apprised Hariom Shyam, a student of Khandwa, about the courses of study in the field of Commerce. He also informed that the state government will also bear the expense of fees of children from poor families for B.Com and other courses. The Chief Minister assured all possible assistance to student Shilu Patel from Panna and to remove any difficulty that she faces while pursuing higher education. Asked by student Gunjan Singh Patel about what to do for a career in politics, the Chief Minister said that politics is not as easy it seems. Only one who is sensitive towards others, is affected by others' pain and has the desire to remove people's difficulties can acquire success in politics. This sensitivity is the reason why Shri Narendra Modi became the Prime Minister from a chaiwala. He himself became the chief minister despite belonging to an ordinary family. Shri Chouhan also mentioned about his own struggle in political life. He removed the doubt expressed by student Sohan Singh of fee payment of B.C.A. course under Mukhya Mantri Medhavi Protsahan Yojana. Replying to the question of Ankita Yadav whether to give priority to the institute or the course, the CM said that priority should be given to course as per one's interest. It should also be seen that the institute is not below standard. Student Monika Yadav enquired about information on assistance in acquiring education abroad. The Chief Minister said that students seeking admission in the world's most prestigious universities are provided economic assistance up to a certain limit. Pushpanjali Baghel sought information on opportunities for preparation of IAS along with engineering. The Chief Minister told her that information will be given about coaching etc. from prestigious institutes during counselling.
---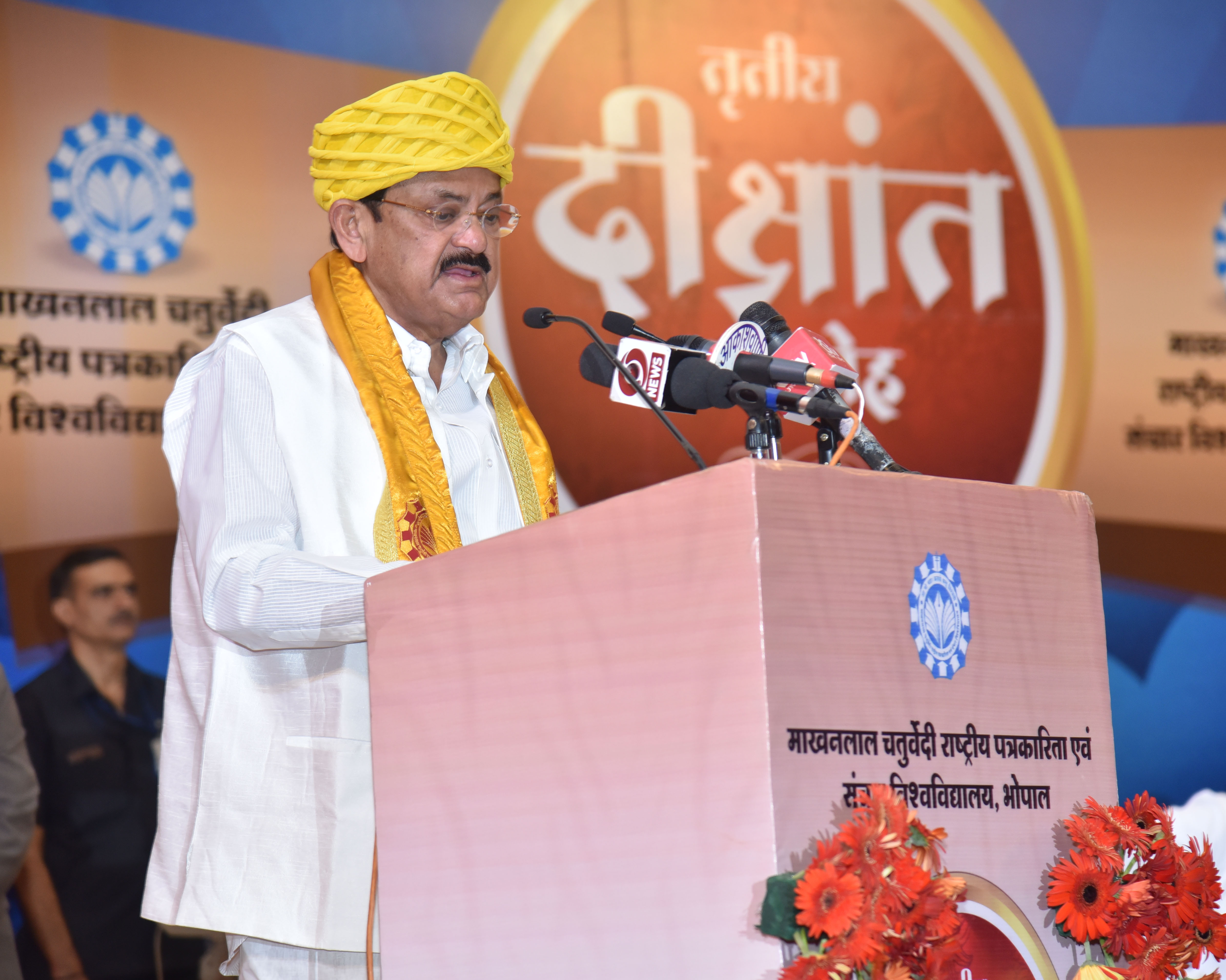 Third convocation ceremony of Makhanlal Chaturvedi Journalism University
Bhopal:MMNN: 16 May 2018


Vice-President and Chancellor of Makhanlal Chaturvedi Journalism and Communication University Shri Venkaiah Naidu said that media plays a special role in moving the country ahead with positive thinking. The work of media is to give pace to the country's development and strengthen democracy. Media should remove the darkness of ignorance and present a solution to every problem. He said that education should be imparted only in local language and mother tongue. He was addressing the third convocation ceremony of Makhanlal Chaturvedi Journalism and Communication University at Vidhan Sabha auditorium. Shri Naidu said that it is the media's responsibility to present a real picture of the society and decide its role in putting an end to all social evils. He said that India is going through a phase of transformation. In this the communication experts play an important role. He said that India is turning into a huge economy of the world. Economic reforms are in progress. Praising the University Shri Naidu said that the university is contributing towards digital revolution by promoting computer education along with journalism. Education should be in mother tongue Shri Naidu said that all academic courses should be in mother tongue. Change in the mentality of English is must. First learn and then speak in mother tongue and then give importance to foreign language. He said that mother tongue is original. This is like one's eyes, foreign language is like spectacles. He said that to protect one's mother tongue it is necessary to study and teach in mother tongue. He said that three things should always be remembered. First, mother, second motherland and third mother tongue. He said that education should be imparted in local language and mother tongue and for this a policy is must. We will have to come out of the mentality of speaking in English in spite of mother tongue. Referring to his recent Germany visit he said that research on the hidden knowledge in the epics written in Sanskrit are being undertaken there. Academic innovations lauded Praising the academic innovation by the University Shri Naidu said that the university has the status of being Asia's biggest media university. Several research benches have been established and computer education is being given in far flung areas. He said that the university has developed alongwith the fast paced development of Madhya Pradesh. The Vice-President said that media has made its contribution in ending corruption. The sooner corruption ends the better it is for the country and the democracy. Shri Naidu said that character, capacity, behaviour and talent are main elements. With these elements the journalist guides people and the society. He said that journalism was a mission earlier and now it must not lose its direction. Spreading sensation has become a habit of journalism. He said that spreading sensation means meaninglessness. It is media's responsibility to guide society with creative and positive thinking. He called upon the students who received degrees to use their knowledge for public welfare. Always maintain discipline in life, work hard and be honest. Be ready to learn everyday and work hard with high aims and dreams. Praising the University management for selection of Indian attire for the ceremony and conducting the convocation ceremony in Hindi. University Mahaparishad President and Chief Minister Shri Shivraj Singh Chouhan congratulated them. He said that the achievements of the university are worth being proud of. This university has its presence felt in every media institute of the country. The students of the university have established new standards of morality. Shri Chouhan said that today the media is going through a different phase. Professionalism has become blatant. Remembering the journalism of Late Shri Makhanlal Chaturvedi he said that he had followed fearless journalism during the freedom movement. Journalism after independence was also a mission for building a new India. He said that the journalist plays the role of a social reformer. Healthy journalism only can strengthen democracy. He congratulated the students. Famous national thinker, writer and journalist Shri Madhav Govind Vaidya, famous environmentalist Shri Amritlal Wegad, poet, writer and journalist Shri Mahesh Shrivastava were honoured with D.Lit title. Shri Naidu presented PhD, M.Phil and post graduate degrees and wished the students for their bright future. Vice Chancellor of Makhanlal Chaturvedi University Shri Jagdish Upasane conducted the convocation ceremony. Vidhan Sabha Speaker Dr. Sitasaran Sharma, Public Relations Minister Dr. Narottam Mishra and Bhopal MP Shri Alok Sanjar were present on the occasion. Guests were presented with mementos by the university. Rector Shri Lajpat Ahuja proposed the vote of thanks.
---
MCU to confer honorary D Lit to three eminent persons of mass communication
Bhopal:MMNN: 11 May 2018


Makhanlal Chaturvedi National University of Journalism and Communication will confer honorary D Litt to three eminent persons of journalism, mass communication and literature writing for their praiseworthy and creative contribution in its convocation ceremony. An expert of environment communication Shri Amritlal Vegad, veteran journalist Shri Madhav Govind Vaidya and senior journalist Shri Mahesh Shrivastava will be conferred honorary DLitt (Honoris Causa). Vice President of India Shri Venkaiah Naidu will confer the degree upon the eminent persons. Chief Minister and Chairman of University's general council Shri Shivraj Singh Chouhan will be special guest of the ceremony. Vidhan Sabha speaker Dr Seetasaran Sharma will be also grace the occasion. The convocation will be held at Vidhan Sabha auditorium at 4 pm. Post Graduates and research scholars from July 2009 to June 2017 batches will be conferred the degree in the ceremony. All degree recipients will be in Indian traditional dress. The university has registered them in an online mode.

---
Educational Delivery: Changing Left, Right & Centre Prof Ujjwal K Chowdhury



Education technology and its delivery are going through a revolutionary change today. In the digital age, chalk and talk is history. On one hand, with depleting attention span of learners, new learning pedagogy is needed. And on the other, integrating digital tools into education, from school to University, is must.
Brick & Mortar:
This has been the usual learning in the classroom taught by teachers who speak the last word on the subject, coupled with learning in the library from hard copy books, and evaluating through examinations written in examination halls. And this one line has formed the core of brick and mortar education for decades now. Not that it has completely gone obsolete, but much has changed and shall change. We need teachers as role models and a human touch, for clarifications and for inspiration. A good teacher motivates a learner to be open to even tough subjects. Also brick and mortar gives us peers, brings in a sense of collaboration and teamwork, makes us more social, and gives our first circle of friends much of which remains till death.
Click & Portal:
The West first brought the concept of online learning. Entire courses came to be presented online through the blend of text, pdfs, audio (podcasts) and video, and finally blended where all of these are converged to make the learning experience diverse to the sense organs and pleasing to internalize. Indeed it has been a step forward and there emerged an entire range of edu- tech companies catering to this. New range of e-learning tools and resources, e-tutors, self-learning through Khan Academy videos for school education and Coursera videos and courses for higher education have now emerged. However, such an approach, when taken to its logical conclusion and in its entirety, makes education mechanical, bereft of role models, inspiration, peer group and teamwork. Many critics have noted that such an approach leads to geeks and robotic minds.
Experiential Learning:
Ancient Gurukul System in our civilization has eulogised learning by doing with a Guru in front as an inspiring role model and learners staying together in ashramas or Gurukuls for collective learning and a spirit of fraternal competition. Even in the post industrial world, many with basic education went directly into the factory system, into workshops and offices and picked up skills on the job, learning by doing. While experiential learning makes a strong case of hands-on ready-to- use skills being imparted only through this pedagogy, the major limitation of this is while it answers to 'How' questions of skills, it does not delve deep into 'Why' questions of any issue.
Experiential Brick & Portal Learning:
As we proceed into a Knowledge Economy, education is increasingly moving towards the right futuristic model in its delivery: Experiential Brick & Portal Learning (EBPL). Education to be diverse in scope, humane in approach, technical in skills, and internalized in its impact must combine the best elements of all the three noted above seamlessly and without mutual conflict. While classrooms bring in teachers and peers. No more is the 'teacher the ultimate interpreter of knowledge', 'but compassionate mentor who is the first stimulus for the learner'. The learner has to follow it up with self-learning, skills and applications on his own, particularly in the domain of higher education.
On Campus Practices:
A leading management college has started using whatsapp as a tool to enhance attendance. It makes 2 minutes video with a touch of humour and creativity on the major theme of the sessions and sends it to students a night before to enhance interest of the learners. Flip classroom methodology has been started by several management and engineering institutes where power-point presentation on the subject of discussion is given in advance along with online and offline reading resources. The class begins with a quiz to assess the level of information and understanding of the learners on the subject, then moves into clarifications and case-studies. Many universities have institutionalized a mixed evaluation process of integrating project work with online research and offline written examination. And this process is obviously a continuous evaluation. This is in sharp contrast to one-time year-end or twice a year written exams which determined grades and marks of learners for all their lives. EBPL is an imaginative way of engaged and empowered learning and multi- pronged evaluation to test all of these: comprehension, retention, imagination and application.
Finnish Innovation Labs in Education:
Education system of Finland is considered to be the finest in the world. In the Finnish Innovation Labs in education, specially at higher education level, there is no formal teaching, but a collective learning by doing where a theme is introduced, ground rules are set, the learners in groups explore it themselves through self-study, cases, survey or research on ground, and coming together and sharing results at every level, discarding those that do not stand strong. The entire edifice is founded on one core belief-learning by doing-that inherently values trust and responsibility. Further, the same belief-effective learning can happen when it is self-directed and self-regulated-got firmly imprinted in my mind. Learning rather than numerical outcome 'should become the key component. Hence, there are no marks, only grades; and rewards are more in the form of joy of discovery, bonding, and field-work.
Prof Ujjwal K Chowdhury
Is Currently Head, School of Media, Pearl Academy,Delhi mumbai

---
Media at Crossroads: When Small is Big



The small handheld screen is taking the bigger tele-screen by the horns. From news to entertainment, short video to music video, the any-time consumption of video online is increasing fast, more so in times of low internet costs on handsets, in this post Jio era. Digital is being reborn in India almost every day with 845 million cell phone users, half of them being active on internet and social media with smart-phones, and 6 on 10 internet users being a regular daily user majority upto 7 hours a day. Transition to the digital world ahead will be more through Artificial Intelligence, Augmented Reality ad Virtual Reality, which will add visual and conceptual diversity. But this may also create stories and visuals which do not actually exist and pass them off as news. Therein lies the pitfall as well.
Revenue & Distribution Challenges:
News media is at crossroads on many counts. The basic problem facing the news media, specially the TV, today is the disproportionate expense on distribution and carriage fees of channels (which is approximately 45% of the consumer end revenue of the channels). Hence, there is decidedly low investment in content and the variety of the same. Almost all channels then resort to studio talks rather than much of field-work. Size of the television news business is around Rs.3000 crores, which is 5% of the gross 60,000 crores advertising revenue in India, and hence the frontiers are still open on revenue side. Even in digital news, profit sighting and traffic rise are rare and far in between, though has happened in some portals, like NDTV.com. In spite of the news portals like TimesofIndia.com and IndiaToday.in already earning profits, Indian consumer is still not ready for the subscription and Paywall route to revenue generation in digital news. The situation for general entertainment channels (GEC) is a tad better and the consumption of serials and reality shows is far more on TV than on the handset. But there is a perceptible change herein too. Snacking of small parts of reality shows on the digital medium is rampant now and often such short videos go viral. Also, appointment viewing of television programs is on decline as urban consumers specially need anytime viewing due to a hectic short-on- time lifestyle. Digital with its anytime viewing option is hence a major way forward, being aided with large and cheap datapacks on phones and home wifi.
TV Integration with the Digital Medium:
NDTV.com has emerged to be the 20th largest news portal of the world and by far the largest of any TV news organization in India, with its Web First slogan and series of initiatives. Since online audience is not equal to broadcast audience, it is creating specific skills within its integrated newsroom. India Today takes it to Mobile First perspective where the content (pics, language and video) are even tailored to mobile medium sensitivity. Alongside, television and its digital avatars are both caught up in the debate between speed news (face focus) and enterprise content (full story with various perspectives). Original curated personalized content is must in the digital medium, and hence the adaptation of journalists to digital content generation techniques becomes crucial. Un-cynical and tech-savvy younger work-force is often more suited for this. Bias versus Neutrality: It is a good news that journalism in myriad forms is being consumed more and democracy is being served better with reach of news becoming stronger and wider, though in a clutter of news-platforms, credibility is going to be the discerning factor. The worrying factor at times is that by-lines are increasingly known less for the news they speak but for stands they take. There is the rise of branded anchors, living in their bubbles and echo-chambers, and TV often presents less news, and much more views. Sometimes the extreme stands of anchors are doing almost an irreparable damage to journalism, as seen in Kasganj case recently. Alternatively, social media, consumed much on smartphones, has created some pressures on TV to stand firm. Portals like altnews and boomchecker have created pressures on TV journalists to get their stories right. News anchors can have their biases in views, but post-truths or fake news cannot be presented as facts. The artificially created conflicts through studio guests and #journalism are signs of decay in healthy news presentation, though these serve the twin purposes of reducing costs and strengthening biases and stereotypes.
Media Self-correction:
Media mediates social change, and media self-corrects with time. People do go back to credible news. After the coming in Donald Trump to power in USA, New York Times and CNN have become more popular. Indian news media should be thinking about what they are doing to themselves for TRPs, viewership and being in the good books of powers that be. Often even TRPs do not reflect the reality on ground. Hence, social media again acts as a deterrent to the aberrations of the TV. A bigger challenge, while audiences are coming to TV for re-iteration or reaffirmation of their already existing world view, they take to digital media for breaking news. This will only grow further, but revenue is still abysmally low in the digital which is the cause of real worry. With higher revenues on the digital medium, there will be more corrections in the overall contours of news-dissemination in India.
NewsRoom 2020: Crystal-gazing:
The new definition of DTH is Direct to Handset. So mobile journalism (MOJO) and skills of MOJO journalists are the order of tomorrow. The future is of further integrated newsroom along with staff doubling up on TV and digital fronts, selfie-stick reporters shooting themselves and publishing simultaneously will be the new normal. In brief, multi-skilled convergent techno-savvy mobile journalists with a great network and way with languages shall be the most sought after animal in the world of news of tomorrow. Also, technology penetration will emerge as the game-changer ahead. Broadband penetration across 600 districts and gradually 6.3 lacs villages will make the medium influencing the message. Social media will fill in where the mainstream media fail and with broadband going to every corner this will be further accelerated. Also, Specialized Content, as in business or ecology or defence, for specific niche audiences will also find market and revenue talking to their right audiences. Indeed, journalists can take you to the spot of an event through VR and add layers to it through AR. Facts and fiction distinction may to an extent get obliterated. This is more so as video capable devices are on the rise, and are expected to grow more than twice between 2016 and 2020. Even today, daily online video watchers are 33% of the total internet users in India. And among these viewers, women outnumber men and Hindi outnumbers all other languages taken together. Come 2020: Content still remains the king, though contexts and platforms shall change.
Prof Ujjwal K Chowdhury
Is Currently Head, School of Media, Pearl Academy,Delhi mumbai

---
Convocation of Makhanlal Chaturvedi Journalism University on May 16, Vice President to be chief guest
Bhopal:MMNN: 27 April 2018


Bhopal, April 27. The third convocation of Makhanlal Chaturvedi National University of Journalism and Communication will be held on May 16. The Vice President Shri Venkaiah Naidu will be the chief guest, who is also chancellor of the University. Governor of Madhya Pradesh Smt Anandiben Patel and chairman of General Council and Chief Minister Shri Shivraj Singh Chouhan will also present in the ceremony. Vice-Chancellor Shri Jagdish Upasane held a meeting with university professors and officers regarding preparations for the function on Friday. The convocation will take place in Indian traditional dress. Students and research scholars from batches June 2009 to June 2017 will be awarded degrees in the third convocation. The university has invited registration from for receiving degree in the convocation ceremony before May 8 through online mode by logging in on the university website or mponline.

---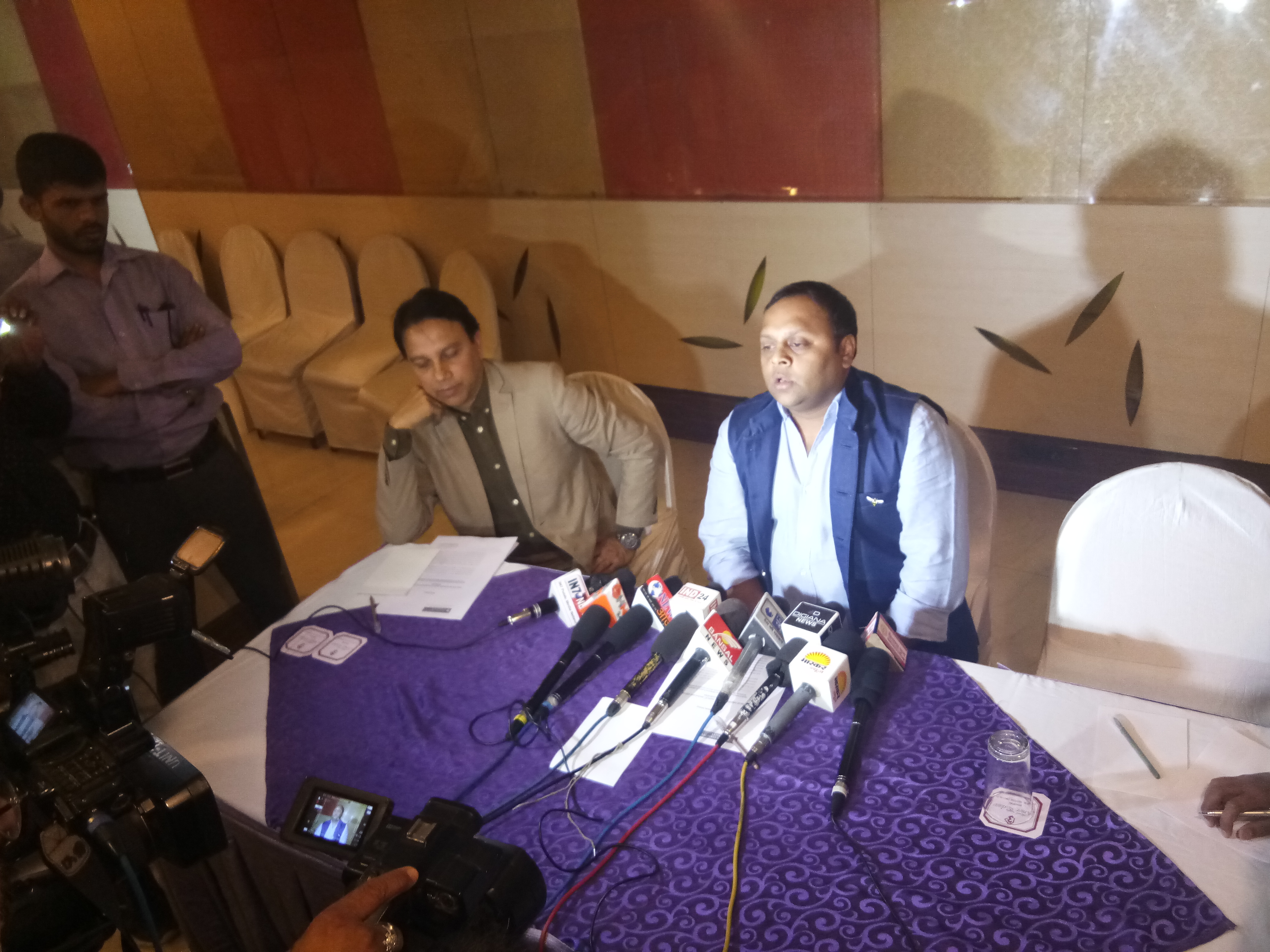 Jagran Lakecity University marks 5 th anniversary with year-long celebration
Bhopal:MMNN: 24 April 2018


Since its official opening in 2013, Jagran Lakecity University has established itself as a University rich with pride, history, and educational spirit. Central Indias Global University today launched a year of celebration and reflection in recognition of completion of its 5-year journey. Over the past five years, JLU has evolved from an emerging concept to a mature top-tier institution. Here, renowned faculty, brilliant students, and exceptional postdoctoral researchers develop new knowledge using the very best cutting-edge facilities. The university has also become a standard bearer for collaboration and cooperation, where partnerships across disciplines dramatically extend the reach and impact of research directed at improving the world. Perhaps most exciting is that, for all that has been achieved so far, the narrative of success is still relatively young. Innovative new chapters are written every day, and the future opens with expansive promise. Shri Hari Mohan Gupta, the Chancellor of JLU said, Five years is a major milestone for an institution, as it is for an individual.Jagran Lakecity University's thousands of students, faculty, parents and partners are what have made it great. I hope that many of them will join me today in celebrating this important milestone.I believe JLU is a university that is truly is for everyone: one that is accessible to all, from any part of India and world, and one that empowers all of us to achieve our dignity, rights and potential as humans. On this special occasion, I congratulate all the JSWS society members, students, faculty and our partners on their past achievements and wish all of you continued success in your efforts to integrate knowledge, livelihood and impact in a mutually reinforcing manner in India and abroad. The Chancellor also mentioned in his address Jagran Lakecity University community has made an impact on thousands of peoples lives over the last 5 years. This year, students, alumni, faculty, staff and fellows are celebrating our strong and proud community by reflecting on our history, but more importantly, looking to where we are headed next. The 5 th anniversary kicked off with a graceful celebratory event in Bhopal on 24 th April, 2018, its Foundation Day, where students, faculty, alumni, many of its Indian and International partners, influencers from central India came together. On the occasion JLU launched its high profiled Leadership Board constituted to support its apex bodies in reaffirming its commitment to academic-industry interface. The celebrations also marked the launched of its IP radio channel, Lakecity Voice, designed, operated and managed by students of JLU. In keeping with their many traditions, JLU will continue host many events throughout the year, which will all be announced time to time through its website, social media platforms.Mr.Nirav Khambati, Partner, Kaizan Private Equity and member JLU Leadership Board, Innovation has been at the heart of JLU, and has driven its success in teaching and research, as well as in its impact on the community, education and nation building.5 years of excellent work not only showcases how far JLU has come, but extraordinary potential it has to offer future students and the wider community. The ecosystem it has created in central India is something to be proud of About Jagran Lakecity University Founded on life-enriching values, we are a completely government recognized and approved state private university under section 2(f) of UGC Act 1956, Government of India. Recognized as Global League Institute in 2015 & 2016 By The Great Place To Study Research Institute and ranked as No1 Private University by Career 360 for 2017, the university has become vital part of Central India in short span of 5 years. JLU is a practice-based University, which carries forward the legacy of Jagran Social Welfare Society in being a pioneer in provision of quality education. The courses on offer through various Schools embody the Universitys longstanding commitment to leadership and innovation in higher education. The curriculum for individual course is designed through a perfect blend of inputs from renowned academicians and industry leaders who are a part of our academic advisory board. The academics at JLU are of the highest global calibre and are committed to excellence in teaching and learning. JLU currently offers full time Degrees at undergraduate, postgraduate and research level in the field of Law, Journalism, Advertising & PR, Engineering & Technology, Management, Commerce, Economics, Public Administration, Banking, Finance, Hospitality, Humanities, Education and Sports

---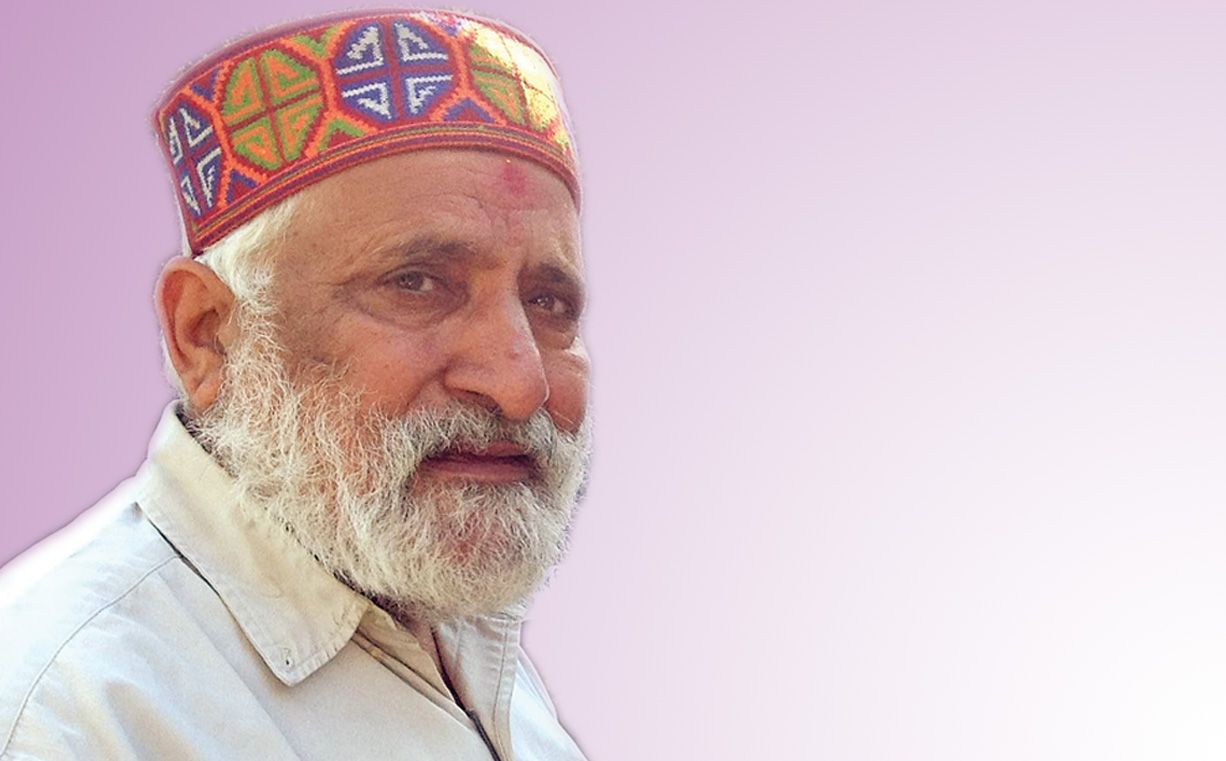 Makhanlal Chaturvedi memorial lecture on April 4, discussion on 'Kashmir: Problems and Solutions
Bhopal:MMNN: 2 April 2018


Bhopal, 02 April. A special lecture programme has been organised by Makhanlal Chaturvedi National University of Journalism and Communication, Bhopal on April 4, the birth anniversary of freedom fighter and poet Makhanlal Chaturvedi. Vice-Chancellor of Central University of Himachal Pradesh Prof Kuldeep Chandra Agnihotri will deliver a key note address on 'Kashmir: Problems and Solutions'. State Public Relations and Parliamentary Affairs Minister Dr Narottam Mishra will be the chief guest of the function. University Vice-Chancellor Shri Jagdish Upasane will chair the programme. The programme will be held at Samanvay Bhavan, Tatya Tope Nagar at 4 pm. Prof Kuldeep Chandra Agnihotri is an expert of national security and has studied Jammu-Kashmir issue extensively, with a number of publications on it. Prof Agnihotri has been associated with journalism too. Dignitaries and prominent people of the city have been invited in the programme.

---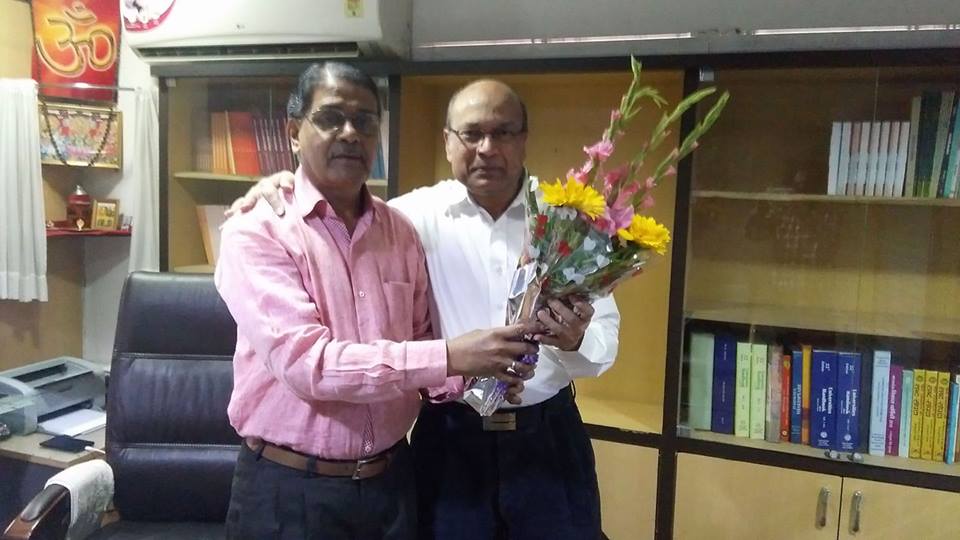 Editor in chief of METROMIRROR meets Sh. Jagdish Upasane VC of MCNUJC
Bhopal:MMNN: 27 March 2018


Today met Sh. Jagdish Upasane ji who took charge as VC of MCNUJC Bhopal.He is very Intelligent, Practical and believes in Simple living & HighThinking.Discussed about quality of Media Training, importance of Digital Media, and Media principles. He said "sense of responsibility for all and Digital Media would be the focus area" Photo: www.MetroMirror.com

---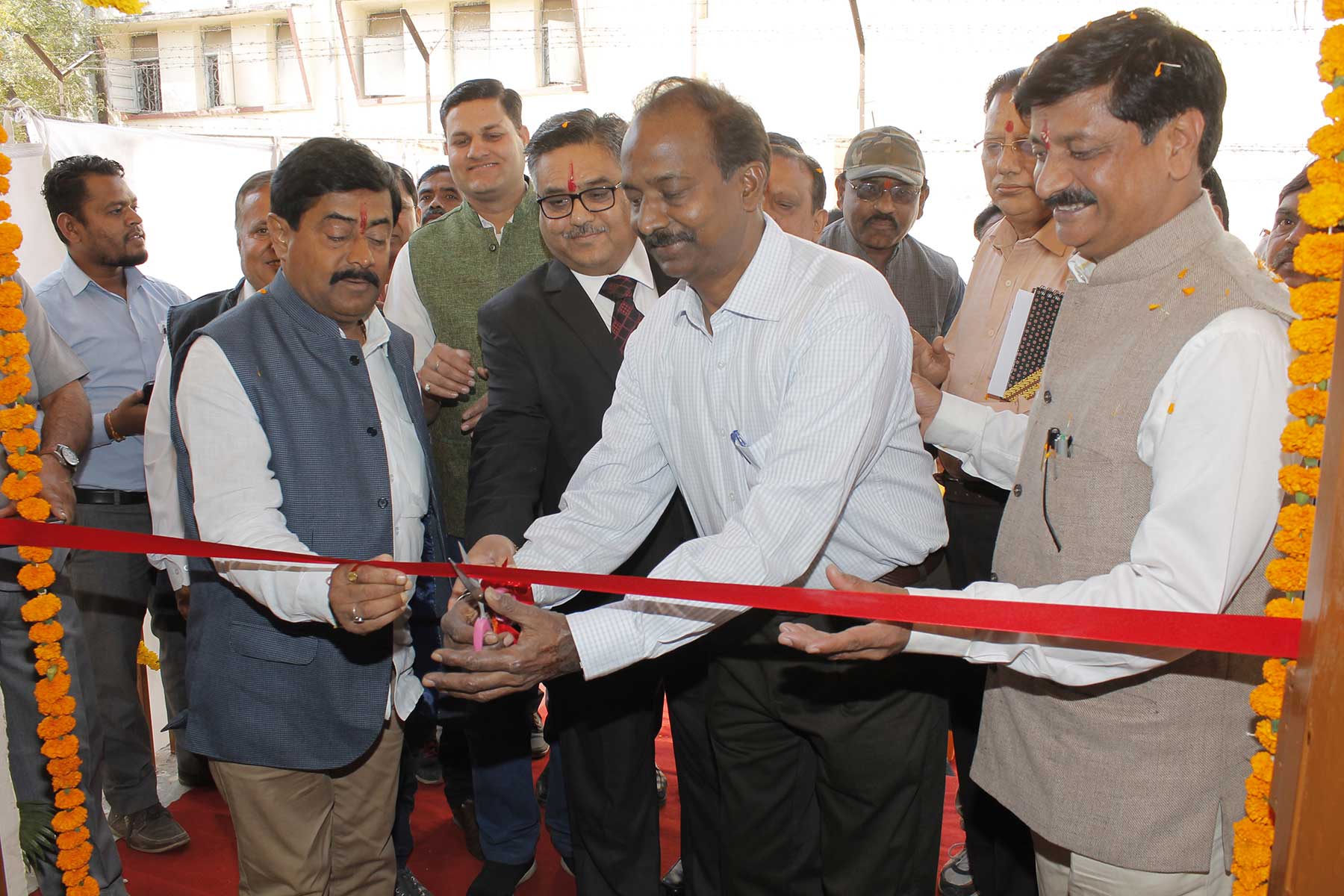 Students should pursue 2-year ITI, 2-year Polytechnic and 4-year Engineering.
Bhopal:MMNN: 22 January 2018


A proposal that students must pursue 2-year ITI, 2-year Polytechnic and 4-year Engineering after Class 8 for skills in work has been sent to the Centre. This was told by Minister of State for Technical Education (Independent Charge), School Education and Labour Shri Deepak Joshi at the public dedication of girls hostel of Sardar Vallabh Bhai Patel Polytechnic College, Bhopal. Shri Joshi said that the hostel starting on the occasion of Basant Panchami will provide accommodation to students from far-flung areas. He said that the hostel should be the best in state. Rs 15,000 and badminton kit to Gauranshi Sharma Shri Joshi announced to grant Rs 15,000 to Disabled badminton player Gauranshi Sharma who won silver medal in National Games of the Deaf. He also presented Sushri Sharma with shield and certificate. Shri Mayank Sharma of Swami Ambrish Chaitanya Seva Samiti said that he will gift her with the badminton kit today itself. Shri Joshi said that we wish to see Sushri Gauranshi win medal at the Olympics. For this she will be provided with all possible assistance. Director Technical Education Dr. Virendra Kumar also expressed his views. Principal Dr. Ashish Dongre told that the hostel has 50 beds
---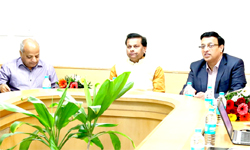 Efforts for national level recognition of higher education institutes should be made.
Bhopal:MMNN: 15 January 2018


Higher Education Minister Shri Jaibhan Singh Pawaiya said that efforts should be made to improve quality of higher education institutions and get them national level recognition. He said that there is need also to launch a special campaign to improve the library and lab of these educational institutions. Shri Pawaiya was addressing the fifth meeting of State Higher Education Council at the Mantralaya today. Works of Rashtriya Uchchatar Shiksha Abhiyan (RUSA) were reviewed in the meeting. ACS Higher Education Shri Deepak Khandekar and educationists were present at the meeting. The Minister said that the work in the language lab should not be restricted to English only, instead it should focus on development of knowledge of other languages including Hindi also. He issued instructions to make use of financial assistance fund provided by the centre and the state government in higher education institutions. It was told that 311 government colleges and 447 non-government colleges in year 2003 rose to 469 and 914 respectively in year 2017 in the state. Efforts are being made to open colleges to ensure the reach of higher education in rural areas also. It was told that Rs 269 crore was approved in various components in RUSA Project. After being assessed by the NAAC financial assistance was approved for 33 colleges and 3 universities of B grade. It was told that Rs 55 crore grant has been released for Pt. SN Shukla University Shahdol. All work approved from the fund will be completed by October 2018. Educationists suggested that a workshop should be organised on national level specific subject in atleast one educational institution of the division. The suggestions given at the workshop should be used for improvement of quality of education. Commissioner Higher Education Shri Neeraj Mandloi told that recruitment process of 3000 assistant professors will be completed by June 2018 to remove the dearth of teaching staff in Department of Higher Education. Educationists Dr. Devendra Deepak, Dr. Prakash Bartuniya, Dr. Chitralekha Chouhan, Dr. Shashi Rai and S.N. Shukla University Vice Chancellor Shri Mukesh Tiwari were present during the meeting
---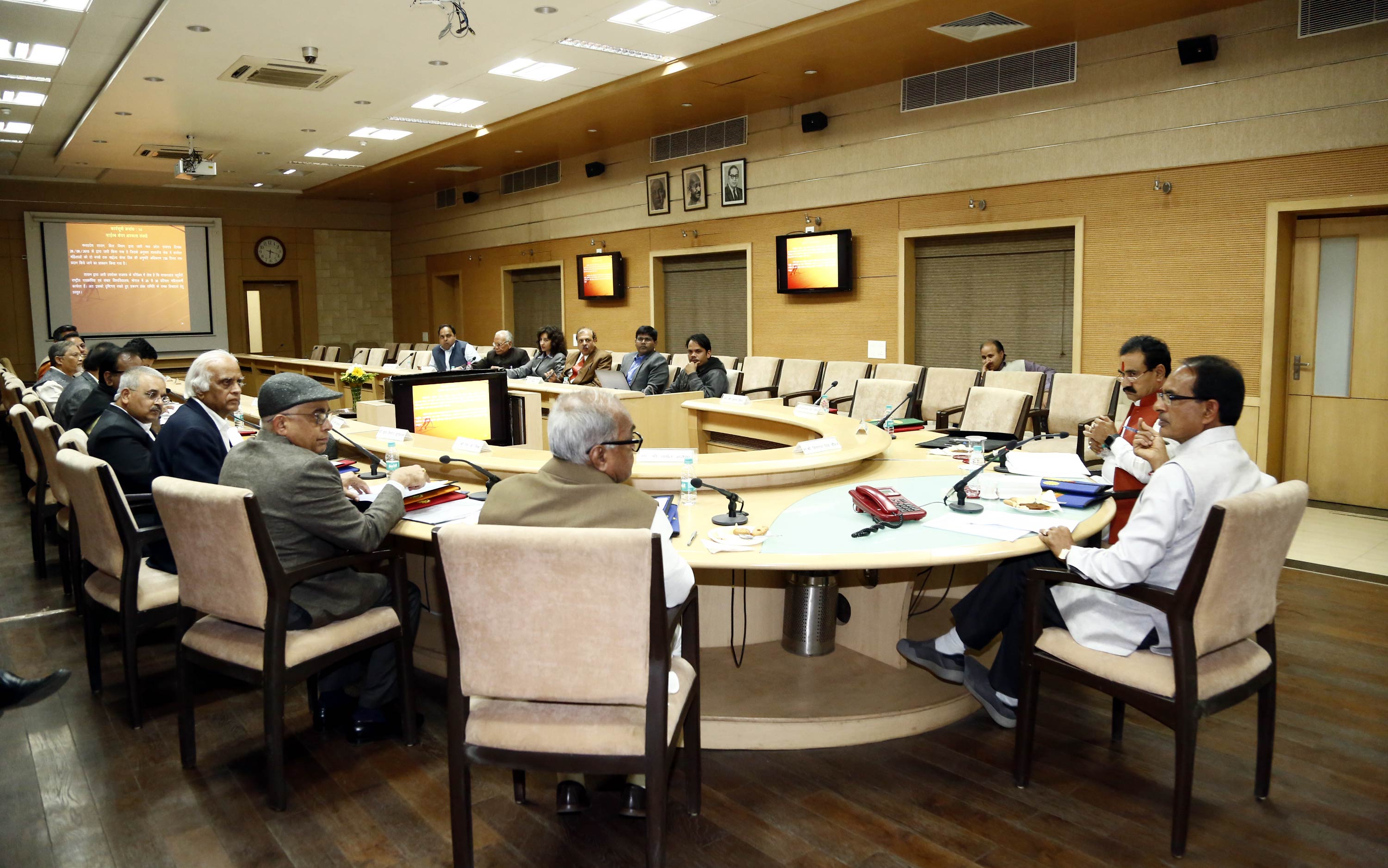 Media incubation centre to be set up at Makhanlal University.
Bhopal:MMNN: 9 January 2018


A media incubation centre will be established in Makhanlal Chaturvedi National University of Journalism to promote start-ups in the media sector. NITI Ayog has granted approval for this. The university will conduct detailed study on factors of socio- economic heterogeneity in society and their redressal. These decisions were taken at a meeting of the managment committee and Maharparishad of the university chaired by CM Shri Chouhan today. CM Shri Chouhan said that research and study will also be conducted on Adwait Vedanta at the University. The new posts should be filled under Higher Education and UGC norms. It was told at the meeting that the Language Study Centre an Cultural Study Centre have begun functioning in the University. A foreign media study centre will be set up at the university in which news published in Pakistan, China and Nepal media will be analysed. The University has conducted BCA examination online. As many as 210 new study centres have been recognized in the last one year by the university. The number of students has increased during this period by 12 percent. The University has published the first Sanskrit News Magazine Atulya Bharatam. A social media research centre has been set up in the university. Finance Minister Shri Jayant Malaiya, Public Relations and Water Resources Minister Dr. Narottam Mishra, MP Shri Alok Sanjar, Vice-Chancellor Dr. B.K Kuthiyala besides government and non-government members of the Mahaparishad were present during the meeting.
---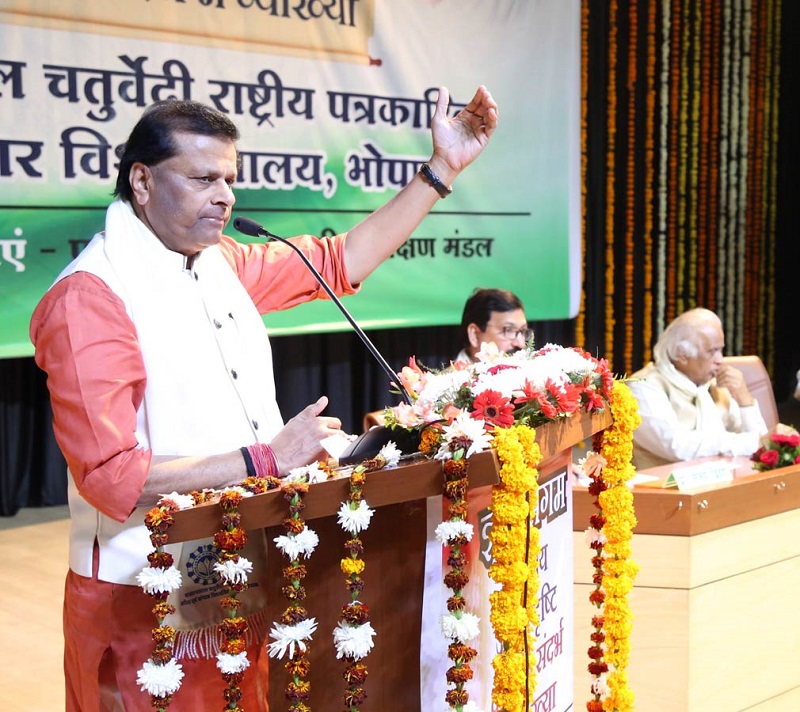 Direct Recruitment on Principal's Posts in Colleges: Minister Shri Pawaiya.
Bhopal:MMNN: 9 January 2018


Principals will be appointed on vacant posts in the colleges through direct recruitment. Decision for direct recruitment is being taken by the department. Minister for Higher Education gave this information in a convention of newly elected office bearers of the students union at Barkatullah University. Shri Pawaiya said that posts of the principals are lying vacant in the colleges. Decision is being taken by the Higher Education department to fill these vacant posts by direct recruitment through Public Service Commission. The process will start soon. Moreover, a process to recruit assistant professors in the colleges has already been started. Total 2,950 assistant professors will be posted in the colleges in next session after the selection. He further mentioned that the state government has taken several important decisions in the higher education sector. He mentioned about the decisions like discontinuation of semester system and holding students union elections etc. Minister Shri Pawaiyya told the students union's office bearers for organizing debate, speech, writing competitions besides creative programmes regularly in the colleges. He said that nodal officers of the students' welfare of the college will be directed to organize such programmes in coordination of the office bearers. He urged office bearers' cooperation to keep the colleges campuses clean and for building academic atmosphere. Shri Pawaiya said that minor things together develop personality. There is a need for creating positive atmosphere and to prevent negative tendencies. Students and unions must play an important role to give creative contribution towards the society and the country. Moreover, Shri Pawaiya stated that career is important but it is not such that career is only life. It is part of the life. He told the students to move forward with positive approach. Overall personality development is possible by taking part in sports, cultural and other activities besides studies. The convention was also addressed by other speakers. Suggestions were also given by the office bearers in the programme.
---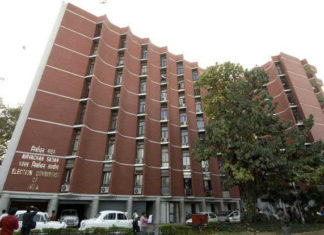 MSME Department to provide financial assistance for industrial development.
Bhopal:MMNN: 8 January 2018


Forty percent of investment in plant and machinery will be given to Micro, Small and Medium manufacturing Enterprises in the form of industry development grant in 5 equal annual installments. The MSME Department has provided this facility to all units except 22 marked ineligible units. Giving information in this regard, Principal Secretary, MSME, Shri VL Kantaroa said that according to the provision made in the MSME Development Policy 2017, if the investor purchases private land to set up a medium-class manufacturing enterprise, such units will be provided 50 percent of expenditure on infrastructure for water, road and electricity upto maximum Rs 25 lakh. Twenty percent of the amount, maximum Rs 2 crore, spent in the establishment / development of private industrial area / multi-storey industrial complex will be provided to private sector. Industrial area should be on minimum 5 acres land. The carpet area should be at least 10 thousand square feet in the case of multi-storey industrial complex case. It is compulsory that the multi-storey industrial complex should have 5 units. Fifty percent capital grant, maximum Rs 25 lakh will be availed to industrial units for investment in establishing waste management systems (ETP, STP)
---
Shri Sabu of Los Angeles wishes to train State's youths in skill development and medical field
Bhopal:MMNN: 4 January 2018


Shri Sabu said that he runs a BPO in Indore also in which he has given employment to 70 youths. Several skill development programmes have been started in the last few years in Madhya Pradesh. According to Shri Sabu if the Madhya Pradesh government helps to train youths working in BPOs, he can provide more and more youths to get employment in Medical BPO field. Young businessman Ashish says he does not get trained youths for this work in the state. Because of this he has to visit Manila in Philippines to get youths trained. Currently he has got more than 500 youths employed in Manila. Talking about the conclave, Shri Ashish said that Madhya Pradesh government has made a better platform available for people of MP residing in foreign countries. These people of MP residing abroad want to extend support in development of the state. They will get this opportunity through this conclave
---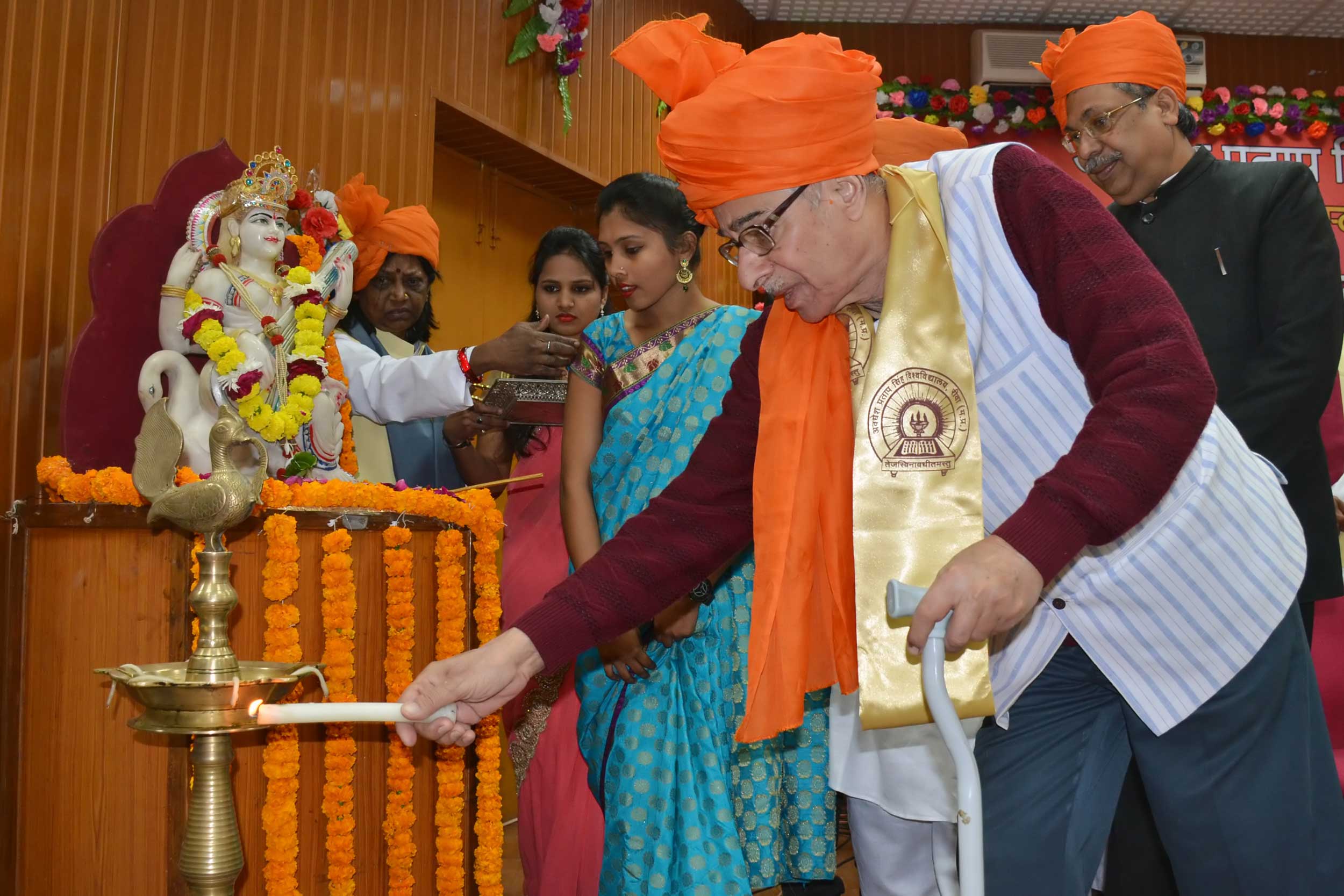 Make full contribution in nation-building- Governor Shri Kohli
Bhopal:MMNN: 23 December 2017


Governor and Chancellor Shri O.P. Kohli told students to give their full contribution in developed nation building only then would higher education succeed in its objectives. Shri Kohli was addressing the 6th convocation ceremony of Avdhesh Pratap Singh University, Rewa. Shri Kohli presented honorary degree to Chief Justice Guwahati High court Shri Ajit Singh, Classical Singer Pt. Channulal Mishra, President Indira Gandhi Rashtriya Kala Kendra Shri Rambahadur Rai and Chairman for National Commission of Scheduled Tribes Shri Nandkumar Sai. He also presented titles and gold medals to students of various faculties. Governor Shri Kohli said that the convocation ceremony is a glorious event for the university and should be organized regularly. The universities would be considered complete only when apart from creation of new knowledge this knowledge is passed on to the coming generations. He hoped that the universities of the state would establish their names among the world's leading universities and institutions. This will help attract students belonging to other countries to attain education in Indian educational institutions. The Governor said that there should be creativity and sensitivity in students so that they can make new innovations and contribute towards society. He hoped that the teachers maintain dialogue and coordination apart from educational work with the students. Stressing on connecting education with tradition and modernism the Governor said that this will enable us to connect with Bharatiyata and will be successful in obtaining new dimensions of development. The Governor said that Prime Minister Shri Narendra Modi believes that a person's biggest quality is self-confidence. Therefore teachers and students should make proper use of the capacities of youths for the upliftment of the country. He said that coordination would have to be established with the market and employment by including skill development in the academic course to make jobs easily available for young talents. Discussing the quotes of Vivekananda relating to the importance of Guru, Industries Minister Shri Rajendra Shukla said that inclusion of moral values in education is must. Education should be used for service to others. He told the students who obtained degrees to fill the society with the fragrance of their goodness.
---
Employment Oriented Training to be Imparted to 7 lakh 50 thousand Youths
Bhopal:MMNN: 21 December 2017


Chief Minister Shri Shivraj Singh Chouhan said that employment oriented training will be imparted to 7 lakh 50 thousand youths every year. Beside this, financial assistance will also be provided to them for self-employment. This will help them to get employment and will make them capable to establish their self-employment. CM Shri Chouhan was reviewing the Yuva Sashaktikaran Mission here today. Chairman Employment Board Shri Hemant Vijayrao Deshmukh and Chief Secretary Shri B.P. Singh were also present in the meeting. CM Shri Chouhan said that it is essential to make youths skilled in order to link them with the employment. Therefore, different kind of training will be imparted to 7 lakh 50 thousand youths every year. He directed the officers for making such a training arrangement, which ensure hundred percent employment. Shri Chouhan mentioned that rozgar and swa-rozgar melas should be organized in every district. Adequate information about the rozgar and swa-rozgar should be provided to the youths in these melas. Moreover, various companies should be invited to provide employment to the youths. He reiterated for making proper arrangements for the training. It was informed that short term training will be imparted to 3 lakh 10 thousand youths under the Mukhya Mantri Koushal Samvardhan and Koushalya Yojana. The youths will be trained in ITIs, Skill Development Center, Engineering and Polytechnic Colleges, Administrative Department and other Semi-Government organizations. Necessary amount has already been allotted to the institutions for training. Similarly, vocational education will also be started in the High Schools and Higher Secondary Schools to generate awareness about the employment oriented education. Additional Chief Secretary General Administration Shri Prabhanshu Kamal, Principal Secretary Technical Education Shri Sanjay Bandopadhyaya, Principal Secretary to CM Shri Ashok Varnval and Secretary to CM Shri Vivek Agrawal were present in the meeting.
---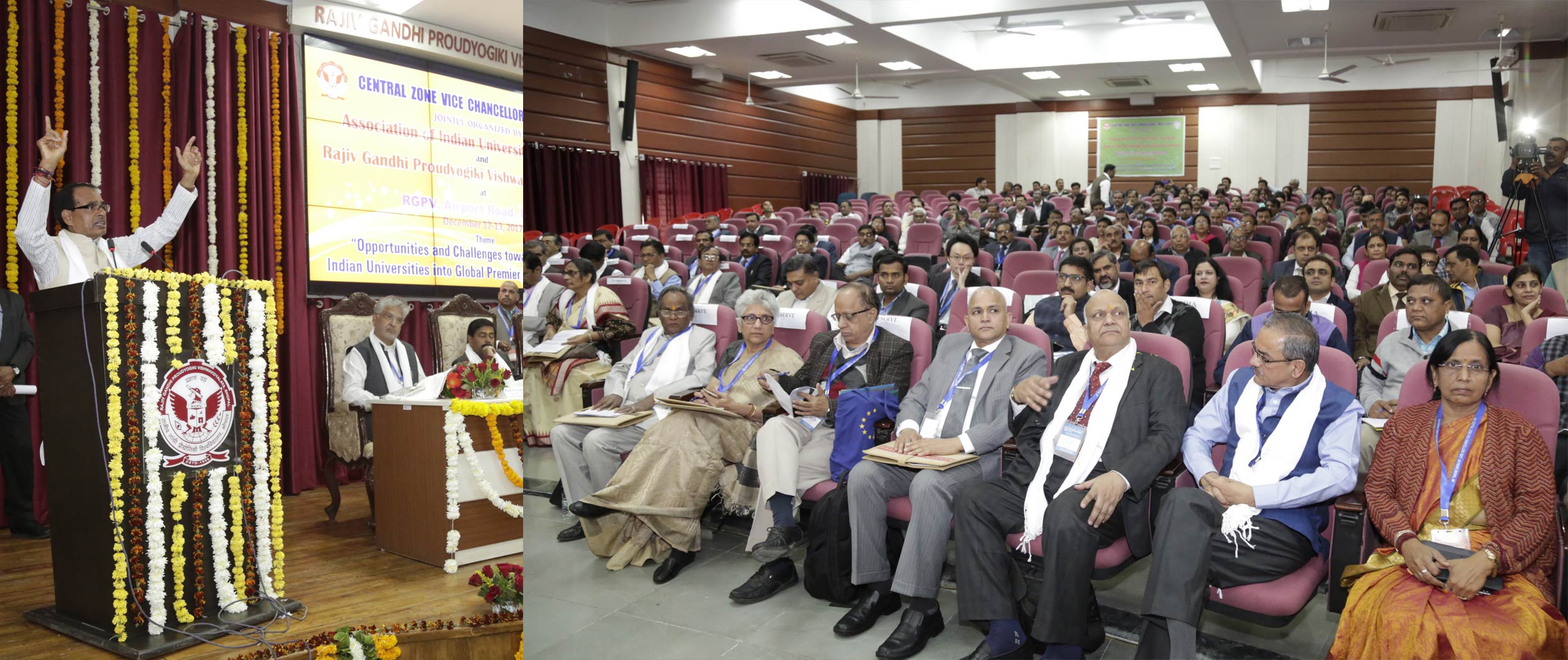 Autonomy of universities must, focus on culture based higher education.
Bhopal:MMNN: 12 December 2017


Chief Minister Shri Shivraj Singh Chouhan said that keeping the autonomy of universities intact, conditions for their expansion as per need will be created. Shri Chouhan was addressing a meeting of Vice-Chancellors of seven universities of the country's Madhya Kshetra at Rajiv Gandhi Proudyogiki Vishwavidyalaya. Shri Chouhan said that apart from imparting knowledge and skills, universities should focus on education of citizenship also. He said that being educated and being cultured are two different things. Without culture, talent can be misused. Talking about Adi Shankaracharya and Swami Vivekanand he said that there is need to ponder on the methods of educating about culture. The Chief Minister said that India has had universities like Nalanda and Takshashila which were renowned all over the world. It is a wonder how Indian universities are included in the world's 100 top universities. He said that this is possible with commitment and resolve. The society and the government would have to make combined efforts. He said that Prime Minister Shri Narendra Modi is seriously pondering on making solid efforts in the direction of quality and autonomy of higher education. Shri Chouhan said that higher education should give employment. On Youth Empowerment Mission he said that efforts are being made to provide proper training to make youth fit enough for employment. On the Medhavi Vidyarthi Protsahan Yojana, the Chief Minister said that the state government will bear the expenses of higher education of outstanding students who score 75 percent marks in the state and get selected in national institutions. He said that there is no dearth of talent but due to lack of opportunities, they have to migrate. This situation must be stopped. Terming double education system as dangerous, Shri Chouhan said that everyone must get equal opportunities of education; this is the biggest responsibility of the Vice-Chancellors. All possible efforts are being made to improve quality of primary and higher education. Today government school students are passing with very good marks. Rajiv Gandhi Proudyogiki Vishwavidyalaya Vice-Chancellor Shri Sunil Kumar said that universities should also be concerned with social concerns. They should also be in regular contact with industrial sector. Minister of State for Technical Education Shri Deepak Joshi, Association of Universities Chairman Professor P.B. Sharma, General Secretary Shri Qamar and Vice-Chancellors of Universities, senior educationists and officers were present on the occasion. Chief Minister Shri Chouhan released the special edition of University News and RGPV News letter
---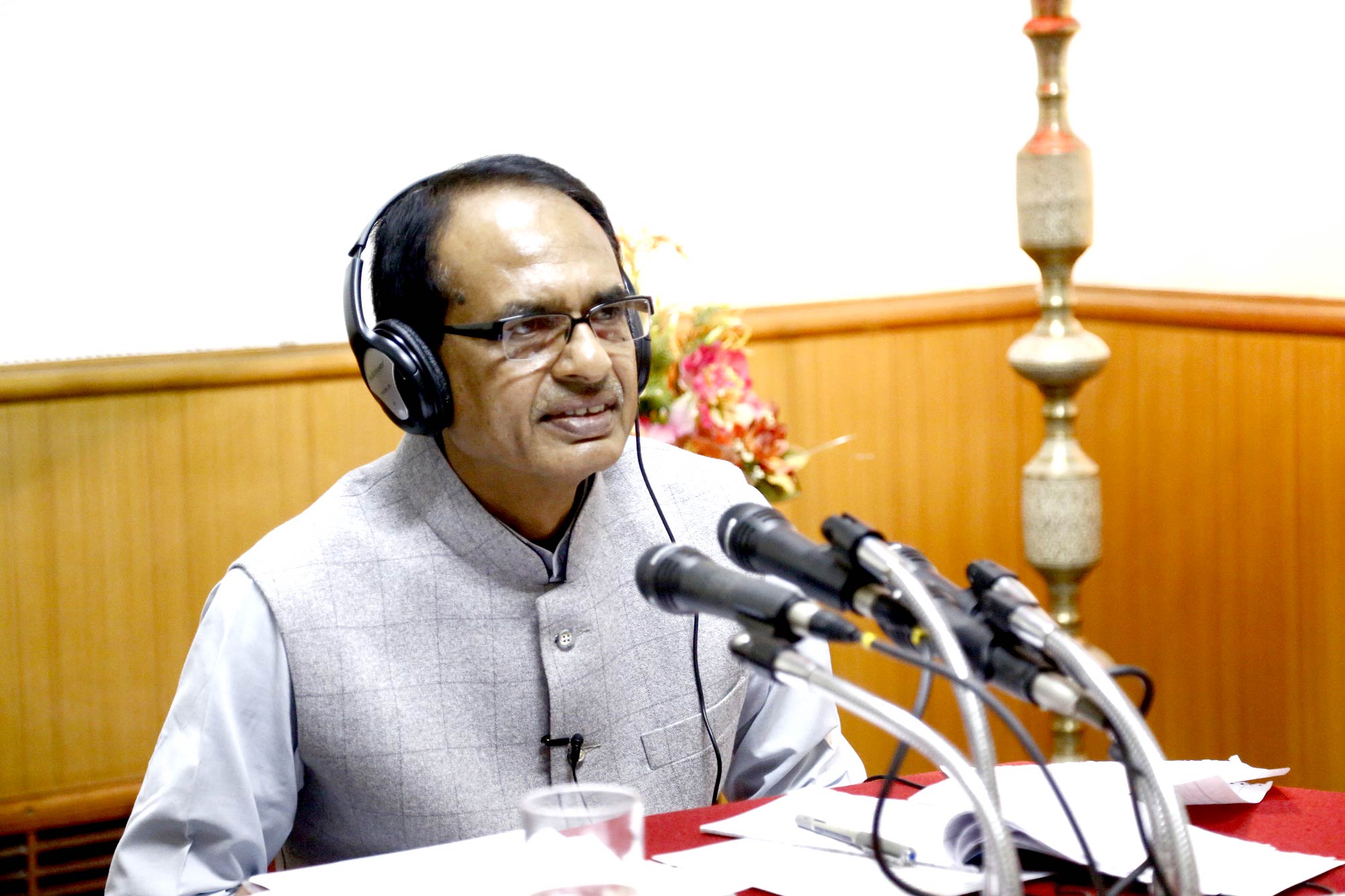 C.M. Medhavi Vidyarthi Yojana benefit on 70% marks in class XII, Income limit to be Rs. 8 lakh.
Bhopal:MMNN: 10 December 2017


The students securing 70% marks in the Class XII examination will also get the benefit of the Chief Minister's Medhavi Vidyarthi Protsahan Yojna from next year. The scheme will cover all courses offered in government colleges. The income limit will be extended to Rs. eight lakh. The industries providing employment to more than hundred youth will now be given one and a half times more capital subsidy. The Chief Minister Shri Shivraj Singh Chouhan made these announcements in Dil Se radio programme broadcast from AIR today. The Chief Minister said that the benefit of the Chief Minister Medhavi Vidyarthi Protsahan Yojana will be given to the students in the JEE Main Examination upto 1.5 lakhs merit. The criterian of annual income of the students' family will be increased from six to eight lakh rupees. New courses will also be covered under the scheme so that maximum number of students could get the benefit. The Chief Minister said that the candidates who could not appear in the Patwari Examination due to some technical reasons will get a chance to appear in the examination to be held on December 29 for them. The Chief Minister informed that about 90 thousand posts in government sector will be filled. Under the Chief Minister's Youth Empowerment Mission, 7.5 lakh youth will be trained for employment every year. Renewed Beti Bachao Abhiyan Shri Chouhan said that renewed campaign to save girl child will be launched with the participation of society in which emphasis will be given on value based education. The society should come forward to help and save daughters. He exhorted the citizens to come forward and engage themselves in cleaning their respective cities and villages. He said that the state government is celebrating the birth centenary of Pandit Deendayal Upadhyayji as The Year of Welfare of the Poor. All measures have been taken to eradicate poverty. He said that eligible persons not getting subsidized ration will be issued food coupon. A poor person will not be deprived of getting subsidized ration, he added. Shri Chouhan said that women of specially backward tribes like Saharia will get Rs. one thousand per month in their accounts for nourishment of their children. Residential plots will be provided to the houseless people. They will get financial assistance for building the house. By the end of December next year, every houseless person of the Scheduled Tribes will own their house and by 2022, every person would have a house of his own. He informed that Madhya Pradesh has topped in the country in the implementation of the Prime Minister's Awas Yojana. Shri Chouhan informed that Deendayal Rasoi Yojana is successfully running with the participation of the society. New pilgrimage centres have been included under Chief Minister's Scheme for Pilgrimage. He said that the State Government has been procuring onion, urad, moong and arhar for the first time in the summer to ensure remunerative prices to the farmers. In the interest of farmers, the Price Deficit Benefit scheme has been launched. Under this scheme, the farmers who had sold their crop from October 16 to October 31 have been paid an amount of Rs.139 crores. The farmers who have sold their crop from November 1 to 30, will get incentive payment in their respective accounts between 20 and 30 December. Become an entrepreneur The Chief Minister referred to a radical legislation of protecting girl child saying that that assaulting girl child will get capital punishment. He said that Aadi Shankaracharya Ekatma Yatra will be taken out from December 19 to January 22, in which soil from different parts of will be collected. A life size statue of Aadi Shankarachary will be set up at Omkareshwar. The Yatra will also spread message of Save Girl Child. Shri Chouhan urged the youth to take benefit of Mukhyamantri Yuva Udyami Yojana, Mukhyamantri Yuva Swarozgar Yojana, Mukhyamantri Krishak Udyami Yojana, Mukhyamantri Aarthik Kalyan Yojana and those launched by the Prime Minister Shri Narendra Modi to become an entrepreneur. Praises Young Entrepreneurs The Chief Minister referred to successful entrepreneurs and praise their entrepreneurship for gettting themselves employed and creating jobs for their fellow youth. He mentioned Shri Madan Singh of Satna who started his own manufacturing unit with the help of the Chief Minister's Yuva Udyami Yojana. He makes tools that are used in rice mills. Similarly, Mrs Reena Mewara of Sehore used to be daily wage earner. Today she owns bag manufacturing unit. She is taking care of her family. Shri Surendra Singh of Bina in Sagar district using rented auto. Today he has his own auto. design, copy writing courses in ITIs Responding to the queries by the youth, the Chief Minister said that design and copy writing courses will be stared in ITIs. The youth from tribal pockets will be encouraged to set up their units. Federation of Women's SHGs will be formed for preparing nutritious food. State level fair of modern farm implements will be held.
---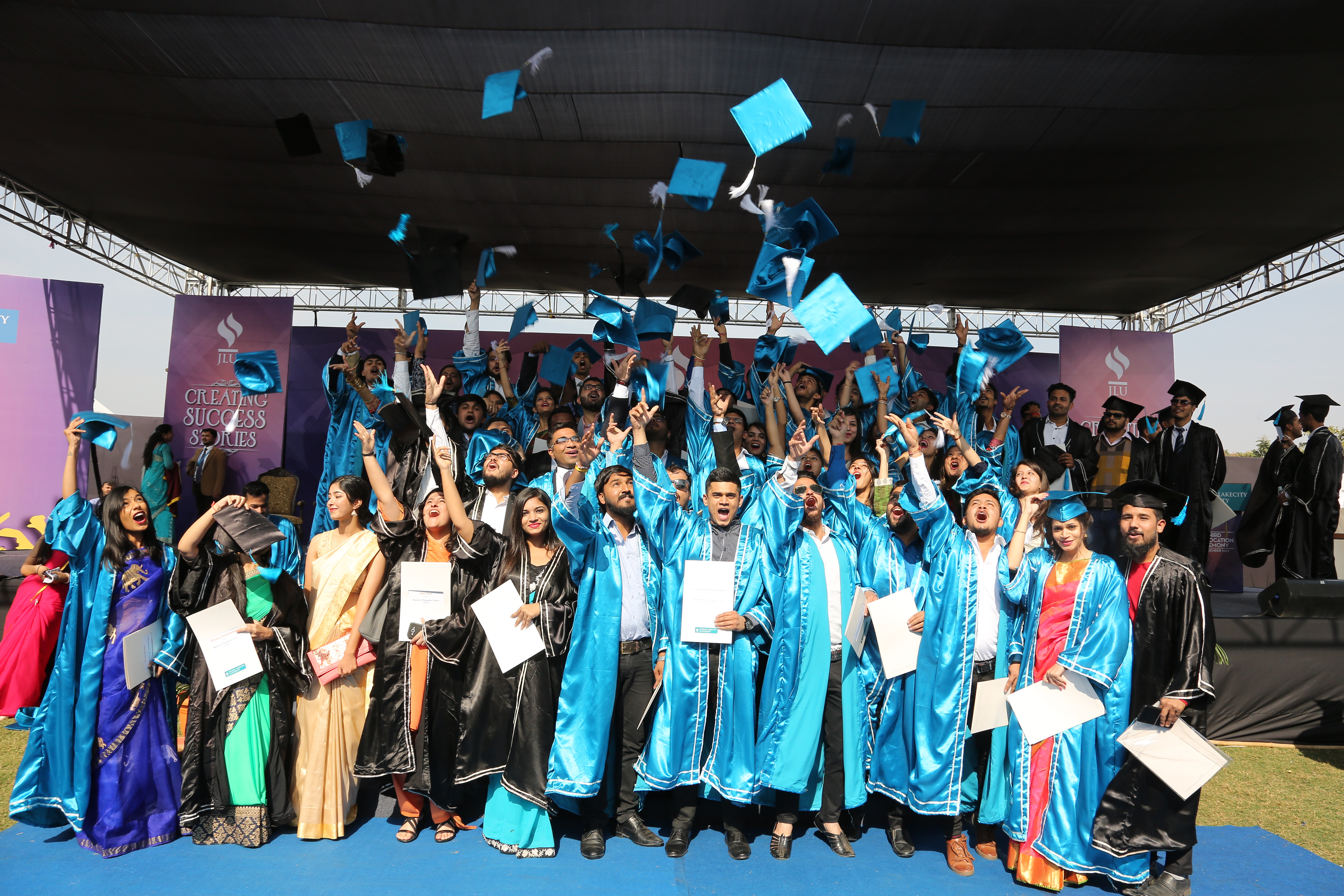 Jagran Lakecity University holds its 3 rd Annual Convocation Ceremony
Bhopal:MMNN: 2 December 2017


Bhopal, 2 nd December 2017: Jagran Lakecity University's third annual convocation held on 2 nd December 2017 marked the beginning of a new life for more than 400 students. The university awarded 50 Postgraduate degrees and 325 Undergraduate degrees to the students. University awarded Honoris Causa to Shri.Bibek Debroy, Chairman Economic Advisory Council to the Prime Minister, Grand master Chef Shri Imtiaz Qureshi and Mr.Kapil Wadhawan, Chairman of Wadhawan Global Capital three distinguished leaders for their meaningful & impactful work and contribution in their respective field. Eight marquee Chancellor's Gold Medals, seven Rankers certificates, three freeships and sports scholarships were awarded to toppers & meritorious students Commencing the convocation ceremony on the university premises, Prof.( Dr) Anoop Swarup, Vice Chancellor, Jagran Lakecity University, shared the progress report of the university and extended his wishes to the students. "We are confident that our students will be able to meet all the challenges faced by them. Our convocation reflects JLU's efforts in creating future professionals who will strive to bring about a positive change around them," he said. The graduation students pledged to uphold the noble cause of nation building, intellectual pursuits, ethics, honesty and hard work and the need to maintain equity, justice and the wealth of global natural resources. Addressing the Convocation ceremony, the Chief Guest and, Chairman Economic Advisory Council to the Prime Minister Shri.Bibek Debroy said that it was a matter of immense pleasure for him to be at Jagran Lakecity University and share his views with the students and faculty. He said that "I would like to congratulate the students who are graduating today. The day has come when we should be driven by not what we have today but a vision of the future and look beyond it. We together need to make every single effort possible to live up to the expectations and aspirations of society. I am confident that the graduates go out equipped with new values and ethics and work hard to meet the challenges world is facing and ensure an enlightening future. " Shri.Debroy laid stress on the graduates to support the vision of a strong nation keeping an eye equality, gender balance, innovations and growth. Accepting his Honoris Causa , shri Debroy said "It is indeed a privilege to be conferred with such an honor by JLU . I deeply appreciate and admire JLU's stellar work in building a sound base for higher education, social responsibility not only in central India but across various parts of India. It is important to encourage innovations and the young talent pool of this country must strive to develop new applications for public services. I am convinced that the graduates passing out today will show the way forward. I must take this opportunity to convey to them that the real learning starts today." The Chancellor of JLU, Shri Hari Mohan Gupta while addressing the Convocation, congratulated all graduates and their parents. He said JLU is a short span of 5 years is being counted as the finest institutions in Central India and helping build positive image of the nation. The Chancellor said that "trustworthiness, honesty, integrity and loyalty were the only principles that would upgrade us as a nation". Later on along with the Chief Guest, he gave away degrees, prizes and medals.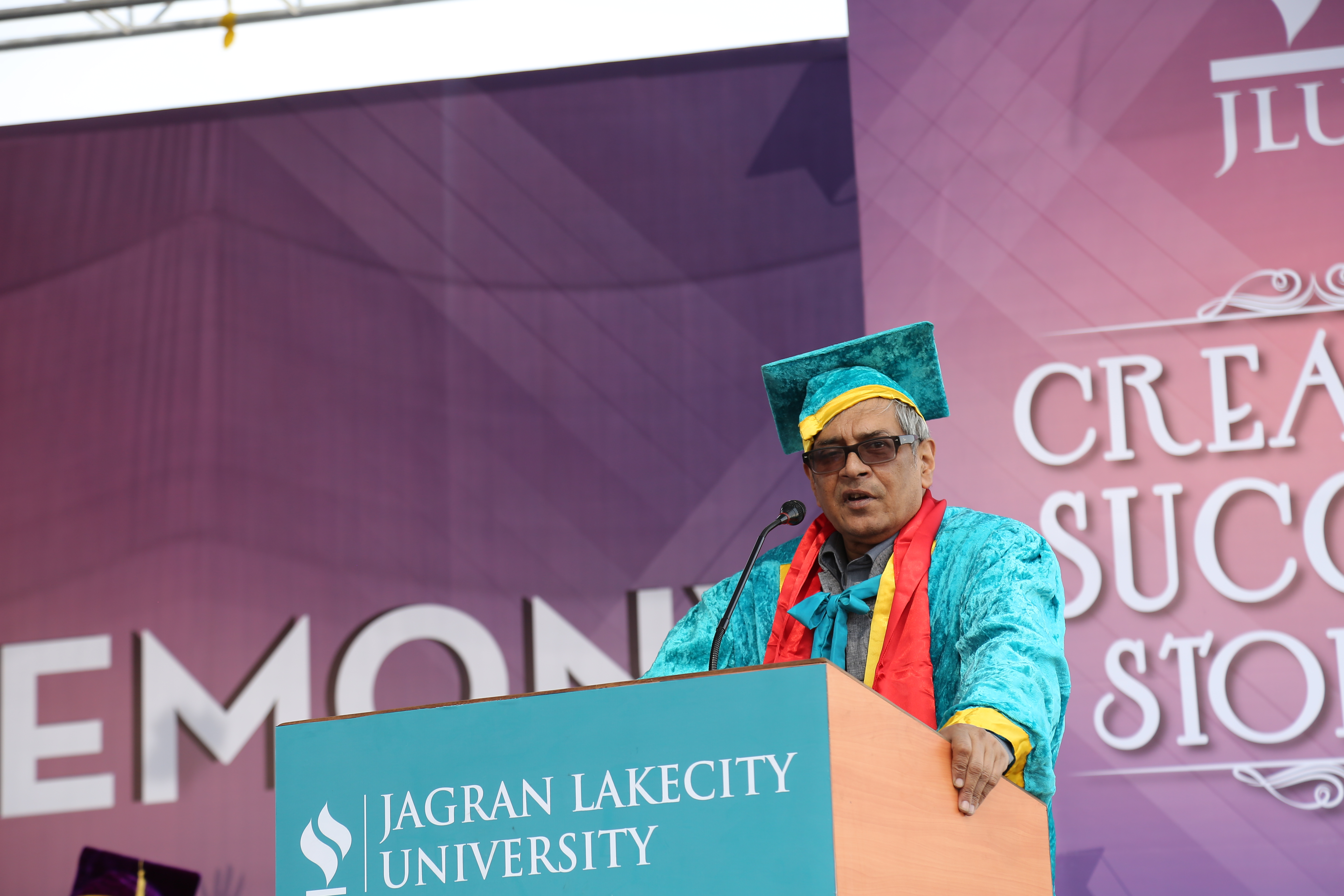 Chef Qureshi while accepting his Honorary Doctorate said," I have devoted my entire life to the advancement of culinary art and at the same time made efforts to revive and keep historical treasures of cuisines alive. I feel privileged that JLU recognized this as well and honoured me. I shall keep coming back to this University, now that I have been made part of its illustrious institution". Commenting on the occasion, Mr.kapil Wadhawan said, "At WGC, we believe education is the key to solving the inequality gap. It is with this in mind that I humbly accept this distinction. This recognition is an acknowledgement of our commitment to enable empowerment and social equity through our business and community efforts.I dedicate this distinction to my father as it inspires me to pursue his mission of universal financial inclusivity with greater belief and conviction." In the past, six honorary doctorates have been awarded by JLU to the creme de la creme group of leaders in the areas of Law, Media & Communication, Humanities, Management which includes Prof (Dr) N.R.Madhava Menon, Mr.Neelabh Banerjee, Late Prof. Glenn D.Paige, Shri.Gurmit Singh, Mr.Nirav Khambati, Mr.Daisaku Ikeda
---
Researcher-Scholars to participate in 'Gyan Sangam' for discourse on Indian knowledge traditions
Bhopal:MMNN: 2 December 2017


Bhopal, December 02. The civilistion flourished on the land of South Asia had developed a unique style of human living thousands of years ago. Today, entire world is trying to understand the values of life in Indian culture, when existence of human is in crisis due to climate change, environment pollution, terrorism and social inequality across the world. Teachers from Madhya Pradesh and Chhattisgarh will participate in the colloquium on 'Indian Life Perspectives: Description in Present Context' in 'Gyan Sangam' on December 7 and 8, under the aegis of Makhanlal Chaturvedi National University of Journalism and Communication. It will be inaugurated on December 7 at 11 am in Auditorium of Academy of Administration. University Vice Chancellor Prof Brij Kishore Kuthiala said that university and college teachers will discuss Indian perspectives in detail on their subjects. Sanskara, education and knowledge develop personality in human. Family and educational institute play key role in this regard. Discourse will be held on this subject. In addition to this, one more subject will be that what are means for attaining happiness in life? The scholars will discuss which one is necessary - struggle or harmony - in human life and what were the approaches of ancient Indian Rishi-Muni in this regard in another session. Humanity at present lead the life based on information technology and media, but what were means for social dialogue in ancient India and which types of requirement in information are considered prominent in our ancient scriptures. Discussion will be held in a session on 'the art is for entertainment or mental and spiritual development'. Indian perspectives on judicature, health system and polity will also be discussed. Similarly, discourse will be held on how Indian ancient Rishi-Muni understood the knowledge of the nature and established it. That is effort will be made to understand the difference between present research approach and ancient knowledge creation. Nationally famous Pragya Pravah and Akhil Bhartiya Shikshan Mandal will extend support to this colloquium. Experts of national and international level have accepted the university's invitation for addressing sessions on different subjects. Padmashri Dr Narendra Kohli will shed light on coordination and harmonization in life and Swami Dharmabandhu will address on Indian happiness perspective. Retired professor of Banaras Hindu University Deenbandu Pandey will explain Indian perspective of art and entertainment. Prof Bhagwati Prasad Sharma and senior administrative officer Shri Manoj Shrivastava will present views on 'Ancient system of management' and ideal political system of ancient India, respectively. Arul Modi from South India will give detail description on process for healthy life on the basis of naturopathy. Eminent scholars Sushri Indumati Katdare, Shri Krishna Gopal, Dr Nagendra, Shri J Nandkumar, Shri Mukul Kanitkar, Shri Kapil Kapoor, Shri Krishna Setti, Shri Manoj Shrivastava, Prof Shivendra Kashyap and others will also address on different subjects. Research papers to be received in Gyan Sangam will be published in the form of a book.
---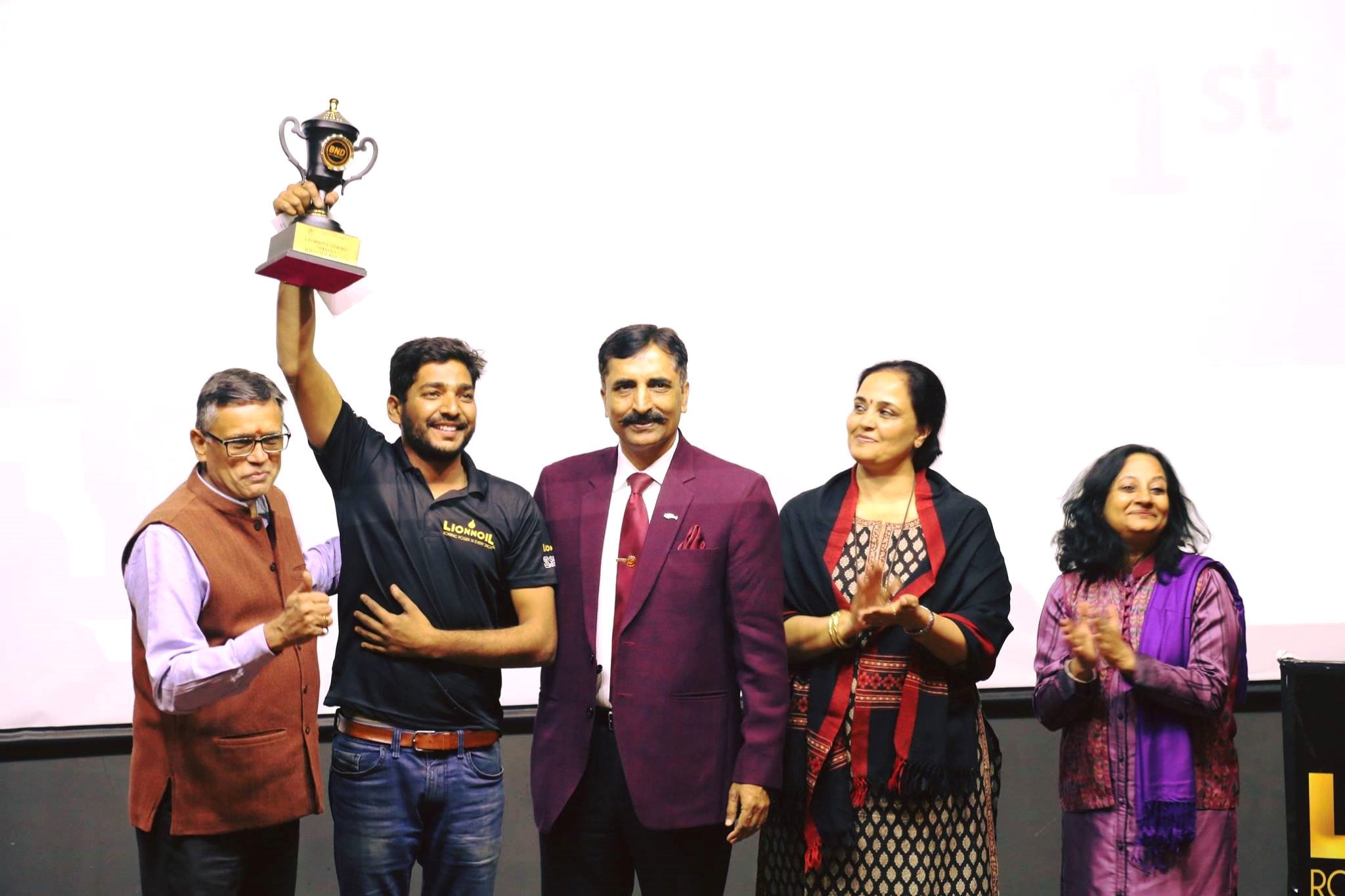 BND Speedfest: Closing Ceremony and Prize Distribution
Bhopal:MMNN: 30 November 2017


BND Speedfest: Motorsport Conclave was organized in Manipal University Jaipur. The two-day event which saw renounce rally drivers from India race against the clock on two different tracks created in the grounds of the college. The event was organized by the postgraduate and undergraduate students of Manipal University Jaipur along with RPM SAE - MUJ, the automotive club. The closing ceremony and the prize distribution took place on the second day of the event. Dr. Sandeep Sancheti, Vice-Chancellor of MUJ, greeted the Chief Guest, Maj. Gen. Anil Chaudhary, the Stewarts from FMSCI and the Professional Drivers. Maj. Gen. Anil Chaudhary enlightened the audience about his days in the army. Senior Stewart Mr. Sudev Parar spoke about the growth of motorsport in India and the importance of exposure of motorsport among younger generation. Mrs. Bani Yadav, the Only Woman to Win All Major Rally Titles in the Women's Category shared her experience of being the leading woman in the male-dominated world of Motorsport. She discussed about her struggles and achievements in motorsports. The speeches were followed by the prize distribution ceremony which were presented by the Chief Guest, the Vice-Chancellor and their spouses. Abhishek Mishra won the overall 2-Wheel Drive category and Samrat Yadav won the overall 4- Wheel Drive category. Each receiving a prize money of Eighteen Thousand Rupees. The runner- ups were Amit Sharma in 2-Wheel Drive category and Prateek Dalal in 4-Wheel Drive category. Both received a cash prize of Eight Thousand Rupees. The second runner-ups were Deepak Sachdeva in 2-Wheel Drive category and Chaitanya Dhillon in 4-Wheel Drive category, receiving Four Thousand Rupees each. The ceremony ended with a light-hearted magic show. In the BND Speed fest about 50 participants participated from Punjab, Haryana, Delhi, Rajasthan, UP and MP. Registrar, Prof. Vandana Suhag, HoD, Automobile Department, Prof. Rajesh Solanki, Sports officer of the MUJ, Dr. Reena Poonia, MUJ, Aliminai Lakshya Veer Dhabas, faculty members, students were present on this occasion.
---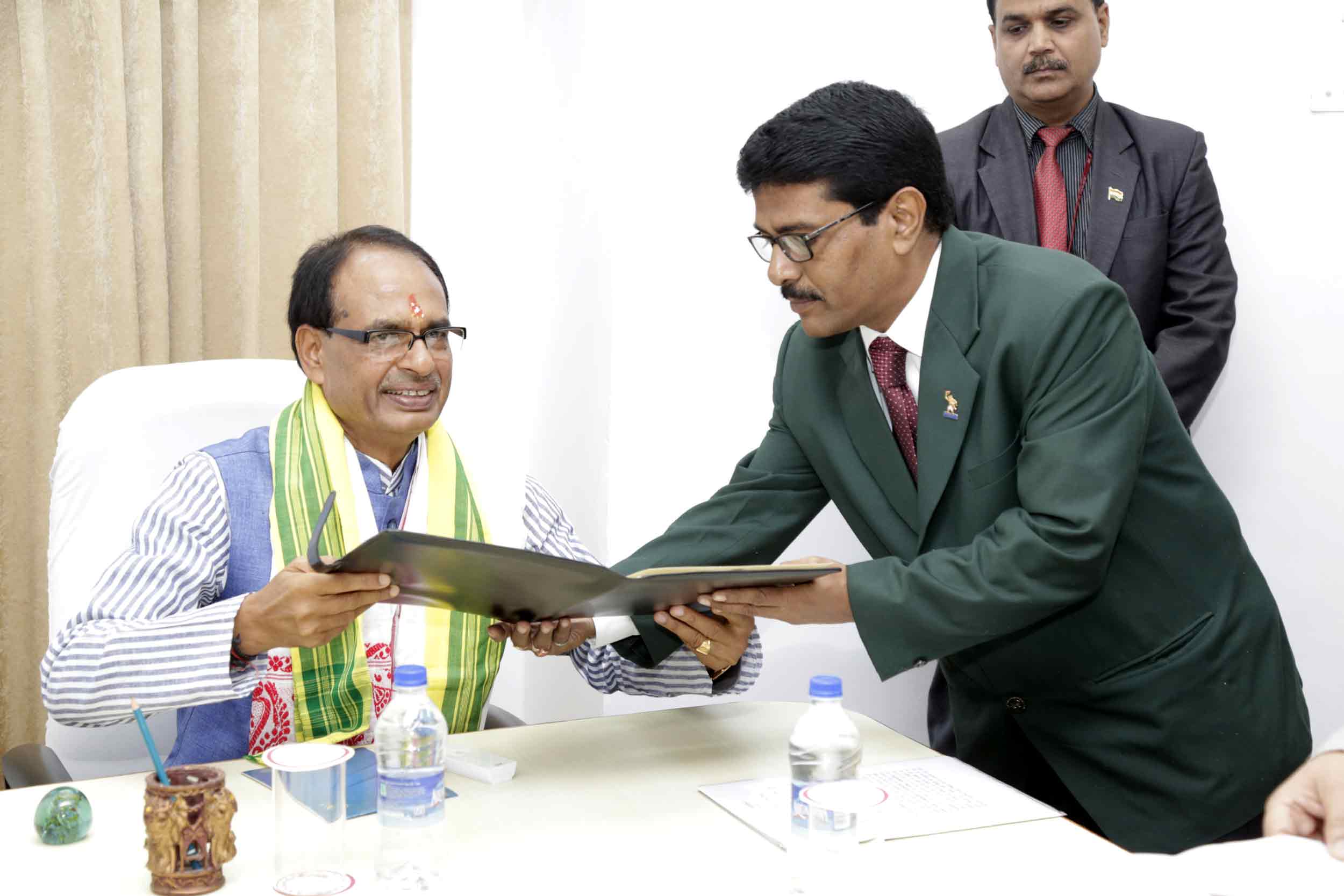 Campaign to be Launched to Facilitate Employment to Youths: CM Shri Chouhan
Bhopal:MMNN: 29 November 2017


Chief Minister Shri Shivraj Singh Chouhan while extending gratitude towards the common men on completing 12 years of his tenure as the Chief Minister of Madhya Pradesh, during the interaction with the media, said that he will continue working like a dedicated Lok Sevak. He further mentioned that he has worked during the last 12 years by making public service a mission. Bond with the people has become stronger and has received affection, cooperation and companionship of the people. This is a real power, he added. Shri Chouhan stated that focus has been laid on employment generation and skill development now. A target has been set to provide employment to 7 lakh 50 thousand youths every year. Campaign will be launched in this connection. Constant efforts are being made for happiness and prosperity of the common men. Moreover, Shri Chouhan said that since independence till year 2003, a total of 7 lakh 50 thousand hectare area was irrigated. Forty lakh hectare area was irrigated during the last 12 years and increase of 5 lakh hectare area is being made every year. Shri Chouhan mentioned that several new milestones of development have been established and many historic works have been undertaken during these 12 years. He further mentioned that implementation of welfare schemes of people's choice with their cooperation and suggestions have become a new initiative. Mentioning about the Mukhya Mantri Medhavi Vidhyarthi Protsahan Yojana, Shri Chouhan said that this scheme has been prepared on the suggestion of students to enable meritorious students not to lag behind in education due to lack of funds. Referring to the Krishak Udhyami Yojana, Shri Chouhan stated that other works relating to agriculture should also be linked to the livelihood of farmers. An action-plan is being made in this regard. He further mentioned that efforts are being made by the state government to ensure residential land to all the poor persons
---
Department of Media Management of Makhanlal Chaturvedi National University of Journalism andCommunication is conducting two days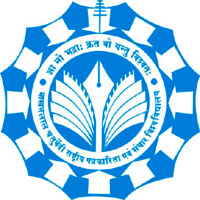 Our Correspondent, 22 November 2017
Department of Media Management of Makhanlal Chaturvedi National University of Journalism and Communication is conducting two days departmental seminar on 23 rd and 24 th of November,2017 on the title of strategic Media Management. The focus of the seminar is to make the students aware of the various opportunities in management field and motivate them in achieving their goals. Students will get to know more about the strategic media planning and Forecasting Technique. On the first day of seminar i.e 23 rd November 2017 there will be four sessions with different speakers respectively. Mr. Rajiv Verma (Senior Theater Artist), Mr. Anuj khare (Editor digital wing), Dainik Bhaskar. Mr. Pradeep Karmabelkar C.E.O (Vision Advisory), Mr. Praveen Dubey (Channel Head, Etv MPCG) .The first day of seminar will end with presentation by the students of media management department. On the second day of the seminar the speakers will be Mr. Nirmal Singh Raghav (HR head, Ramani Samuh). Mr. Rajat Vineet (IT consultant, M.P.Government). MR Avinash Tripathi (C.E.O, Animesh Film Production Limited). Mr. Mahesh Shukla (General Manager, BSNL) and Prof B.K Kuthiyala (Vice Chancellor, MCNUJC). The valedictory session of the seminar will be conduct by Mr .Mahesh Shukla & the Vice Chancellor of the university Prof B.K Kuthiyala. The seminar will end with Cultural program by the students.

---
Mukhya Mantri Medhavi Vidhyarthi Yojana now Extended to Non-Government Colleges Too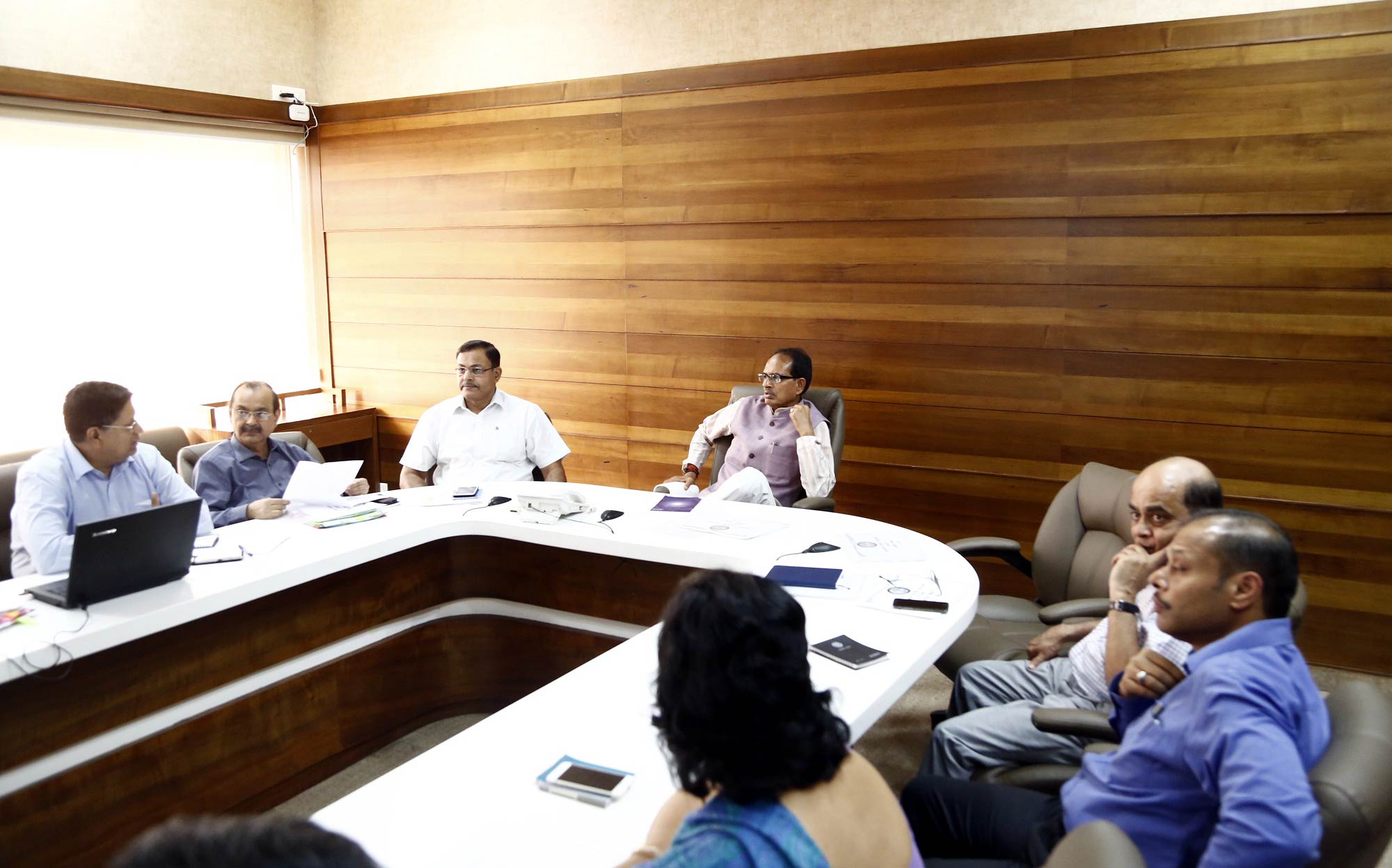 Our Correspondent, 3 November 2017
Mukhya Mantri Medhavi Vidhyarthi Yojana will be extended now in non-government colleges too. This scheme was applicable in government colleges earlier. This decision was taken in a review meeting held by the Chief Minister here today. Currently, this scheme has been implemented in 450 government colleges of the state. Now 800 private colleges will also be included in the scheme. Chief Secretary Shri B.P. Singh was also present in the meeting. The benefit of the scheme will be extended to the meritorious students on getting admissions in undergraduate courses being conducted by the non-government colleges of the state provided they secure over 75 percent marks in 12th examination. A total of 9 thousand students will be benefitted this year by this scheme. CM Shri Chouhan mentioned that the benefit of this decision should be given to the students from this session itself. The Mukhya Mantri Medhavi Vidhyarthi Yojana is an ambitious scheme to fulfill the dreams of the meritorious students. Courses which give guarantee for employment should be encouraged under the scheme. The students who have secured over 75 percent marks in 12th examination during the last 2 years have been considered eligible for the scheme. Such kind of students should not be deprived of the benefit of the scheme. Fee distribution work should be carried out within the stipulated time limit. The scheme will be reviewed every month, he added. It was informed that 26 thousand meritorious students who have taken admissions in the colleges have already been benefitted till now under the scheme. Applications have been submitted by 1,092 students for engineering courses, 697 students for medical courses, 60 students for law course and 40 students who are taking admissions in educational institutions of national level under the scheme. Additional Chief Secretary Finance Shri A.P. Shrivastava, Principal Secretary Technical Education Shri Sanjay Bandopadhyaya, Principal Secretary Health Smt. Gouri Singh, Principal Secretary to CM Shri S.K. Mishra, Commissioner Higher Education Shri Neeraj Mandloi, Secretary to CM Shri Vivek Agrawal and concerned Officers were present in the meeting.

---
MORE THAN 5 LAKH PEOPLE BENEFITED UNDER MUKHYA MANTRI TIRTH DARSHAN YOJANA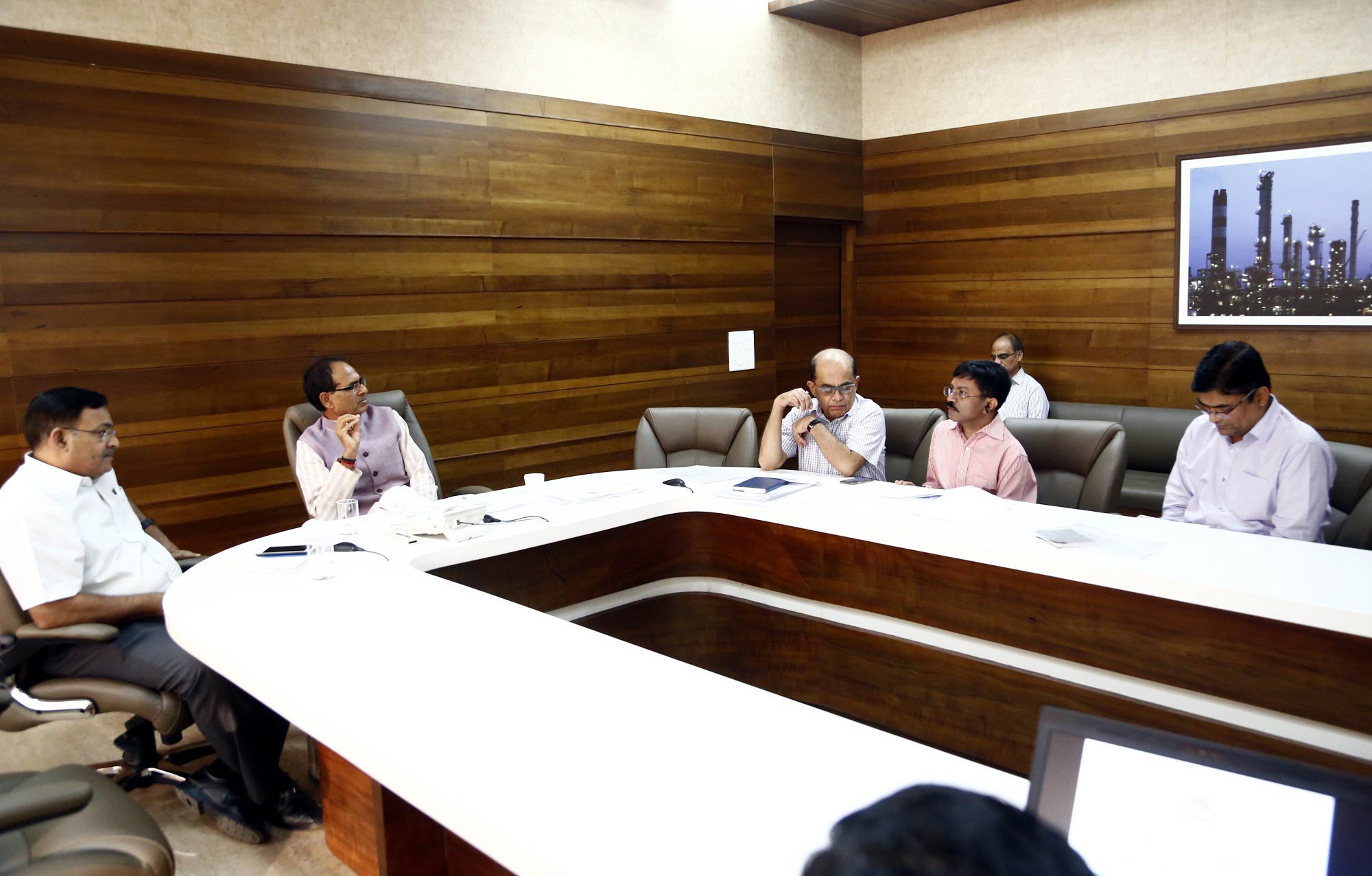 Our Correspondent, 3 November 2017
The Chief Minister Shri Shivraj Singh Chouhan in a review meeting of Mukhya Mantri Tirth Darshan Yojana informed that about 5 lakh 26 thousand old age pilgrims have been benefited till now under the scheme. Total 526 trains were arranged till now under the scheme. Shri Chouhan instructed to immediately start trains for Guru Govind Singh Ji birth place Patna Sahib and Shravan Belgola under the scheme. Chief Secretary Shri B.P. Singh was also present in the meeting. Reviewing further, CM Shri Chouhan said to make arrangement for 200 trains and for preparation of new routes so that the pilgrims can visit more than one pilgrimage at a time under the scheme. Facilitate the pilgrims to visit nearby historic and important places, also they should be given a brief description about the pilgrimage places. It was informed in the meeting that about 2 lakh pilgrims will be benefitted in the current year. Those pilgrims who have completed 5 years of their first visit under the Mukhya Mantri Tirth Darshan Scheme will be given a chance again. Additional Chief Secretary Finance Shri A.P. Shrivastava, Principal Secretary Religious Trust & Endowment Shri Manoj Shrivastava and Secretary to CM Shri S.K. Mishra and concerned officers were present at the meeting

---
Private Universities should Encourage Vocational Courses


Our Correspondent, 25 October 2017
Minister for Higher Education Shri Jaibhan Singh Pawayya said that private universities have multi-dimensional responsibility. Private universities must encourage vocational courses in this era of competition. They should also provide employment opportunities by adopting few villages or settlements. Shri Pawayya was addressing the 9th foundation day programme of Madhya Pradesh Private University Regulatory Commission today. Discussions on the subject 'Shiksha ki Gunvatta mein Manak Sansthaaon ki Bhoomika evam Dayitva' were held on this occasion. Shri Pawayya mentioned that the students of many institutions achieve excellence by participating in other creative activities besides academic competitions. A reflection of personality development also flashes on the faces of these students and they are full of self confidence. He further mentioned that keeping in view the population, more private universities are needed. Madhya Pradesh requires such prestigious institutions which undertake good works. Additional Chief Secretary Higher Education Shri B.R. Naidu said that expansion is needed in education sector besides quality. Efforts will be made to apply suggestions being received in the workshop. Vice Chancellor Jagran Lake City University Dr. Anoop Swaroop stated that 70 percent children of the state are pursuing studies in the private universities and colleges. Madhya Pradesh could become an educational hub in future. Chairman of the Commission Dr. Akhilesh Pandey informed about the activities of the commission. Member of the Commission Dr. Swaraj Puri was also present on the occasion. The programme begun with lighting a lamp before Maa Sarasvati and recital of Sarasvati Vandana and Vande Matram was conducted by Sushri Anjali Dubey and Shri Sandeep Dubey. Guests were welcomed with bouquet and shawl-shreephals. Mementoes were also presented to the guests at the end of the programme.

---
Dr. Sangeeta Shukla Becomes Vice Chancellor of Jiwaji University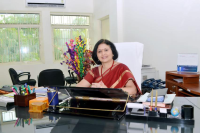 Our Correspondent, 25 October 2017
Chancellor and Governor Shri Om Prakash Kohli has appointed Dr. Sangeeta Shukla as the Vice Chancellor of Jiwaji University, Gwalior again after the end of her present tenure as the Vice Chancellor of the Jiwaji University, Gwalior. She has been appointed for a period of 4 years from the date of her joining



---
Certificate Distributed to Participants on the occasion of Closing Ceremony of SIN-2017 at MUJ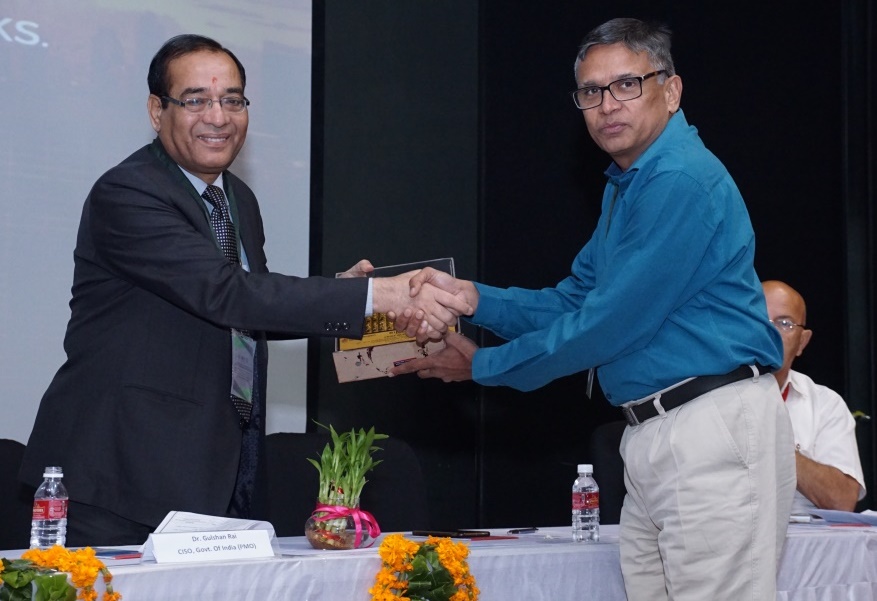 Our Correspondent, 16 October 2017
National Cyber ??Security Coordinator, PMO, India, Dr. Gulshan Rai was the Chief Gust of the Programme
MUJ, President, Prof. Sandeep Sancheti welcomed the Chief Guest, Dr. Gulshan Kumar and presented a memento to him
Around 100 participants came from USA, France, Australia, Sydney, Italy, Russia and Turkey
The three-day 10 th International conference on the Security of Information and Networks (SIN-2017) closing ceremony organized at Manipal University Jaipur. Chief Guest of the closing ceremony and National Cyber ??Security Coordinator, PMO, India, Dr. Gulshan Rai, President, Manipal University Jaipur, Prof. Sandeep Sancheti, Director School of Commuting and IT, Prof. Rajveer Singh Shekhawat, Director, IIT, Jammu, Prof. Manoj Singh Gaur, Chairman, Aksaray University, Turkey, Prof. Atilla Elci distributed certificates to the participants. Dr. V.S. Dhaka told that about 100 participants from USA, France, Australia, Sydney, Italy, Russia and Turkey participated in this three-days international conference. Prof. Rajveer Singh Shekhawat, Dr. Priyadarsi Nanda, Dr. Sushmita and many speakers express their views on the theme of the conference in the various technical sessions of the conference. MUJ, President, Prof. Sandeep Sancheti welcomed the Chief Guest, Dr. Gulshan Kumar and presented a memento to him. In the end of the programme vote of thanks given by Dr. Manoj Bohra

---
Prof. Manoj Srivastava made the fourth Limca Book of World Records at Manipal University Jaiput with 387 Kg "Sahai Tukada"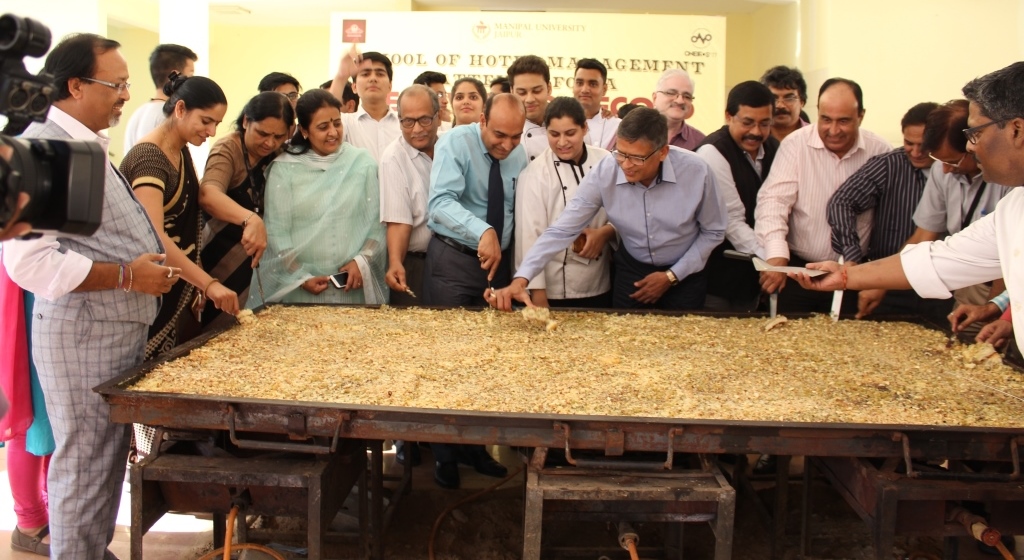 Our Correspondent, 7 October 2017
Prof. Manoj Srivastava again achieved a new mile stone made 4th Limka World record at Manipal University Jaipur. He made the world's biggest 8feet long and 4 feet wide and heaviest with 387 Kg "Sahai Tukada". He made it with the help of 7 faculty members and 120 students of School of Hotel Management. The President of MUJ, Prof. Sandeep Sancheti congratulated to Prof. Manoj Srivastava and his team members for the same. This is his 9 th world record of Prof. Manoj Srivastava. Prof. Srivastava told that this is a Mughali Pakistani-Awadhi Sweet Dish. Its weight is 387 kg. The cook & Roost technique used to make the product. It took 8 hours to prepare it. Before attempting for the world record research work has been done for one year by him and his team members. He told to press that the ingredients used in it are 150 kg of bread, 160 kg milk, 18 kg of mawa, 60 kg of sugar, 20 KG Desi ghee, 20 KG Dry fruit, 6 Kg. chironji, and 20 grams of saffron has been used to prepare this dish. Self-invented flame gun technology has been used to make it. To make this, a specially Fabricated Tray was used, 06 Industrial burner, Palta and flame gun has been used. The team members are Prof. Dr. Gaurav Bhattacharya, Amit Datta, Arvind Roy, Shweta Upmanyu, Dr. Sonal, Mukesh, Deepak Pokhariyal and 120 students have played important role for prepare it under guidance of Prof. Manoj Shrivastav. Prof. Manoj Shrivastav said that due to its cost and expensive nature, only the emperors and rich people could afford this dish in mughel era. The method of making it, is also very unique. This is a combination of hard and soft product. It has to be made very careful . First of all, the double roti is well-cooked. After this, the dish is prepared on a big iron tray. On this tray set two layers of double roti. On these layers spread milk, mawa, ghee, drifruits. After spread this layers it is wait for about two hours until the double roti does not absorb the all spread things. After absorb than cooked with the help of flame gun technology.After absorbing, start again same process with the help of flamed gun. After about half an hour, spread layer of milk, mawa, ghee, drifrute etc. This process is adopted 3 to 4 times. So that all the ingredients absorbing in the double roti and "Sahai Tukda" dish can prepare in royal pickup becomes the royal test. After making this royal piece of "Sahai Tukada" its inaugurated & cutting ceremony done by President, Prof. Sandeep Sancheti, Prof. President, Prof. N. N. Sharma, Registrar, Prof. Vandana Suhag. On this occasion, Dean, Faculty of Art and Law, Prof. Mridul Shrivastav, Dean, Faculty of Research and Innovation, Prof. B. K. Sharma, Dean, Faculty of Management, Prof. Nilanja n Chattopadhyay, Dean, Faculty of Science, Prof. G. C. Tikkiwal, Director, School of Hotel Management, Prof. Amit Jain, Prof. N. D. Mathur, various schools directors, Departments HoD, faculty member, employees and students were present.

---
Law is the oldest, glorious and best profession: Justice R.C. Lahoti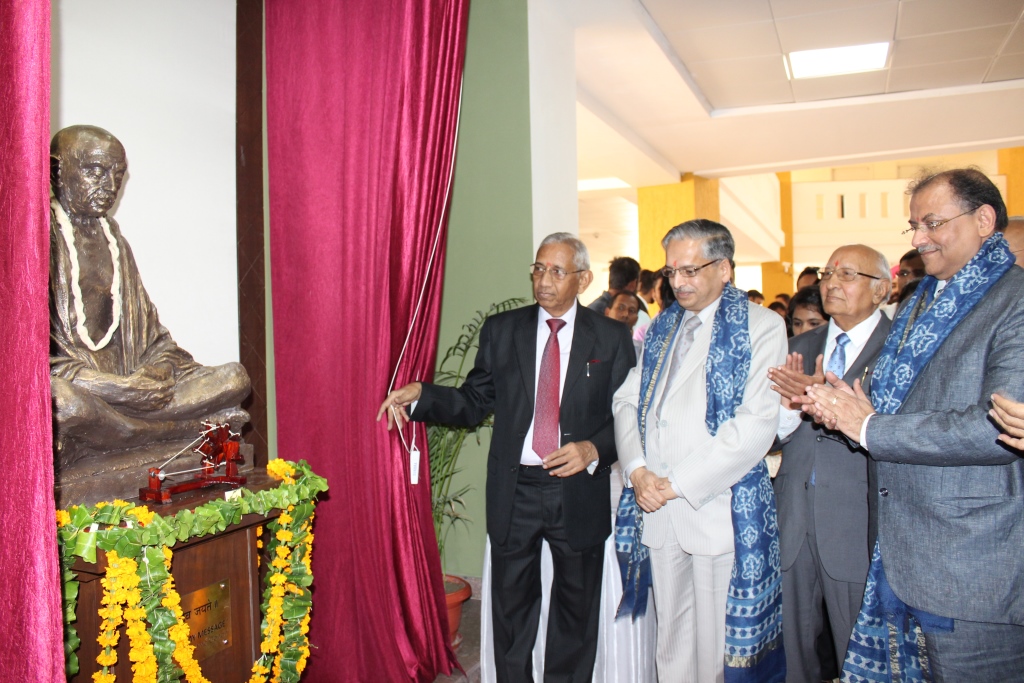 Our Correspondent, 1 October 2017
"Law is the oldest, glorious and best profession". These words were said by former Chief Justice of India Hon'ble Justice R. C. Lahoti on the occasion of inaugural function of the 3rd Manipal Ranka National Moot Court Competition organized jointly by Manipal University Jaipur and Ranka Public Charitable Trust at MUJ campus, on October 1, 2017. He advised students to read many books including Gita. He asked them to take inspiration from Mahatma Gandhi and Albert Einstein. He also explained the importance of black coat, and he said that every lawyer and judge should follow spirituality in their work. He discussed about all the qualities of an advocate. In the inaugural session, the Honorable Justice R. K. Agrawal of the Supreme Court of India asked the students to develop writing skills. He also highlighted the morality of law profession and the duties of advocates. He described the hard work as the basic mantra of success. During the programme Honorable Justice K. S. Zaveri senior most judge of the Rajasthan High Court highlighted the history, importance and utility of Moot Court. At the same time, he said that Moot Court works in skill development of law professionals and students. In this connection Chairperson of the MUJ, Prof. K. Ramnarayan asked the students to show their talent through Moot Court. At the same time, he called upon the students to consciously and subconsciously concentrate. President of the MUJ Prof. Sandeep Sancheti said about Manipal Education Group and Manipal University Jaipur's educational activities, facilities, infrastructure, faculty, schools, departments and courses. Chairman of Ranka Public Charitable Trust N. M. Ranka highlighted the life of Gandhi Ji and introduced all the distinguished guests. The Dean Faculty of Arts and Law Prof. Mridul Shrivastava welcomed all the guests and in the end of the programme Sambhav Ranka thanked everyone. In the beginning of the program, all guests were welcomed with a bouquet and finally all were presented with mementos. Prior to the inauguration program the guests unveiled the statue of Mahatma Gandhi outside the New Auditorium and planted plants in MUJ campus. The Dean Faculty of Arts and Law Prof. Mridul Shrivastav said that in this third moot court competition, 86 teams from entire India, including Rajasthan, Punjab, Haryana, Uttarakhand, Madhya Pradesh, Uttar Pradesh, Bengal, Bihar, and Odisha, Jammu and Kashmir are participating. The winners of competition will be rewarded in the closing ceremony to be held on October 3 and the certificates will be distributed to all the participants also. The program was started with lighting of the lamp by the guests and students of the university presented saraswati vandana on this occasion. Urmila Ranka, Justice J. K. Ranka, Additional Solicitor General, S. P Gupta, Rotorian Pradeep Kothari, O. P. Agrawal, Nilesh Mehta, Lata Todarwal, Pro-President of MUJ, Prof. N. N. Sharma, Dean, Research and Innovation, Prof. B. K. Sharma, Dean, Faculty Affairs and Pro- Vost, Prof. Awdhesh Kumar, Dr. Vijay Laxmi Sharma, Dr. Anil Mehta, Dr. N. D. Mathur, Senior Advocates, Dean, Directors, faculty members, employees, students and dignitaries were present in the programme. At the same time, guests from India, Japan, Australia and the US were also welcomed.

---
"Samagra Swachhta Diwas" organized by ICAR-CIAE at village Prempura in Bhopal district
Our Correspondent, 25 September 2017
"Swachhta Hi Seva'' campaign under Swachh Bharat Mission implementation programme is being organized in a big way at ICAR-Central Institute of Agricultural Engineering, Nabibagh, Bhopal since 15 th Sept, 2017. Various activities related to cleaning, plantation, sanitation, hygiene have been organized by the Institute within the campus and nearby areas during first week of Swachh Bharat Mission Pakhwara. As part of the campaign, "Samagra Swachhta Diwas" was organized by the Institute, in Prempura village on 24 th Sept, 2017, located at 22 km from CIAE. More than 250 staff members of the Institute performed "Shramdaan" and contributed in the developing of a proper toilet facility in the village. Village Sarpanch Smt Kamla Yadav and more than 100 farmers and rural women of Prempura village took part in the activity. The staff of CIAE and villagers together carried out cleaning and made a big area Parthenium free near Panchayat Bhavan and High School premises. On the same day, creation of toilet facility in the village was also initiated by digging of pit to free women of village from open defecation. Addressing at this occasion, Dr. CR Mehta, In-charge Director, ICAR-CIAE appealed the villagers to adopt the cleanliness measures to be fit and healthy. He emphasized the need to have proper public toilet facility also within the village and assured them of Institutes support in developing the same. Dr. M. Din, Chairman, "Swachhta Hi Seva'' campaign committee also addressed the gathering. Dr. U.R. Badegaonkar, I/c KVK spoke about vermicomposting for cleaning of the village and earning profit Progressive farmer Mr. Rajmal Yadav thanked for institute for adopting the village for nutritional security and "Samagra Swachata Diwas".

---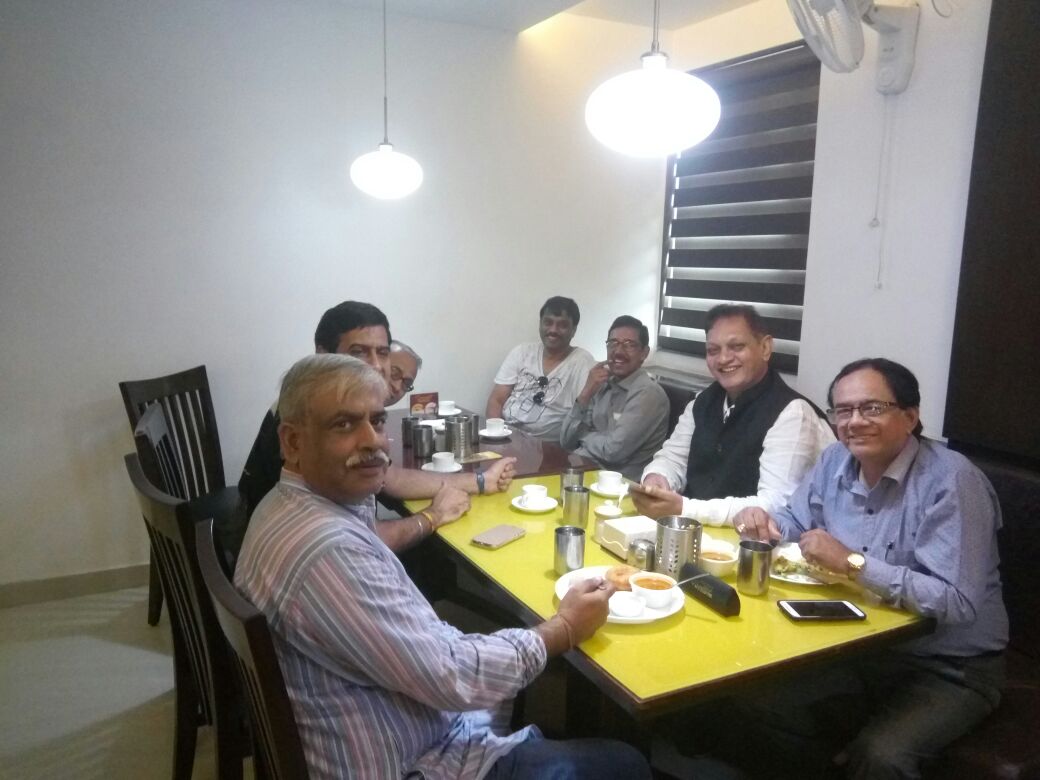 CAMPIONITE 78 BATCH ASSOCIATIONS
Our Correspondent, 11 September 2017
Campoionite 78 Batch Assocition officials met today for their monthly meeteing.In the meeteing the officials and members discussed about the programs been taken up by association for the society.
Spokesperson Shailendra Ojha informed that our association would be focusing on latest development in the IT sector. Member Sunil Lingayat residing in Washington US in his next visit to Bhopal in November would be making aware to the students about the same.
He added that our association under the expertise of Rajeev Athotra would also be working making the farmers aware about the latest technology in the farming to make farming more cost effective and productive.They also would be made aware of the business module for farmers and young enterpreneur in food processing sector alongwith cold chain management solution which is need of today.
Rajeev Athotra,Sanjay Gadkari,Parag Mehta,Bharat Bhatia,Saurabh Shrivastava,Deepak Sharma,Niraj Bhargava,Shailendra Ojha attended the meeting,Campionite 78 Batch Association would be focusing on bringing latest technology in every segment.

---
PRAKASH JAVADEKAR PLEDGES FOR A VIBRANT, EDUCATED AND RESEARCH ORIENTED INDIA
Our Correspondent, 7 September 2017
Addressing the student fraternity, on the 4 th convocation of Manipal University Jaipur Hon'ble HRD Minister Shri Prakash Javadekar praised the infrastructure of MUJ and found it mesmerizing and enchanting. Congratulating parents and teachers' on this occasion, he emphasized that the basic aim of an eminent educational institution is to provide quality education. He further stated that the pivotal aim of education is to create a 'good human being and responsible citizen'. He emphasized that it is 'social obligation' of every student to pay back accordingly and contribute their best for the development of society and nation. In order to enhance the status of higher education, the Government of India is looking forward to establish 20 universities having World Class facilities and infrastructure. Also a scheme is in the pipeline to provide loans to educational institutions. He informed that he is confident that the introduction of PM Scholarship will stop brain drain to an extent. The current Government is committed towards making a 'New India' which is devoid of corruption, casteism, poverty, terrorism and dirt. Hon'ble HRD Minister Shri Prakash Javadekar was Chief Guest on 4 th convocation held at MUJ campus on September 7, 2017. The Guest of Honour was Mrs. Kiran Maheshwari, Minister of Higher Education; Government of Rajasthan and Mr. Vasudev Devnani, Minister of School Education; Government of Rajasthan was the distinguished guest. The Convocation ceremony was presided by Chairperson MUJ, Professor K Ramnarayan. He delineated the relevance of Gandhian approach for the holistic development of individual as well as nation. Delivering welcome address President MUJ, Prof Sandeep Sancheti highlighted the achievements accomplished by MUJ in a short span of time. He acquainted the dignitaries regarding the mission, vision and goals of MUJ. Prof. Sandeep Sancheti stated that it is his dream to see MUJ as one of the most preferred university of the country in terms of academics. He emphasized that though in its nascent stage, MUJ is progressing forward attracting students from all corner of India. Making MUJ as one of the stalwarts in the field of R& D, Prof Sandeep Sancheti informed that research expenditure constitutes 6% of the total allotted budget. He further informed that MUJ is also contributing in 'Societal Development Projects' at macro level. Out of 1013 students graduating this year, 671 are from Engineering,337 are from non-engineering programmes and 5 are PhD students.21 students were awarded 'gold medal' for scoring highest marks in their respective programmes. The gold medal for 'Overall Performance', 'Extra-curricular Activities' and 'Research' were given to the deserving students. Dr Vandana Suhag, Registrar MUJ proposed vote of thanks.

---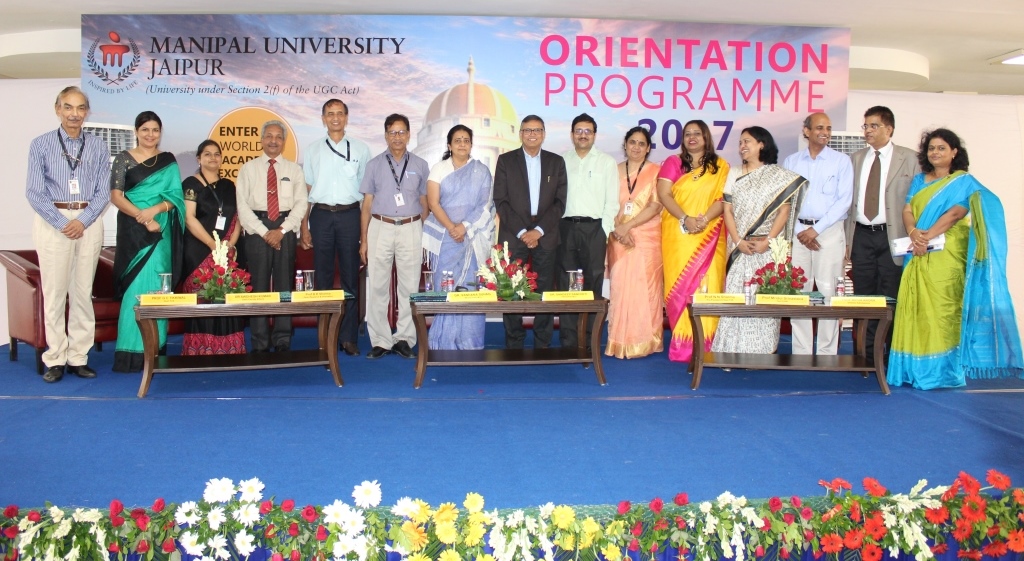 "Global Leadership In Higher Education and Human Development" : Prof. Sancheti
Our Correspondent, 29 July. 2017
Manipal University Jaipur organized its orientation programme for Non-Engineering Fresher's Students joining the University for the academic session 2017 - 18. Director Admissions Dr Richa Arora welcomed the students and their parents to the orientation programme and threw light on the importance of the programme. President Dr Sandeep Sancheti in his welcome address enumerated the various milestones achieved by the University since its inception in 2011. He said Our Vision is "Global Leadership In Higher Education and Human Development". So always remember that you have to become a good human while you become a competent professional.   Dr Vandana Suhag, Registrar elaborated about Manipal Education Group, Pro-President, Prof N N Sharma told about academic activities. In this connection Director, SA&D, Prof. Madhura Yadav, Director, P&D, Prof. Pradeep Kumar Pandey, Director, TSB, Dr. Raghuveer Singh, Dean, FOA&L, Prof. Mridul Srivastava, Dean of Faculty Affairs-cum- Provost, Prof. Awdhesh Kumar, Sports Officer, Dr. Rina Poonia, Chief Warden, Anil Singh and Chief Security Officer, Col. Ratan Singh told about their departmental activities, rules and regulations. In the end of the programme vote of thanks given by Dr. Prashasti Jain.

---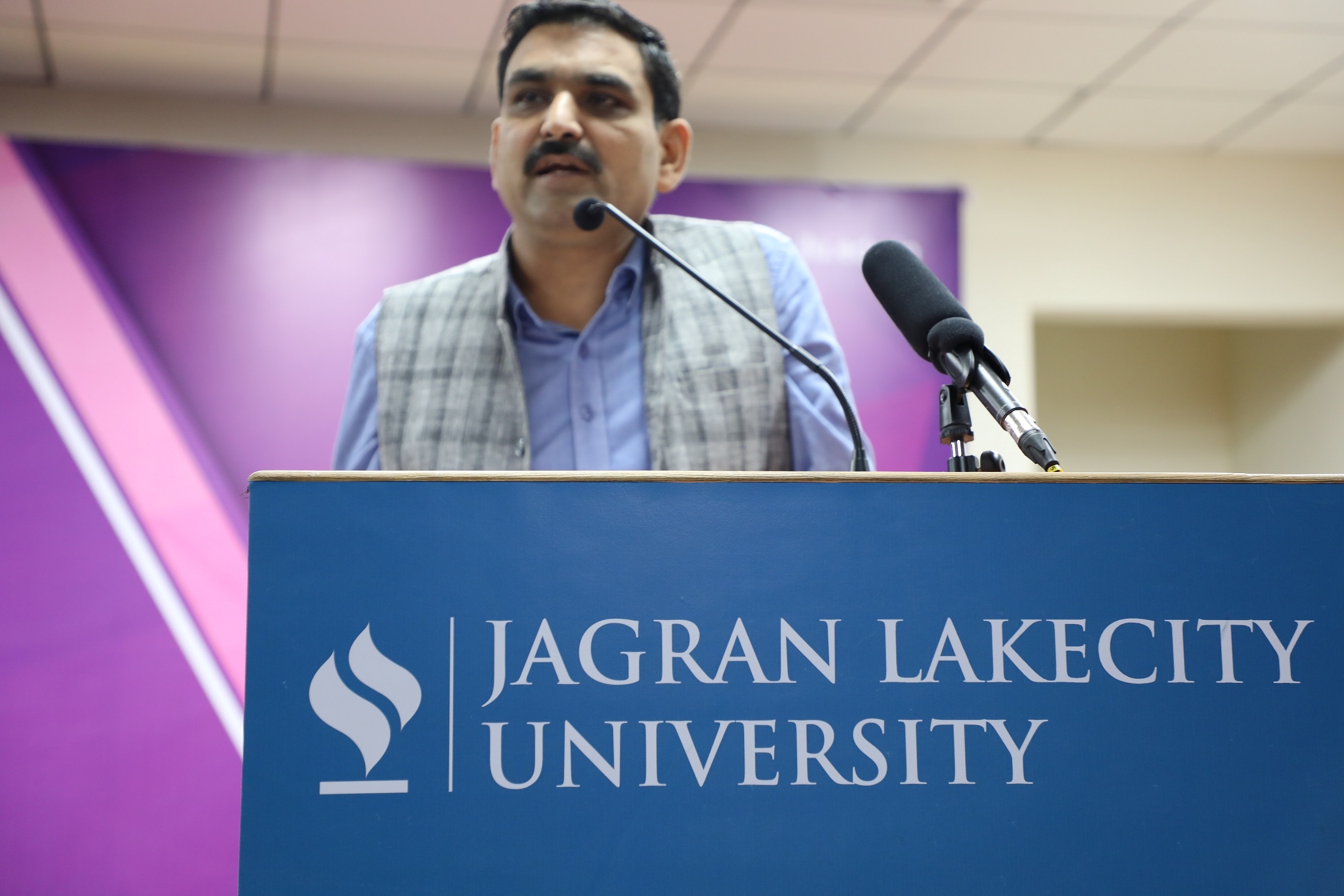 The worst of times are the best for journalists : Dr. Ashish Joshi
Our Correspondent, 29 July. 2017
A series of orientation sessions have been lined up to mark the new academic session of Jagran lakecity University(JLU). School of Media & Communication conducted its orientation programme on 28/07/17, for the new students. Eminent media professional Dr. Ashish Joshi, Editor-in- chief and CEO Lok Sabha Television, Ms Aruna Raje patil, National Film Awardee and Renowned Filmmaker and Shri Vinay Singhal, Co-founder & CEO, WittyFeed has been roped to enlighten our students with his ideas, industry practices and experiences. The programme formally commenced by Saraswati Vandana followed by lamp lighting . Prof. Anoop Swaroop, Vice Chancellor JLU, motivated the new students by making them understand the importance of the role they play in society, he laid emphasis on penchant for the profession and perfection. Prof. Vivek Khare, Dean (Student Welfare), JLU briefed the students about the rules and regulations of the University and requested the students to abide by the institutional rules and norms. Prof. Diwakar Shukla, Director, School of Media & Communication emphasized a need to maintain balance between the profession and passion of journalism He advised students to discover their true self during these years of learning. He formally announced the commencement of BA (hon.) Advertising and PR. from this academic session. The worst of times are the best for journalists as they present a chance to do good journalism and re-establish the fundamental principles of news reporting, said Aashish Joshi, Editor-in- chief and CEO Lok Sabha Television. Giving few anecdotal references, he addressed that it was the best of times because technology is all pervasive and all inclusive. There is a rare interactivity and synergy and information is easily and abundantly available. He pointed out that there are so many platforms for journalists to put out their stories and for the stories to be picked up and delivered. Ashish said that it was called the worst of times because of what was called the 'post-truth' era. Fake news is being disseminated to distract and to be mischievous and is adding to the pressure on newsrooms which is leading them to bypass critical processes of verification, resulting in them making mistakes. Paradoxically, he said, that this presents a great opportunity to go back to the basic principles of journalism of establishing the truth and writing stories that were rooted in facts. He called upon the students to stay the course and remember that the best lies are closes to the truth and that they must follow the cardinal rules of journalism. The fundamental duty of a report is to the reader and therefore, young journalists must learn to challenge, interrogate and scrutinise all that comes their way. Ms. Aruna Raje Patil, a renowned Filmmaker makes a great point about filmmaking when she talks about how earning a degree can be a little deceptive because, well, a piece of paper doesn't make someone a filmmaker. She emphasized on the fact that students should not only learn technical side of filmmaking, but also start finding stories in the unsaid. She reckoned that the market is full of opportunities and avenues but, the only condition underlined is that "one should be really good with the skills". Vinay Singhal, Co-founder and CEO of WittyFeed motivated students to do entrepreneurship. He said, "I urged the students to understand the power of a phrase 'never give up'. If you don't give up, you will definitely make it someday. He in fluxed enthusiasm among the students by making the address entirely interactive where, some interesting dialogues happened between the speaker and the students. The anchoring of the orientation session was conducted by Ms.Shivani Thapliyal, Assistant Professor, SoMC. The session ended with vote of thanks by Dr.Jayanta panda, Associate Professor. SoMC, who extended gratitude to the management, dignitaries and various people who contributed to make the event a success.

---
Ambreesh Suresh Chouksey weds Rounak.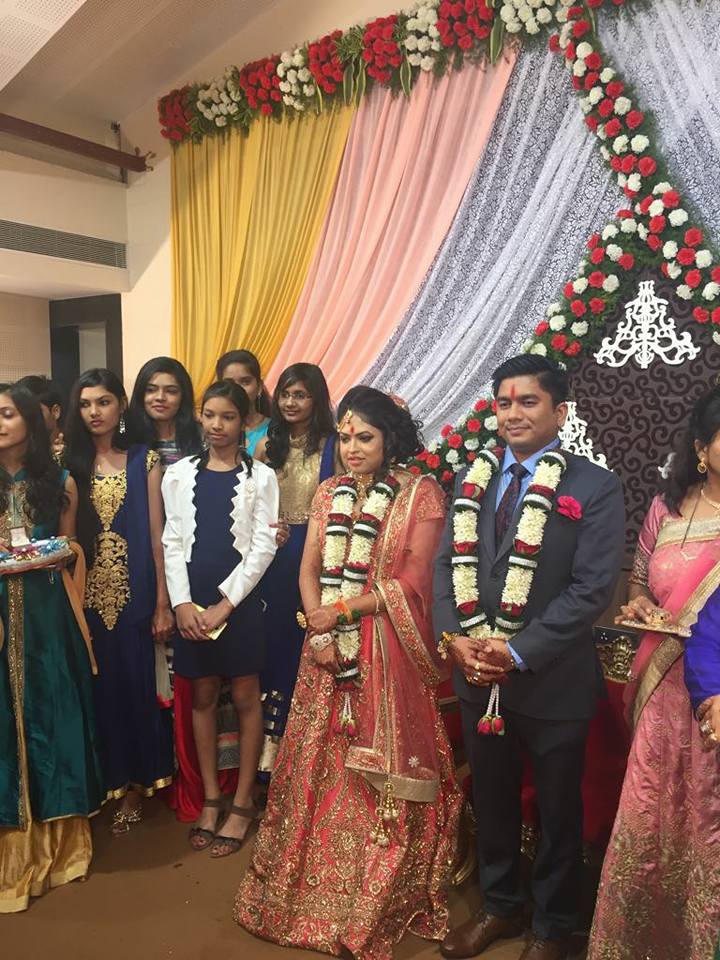 Our Correspondent, 3 July 2017
Ambreesh Suresh chouksey tied knot with Rounak at Nagpur.Mr.Ambreesh chouksey is MD of LN Star newspaper & Director of LNCT group.A grand reception party was hosted by the choukseys at hotel Sayaji on 3rd July.the venue was lavishly decorated with live band and sumptuous buffet spread.Friends and Families including the key personalities from cross-section of the society congratulated the newlyweds...
---
Lecture series inaugurated at Sanchi University
MMNN:2 Mar. 2016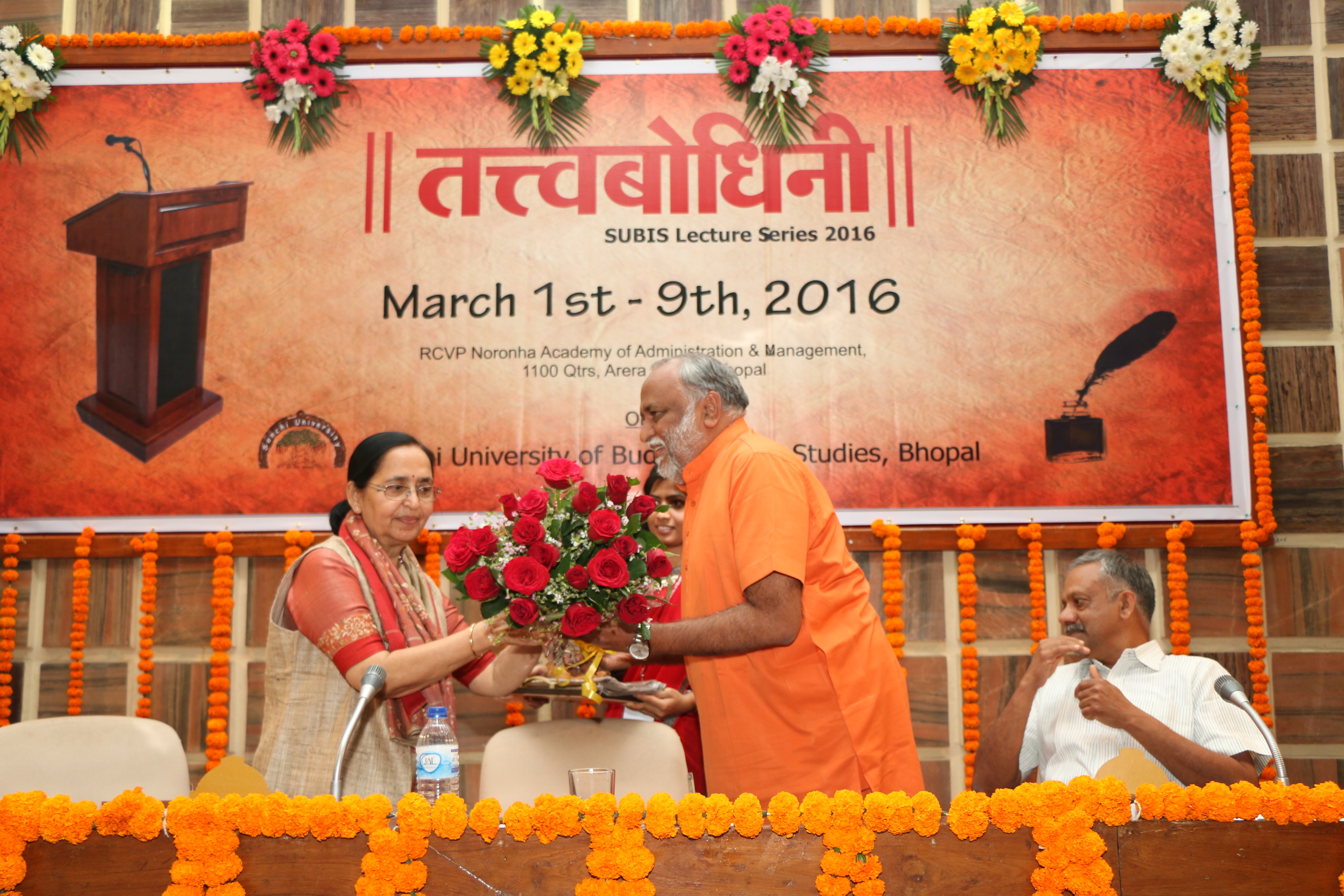 "Bhagavadagita can help a person to understand the self and realize the universe in true sense of words. The teachings of Bhagavadagita are eternal and can uplift our souls. It is very difficult to be extraordinary but matter of fact only ordinary people can do extraordinary things. Ordinary people need to acknowledge their hidden traits and potentials." said by Swami Sukhbodhanand in his inaugural speech on the topic "Form Ordinary to Extraordinary" during inaugural ceremony of Sanchi University of Buddhist-Indic Studies Lecture Series-Tattvabodhani. Swami Sukhbodhanand is the Head of Prassana Trust and a renowned author of more than 100 books related to religion and spirituality. This lecture series is being organised under the aegis of SUBIS at RCVP Noronha Academy of Administration & Management in the city from 1stto 9th March.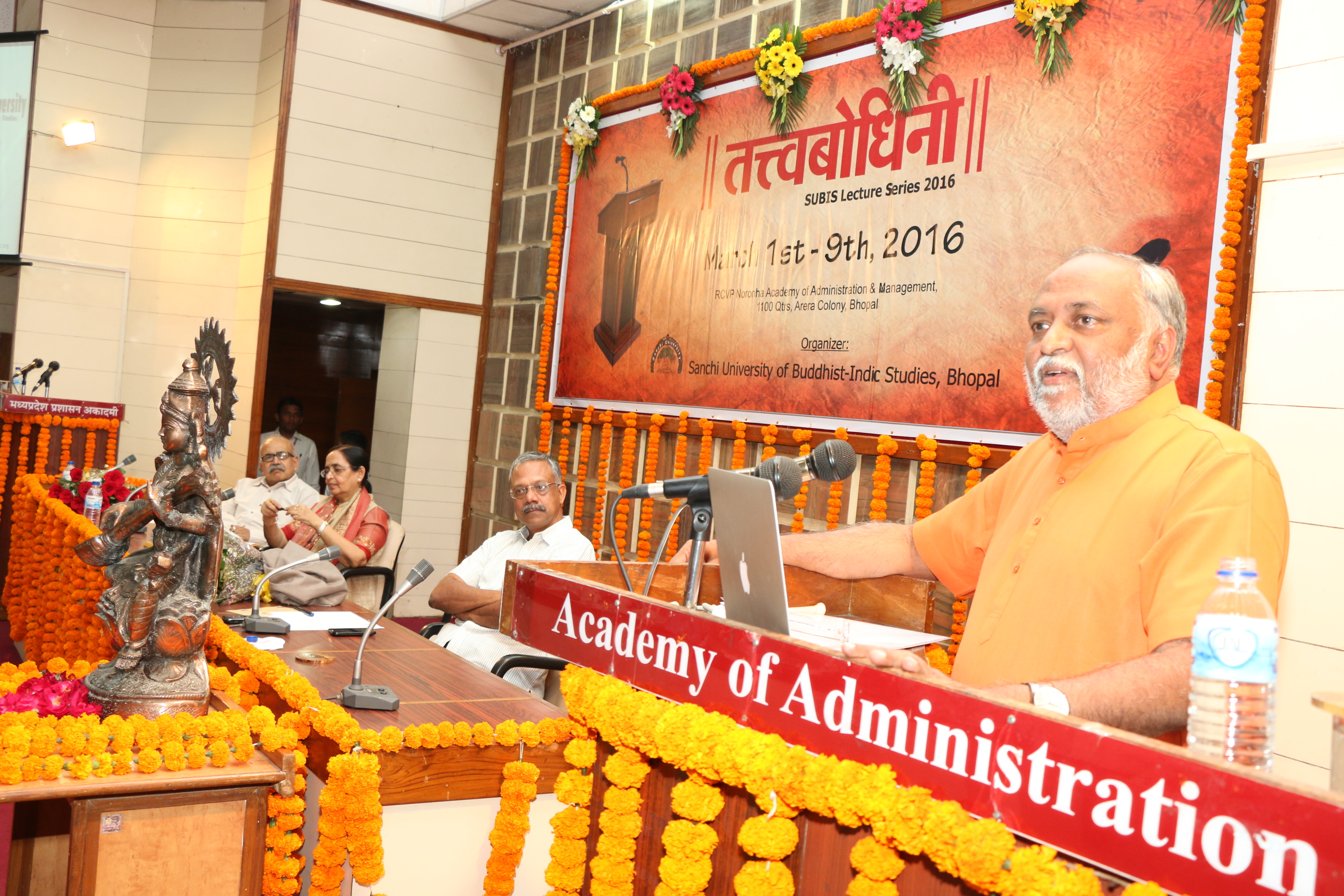 Welcome speech was delivered by Vice Chancellor of the University Prof. Shashiprabha Kumar. She highlighted the objective behind organising this lecture series and stated that lecturing is an age old tradition and art that involves the intelligent interpretation of thoughts, arrangement of words and skilful presentation before the gathering when it fused with knowledge; it becomes a treasure house for the seekers of knowledge. The first inaugural session was chaired by Sri Rakesh Aggrawal, Additional Chief Secretary of Government of MP. He emphasised need of spiritual awakening in the society. Registrar of the University, Sri Rajesh Gupta also graced the occasion. Scholars from various walks of life, retired officers and common people were present in large number to listen to the speakers.
On the second day of the lecture series, the noted Orthopaedic Surgeon, Dr. Shashibhushan Mishra will be delivering his lecture on the topic "Dhyan Ke Veghyanik Pahlu". The eminent Yoga Guru Shri Ramesh Kumar Dhanoriya will chair the session. On 3rd March the topic is the universal message of Upanishada which will be delivered by Vice Chancellor of SUBIS Prof. Dr. ShashiPrabha Kumar. Vipashyana & personality development is the topic on 4th March and the speaker will be Bhadant VimalKirti. Noted Former police commissioner .
---
Vinoba Bhave University (VBU) host 68th All India Commerce Conference 2015
MMNN: 26 Aug. 2015

Vinoba Bhave University (VBU), Hazaribag to host the three day 68th All India Commerce Conference 2015 from 6 to 8th November 2015. The conference theme would be based on Prime Minister Modi's campaign of "Make in India-The Road Ahead". It would be an academic event of National importance, as it will bring together nearly 2000 delegates from all over the country and abroad. The event is India's biggest and the most comprehensive gathering of its kind. Hon'ble PM Sri Narendra Modi's presence is expected during the inauguration of the Conference. Hon'ble Governor of Jharkhand cum Chancellor of Universities,Jharkhand State, and Hon'ble State Minister of Finance Sri Jayant Sinha, Government of India has already confirmed their gracious presence to inaugurate the event.
The conference will be attended by renowned Commerce Academicians, Economists, Management Experts, Government Representatives, Industrialists, researchers working in Behavioral Finance, E-retailing, Social Media, Skill Development in Business Education and Undergraduate, post graduate and doctorial students from across the country and abroad. Representatives from different industries including ISDC (International Skill Development Corporation), London (UK) will attend the panel discussion on "Skill for tomorrow-Re-define in the Commerce Education".
The primary activities of the ICA include organizing of seminars, workshops, conferences and meetings; promoting research; helping with technical assistance and consultancy to clientele world and the publication of books, periodicals, journals, etc. The ICA, has successfully organized a total of 67 Annual Conferences throughout our country till date. Vinoba Bhave University, Hazaribag, Jharkhand a renowned and prestigious university of Jharkhand is organizing its 68th Conference. Dr Gurdeep Singh, Vice Chancellor, VBU and & Shri Yashwant Sinha,,former union minister of finance & external affairs,GOI is the Chief Patron of the conference.
Prof(Dr) M.P.Sinha,Pro Vice Chancellor,VBU,Sri Gopal Singh,CMD,CCL,Ranchi & Sri Harvinder Singh,Vice President,Jindal Steel & Power,Ranchi would also play a key role in organizing this mega event.
Prof M.K Singh Conference Secretary, VBU, Hazaribag said that the conference will be highly informative a

nd of academic importance of national level and international standard. With the wider topics including Behavioral Finance: Emerging Dimensions, E-retailing: Challenges & Opportunities in Global Scenario, Social Media: HR Interventions, Skill Development in Business Education, the forthcoming conference to be discussed during the conference, will pave the path for the economically strong nation. Participation from the academia and different industries would make the event an amalgamation of academic knowledge and practical experience.
The Indian Commerce Association (ICA) one of the oldest professional bodies founded in the year 1947, stands as the cohesive group of economists, management experts, technologists, business community, and so on, with multifaceted objectives to serve continually as a forum of exchange of experiences, ideas, collection along with dissemination of the information on trade, business, commerce and management; for promoting research activities and to permit coordination in the curriculum of Commerce and Management at the national level. Members of this excellent professional association include a team of academicians, administrators, business industrialists, management experts, students, economists, educational institutions and such other interested professionals.
Dr M.K. Singh is the conference secretary along with the team and patrons and working day and night to make the event grand.
---
Weltweit College Hazaribag ropes in Star Cricketer Shubh Lakshmi Sharma as the brand ambassador
Ranchi:MMNN: 26 Aug. 2015
Weltweit College Hazaribag announced the signing of Shubh Lakshmi Sharma, Star Cricketer, Indian Women Cricket Team as the brand ambassador here today. This is an important milestone in the institute's journey. Weltweit College is an instructional activity of Weltweit Foundation, New Delhi centered for giving training in the field of business administration, computer applications and journalism. The institute is focused to train students, essentially by giving them industrial exposure through real ventures in the field, along with conventional classroom teaching in the modern infrastructure.
Affiliated to the renowned Vinoba Bhave University Hazaribag, Weltweit unites experienced educators and a decent companion gathering to make a dynamic on - grounds involvement in the very heart of the Jharkhand. The organization is prepared to roll out noteworthy improvement and put resources into a student, where desire leads them and make the next move to follow their dreams, to get the best out of their lifetime opportunities.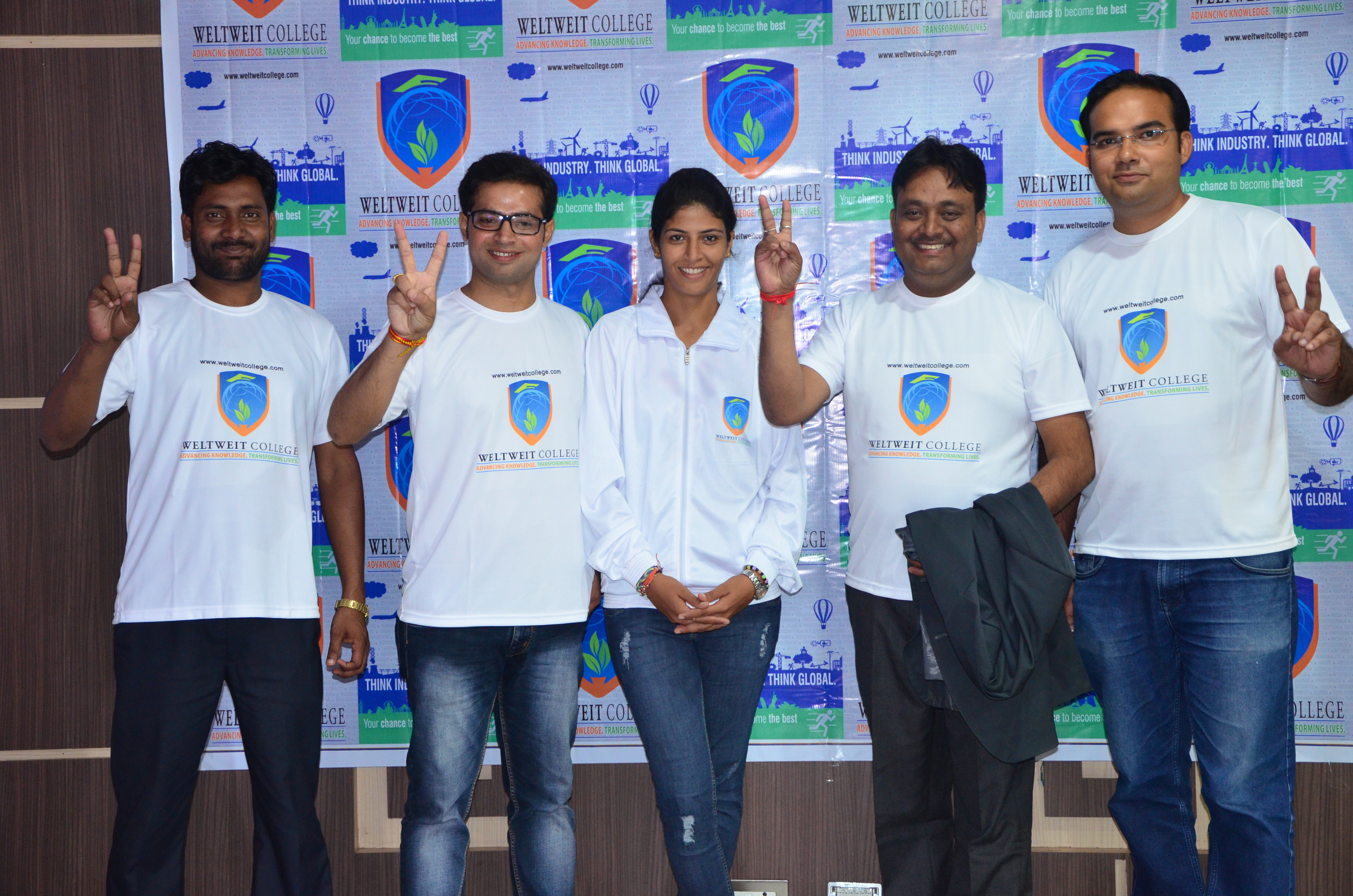 CA Manoj K Pahwa, Chairman, Welt Weit College,said that "Virtues like passion, hard-work, sincerity and commitment are what we would like to inculcate in all our students. Our main objective to introduce the star cricketer as the brand ambassador is to make the young generation aware of the institute's academic features and teaching methodology. We have only one target to prepare each student with the assistance of the best brains as the faculty members".

Abhishek Sinha, Managing Director, Welt Weit College said, In Shubh Lakshmi Sharma, we see a "go-getter". She with her passion and commitment has crafted her own space in the highly competitive sports arena. He added" Introduction of Ms Shubh Lakshmi Sharma as the brand ambassador is part of our expansion strategy to make young generation aware of our unique training system through a popular face of Jharkhand. The reputation of an institution is, in large part, measured by the excellence of its students. The Weltweit College will help the students to push boundaries of their development, and expand their potential to deliver their best".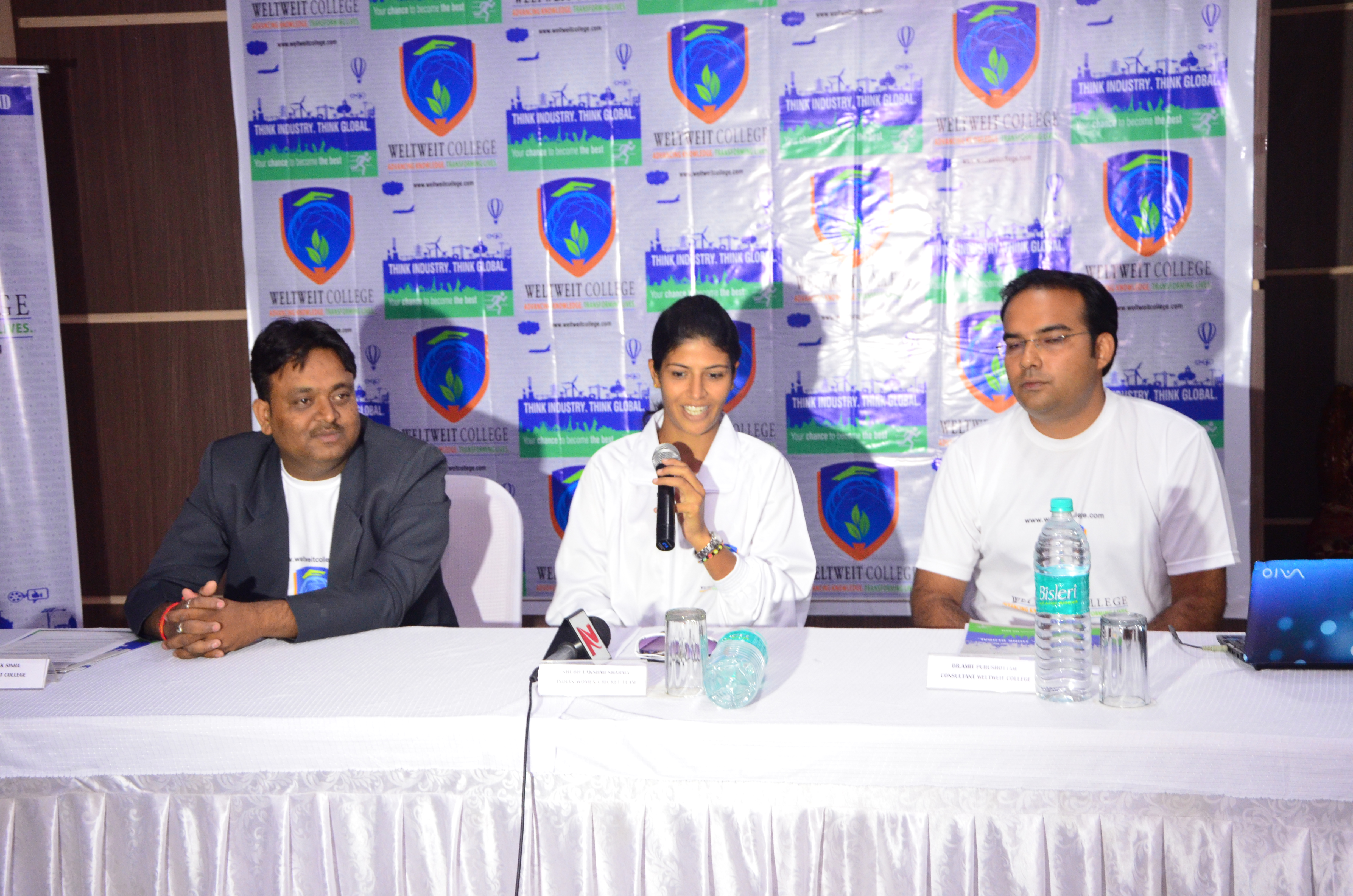 Ms Shubh Lakshmi Sharma, Star Cricketer, said that "As a person I have always worked towards excellence. In Weltweit College Hazaribag, I see the same commitment towards their students, faculty and external stakeholders. I'm happy to get associated with the iconic institute like Weltweit College and would definitely spread the positive steps taken by the institute to train the students in the field of business administration".
Weltweit College Hazaribag has always lived up to its motto of - Advancing Knowledge, Transforming Lives.
---
Madhya Pradesh Chief Minister Awarded CRISP for excellent work done in Skill Development
Our Correspondent, 3 Aug. 2015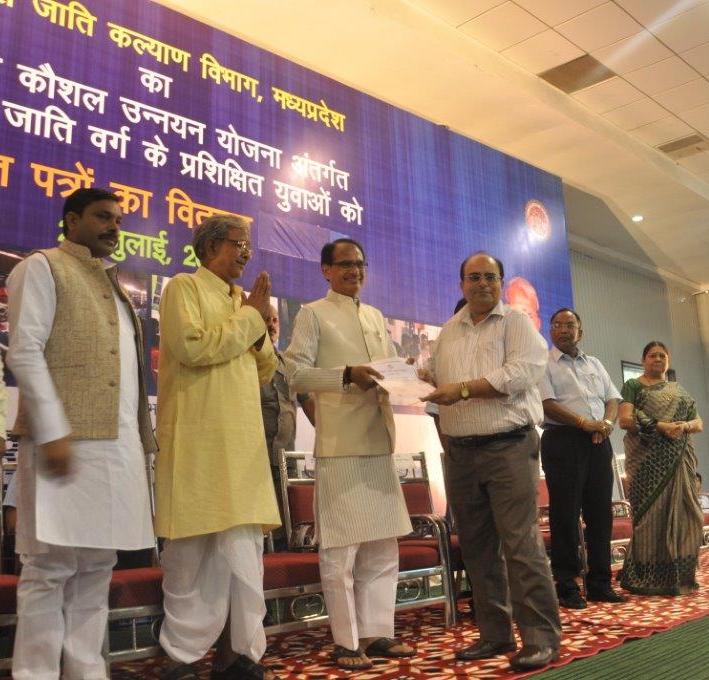 Honorable Chief Minister of Madhya Pradesh Shri Shivraj Singh Chouhan has awarded appreciation certificate to CRISP for excellent work done in Skill Development activities. The award was received by Chief Executive Officer, Mr. Mukesh Sharma.
A function was organized to distribute appointment letters to SC students trained by CRISP. The training was sponsored by Department of SC Welfare, Government of Madhya Pradesh. CRISP has trained 300 youth from Scheduled Caste category and around 50% of them got employment.
Mukesh Sharma, CEO, CRISP India says " CRISP is inching closer to its vision of being the most admired learning and skill development training centre , enabling sustainable transformation.
Centre for Research and Industrial Staff Performance, (CRISP), Bhopal has been established in the year 1997 as a Society under the Indo -German Technical Cooperation agreement.
Ministry of MSME, Government of India was the line ministry for this project whereas the Department of Technical Education & Skill Development, Government of Madhya Pradesh and German Technical Cooperation agency (GTZ) were the implementation partners.
It is head quartered in Bhopal with national & international operations dedicated to human resource development & organizational development. These activities are targeted at Government, Industries, Academic Institutions, Developmental Organizations as well as the Civil Society.
---
CRISP India inked an MOU with Symbiosis University Pune
Our Correspondent : 27 Jan. 2015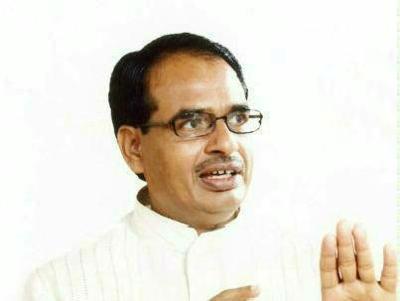 CRISP Bhopal & Symbiosis University Pune has joined hands for offering Academic, Professional & Skill Development Programme & Consultancy. CRISP which is a pioneer Institute for Training & Skill Development & Symbiosis, known for Quality Management Education has signed a MOU for partnership. Symbiosis Chairperson Dr. Swati Majumdar & CRISP CEO Mr. Mukesh Sharma has inaugurated Skill Development Training Programme in Pune where 200 unemployed youths from rural places will be trained in skill areas and will placed in Industries.
These trainings are sponsored by Power Finance Corporation, New Delhi under CSR. Symbiosis is setting up a University in Indore & has signed a MoU with M.P. Government in Investor Summit 2014. Both Symbiosis & CRISP will bring expert resources. On this occasion, Mr. Rajesh Maheshwari, AGM, CRISP presented a detail plan for partnership.
Centre for Research and Industrial Staff Performance, (CRISP), Bhopal has been established in the year 1997 as a Society under the Indo -German Technical Cooperation agreement. Ministry of MSME, Government of India was the line ministry for this project whereas the Department of Technical Education & Skill Development, Government of Madhya Pradesh and German Technical Cooperation agency (GTZ) were the implementation partners. It is headquartered in Bhopal with national & international operations dedicated to human resource development & organizational development. These activities are targeted at Government, Industries, Academic Institutions, Developmental Organizations as well as the Civil Society.
The organization has excellent infrastructure in terms of sophisticated laboratories in the field of Industrial Automation, Mechatronics, Production Technology, Information & Communication Technology (ICT), Multimedia Technology etc. CRISP is one of the most preferred service providers in the areas of Technical Vocational Education & Training (TVET), Training Institution Management and Entrepreneurship development.
---