---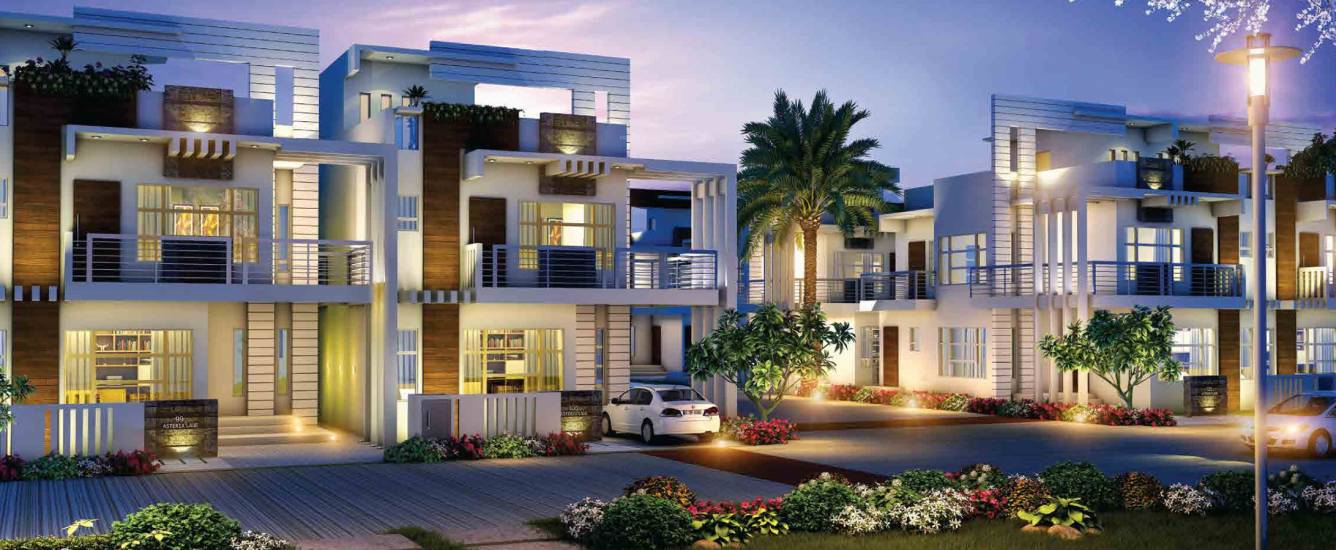 Luxury and proximity to nature gets new address @ Asteria Villas, Bhopal


Our Correspondent : Bhopal, 13 March 2018


Asteria Villas, Bhopal, is a perfect blend of modern architecture and aesthetics, that one would have dreamt for! With delivery of Asteria planned in phased manner, it comes with the best amenities and infrastructure of Grade A secured Campus for better and comfortable living. The project has opened 99 units, of which structure of around 30 units with basic infrastructure as sewerage, garden, internal roads, gate and boundary wall is already on the way of completion. The promoters have scheduled the start of delivery of the first phase in mid-2019.In line with its smart design Asteria employs a scientific methodology for making the villas earthquake resilient. It has deep piling in the residential foundation, which basically means that pillars of concrete and steel are driven 3 meters into the earth. This is a scientific design is not always practiced due to huge cost involved but at Asteria it secures the foundation and brings peace of mind to residents. Contentment of owning a Villa at Asteria does not cease here, their architects have harnessed best methodologies in the designing and construction of these villas. Hence, another significant installation is the rain water harvesting system in conjunction with the top-class sewerage system to avoid or manage water logging and flooding. Mr. Aditya Soni, Sales Head, Asteria, shared. Asteria is in line with our commitment to Bhopal, where Collage Group is engaged heavily in bringing comfortable living spaces for families. The space for life mantra refers to creating a lively and vibrant community with modern architecture designed by architects from Singapore and it comes with the view of bringing affordable luxury and quality in this lower-density development. Promoters of Asteria Villas have projected that sales are ongoing and with the company continuously injecting fresh capital along with healthy receivables from already sold units, completion of the first phase should be smooth sailing. Further, their team of Engineers and Contractors are fully engaged in working to complete the project on time and ensure that targeted quality of construction is not compromised. Asteria Villas is 18.57 acres secured gated, lower density township; it has 326 individual units with 4 types of Villas and comes with other modern amenities as swimming pool, kids play area, shopping arcade, gymnasium, power backup, 24 hours water supply, CCTV for security and more. Asteria is located in one of Bhopals most coveted upcoming residential areas on the proposed and upcoming 100 ft highway connecting Kolar Road with Hoshangabad.
---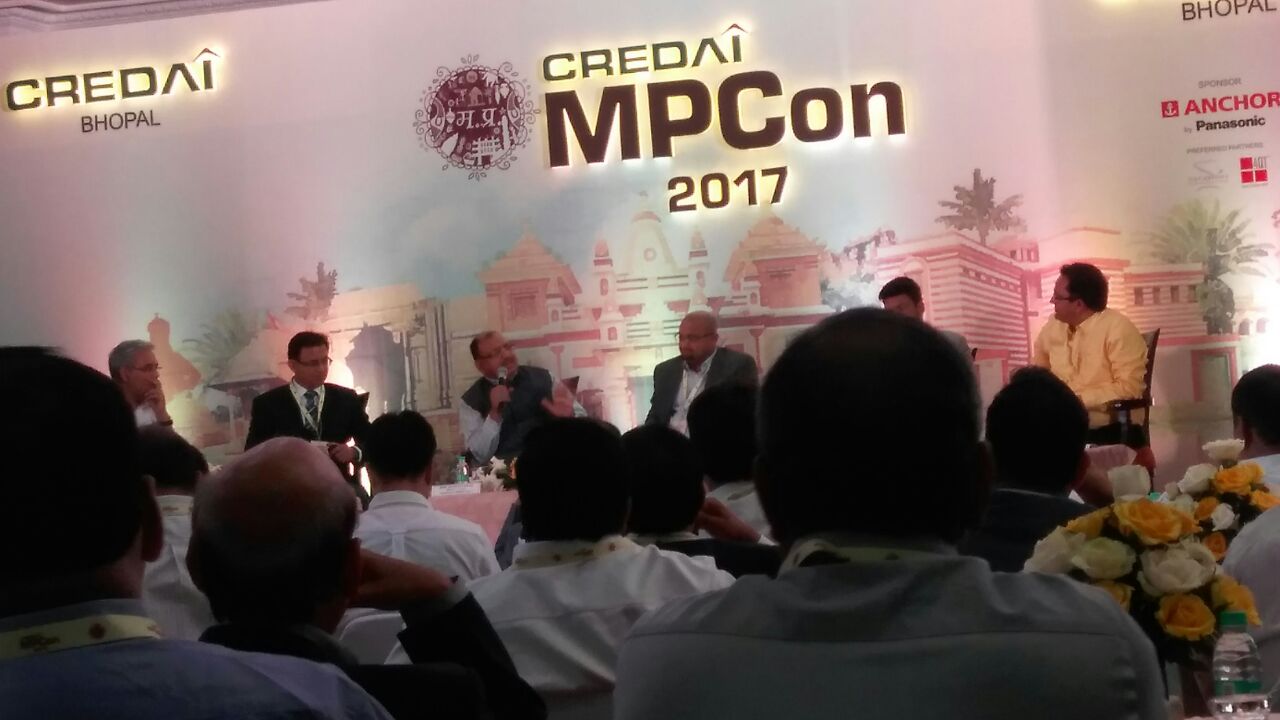 CREDAI MPCon 2017


Our Correspondent : Bhopal, 25 March 2017


Sh Anthony Desa first Chairman of Real Estate Regulatory Authority, very clearly answered the Questions/ doubts raised by the Credai members.
Mr. Desa clearly told to the builders "Be prepared to deliver what promised in Advertisement, and Agreement. If you can't deliver, don't promise."
---
Aakriti Group introduces Aakriti Business Center
Our Correspondent : Bhopal, 7 March 2015


Conventionally, offices are in a separate location from residential area and therefore a lot of time is wasted in commuting between home and office. The young corporate needs desperately also to maintain the work and life balance, so it's extremely helpful and desirable if he is closer to his family and work together. This is basically the new age "work and play" concept which only has advantages to offer to the working professional. It's a concept which was inevitable. In large cities, people are now open to residential solutions that allow them to circumvent infrastructure deficit and improve their lives, Affordability is another factor that is drawing buyers to these townships. These are being located in the boundaries of metros thus these properties are way cheaper than those in prime locations.
Aakriti Group presents Aakriti Business Center which is located at Aakriti Eco-city provides office and shopping spaces for a variety of sectors like banking, retailing, supermarkets, etc. ABC will fulfill almost all the shopping needs of Eco-City residents. ABC consists of 02 levels of basement parking and 05 levels above the ground, 02 of which (ground and the first floors are for retail purpose and floors 2nd to 4th are offices). The total Project Area is 1.25 Acres. The building has separate entrances for the retail and separate for office sections of the Mall.
Mr. Hemant Kumar, CMD, Aakriti Group, said that Aakriti Business Center is a dream project, which is planned, designed and launched keeping the new generation corporate's requirements & culture. Knowing the value of precious time, this concept is innovative and inevitable. We are striving hard to fulfill the needs for a successful business center of international level.
Township developers are enticing buyers with concepts such as 'walk-to-work' and eco-friendly environment with large open spaces. These townships have office, retail and residential spaces. They also feature amazing landscaping and serene environment, all of which are exceptionally lucrative for buyers, in today's hustle and bustle, such a scenario is highly desirable. Nobody wants to waste time today in useless travel, but now going to work is a walk in the park, literally! Analysts expect more such townships to come up in metros and suburbs over the next few years. Major urban centers and state capitals are also likely to get many such projects.
Aakriti Business Centre (ABC) is strategically located with an excellent frontage and separate access points for entry and exit. The presence of residential and commercial spaces leads to faster development as the two create demand for each other. Thus, as a result, valuations grow faster than in the case of stand-alone properties.
---
Aakriti employees given tips on life skills by National motivational speaker and soft skills trainer T.S. Madaan
Our Correspondent : Bhopal, 12 Feb. 2015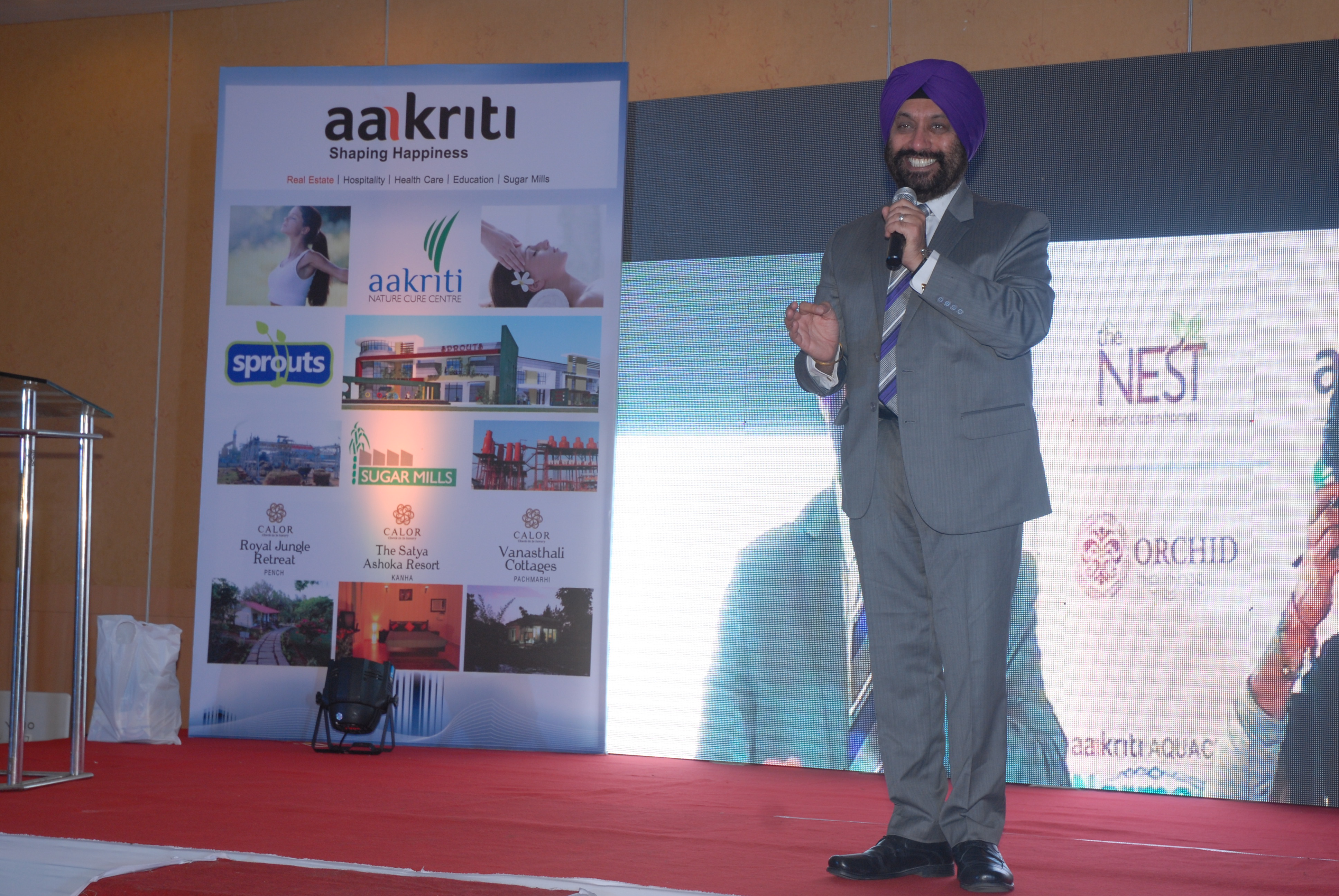 Aakriti Group, Central India's realty major organized a workshop for its employees here today. National motivational speaker and soft skills trainer T.S. Madaan conducted a day-long workshop that covered selling skills, employer employee relations, grief management, stress management, time management, work life balance , life skills resulting into raising the levels of family happiness, social acceptability, career growth, mind development, physical health and purity of soul.
Mr Hemant Kumar, CMD , Aakriti group, said that "The main aim of the session was to inculcate a sense of stress relief and to refresh all the employees. Corporate sectors tend to drain a lot of energy out of young souls but we here at Aakriti always place our employees at the hierarchy. They realized how to achieve goals without stress and completely improve the quality of your life. This not only helped them to increase their productivity but also their personal well-being" by incorporating a lively and jovial mood the seminar proved to be a huge success".
He also added that " The objective of the session was to raise the productivity and performance levels of our team and this session offered a new approach and life changing tools for daily practice which will learn the employees, how to balance work and life and to create their own happiness.".
T S Madaan is a Life Coach, Personal Trainer and Motivational Speaker, who hasendowed with penetrative mind, amazing spontaneity and clarity of thoughts. He has been awarded with President of India Medal from Rashtrapati Sh.V.V.Giri, Udyog Rattan for his contribution in industrial growth of country, Certificate of Excellence in Management and Innovation and a number of other prestigious awards by Govt. and non Govt. bodies.
Aakriti Group is well known for taking keen interest in the development of its employees. As a result of the session, confidence and productivity of the employees were boosted.
---
Mahindra Lifespaces launches it's 'Green Army' initiative An endeavour to create One Million Caring Citizens
Our Correspondent : Bhopal, 04 Dec. 2014
Mahindra Lifespace Developers (MLDL) today announced its new 'Green Army' initiative aimed at increasing awareness of sustainable living habits among children. Through this pioneering movement, the Company aims to reach 1 million citizens who it hopes will become the torchbearers of sustainable living. The pilot program will begin with schools in Mumbai and then roll out to other cities across the country, sharing with children the importance of conserving energy and water, recycling, materials and reducing waste. Social media will play an integral role to propagate this message of sustainability and widen the reach. This initiative also aligns well with the government's Swacch Bharat Abhiyan which focuses on the basics principles of cleanliness, hygiene and conscientious living." According to Ms. Anita Arjundas, Managing Director and CEO, Mahindra Lifespace Developers Ltd, "The Green Army initiative is rooted in our mission of transforming urban landscapes through sustainable communities. We believe that children can play a key role in shaping a cleaner planet by influencing their families to follow the principles of reduce, reuse and recycle in daily living."
Targeted at children of the 4th and 5th grades, the Green Army program, conducted through interactive AVs, demonstrations and a green report card, takes cognizance of the fact that children are often the harbingers of change. They can help change their own habits and those of their families based on conscious understanding and creative action.
About Mahindra Lifespaces
Mahindra Lifespace Developers Ltd., the real estate and infrastructure development business of the $16.5 billion Mahindra Group, is a leader in sustainable urban development, through the creation of residential and integrated large format developments across nine Indian cities - Mumbai, Pune, Nagpur, Gurgaon, Faridabad, Jaipur, Chennai, Hyderabad and Bangalore. The Company's residential & commercial development footprint includes over 0.8 million sq.m. (8.3 million sqft) of completed projects and over1.0 million sq. m. (11.3 million sq. ft.) of ongoing and forthcoming projects.
Mahindra Lifespaces has pioneered the concept of an integrated business city through 'Mahindra World City' developments in Chennai and Jaipur. These developments cover 1862 hectares (4,600 acres) and house over 100 reputed global companies, providing an integrated environment for Life, Living and Livelihood. The Company's 'Green' homes, pan-India presence, and the development of successful integrated cities have all contributed to Mahindra Lifespaces being recognized as a developer with a pioneering spirit. Mahindra Lifespaces is the first real estate company in India to release its triple bottom-line focused Sustainability Report that is based on the Global Reporting Initiative (GRI) framework and received an A+ rating indicating the highest levels of disclosure and transparency.
The company has also been awarded Sector Leader Status in Asia in its category by the Global Real Estate Sustainability Benchmark.
www.mahindralifespaces.com;
www.mahindraworldcity.com
About Mahindra
The Mahindra Group focuses on enabling people to rise through solutions that power mobility, drive rural prosperity, enhance urban lifestyles and increase business efficiency.
A USD 16.5 billion multinational group based in Mumbai, India, Mahindra employs more than 180,000 people in over 100 countries. Mahindra operates in the key industries that drive economic growth, enjoying a leadership position in tractors, utility vehicles, information technology, financial services and vacation ownership. In addition, Mahindra enjoys a strong presence in the agribusiness, aerospace, components, consulting services, defence, energy, industrial equipment, logistics, real estate, retail, steel, commercial vehicles and two wheeler industries.
In 2014, Mahindra featured on the Forbes Global 2000, a comprehensive listing of the world's largest, most powerful public companies, as measured by revenue, profit, assets and market value. The Mahindra Group also received the Financial Times 'Boldness in Business' Award in the 'Emerging Markets' category in 2013.
Visit us at: www.mahindra.com
For Press Reference:
Ussha S. Shrivastava
Image Consultant
9372544556
ussha.mediarelations@gmail.com
---
Global Advertisers wins big at Realty Plus Realty Awards
Our Correspondent : Bhopal, 27 Oct. 2014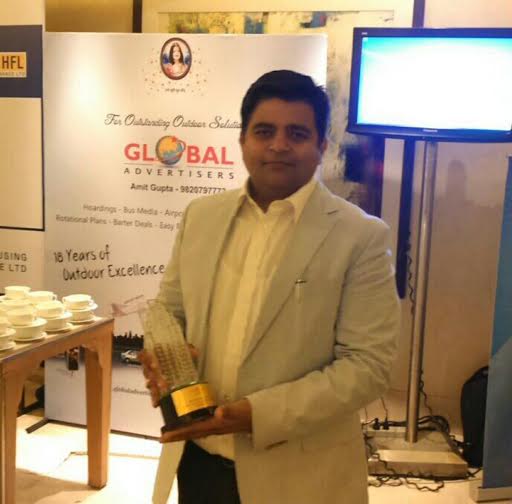 Mumbai.Global Advertisers has been declared the 'Advertising Agency of the Year' by the jury of prestigious The Realty Plus Realty Awards – 2014 on August 21st 2014 at the Trident Hotel, Bandra-Kurla Complex,Mumbai.The event, which was attended by all the big names in the realty sector.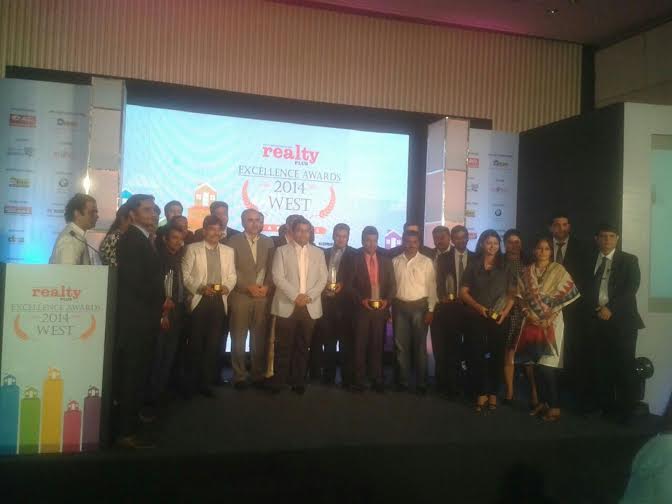 Global Advertisers, an outdoor media solutions giant based in Mumbai, has built a reputation for its innovative and cost-effective media strategies for some of the leading brands in the real estate sector. Clients serviced by Global in 2014 include Rajesh Lifespaces, Aristo Developers, Hubtown, Dosti Realty Ltd, Lodha Developers Pvt. Ltd., Runwal Homes Pvt. Ltd. Global owns some of the most premium billboard sites in Mumbai, including Asia's biggest hoarding in Bandra.

Mr. Sanjeev Gupta, Managing Director, Global Advertisers, said, that his team has a big role in getting him this honor. "Our Real Estate marketing team has worked hard and walked the extra mile to help our clients improve their brand presence, site footfalls and unit sales by offering customized outdoor media solutions that work for them. I dedicate this award to my team and my guru Mamtamai Shri Radhe Guru Maa," said Mr.Sanjeev Gupta.
---
Association of Bhopal Realtors presents Seminar on Real Estate Broking on 29th May
Our Correspondent : Bhopal, 27 may 2014
Association of Bhopal Realtors (ABR) presents Seminar on Real Estate Broking on 29th May at Bhopal.

Due to the rapid growth, Bhopal is among the most favoured destinations for realty development; Bhopal now got a greater concentration of real estate agents, consultants, developers, construction and investment companies. Since the realty sector is an important part of the overall development of the area, the role of realtors evidently becomes significant. Sachin Shroff, President -NAR INDIA , would be the chief guest on the occasion. While Viny Raj Modi, Convenor CREDAI INDIA would be the guest of honour and Ajay Mohgaonkar, Chairman CREDAI Madhya Pradesh would preside over the event.
Pradeep Karambelkar, President , Association of Bhopal Relators says " My greatest inspiration is the vision to see the Indian real estate industry, which is the second largest contributor to the country's GDP, an organised and professional industry and the Real Estate Brokerage profession as credible and attractive as other professions like medicine, engineering, IT etc".
ABR is a member of National Association of Realtors of India (NAR India) and it is the credible voice of realtors in India. It is the single national level umbrella organization representing the interests of thousands of realtors/brokers operating all over the country.
---
Infra Infinity enters into Real-estate
Our Correspondent : Bhopal, 27 Oct. 2013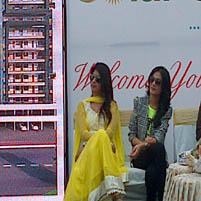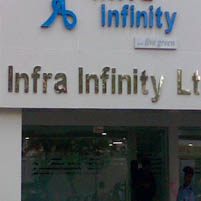 Well-known name in IIT training Vision Infinity entered into real – estate business by inaugurating plush office by Actress Amrita Rao at Maharana Pratap Nagar. City's cross section of the Society attested the Grand Party organized on this occasion.

While talking to the Metromirror.com, Mr. Prakash Singh, Chairman, Said that they will provide better quality construction and value for money to the customers. Mr. Prakash Singh also told "we will also start university in the coming years"
---
Aakriti Aquacity "Powai" 200 Bungalows SOLD!!
Our Correspondent : Bhopal, 8th June, 2013:
Aakriti Group's Aquacity "Powai" Bungalows which are built keeping in mind unique planning, architecture, nature and beauty have already sold 200 bungalows with only 51 remaining to get acquired.

Aakriti's Aquacity "Powai" which is a spacious 4 BHK bungalows, built with uniquely designed township, the bungalows offers a great opportunity, to experience the luxury of spaces. They provide a spacious inside along with spacious outside. Aquacity "Powai" offers you a complete happy stay for your family with abundant greenery, contemporary architecture and planned water bodies.

Hemant Kumar, CMD, AG8 (Aakriti Group), says, "We are so happy that we are providing a great livelihood to our people and people are loving our offerings. We are pleased to say that we have already sold 200 bungalows and only 51 bungalows are remaining. Aquacity "Powai" offers spacious bungalows where happiness resides with in."

Each Bungalow at Aakriti Aquacity "Powai" offers open spaces on its 3 sides, spacious bedrooms, abundant sunlight during the day, well ventilated rooms, adequate parking space for two cars and many more.

It is the perfect bungalow that every body dreams of with many township features like Shopping Center, Jogging track, club house with indoor game facilities, swimming pool, library, primary school, hospital etc. that provides you total comfort at the campus and fills your life with bundles of happiness.

About AG8 (Aakriti Group)/

The AG8 Group is a multi- Faceted group with diverse business interest in the green field areas of Real Estate with residential and Business Projects, Sugar Mills and Hospitality, while the group has recently ventured into health care and education with future plan to venture into Power sector. Ever since its inception, AG8 has believed that its success comes from its people. In every activity, AG8 has always focused on creating a better experience in every aspect of life. Being a leader in to Real Estate, AG8 is all set to go global. AG8 has contracted with world's well known architect, Hafeez Contractor to shape up its real estate projects parallel to international standards.
---
Madhya Pradesh' Pradeep Karambelkar will represent at NAR INDIA's 5th Annual Convention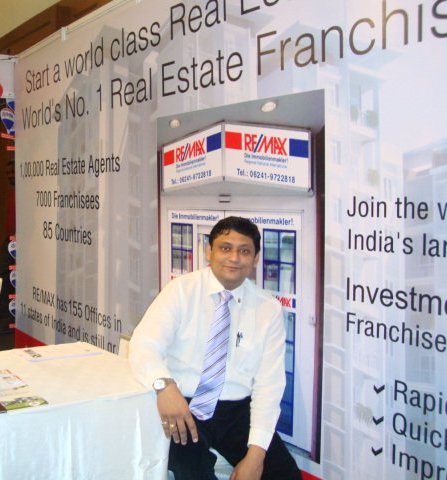 Our Correspondent : 25th May 2013, Bhopal, Madhya Pradesh,
NAR INDIA, the credible voice of realtors in India, is organizing the 5th Annual Convention on 6th & 7th July 2013, at Taj Palace Hotel New Delhi. It is the India's biggest realtor meet. Mr. Pradeep Karambelkar, President, Association of Bhopal realtors, Mr. Brijesh Rawat, Secretary, ABR and other 10 members of ABR will be representing the state on this largest platform. People interested in participating or knowing more about the convention can get in touch with Mr. Pradeep Karambelkar.

The 5th Annual Convention will provide a base for sharing the knowledge, expertise, experiences of realtors from all over the country. Understanding the emerging customer issues and service delivery considerations will be an added advantage. Thought provoking presentations, panel discussions, case studies and the top leaders of the industry addressing to the issues, can be helpful in the better growth of the real estate sector in the country. In short this convention is providing the unique opportunity of networking, motivation, entertainment and education through the best performers of the real estate industry in various fields.

Not only the realtors, brokers or the property dealers would be gainful from this convention, but Market Analysts, Legal Service Providers, Tax Consultants, Architects and Town Planners, Investors, Venture Capitalists, Financial Advisors, Officials of Housing Finance Companies, Real estate listing portals, IT Service providers & Allied industry professionals will also be a part of this largest convention to increase and share their knowledge.

Mr. Pradeep Karambelkar, President, Association of Bhopal realtors, says, "NAR INDIA's 5th Annual Convention is providing a biggest platform to the realtors from all over India to increase their networking from the best in the industry. It is the tremendous opportunity for the persons seeking new business & investments. I would like to request all the members of Association of Bhopal realtors (ABR) & the non members to attend this event, and be updated on the new concerns & regulations in our sector.

The National Association of Realtors – India (NAR-INDIA) was established 5 years ago as the apex national level organization of realtors (real estate brokers). It is an organization with the common interest of the real estate brokers at the top of the agenda. Good governance, ethics, best practices and customer satisfaction are the four founding pillars on which the organization stands. With 24 member associations across the country, encompassing nearly 1,700 companies with a combined strength of 30,000 brokers, NAR-INDIA has today emerged as the voice of realtors in India and one of the largest trade associations in the country. With partnerships at the domestic as well as the international level, particularly with NAR Global of USA – a 105 year old organization with over 1.1 million members, NAR-INDIA is poised to grow from strength to strength in the times to come.

The previous conventions were held at Pune (2009), Chennai (2010), Hyderabad (2011) & Mumbai (2012) and were the big hits. Now the 5th National Convention puts the customer interests and credible service at the focal point of debate and discussion in order to work the way forward for the real estate industry.
---
Hemant Kumar, CMD, AG8 ( Aakriti Group) Says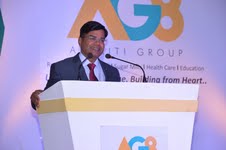 Our Correspondent : 28 Feb. 2013
Budget looks positive for the real estate sector at large.

Finance Minister's decision to grant an additional tax deduction of interest of up to Rs.1 lakh for a person taking the home loan up to Rs.25 lakh for the first time during the financial year 2013-14. The move will help promoting the Real Estate sector and will also widen employment opportunities for many in the construction sector. This will boost the housing and will also be beneficial for the real estate sector.

Though the Budget is not up to the expectation but looking at the environment and with all the limitation, Finance Minister has made good effort to strike the balance".
---
Yashvardhan Mishra is the winner of the AG8 ( Aakriti Group) Audi A4 Car Scheme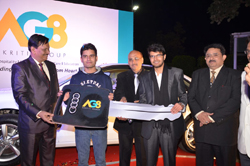 Our Correspondent : 08 Jan. 2013
Report by India Education bureau, Mumbai: AG8 ( Aakriti Group) , Central India's leading Real Estate giant today announces the first winner of AG8 Audi A4 car lucky draw scheme in a ceremony held at Jehan Numa Palace, Bhopal.
Mr Yashvardhan Mishra is the winner of the Audi A4. Mr. Swayam Soni, Director, AG8 (Aakriti Group), presented the key to the winner today.
The scheme on purchase of an AG8 (Aakriti Group) property has received a tremendous response from the public. Residents of Bhopal got assured gift of gold on purchase of prestigious residential apartments and duplexes worth Rs 20 lakhs or more. The scheme was introduced on Oct 18 and was valid till 17th Dec 2012.
Mr Swayam Soni, Director, AG8 ( Aakriti Group) says "AG8- Audi property scheme had elicited a tremendous response. At AG8 (Aakriti Group), our prime focus is to provide most-modern services so that its residents can dwell in happiness and comfort. Planning and executing of a scheme is only a
prior step towards converting a dream into reality but accepting by the target person is ultimate step. This favorable reception signifies that AG8 Real Estate property is being admired by everyone. We want to make our customers feel that they are precious to us with this scheme."
Mr Yashvardhan Mishra, winner Audi A4 Car, said, "I am very delighted to be the winner of this great scheme. AG8 projects in and around Bhopal reflects the city's love for luxury. It has brought International Lifestyle in the heart of India. The projects of AG8 are always one of its kinds."
Mr Pawan Verma, COO, AG8 ( Aakriti Group) says" AG8 has grown up as the most trustworthy group in past 16 years and has created a definitive niche for itself. In Real Estate AG8 enjoys a leadership stance in Madhya Pradesh.
AG8 (Aakriti Group) is founded on a vision of developing better tomorrow by providing people with improved quality of life and living standards. As a result today we are rapidly growing group having a noticeable presence in multiple industries. AG8's Ecocity, Aquacity, Aster Royal, The Nest, Highlands Blue created world-class lifestyle, which is self sufficient, environment conscious & also provided privilege of an exclusive address. These elegantly designed duplexes and apartments provided high standard specifications and offer host of lifestyle amenities from open spaces to modern architecture, swimming pool and gymnasium.
---
Symposium on affordable Housing : Bhopal needs 2 lakh affordable housing units
Our Correspondent : 3 Dec. 2012
Ashoka Housing , a leading international organization in association with Credai, Bhopal held a Symposium on affordable Housing with the objective to fulfil the demand for affordable houses for the urban poor. On this occasion Mr. Sunish Jauhri, Senior Consultant, Ashoka Housing , Mr. Manoj Kumar Sinha, HVC Entrepreneur, Mr. Rajendra Joshi of DBS Communities, Ahemdad have given presentations about the need for affordable housing . Mr. Manoj Singh Meek, Vice-President, CREDAI was the Chief guest. On this occasion city's leading builders, NGO's were also present. While talking to metromirror.com Mr. Sunish Jauhri, of Ashoka Housing said that Bhopal has big potential for the affordable Housing as the government alone can't fulfill the housing needs of the urban poor.
Indus Empire - On it's Last Stage Of Phase I
Indus colonizers have almost completed the first phase of the duplex bunglows, near Chuna Bhatti.Under this project almost 200 bungalows have been constructed. Indus Colonizers have started the construction of Phase - II, under which around 100 bunglows have to be construction. The founder of Indus empire, Sanjeev Kumar Mehta and Dharam Pal Singh told in aprčs release that other than Indus Empire the construction of Indus Umang is in last phase and the booking of Indus Muskan -2 is on the track.. Having one's own home, that too in a metrocity, is like a dream for a common middle-class man; the dream can not be realized only by dreaming it for it demands for a substantial amount of money which is often not less than a tough task for a middle-class family.
A Symposium to kick-start Affordable Housing Initiative in MP
A market Led Business Model to Benefit All Stakeholders
Our Correspondent : 8 Dec. 2012
A. Background

India is starkly short on housing supply to its people. Estimates put this figure to about 29 million(2.6crore) housing units.
Madhya Pradesh itself is short on this by more than a million (10lakh) housing units. A whooping number indeed.
Bhopal is primarily an industrial city where a large section of the population works in different industrial hubs, majority of whom work as low wage labors. The urban population of the city stands at 80% of the entire district population. With total population about 23 lakh(as per the of official census 2011) as against the state population of about 7 crore, the city has about 3.5% share of the entire state population.
Therefore, with 3.5% share of the state population and 80% urban population , we can assume that out of the need of 10lakhs of housing units at the state level, the requirement in Bhopal itself should be about more than 28 thousand units in the affordable housing sector. At a city level, this too is a great number!
Even if we focus only on the informal and floating population of the city, which should be in the range of 35-40% of the entire population living in slums and /or rental houses, there still exist an opportunity to create about 10thoushand houses for the low income segment
A majority of this 2.6 core housing unit needed, (amusingly 99%) is among the low-income groups-

88per cent of this shortage pertains to houses for Economically Weaker Section (EWS) .
11 per cent for lower- income group (LIG)
At an estimated $10,00(Rs 5-6 lakh) per unit this is a potential $250- billion dollar (approximately INR 1300000 crore ) market opportunity in India. Imagine what boom can happen in the real estate industrial if this potential market is unlocked!

At the state level it would translate into a market size of about 52000crore whereas at the Bhopal city level a market size of about 1450crore. .
Public resources alone cannot meet this demand, and therefore there is need for private sector participation and multi-stakeholder approach.
What is Ashoka's Housing for All (HFA) program approach to unlock the affordable housing sector ?

Ashoka begins with a firm belief that there is massive opportunity for developers to do a profitable and healthy business in affordable housing sector in India.
There are thousands of households in Indian urban settlements, earning Rs. 10000 to Rs. 25000 per month as family income. but do not have a formal proof of their income. These are the people on the top of the bottom of the pyramid and have the potential to pay for their EMIs for a housing loan
This segment includes petty shop owners, rickshaw and cab drivers, self-employed like plumbers and electricians construction workers, contract workers in industries, vegetable and fruit vendors, housemaids, and so on. A large percentage of them wants to buy a house, and can pay for it.
Ashoka works closely with the retail housing finance companies, which offer home loans to this segment. Ashoka's Housing for All(HFA) program facilitates identifying and preparing the client through the Citizen Sector Organizations (CSOs), getting them home loans and finally selling houses on market prices making reasonable profits.
The HFA project is already happening successfully in places like Ahmadabad, Banglore, Chennai, Mumbai and Pune
What is Ashoka?

Ashoka is an international social enterprise that works closely with the citizen sector organizations for the interest of communities they work with. Ashoka is a 30+year-old organization, present in 70+ countries.
Ashoka is headquartered in Washington DC.US .Its India office is in Banglore.
Funded by a number of social foundations. Ashoka is committed to building market –based solutions to some of the large social problems.
Ashoka's Housing for All program is operational in Colombia. Brazil and India.
Even if we focus only on the informal and floating population of the city, which should be in the range of 35-40% of the entire population living in slums and /or rental houses, there still exist an opportunity to create about 10thoushand houses for the low income segment
Home Loan- Get Choosy for The Best Option
Having one's own home, that too in a metrocity, is like a dream for a common middle-class man; the dream can not be realized only by dreaming it for it demands for a substantial amount of money which is often not less than a tough task for a middle-class family.
But the scenario has now changed. The growing competition in the construction field & the recent initiatives taken by some private & Public banks have given the reason to the people to think of their own home at a reasonable cost.
Following the recent deduction in the long-term home-loan-interest, the home-loan market is seeing a phenomenon of excitement and a growing number of those who have been cherishing the dream of 'Own Home' for long.
The government & the Bankers are thinking to further provide more relief through cut in interest rates for the prospective home-loan seekers. Also, the RBI has plunged in to the fray by cutting the rate of interest on short-term home loans by 0.5 %.
These stunts do create hope for the people but put them in a dilemma that which bank or company is more reliable for them.
The specialists of home-loan market put three ways before the home-seekers:

First, calculate how much it amounts to including the principal amount & the interest on it. Whichever bank you visit, should be asked for the complete amount you are to pay by the end of the period for which the loan is being taken. In this way, you can go to other banks also & collect the informations. This will help you choose the better option.
Also, please check whether the interest is calculated on daily-basis or monthly-basis. Day-based home-loan interest is rather less than that of monthly-based.
The duration for which you take loan should not exceed 20 years. Very often, people, caught by the temptation of low installments, take the loan for more than 20 years & unknowingly happen to pay more than what they should pay.
NEXT