Everest climber first woman of Madhya Pradesh - Megha Parmar launches Ford Eco-Sport-2020 car
Madhya Pradesh:MMNN: 25 February 2020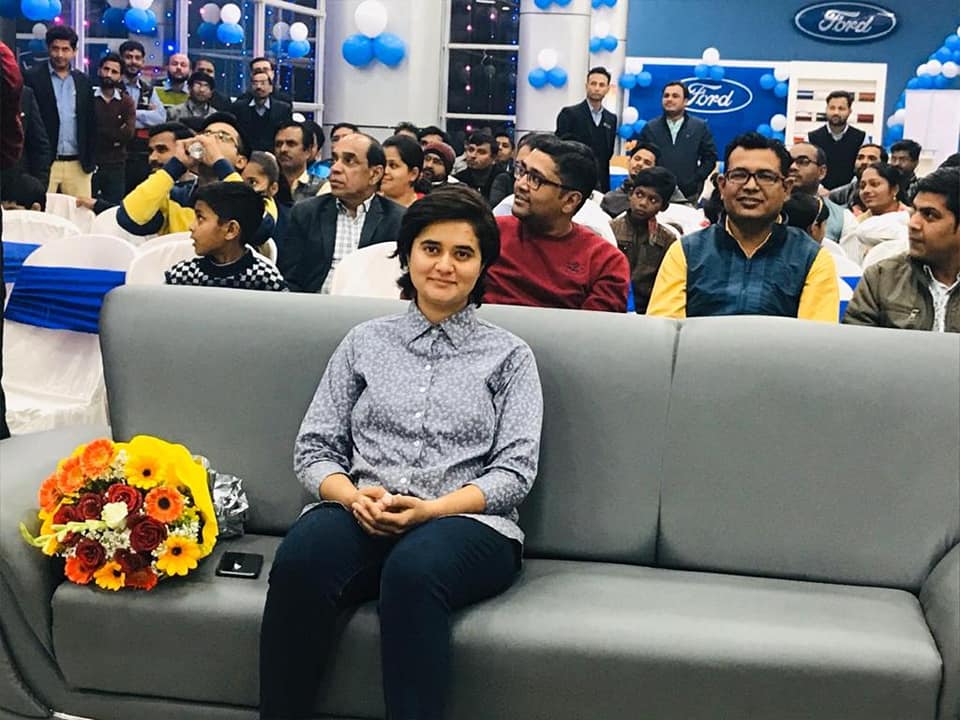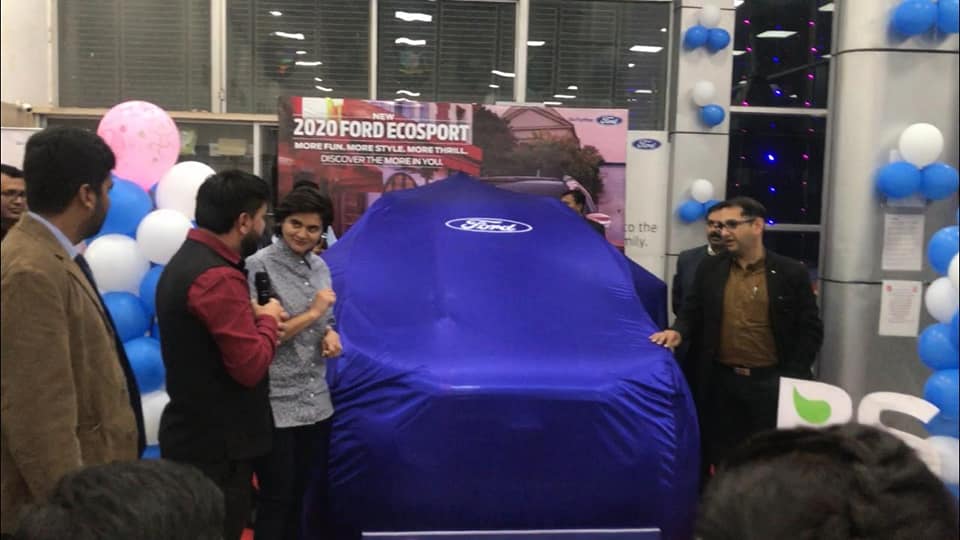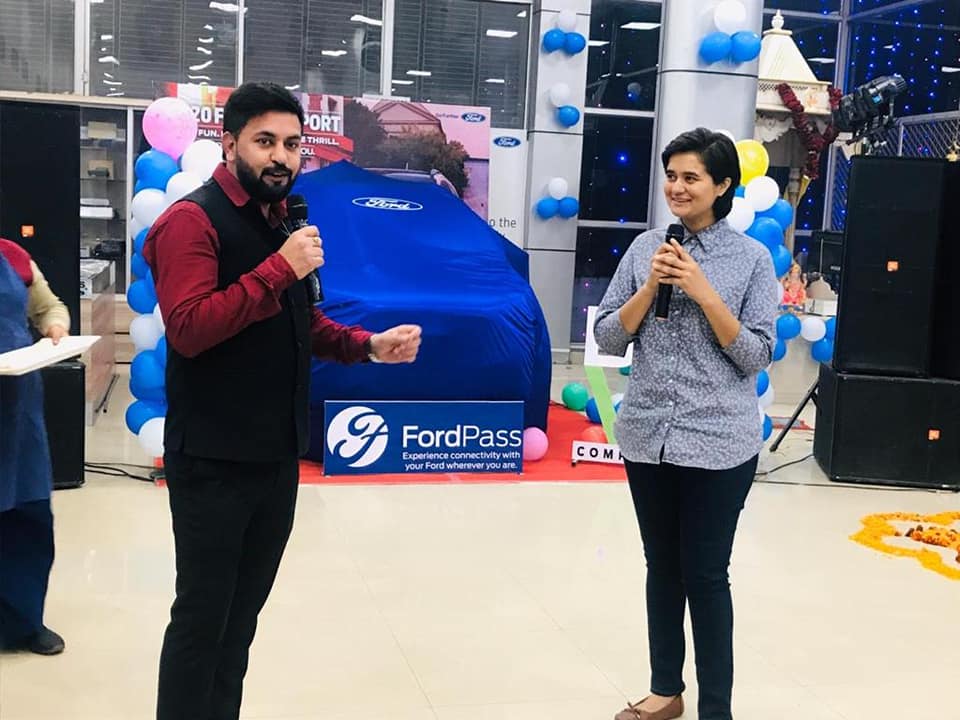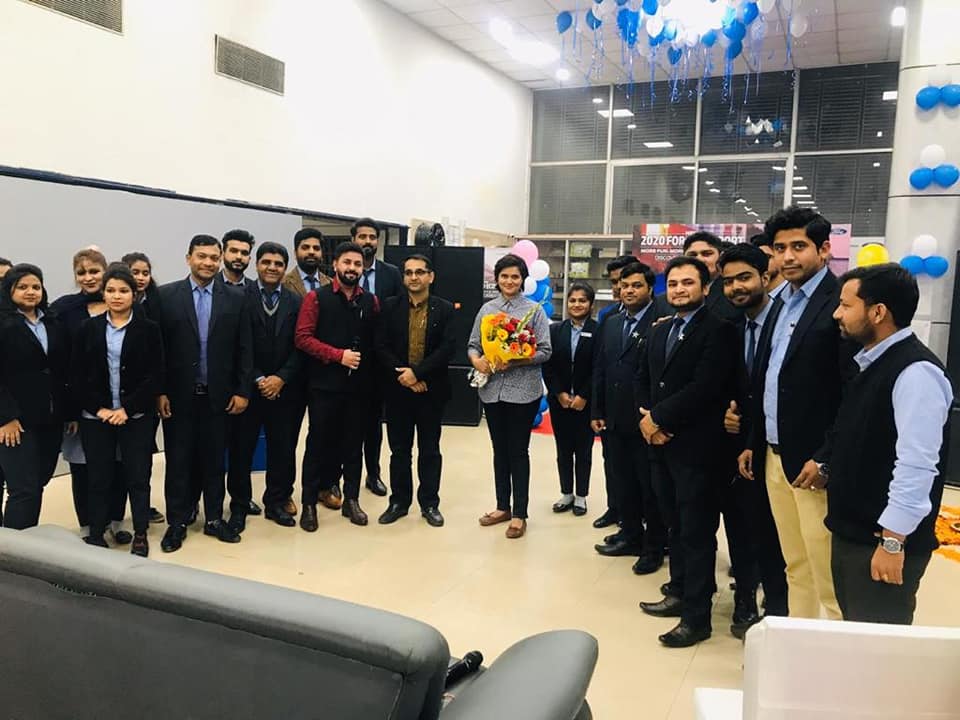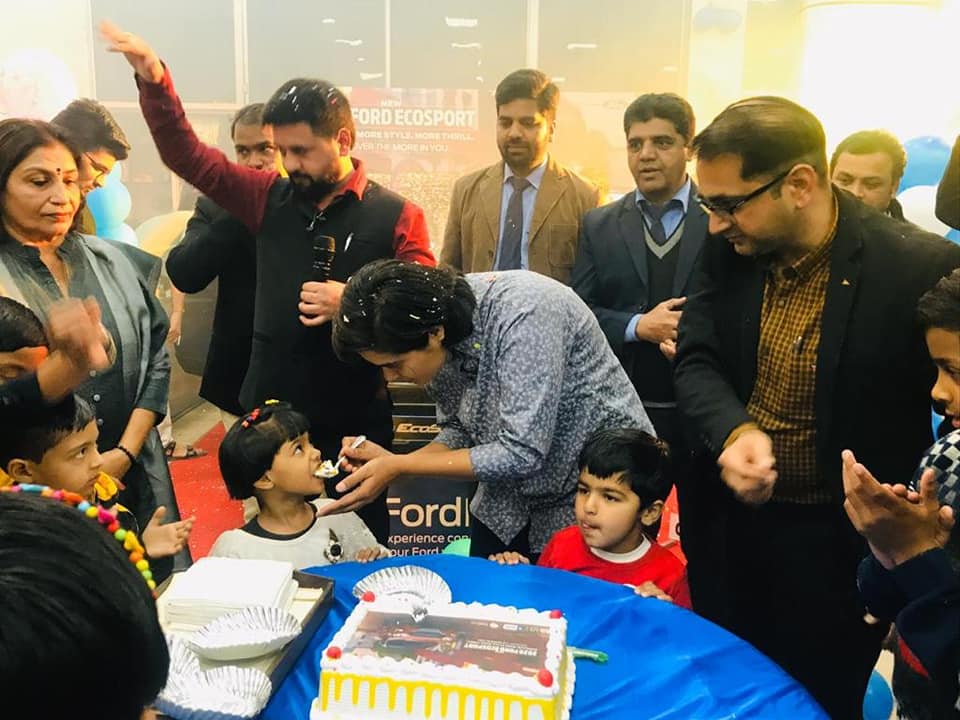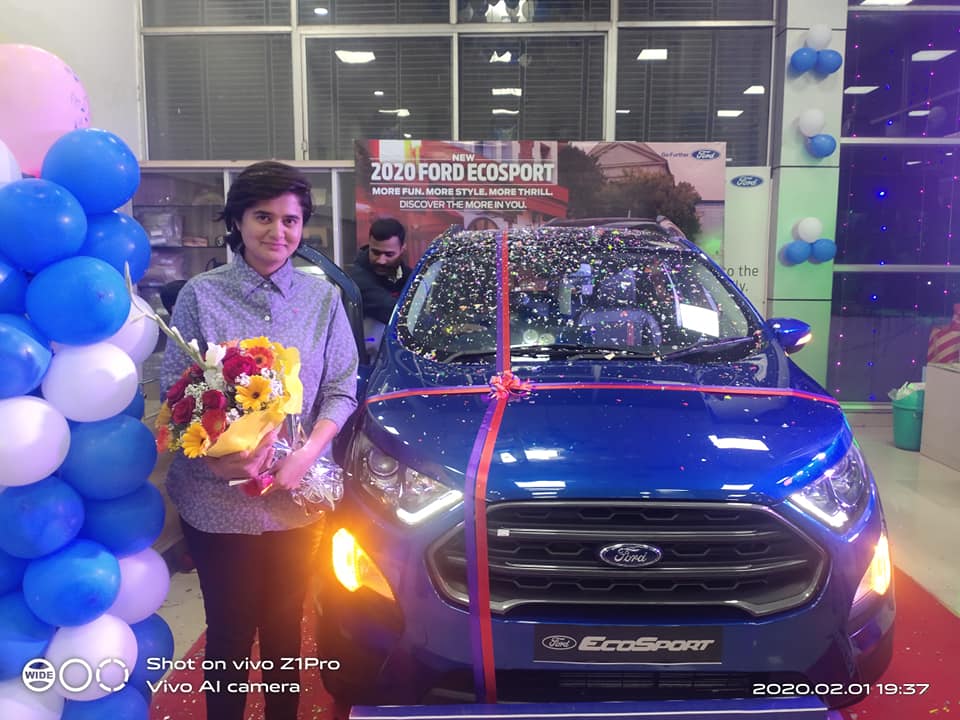 ---
Manikarnika: The Queen of Jhansi' earns Rs 42.55 cr on BO
NEW DELHI:MMNN: 29 January 2019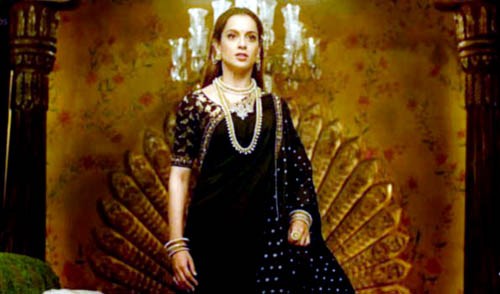 New Delhi, Kangana Ranaut starrer 'Manikarnika:The Queen of Jhansi' witnessed an excellent weekend on the box office, with total collection of Rs 42.55 crore, trade sources said on Monday.'Kangana's biggest opener 'Manikarnika: The Queen of Jhansi' performed best in Delhi, NCR, UP, Punjab and Rajasthan,' the sources said. 'The movie earned Rs 8.75 crore on Friday, Rs 18.10 crore on Saturday and Rs 15.70 crore on Sunday, pushing the total to Rs 42.55 crore,' sources added. 'Manikarnika: The Queen of Jhansi' is an epic biographical period drama based on the life of the Rani Laxmibai of Jhansi.It is directed by Krish and Kangana Ranaut and produced by Zee Studios in association with Kamal Jain and Nishant Pitti. The film stars Kangana Ranaut in the titular role.A special screening of the film was organised by Zee Entertainment for President Ram Nath Kovind at Rashtrapati Bhavan, Cultural Centre on January 18. The film was released on 3700 screens in 50 countries worldwide in Hindi, Tamil and Telugu.The flick released on January 25, and is running successfully on the box office.
---
'Uri: The Surgical Strike' mints Rs 122.64 cr at BO
NEW DELHI:MMNN: 24 January 2019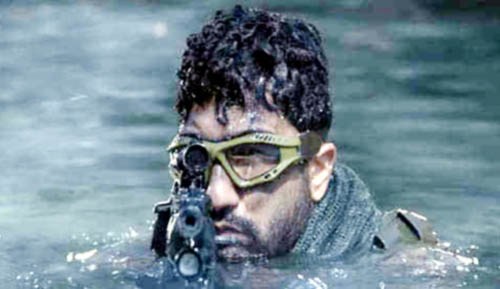 New Delhi, 'URI: The Surgical Strike' mints Rs 6.30 crore on its day 12, pushing it's grand total to Rs 122.64 crore on the Box office. The movie is maintaining unbelievable stability at Box Office over the weekday's collection. It is also the second Tuesday for 'URI: the Surgical Strike' marked the film's second-week tally collection Rs 51.40 crore.The movie had set the box- office on fire in week one with the collection of Rs 70.94 crore. Now taking the grand total Rs 122.64 crore ahead with day 12 collection. Touted to be the first content film of the year, 'Uri: The Surgical Strike' has been winning hearts emerging to be the first blockbuster hit of 2019. 'Uri: The Surgical Strike' is based on the surgical strikes which were carried out by the Indian army in 2016. Besides Vicky Kaushal, the film also features Yami Gautam, Paresh Rawal, Kirti Kulhari and debutante Mohit Raina. The film has been directed by Aditya Dhar and it has been produced by Ronnie Screwvala.
---
With 83, Ranveer Singh is all set for his first Trilingual film
NEW DELHI:MMNN: 23 January 2019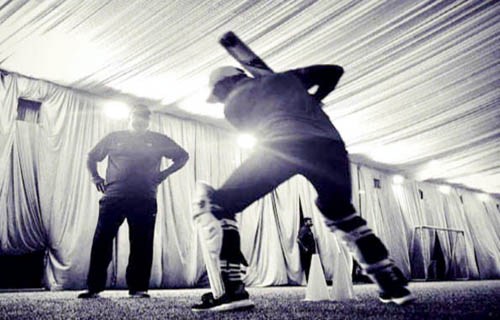 New Delhi, The makers of Ranveer Singh starrer '83 are all set to release the film in three different languages which are Hindi, Tamil and Telugu. '83 marks the first ever trilingual release for both Ranveer Singh and director Kabir Khan. Ranveer Singh has embarked on the journey of mastering his act as he is all set to play Kapil Dev in the much-awaited sports drama which brings to light one of the most important events in the Indian cricket history. The makers have decided to present the film in three languages – Hindi, Tamil and Telugu. It's a first for Kabir Khan (Director ) and Ranveer (actor) both. Indian cricket team's heroic win for 1983 World Cup is a story to be presented across boundaries, hence the idea and reason to shoot for Tamil and Telugu versions simultaneously. The film will be released PAN India during the Good Friday weekend of 2020 on April 10. The '83 event saw winning squad comprised of Kapil Dev, Mohinder Amarnath, Sunil Gavaskar, Kirti Azad, Yashpal Sharma, Krishnamachari Srikkanth, Roger Binny, Balwinder Singh Sandhu, Sandeep Patil, Syed Kirmani, Madan Lal, Ravi Shastri, Dilip Vengsarkar and Sunil Valson, and their manager P R Man Singh. Based on India's spectacular win in 1983 Cricket World Cup which took place in England, Ranveer Singh will be seen playing the character of Kapil Dev under whose captaincy India won its first World Cup trophy.
---
Manikarnika: The Queen Of Jhansi certified UA
NEW DELHI:MMNN: 22 January 2019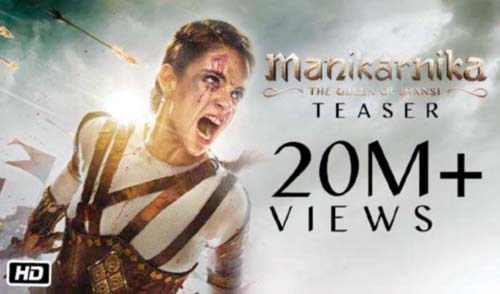 New Delhi, 'Manikarnika: The Queen Of Jhansi ', the much awaited film directed by Kangana Ranaut, has been awarded a 'UA' certificate by the Censor board, trade sources said on Sunday. The sources said that 'Manikarnika: The Queen Of Jhansi 'has been certified UA by the Central board of film certification (CBFC ) on January 16. The sources said that the approved run time of the film is 148 minutes. Featuring Kangana in the lead role, 'Manikarnika: The Queen Of Jhansi', based on the life of freedom fighter Rani Jhansi, is slated to hit cinema screens on January 26.
---
Why Cheat India' will start dialogue in society : Emraan Hashmi
NEW DELHI:MMNN: 18 January 2019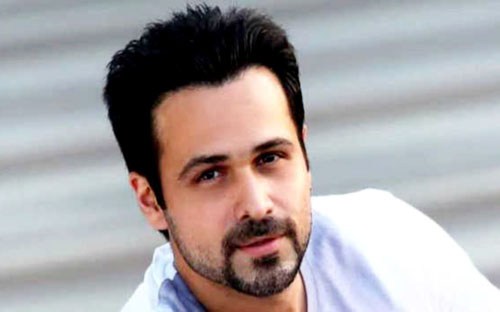 New Delhi, Bollywood actor Emraan Hashmi who is all geared up for the release of his movie 'Why Cheat India', says he hopes the film will at least start a conversation, as it is shows mirror how a system should be. Talking to agencies, Emraan told that 'Why Cheat India' is based on real instances but is a fictional story. The movie which is based on education system of India, when asked if it will bring revolution in the society, Emraan said," I hope at least a conversation starts. I don't believe a system changes overnight. It has phases, and I hope this film brings about certain change." The movie was earlier titled 'Cheat India' was later changed to 'Why Cheat India', closely prior to it's release. When asked Emraan who is also the Producer of the film, if freedom of expression is being restricted in the creative space, said,"Yes we can't be completely creatively open. There is self-censorship. You really don't know what problem censor board come up with the film, like for example the title of the film." "This is the film where India is being cheated by a system. We had given an apt title for the film. But they (censor) want to put the 'Why' there. I don't get that. We are just putting mirror to the system what is happening in the education sector. It is the truth, there is certain honesty in it. But obviously we don't like very honest questions to be asked. Sometimes the truth is uncomfortable," he said. "We need to bring about a very big change in the system. This film is a plea, shows mirror that how a system should be. Hopefully we will have changes," the 'Jannat' actor said. If the change of title affect the theme of movie, Emraan said,"No I don't think so. It's a last minute change which,however, illogical it is, people have already seen the promo earlier and whoever has to come and see the film will see the film. So it doesn't really makes a difference." On how did the idea come up, Emraan said,"Soumik Sen narrated it to me one-and-half years back and for me it was very enlightening to know many loopholes are there in our education system.I know how ineffective it has been in the entire premise of road mugging, probably doesn't offer much to students in life. But I didn't know of this organised business of cheating in examination halls. That is why I felt I should be doing this not just as an actor but also as a producer." "There's never been a film made on education system before. Things in our industry are sugar coated. But at the same time I am not saying this is a very serious film, it has an underlying message and will also entertain people. But at the same time it will open up to lot of things that has been bogging down the education system and there lies the strength of the film," the 'Tum Mile' actor said. Emraan who will be seen in a new 'avtaar' in this movie, hopes that he break the labels. "I hope so the movie break the labels I have got. It's just that an actor has to do different kind of roles, explore different kind of genres. I have never been a guy who have boxed up people in labels, but some people do. So it's very important to offer something new," Emraan said. "As an actor I believe I have always offered something new to the people, to experience in every film a different kind of story. I have taken risks, experimented, and I think that has paid off to me," he said. On his fans missing the 'old avtaar' of him and if he has any regrets, Emraan said,"I don't have any regrets. I have done all kinds of films. It's not that I will not play what I have done before. It's just that for an actor to grow, he/she has to prioritise few things." "Audience won't miss the old me in this movie, but it's just that people have liked me in devious, grey kind of roles. This movie shows a very different version of me. People will see other elements which they have not seen earlier," he said. If he had heard of any education scam earlier, Emraan said,"I have heard of paper leaks, Vyapam scam. Government should remove uniforms.The teachers have to be more qualified, who really want to teach students.They are imparted in such a boring way that children don't want to learn." "The cheating mafias have to be completely abolished from our country and removed. The whole machinery and thought process has to be changed. More money has to be pumped up into this sector. People have to understand this is the most important infrastructure, our base on which the society builds up. If we put less emphasis on grades,marks and more on learning abilites, then the children will come out to be more brighter and creative," he said. If there was any difficulty portraying the character, Emraan said,"I think every role comes with a challenge. As a producer it was a new challenge, new experience. It brought new things which I never knew about. I have been in the decision making there right form the start. And yeah there have been difficulties through the film but nothing we can't overcome." On his biggest takeaway from the movie, Emraan said, "the system needs a complete revolution. Our country won't progress the way it is progressing." On what kind of education he dream for his son, Emraan said,"The one he is doing right now. I think he is living my dream. A system that is open, creative which really pushes both the hemispheres of the brain, doesn't have road mugging, no tests, no homework. Ayaan is being a kid right now, enjoying his life." If box office numbers affect him,the 'Murder' actor said,"it does matter. The way the economics of this film are, it makes a profit on it's release. More than that it has to be acceptance, how people will like it. That's something very heartening to know that the efforts have been paid of, the audience will love it." If he is happy with the scripts coming his way, Emraan said,"Very much. I think there are great scripts written right now and I have heard of." On what next he is penning down, Emraan said," I think the next book will be probably on the industry, my experience with the industry. I always considered myself as an outsider, an 'insider' yet 'outsider'. So my perspective will be very different from people who are deeply entrenched in this industry." 'Why Cheat India' is an upcoming comedy drama film written and directed by Soumik Sen.It features Emraan Hashmi and Shreya Dhanwanthary in the lead roles.
---
Farhan Akhtar reunites with Rakeysh Omprakash Mehra for 'Toofan
NEW DELHI:MMNN: 17 January 2019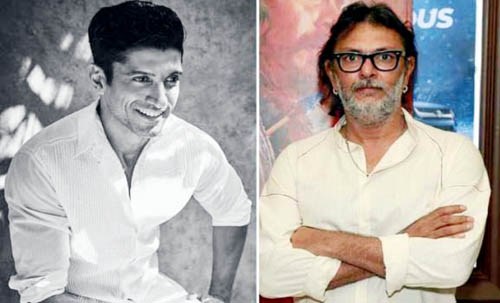 New Delhi, After 'Bhaag Milkha Bhaag', Farhan Akhtar is all set to reunite with Rakeysh Omprakash Mehra for a film on boxing titled 'Toofan'. After 2013, six years later, the hit combination of Farhan Akhtar and Rakeysh Omprakash Mehra are all set to reunite on screen for a film based on boxing, an Excel Entertainment production in association with ROMP Pictures. Farhan Akhtar took to social media to announce as he shares, 'Thrilled to share that 6 years after Bhaag Milkha Bhaag, @rakeyshommehra and I are reuniting to create #Toofan .. a heartfelt story of a boxer. ‪Hope for your best wishes as we embark on this new journey. Love." The film is not a biopic but a fictional story scripted by Anjum Rajabali. Farhan fell in love with it as soon as he heard it. Rakeysh has already started with the prep and Farhan will be training extensively in boxing. After playing Olympian sprinter Milkha Singh, Farhan is all set to play the role of a boxer in another sports-drama film titled 'Toofan'. .
---
Ayaan declared cancer free after 5 yrs of diagnosis: Emraan Hashmi
NEW DELHI:MMNN: 15 January 2019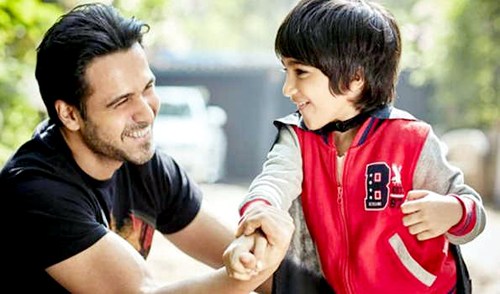 New Delhi, Bollywood actor Emraan Hashmi on Monday shared a heartfelt message for his son Ayaan, saying he has been declared cancer free after five years of the diagnosis. Taking to his social media account Twitter and Instagram, Emraan shared a set of pictures of him with his son,along with a heartfelt message. 'Today, 5 years after his diagnosis Ayaan has been declared cancer free. It has been quite a journey. Thank you for all your prayers and wishes. Love and prayers for all the cancer fighters out there, hope and belief goes a long way. You can WIN this battle !!! #thekissoflife,' Emraan said in his post. Dia Mirza, who has co-starred with Emraan in 'Tumsa Nahin Dekha: A Love Story', commented on his post, "Only love for Aayu". Abhishek Bachchan said,'Wonderful news. God bless.' Guru Randhawa said,'God bless the little one always paji'. Sophie Choudry said,'Mashallah that's so wonderful! God bless him with good health and happiness… and God bless you guys as a family'. Soni Razdan said,'Oh my. This is just wonderful. Lots and lots of love'. After Ayaan's cancer diagnosis, Emraan had co-written a book titled 'The Kiss of Life: How A Superhero and My Son Defeated Cancer'. The book has details about the hardships he and his wife Parveen Shahani faced, when Ayaan was diagnosed with cancer. On the work front, Emraan Hashmi is currently gearing up for the release of his film 'Why Cheat India'.
---
This is false malicious story with intention to destroy my reputation: Rajkumar Hirani
NEW DELHI:MMNN: 14 January 2019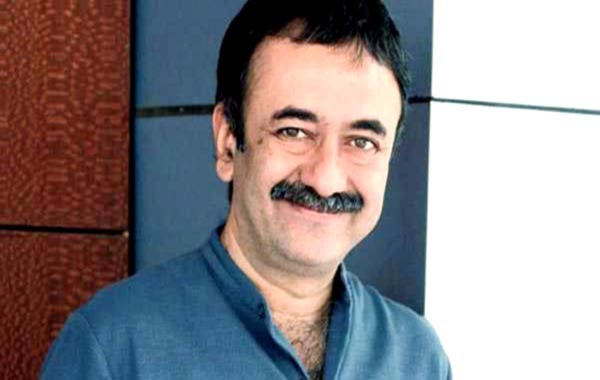 New Delhi, Filmmaker Rajkumar Hirani, recently alleged of sexual assault by a woman who worked with him in his film 'Sanju', issued a statement terming the allegation a false, malicious and mischievous story, being spread with the sole intention of destroying his reputation. In a statement issued to the media, Hirani said, 'I was completely shocked when these allegations were brought to my notice about two months back. I had suggested immediately that it is essential to take this matter to any committee or any legal body. The complainant has chosen to go to the media instead.' 'I want to very strongly state that this is a false malicious and mischievous story being spread with the sole intention of destroying my reputation,' Hirani said. 'The woman alleged that Hirani sexually abused for her over a six-month period between March and September 2018,' sources said. 'The woman has revealed the incident in an email dated November 3, 2018 to Hirani's 'Sanju' co-producer Vidhu Vinod Chopra. She also marked the mail to Vidhu's wife and film journalist Anupama Chopra as well as to Hirani's co-writer Abhijat Joshi,' the sources said. 'The woman claimed that Hirani first made a sexually suggestive remark to her on April 9, 2018 and then sexually assaulted her at his home-cum-office,' the sources added. In the wake of the allegations, Hirani's 'Munna Bhai 3' has been put on hold. The 'MeToo Movement' had made the headlines in 2018 after the Nana Patekar-Tanushree Dutta controversy.
---
'Simmba' earns Rs 212.43 cr in 2nd week at BO'
NEW DELHI:MMNN: 12 January 2019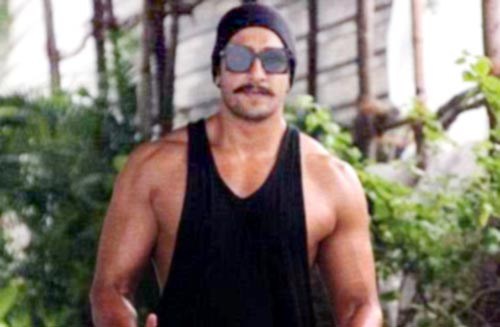 New Delhi, The Rohit Shetty directorial 'Simmba' has crossed the Rs 200 crore mark in the second week, and earned Rs 212.43 crore at the box office across the country, trade sources said on Friday. Ranveer Singh and Sara Ali Khan starrer 'Simmba' earned Rs 61.62 crore in the second week, pushing its grand total to Rs 212.43 crore. 'Simmba crosses Rs 80 crore from international markets in two weeks.The film has fared exceptionally well in US-Canada, UAE-GCC and Australia in particular.The total after two weeks was Rs 80.36 crore,' the sources said. 'The movie emerged as the third highest grosser of 2018, after 'Sanju' and 'Padmaavat',' it said. 'Simmba now eyes Rs 225 cr in weekend three, which should be an easy target to achieve.Much depends on the Box Office response to the new films 'Uri:The Surgical Strike', 'The Accidental Prime Minister' and to what extent they affect 'Simmba', especially at multiplexes,' the sources added. 'Simmba' is Ranveer's fourth film and Rohit Shetty's eighth film to cross Rs 100 crore mark.'Simmba' is an action film directed by Rohit Shetty and written by Yunus Sajawal and Sajid-Farhad. A spin-off of the 'Singham' franchise, the film is produced by Shetty under his banner Rohit Shetty Picturez and Karan Johar, Hiroo Yash Johar and Apoorva Mehta under the banner Dharma Productions. The movie also stars Sonu Sood, with Ajay Devgan reprising his role of 'Bajirao Singham'. The film follows Sangram "Simmba" Bhalerao, a corrupt police officer hailing from the same town as Singham, who is forced to lead a more righteous path after tragedy strikes those near him.
---
Post CBFC objection, Emraan Hashmi's 'Cheat India' title changed to 'Why Cheat India'
NEW DELHI:MMNN: 11 January 2019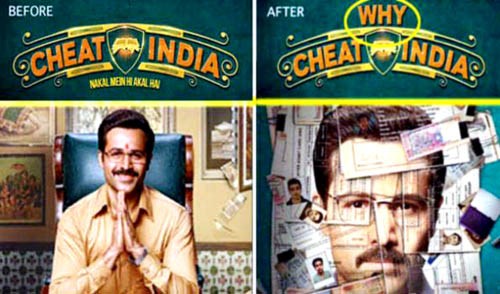 New Delhi, Makers of Emraan Hashmi-starrer 'Cheat India' on Thursday changed the title of the film to 'Why Cheat India' after an objection from Central Board of Film Certification (CBFC). 'The Central Board of Film Certification (CBFC) had concerns about the title 'Cheat India'. We had an extensive conversation with the Examining Committee and Revising Committee regarding the proposed change as the film has been in public domain for a year, and more importantly, because the theatrical teaser, trailer and television promos had already been certified with the original title' producers of the movie T-Series Films, Ellipsis Entertainment, Emraan Hashmi Films said in a statement. 'This would lead to dual communication a week before the release. The duress of lack of time left us with no choice but to mutually agree to the new title, 'Why Cheat India',' the statement said. The tagline 'Nakal Mein Hi Akal Hai' is also removed. Earlier, the film made the headlines because of the change of its release date as it was clashing with the Bal Thackeray biopic. The film stars Emraan Hashmi and Shreya Dhanwanthary, and is directed by Soumik Sen and produced by Bhushan Kumar's T-Series and Tanuj Garg's Ellipsis Entertainment. The official trailer of film was released on December 12.
---
Rajinified': Dhanush Reviews Rajinikanth's Petta, Rates It 'Epic''
NEW DELHI:MMNN: 10 January 2019

On the day of Petta's release, Rajinikanth's new film received the biggest shout out from none other than his son-in-law - actor-filmmaker Dhanush. Twitteratti woke up to an early review of Petta on Dhanush's timeline, who borrowed a viral dialogue from the film, originally delivered by the Thalaiva in the film and wrote: "Petta is epic... superstar.. love you thalaivaaaaa... tharamaana sambavam senjiteenga. Congrats to the whole team. Karthik Subbaraj, big big big thank you... we are indeed Rajinified Anirudh... your best BGM work till date. Petta paraaaaaaak!" The Tamil phrase "Tharamaana sambavam senjiteenga" roughly translates into: "You've done great things!" The Hindi version of Petta hits screens tomorrow. Meanwhile, Dhanush is not the only one who is "Rajinified" by Petta - the list is actually endless, as is seen on Twitter. Early reviews of the film poured in from movie-goers on Twitter and here's what they have to say: "Wow, got Rajinified to the core," read a tweet while another added: "Rajinified by the movie. Thalaiva your charisma doesn't come down little bit at this age. Also, pure Rajinism." In Petta, the 68-year-old megastar features as a feisty hostel warden named Kaali, who has a reputation for dealing with goons in his own unique manner. In an earlier interview to news agency IANS, Rajinikanth had described the film as "an entertaining throwback to the kind of films I did in 1990s." And now, Twitter completely agrees with that: "Vintage Rajini is back! That energy level and powerful performance of superstar. Thanks a ton Karthik Subbaraj! Superb storytelling and climax. Stunning visuals and phenomenal BGM," read a tweet while another user added: "Age is just a number... The one and only superstar... masssssssss... The true Rajinified moment."
---
Manisha Koirala to launch her book 'Healed: How Cancer Gave Me A New Life' on Jan 8'
NEW DELHI:MMNN: 8 January 2019
New Delhi, Bollywood actress Manisha Koirala is all set to launch her book 'Healed: How Cancer Gave Me A New Life' on January 8.The actress survived the dreaded disease Cancer and got her previous life back. Manisha will be talking about her battles and how she decided to deal with a disease, and take everything that comes her way positively in the book 'Healed: How Cancer Gave Me A New Life'. The actress has spoken about not just the physical pain but also the emotional pain that she underwent, and she has also shared how she healed eventually.The actress doesn't call Cancer as a curse in her life, but rather she considers it as a gift of sorts. The book includes each and every phase of her journey, from coping with the disease to healing from it. Manisha returned to the industry after a break with Sanjay Dutt's biopic 'Sanju'. She was also seen in Netflix's 'Lust Stories'.
---
Bollywood actress and model Bipasha Basu turns 40'
NEW DELHI:MMNN: 7 January 2019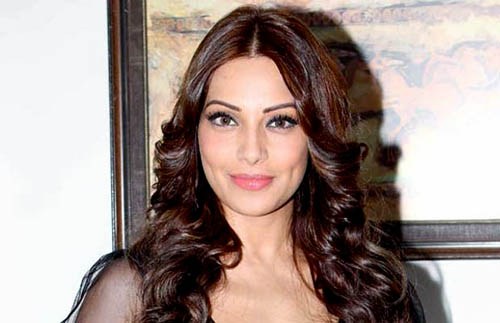 Kolkata, Bollywood actress and model Bipasha Basu on Monday turned 40. West Bengal Chief Minister Mamata Banerjee greeted Bipasha Basu on the occasion."Birthday greetings to Bipasha Basu," Ms Banerjee tweeted. Born on this day in 1979, Bipasha, known for her work in Hindi films, she has also appeared in Tamil, Telugu, Bengali and English language films. Basu is the recipient of numerous accolades, including one Filmfare Award, among six nominations. Particularly known for her work in the thriller and horror film genres. Basu won the Godrej Cinthol Supermodel contest in 1996, and later pursued a successful career as a fashion model. She then began receiving offers for film roles, and made her acting debut with a negative role in the moderately successful thriller Ajnabee (2001), which won her the Filmfare Award for Best Female Debut. Basu's first leading role was in the blockbuster horror film Raaz (2002), which earned her a nomination for the Filmfare Award for Best Actress. She subsequently received worldwide critical recognition and several awards for her portrayals of a seductress in the 2003 erotic thriller Jism and the 2006 drama Corporate. Basu achieved further success with starring roles in six of India's annually top-grossing productions—the comedies No Entry (2005), Phir Hera Pheri (2006), and All the Best: Fun Begins (2009), the action adventure Dhoom 2 (2006), the action thriller Race (2008) and the horror thriller Raaz 3D (2012). She also received praise for her performances in the romantic comedy Bachna Ae Haseeno (2008), and the horror films Aatma (2013), Creature 3D (2014) and Alone (2015). Basu married actor Karan Singh Grover in 2016.
---
Priyanka Chopra's Priceless Reaction When She First Wore Her Wedding Gown'
NEW DELHI:MMNN: 5 January 2019

Priyanka Chopra and Nick Jonas' Jodhpur wedding in December was indeed a fairytale one. Pictures of Priyanka Chopra walking down the aisle in her stunning wedding gown, courtesy of Ralph Lauren, had made everyone go 'aww' and now, the celebrated designer spilled the beans on the details of Priyanka's exquisite wedding gown in three sneak-peek videos on Instagram. Priyanka and Nick's Christian wedding on December 1 was followed by a Hindu wedding on December 2, for which, the couple wore stunning pieces from the collections of Sabyasachi. But this story is about the princessey Ralph Lauren wedding gown. The 36-year-old actress wore a sequinned strapless column dress underneath an intricately worked jacket, which was designed with "135 satin-covered buttons, 700 spools of ivory thread, 5,600 pearlized seed beads, 11,632 Swarovski crystals and 2,412,000 high-luster sequins. With an eye for detail, Priyanka had Nick Jonas' full name, the mantra "Om namah shivaay" and words such as "love" and "compassion" sewn on the jacket. "Fifteen artisans in Mumbai, India, hand-embroidered the coat with a variety of complex techniques, from fine cording to tulle appliques and pastiche threadwork inspired by Chantilly lace, for a total of 1,826 hours," read a post on Ralph Lauren's Instagram. One of the videos also reveals Priyanka Chopra's first reaction when she tried on the wedding dress, complete with the 75-foot veil in Paris. "The sweeping, 75-foot veil she wore on the day of the ceremony was actually comprised of two different cuts of tulle-a shorter fingertip-length veil worn under the epically longer one, which was carried behind the bride by six attendants," Ralph Lauren added. The details of Priyanka Chopra's wedding gown with leave you speechless. Ralph Lauren holds a special place in Priyanka Chopra and Nick Jonas' lives - the designer dressed them up for their first public appearance at the Met Gala 2017. Priyanka Chopra and Nick Jonas are currently holidaying in Switzerland with their families
---
Simmba' crosses Rs 100 cr mark, earns Rs 124.54 cr'
NEW DELHI:MMNN: 3 January 2019
New Delhi, The Rohit Shetty directorial 'Simmba' crossed the Rs 100 crore mark at the box office across the country, trade sources said on Wednesday. Ranveer Singh and Sara Ali Khan starrer 'Simmba' earned Rs 28.19 crore on its fifth day, pushing its grand total to Rs 124.54 crore. Taking to micro-blogging site Twitter, Ranveer said on Wednesday,'All Hail The Blockbuster King! RO-BRO Be Slammin' Century After Century #RohitShetty Ek hi toh hai'. 'Simmba' is Ranveer's fourth film and Rohit Shetty's eighth film to cross Rs 100 crore mark. 'Golmaal Again', which was Rohit Shetty's 2017's release, collected over Rs 200 crore.'Simmba' is an action film directed by Rohit Shetty and written by Yunus Sajawal and Sajid-Farhad. A spin-off of the Singham franchise, the film is produced by Shetty under his banner Rohit Shetty Picturez and Karan Johar, Hiroo Yash Johar and Apoorva Mehta under the banner Dharma Productions. It stars Ranveer Singh, Sara Ali Khan and Sonu Sood, with Ajay Devgn reprising his role of 'Bajirao Singham'. The film follows Sangram "Simmba" Bhalerao, a corrupt police officer hailing from the same town as Singham, who is forced to lead a more righteous path after tragedy strikes those near him.
---
Raveena Tandon: 'Kader Khan Was A Rare Talent, I Was Bowled Over By His Comic Timing On Screen'
NEW DELHI:MMNN: 2 January 2019

Actress Raveena Tandon, who has had the privilege of working with late veteran actor-comedian Kader Khan in several films like Dulhe Raja, Aatish: Feel the Fire and Main Khiladi Tu Anari, says she was always "bowled over by his comic timing". "I was always bowled over by his comic timing on screen and his erudition between takes. He was a scholar and an entertainer, a rare combination in the entertainment industry," she said. As Kader Khan died after a prolonged illness at a hospital in Toronto in Canada on Tuesday, Raveena said that she had "no idea of Kader Khan being so unwell". "Waking up to such a sad news was really disheartening for me. Kader Khan was such a rare talent and whatever parts he played he would add a different charm to it. Someone who can portray a comedian and a villain at same time with such ease is rare," she sighed. Also, while expressing her condolences over the 81-year-old's death, Raveena reminisced her memories with Kader Khan. She said: "I have had a chance to work closely with him on some of the iconic films of that times and on this day I cherish all the memories as it will stay with me forever." "I also remember being part with him in the show Jeena Isi Ka Naam Hai and I still remember all the life lessons he shared on that show. I hope the family gathers the strength to come out of this phase and come out stronger. All my condolences to the family and may his soul rest in peace."
---
This is my life's best performance: Anupam Kher on 'The Accidental Prime Minister
NEW DELHI:MMNN: 29 December 2018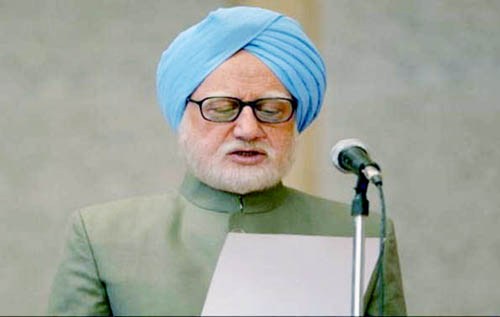 New Delhi, Amid the controversy generated by his film 'The accidental Prime Minsiter', Bollywood actor Anupam Kher on Friday said, it is his best performance and he is not going to back off. Taking to micro-blogging site Twitter, the actor shared the picture of the movie's poster and said,'I am not going to back off. This is my life's best performance. #DrManmohanSingh will agree after seeing the film that it is a 100% accurate depiction. Will meet the media at 1730 hrs at Actor Prepares, Film Industry Welfare Trust, Santacruz. #TheAccidentalPrimeMinister'. 'I read the book to imitate Manmohan Singh. In my first film I played a 65-year-old man at the age of 28. A Youth Congress Leader wrote a letter about this but first I ignored. We have created an accurate functioning system.We had shown the movie to the censor board and it came back after their approval.That is why it does not make any sense to show it to someone else,' Mr Kher said addressing mediapersons. 'In the span of 35 years and 515 films of my career this is the hardest movie.This film should go for the Oscars but the debate has begun. 25 years from now, when the history of the films will be written then the name of this movie will be taken first,' he added. In appearance, Kher aces as Manmohan Singh, while Akshaye Khanna plays the role of Sanjaya Baru, who was Manmohan Singh's media advisor from 2004 to 2008. The film's plot is narrated through Sanjaya Baru's character.'The Accidental Prime Minister' delves into the internal politics of the Congress party and how Manmohan Singh handled the situations. The trailer also features Aahana Kumra as Priyanka Vadra, Arjun Mathur as Rahul Gandhi, and Suzanne Bernert as Sonia Gandhi.'The Accidental Prime Minister' will hit the screens on February 11.The film is based on Sanjay Baru's memoir of the same name that was released in 2014
---
Deepika Padukone moonwalks into 30 mn followers on Instagram
NEW DELHI:MMNN: 28 December 2018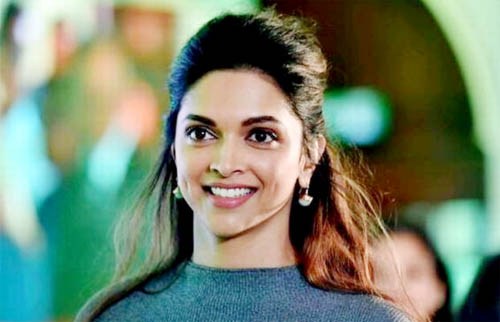 New Delhi, Bollywood's leading lady Deepika Padukone has thanked all her fans as she clocks 30 million on Instagram. Deepika took to her Instagram and shared a video moonwalking to thank her fans, "moonwalking into #30million Thank You for the love!!!" One of the most followed women not only in India but also in Asia. Deepika Padukone commands the love from her fans across the globe. Deepika who has had an eventful year ends the year with a bang with major accomplishments in the month of December. Recently, Deepika also reclaimed her status as the 'Sexiest Asian Woman' of Asia. Second time in three years Deepika bags the title published by UK based newspaper, 'Eastern Eye'. After shining as one of the 100 most influential people, now the actress has emerged as the only female actress in the top five on Forbes Celeb 100 which was unveiled recently. Deepika graced the last cover of the year for GQ magazine and completely slayed on the cover making heads turn.The actress has not only won hearts of the audience with her award-winning performance in 'Padmaavat' but also emerged as the first actress to headline a 300 crore film. Deepika commands the title of being of being the most commercially viable actress in the industry, in addition to being the highest paid actress. On the work front, Deepika will be next seen in Meghna Gulzar's next based on the life of acid attack survivor Laxmi Agarwal.
---
Salman Khan's 53rd Birthday Party: Katrina Kaif, Sonakshi Sinha, Jacqueline Fernandez, Mouni Roy And Others Make It A Dabangg Night
NEW DELHI:MMNN: 27 December 2018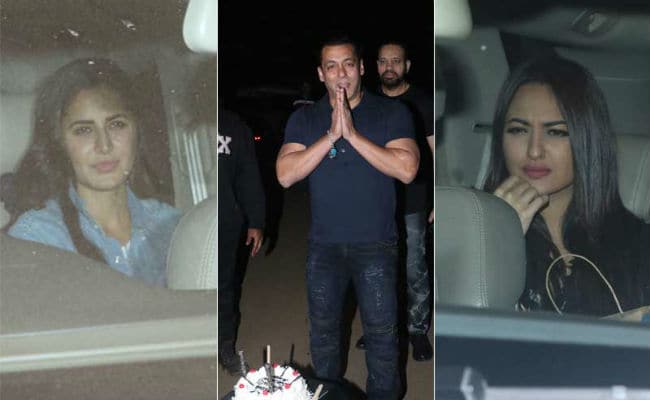 Salman Khan partied with his family and colleagues like Katrina Kaif, Jacqueline Fernandez, Sonakshi Sinha, Mouni Roy, Kriti Sanon, Warina Hussain, Anil Kapoor, Dia Mirza, Bobby and Tania Deol, Sanjay Leela Bhansali and many others at his farmhouse in Panvel on the eve of his 53rd birthday. A string of celebrities attended the party and were pictured arriving at the venue. Salman looked dapper in a blue tee and jeans and came out to meet the media and also cut his birthday cake. Apart from these celebrities, actors like Zaheer Iqbal, Vatsal Sheth and Ishita Dutta, Anup Soni and Juhi Babbar were also there. We also spotted Salman's sister Arpita Khan Sharma, her husband Aayush Sharma and son Ahil, brother Sohail Khan, nephews Nirvaan, Arhaan and others at the party. Arbaaz Khan came with rumoured girlfriend Giorgia Andriani. Salman Khan has been hosting his birthday party in Panvel for several years now for his family and close friends. On the work front, he is busy with the work-in-progress film Bharat, co-starring Katrina Kaif. Bigg Boss 12, the reality show which he hosts, ends on December 30.
---
Inside Salman Khan, Kareena Kapoor, Gauri Khan, Shweta Bachchan Nanda, Malaika Arora's Christmas Celebrations
NEW DELHI:MMNN: 25 December 2018

Bollywood celebrities were busy partying on Monday night as Anil Kapoor hosted his birthday bash, Karina Kaif called over her friends for a house party while Sunny and Anu Dewan hosted a party on the Christmas Eve too. This is the story of Sunny and Anu Dewan's party, for which the creme de la creme of Bollywood turned-up in their festive best. Salman Khan, Kareena Kapoor, Karisma Kapoor, Gauri Khan, Shweta Bachchan Nanda, Malaika Arora, Arjun Kapoor, Karan Johar and Zoya Akhtar among others arrived in time to ring in Christmas together. Malaika, Karisma and Bhavana Panday looked fabulous dressed in their respective glittery outfits while Kareena, Shweta and Gauri opted for no-bling chic ensembles. Their fashion choices were impeccable to say the least. Take a look at who wore what at Sunny and Anu Dewan's party last night. Kareena paired a tank top with trousers and she finished out her look with minimal make-up and a top-knot. Karisma's sequinned dress was in sync with the festive colours of Christmas. Malaika Arora wore a slivery shimmer pant suit with matching glittering heels to the party. Malaika and Karisma were also spotted in the same outfits at Anil Kapoor's birthday bash. We would have almost missed Kareena Kapoor had it not been for celebrities' Instagram stories (thank you, Zoya and Amrita Arora). Gauri Khan carpooled with Shweta Bachchan Nanda and Zoya Akhtar. Shweta paired a loose trouser with blazer and tee while Zoya paired her floral printed dress with a leather jacket. Amrita looked quite nice in an off shoulder black dress with a Gucci belt as her basic accessory. Ankle-length boots and a monochrome clutch finished out her look The men at the party looked quite dapper too. Karan Johar added a little bling to his all black look with a sequin-motif blazer. Salman Khan was in his usual Being Human tee and denims. Salman, who was also spotted at Katrina Kaif's party on the same night, was travelling with Iulia Vantur. Designer Kunal Rawal was also among the attendees That's what a glam Bollywood pre-Christmas party looks like, folks!
---
Sunburn Arena to host Jonas Blue in India for debut showcase
NEW DELHI:MMNN: 23 November 2018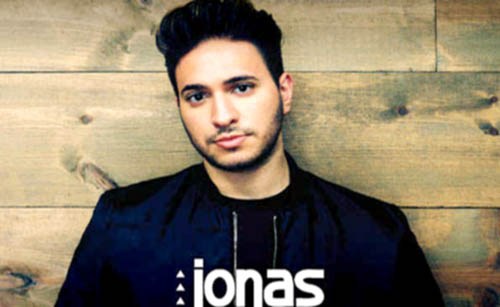 New Delhi, Multi-platinum-selling and Brit Award-nominated hit maker Jonas Blue has taken the music industry by storm in a short span of time. The critically acclaimed prodigy known for his cleverly crafted dance/pop sensibilities will be seen performing live on December 13 in Mumbai. The UK's biggest global breakthrough artist will make his grand debut in India with Sunburn Arena at Universal Square, High Street Phoenix, Mumbai. Jonas Blue has been on constant tours around the world since the release of his trop-house take on Tracy Chapman's classic song 'Fast Car' and has made numerous festival appearances. Jonas' rapid rise into the mainstream has allowed the DJ, producer and multi-instrumentalist to establish himself as one of the most talented and well-rounded artists to come out of the UK in recent times, having sold more singles in the UK in 2016 than Clean Bandit, Ellie Goulding, Olly Murs & Zayn Malik. Armed with these monumental achievements, the eagerly awaited performance presented by Sunburn Arena is set to shine a spotlight on Jonas' meteoric rise. Karan Singh, CEO, Sunburn said, 'Jonas Blue enjoys a robust following in India and has always wished to tour the sub continent. We are extremely delighted to curate his first ever India tour and bring his wide spanning hits to the local audiences. The tour is our endeavour to reach out to a more diverse audience and offer a world class music experience.' 'I wanted it to be special the first time I came to India, this felt like a special show with some other great acts and it was on my list of countries to visit this year so had to get the show in before the end of the year! I'm really looking forward to enjoying the local culture and food and also visiting the Taj Mahal ! I always try and make my shows special and unique, the Indian fans can look forward to some fresh exclusive tunes and brand new visuals,'Jonas Blue said. The event is partnered by Zee5, Britannia, Fasttrack, and Good Time partner Kingfisher Packaged Drinking Water in-association with Skybags, Spice Jet, Magic Moments Music Studio, Bourbon, Little Hearts, Captain Morgan Cola, Havmore, Fashion Partner Shein, Ola and Tinder.
---
Big B receives Sayaji Ratna Award in Gujarat, recites father's poem 'Agnipath'
NEW DELHI:MMNN: 22 November 2018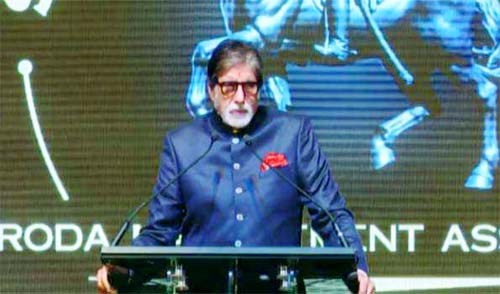 Vadodara, Super-star Amitabh Bachchan, who was conferred prestigious Sayaji Ratna Award by the Baroda Management Association, here today remembered his parents especially father and legendary poet Harivansh Rai Bachhan and also recited his famous poem 'Agnipath' on the occasion. He also appealed the younger generation to respect their parents saying that he felt immense pain and disturbed when he hears that parents were being thrown out of home and sent to old-age homes. 'I am here because of the blessings of my parents. Everyone should respect one's parents,' he said. He also reminisced many of his memories with his father including during school and college days.He also said that his father had decided to name him 'Inqalab' before his birth as his mother had participated in a quit India rally in his native city of Allahabad in 1942 but he was named Amitabh on the suggestion of famous poet Sumitranandan Pant.He said that he got many life-mantra from his father whom he fondly called Babuji. In the end he recited poetry Agnipath saying that he drew inspiration from it whenever felt down and depressed. The award recognizes and acknowledges living legends of India, for their iconic character and outstanding contribution in the field of Business, Sports, Arts, Humanity, Education, Governance or Medicine. He is the third personality to receive this prestigious award. The 1st Sayaji Ratna Award was presented to N. Narayana Murthy (Founder, lnfosys Ltd. in 2013) and the 2nd was presented to Ratan Tata, Chairman of TATA Group in 2015. This time it was decided to confer the award to a person of eminence from "Arts & Culture". The Award Jury noted Amitabh Bachchan's key contribution in promoting various social cause, inspiring millions of artists across the globe and establishing highest standards of excellence. Jury also felt that he is an institution himself and hence this award.
---
Sabyasachi's 'Head-To-Toe' Oopsie: Deepika Padukone's Wedding Saree Was Actually From
NEW DELHI:MMNN: 21 November 2018

Dressing celebrities getting married is turning out to be something of a PR problem for designer Sabyasachi Mukherjee. After being called out last year by Anushka Sharma's wedding photographer for not crediting images he used on Instagram, the designer has had to post a clarification of his description of Deepika Padukone and Ranveer Singh's wedding outfits as 'head-to-toe Sabyasachi.' The wedding saree for the Konkani ceremony was not designed by Sabyasachi after all but bought from a local Bengaluru store by the bride's mother, Ujjala Padukone, and then given to Sabyasachi who modified it and added the bridal dupatta and jewellery. In a post on Instagram today, Sabyasachi wrote: "As per Konkani tradition, the bride's saree is gifted to her by the mother for the wedding. Deepika's wedding saree was given to us by her mother Mrs Ujjala Padukone. We have just received information that the saree was bought from Angadi Galleria, Bengaluru and we would like to them due credit for the same." The comments thread on the post has exploded and is divided three ways between those applauding Sabysachi for posting the clarification, those savaging him for not having credited the local store earlier, and those defending the designer for describing Deepika as a 'Sabyasachi bride' - she still gets to be one because he styled her wedding outfit, Sabyasachi's supporters say. Not everyone has been so forgiving. "You may not know who it was from before, but you surely knew it wasn't your own. And for days it's gone out from your profile and seen as yours," an Instagram user wrote. Another comment read: "First to post; last to acknowledge." Angadi Galleria, the store the saree was bought from, do not hold a grudge against Sabyasachi, however. They wrote: "Thank you very much for clarifying." During Anushka Sharma and Virat Kohli's wedding in December 2017, Sabyasachi's team left out picture credits from their posts on Instagram, for which the photographers called them out. Sabyasachi also prompted outrage last year after shaming women who don't know how to drape sarees. Deepika Padukone and Ranveer Singh's wedding ceremonies concluded in Italy on November 15. The couple returned to India over the weekend and they are currently in Bengaluru, where the Padukones are hosting a reception for the newlyweds tonight. Deepika and Ranveer will also host a reception for their Bollywood colleagues on November 28.
---
Anushka Sharma unveils her wax figurine at Madame Tussauds Singapore
NEW DELHI:MMNN: 20 November 2018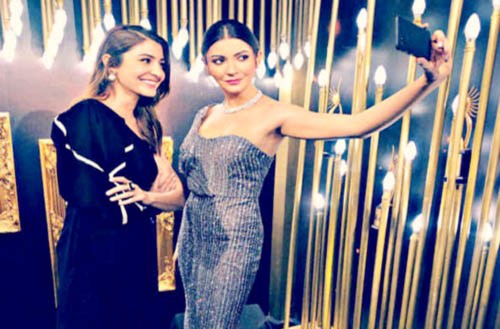 New Delhi, Bollywood actor Anushka Sharma is a global brand now and Madame Tussauds, Singapore stamped it by unveiling her wax figure on Monday. Given her popularity across countries, the wax museum at Singapore unveiled her first ever interactive wax statue that will vow the visitors. Anushka's life-like figure holds a phone personally inviting visitors to snap a selfie with her, which can be digitally shared with friends and family. She will be the first wax statue in the Singapore museum with this feature. Anushka joins Bollywood celebrities like Shah Rukh Khan, Amitabh Bachchan, among others by enlivening the feel and experience of awards' ceremonies like the IIFA for their fans by bringing it live in the museum itself.
---
KGF' ode to Salim Khan, Javed Akhtar's cinema
NEW DELHI:MMNN: 19 November 2018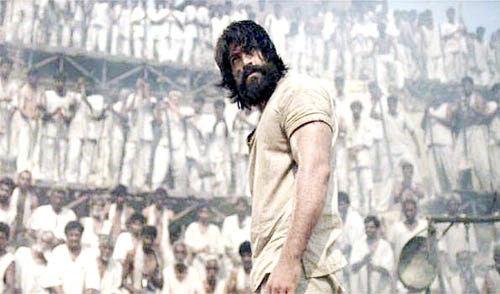 New Delhi, Actor Yash starrer 'KGF' is an ode to Salim Khan and Javed Akhtar's cinema of 1970's.Like many of Salim-Javed movies of the 1970s starring Amitabh Bachchan, 'KGF' traces the journey of Yash from his childhood. Excel Entertainment's most ambitious project 'KGF' is set against the backdrop of the Kolar Gold Fields in Karnataka.'KGF' showcases the story of Rocky (Yash), who aims to win the world and conquer the bloodiest gold mine. It is a period drama that traces the history of gold mining and the mafia running it in the generous fields of Karnataka's Kolar region. The film is made in five languages, namely Kannada, Tamil, Telugu, Hindi and Malayalam. The magnum opus traces the period of the glory of the gold mine and gives insights into the history of the mines located in Karnataka. Starring Yash, Srinidhi Shetty, Ramya Krishna, Ananth Nag, John Kokken, Achyuth Rao in the lead, 'KGF' is a Homabale Films production directed by Prashanth Neel, produced by Vijay Kiragandur. 'KGF' would mark Excel Entertainment's first Kannada venture and the production house is elated to be associated with a mega ambitious project as such. The period drama traces the tenure of late 70s and will be made in two parts. The first of which will be titled 'KGF Chapter 1' which is slated to release on December 21.
---
Kedarnath' makers release new song 'Sweetheart'
NEW DELHI:MMNN: 16 November 2018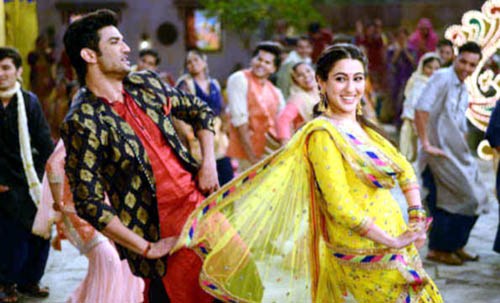 New Delhi, The makers of 'Kedarnath' have treated the audience with the second song from the film titled 'Sweetheart'. The celebratory song features Sushant Singh Rajput and Sara Ali Khan shaking their legs on the peppy beats. Set in the mood of a wedding ceremony, 'Sweetheart' has Sushant wooing Sara Ali Khan as he dances in the celebration. Composed by Amit Trivedi, the song is penned by Amitabh Bhattacharya and crooned by Dev Negi. Dressed in traditional attires, both Sushant and Sara Ali Khan brighten up the screens with their refreshing chemistry. Looking breathtakingly beautiful, Sara Ali Khan showcases a glimpse of her dancing skills for the first time. While the teaser set the mood for the romantic tale based amidst the tragic floods of Uttarakhand, the first song 'Namo Namo' took the audience on a pilgrimage trip to the holy temple. The trailer received an exceptional response from the audience across quarters owing to the gripping storyline and crackling chemistry of the leading duo. 'Kedarnath' is an eternal love story set in the backdrop of the flash floods that wrecked the temple town in the June of 2013. It is a potent combination of love and religion, passion and spirituality. The floods that took the lives of over a hundred thousand people is a powerful backdrop for this epic love story. 'Kedarnath' marks the debut of Sara Ali Khan and also presents the second association of Abhishek Kapoor with Ronnie Screwvala along Sushant Singh Rajput after 'Kai Po Che'. Produced by Ronnie Screwvala's RSVP and Abhishek Kapoor's Guy In the Sky Pictures, 'Kedarnath' is directed by Abhishek Kapoor and is slated to release on December 7.
---
Karan Johar Sipped Koffee With Kajol And Ajay Devgn And 'All Is Well'
NEW DELHI:MMNN: 15 November 2018

One would expect a big bang after putting Kajol and Ajay Devgn together on Karan Johar's Koffee couch, but the actress says, "All is well" with a mischievous wink emoticon. The caption could also indicate that 'all is well' between Karan Johar and Ajay Devgn, who featured in headlines after their much-publicised falling out during the promotions of their films Ae Dil Hai Mushkil and Shivaay, respectively, in 2016 (more about that later). The fight also soured Kajol and KJo's relationship, who mended their bond several months later after she called up to congratulate her Kuch Kuch Hota Hai director after the birth of his twins. Kajol posted a BTS video from the sets of Koffee With Karan 6 after filming the episode with her actor husband. The couple and the host looked happy and boy, we cannot wait for this episode to air. In 2016, Ajay Devgn's Shivaay battled Karan Johar's Ae Dil Hai Mushkil at the box office and things got worse after Ajay alleged Karan was paying for good reviews of his film. Kajol had supported Ajay at that time. KJo also wrote about the clash and the impact it had on their relationship in his autobiography, titled An Unsuitable Boy. "The problem was actually never between her and me. It was between her husband and me. I felt that she's not going to acknowledge 25 years of friendship, if she wants to support her husband, then that's her prerogative," he wrote. But like Kajol said, "All is well." We hope to see some hilarious and emotional moments in this episode of Koffee With Karan 6.
---
Just Married, Deepika Padukone And Ranveer Singh. 'Badhai Ho,' Tweets Bollywood
NEW DELHI:MMNN: 14 November 2018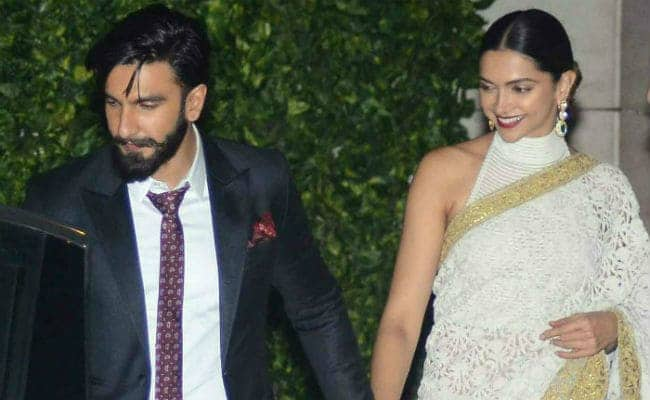 Congratulations, Deepika Padukone and Ranveer Singh. Their South Indian wedding ceremony has concluded in Italy, news agency ANI reports. No pictures are available yet - according to reports, the couple have asked guests not to post any pictures on social media unless approved by them. A second wedding ceremony, reportedly as per North Indian rituals, is supposed to be held later. Filmmaker Karan Johar was the first celebrity to congratulate the newlyweds. "Such a stunning gorgeous and beautiful couple. Nazar utar lo, Deepika Padukone and Ranveer Singh. Badhai ho. Love you both. Here's to a lifetime of love and joy," he tweeted. The wedding, which Deepika and Ranveer announced on their social media accounts last month, was held in Lake Como, Italy. A second ceremony with North Indian rituals will reportedly be held later. The couple are believed to have asked guests to donate to The Live Love Laugh Foundation, which is run by Deepika, in lieu of wedding presents. Pre-wedding festivities began for both bride and groom earlier this month - a Nandi puja was held at Deepika Padukone's Bengaluru home on November 2 and a haldi ceremony for Ranveer Singh in Mumbai two days later. Two wedding receptions have reportedly been planned for the newlyweds once they return from their Italian nuptials - one in Deepika's hometown Bengaluru on November 21 and a grand Bollywood party in Mumbai on November 28. Deepika Padukone and Ranveer Singh are believed to have been dating for some six years and have starred in three films together - 2013's Ram-Leela, 2015 film Bajirao Mastani and the controversial "Padmaavat," which released this year. All three films were directed by Sanjay Leela Bhansali.
---
Thugs of Hindostan' enters the Rs 100 cr club in three days
NEW DELHI:MMNN: 13 November 2018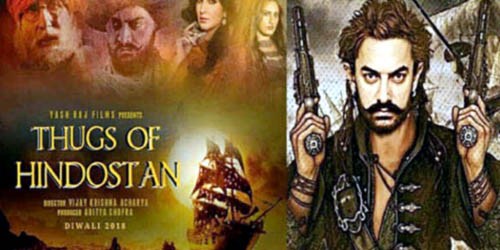 New Delhi, After shattering the record for best opening day figures for a Bollywood film at Rs 52 cr, the Amitabh Bachchan Aamir Khan starter 'Thugs of Hindostan' has now entered the coveted Rs 100 cr club in just three days of its release, trade sources said. Though the film , which witnessed a massive box office opening of Rs 52 crore on Thursday from theatres across India, recorded a further drop in its collections on Saturday, it neverthless earned nearly Rs 23 crore at the box office on its third day, taking its total earnings in the first three days to Rs 103 cr. After its record breaking opening, the film saw a 45 per cent drop in the collections nationwide on its second day on Friday at Rs Rs 28.25 crore nett. Produced by Yashraj films, 'Thugs of Hindostan' features Amitabh Bachchan, Aamir Khan, Katrina kaif and Fatima Sana Sheikh in key roles. The film, directed by Ali Abbas zafar. , released on November 8 on 5000 screens across India.
---
Thank god its broadway, not a gym: Mahesh Babu,' Says Will Sue'''
NEW DELHI:MMNN: 2 November 2018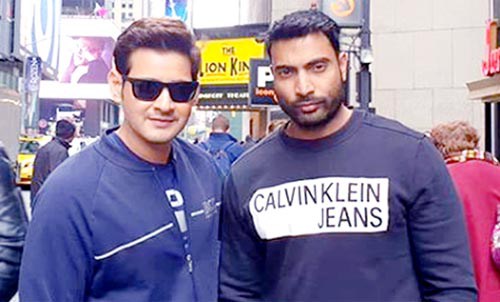 New Delhi, Superstar Mahesh Babu who is currently in the US training for his next 'Maharshi', posted this news by sharing a picture with his trainer. The actor took to his social media and shared a picture with his trainer where they are standing at Times Square in New York. Mahesh mentioned that Satish is his favorite trainer and he is glad that his training session are broadway and not restricted to the gym. The actor reposted the picture from his trainer's account and wrote, "Back with my favourite trainer @satishparyada 🙂 Thank god its Broadway, not a gym". Mahesh Babu's next 'Maharshi' is already on floors and is scheduled to release in April 2019. After wrapping the Dehradun and Hyderabad's schedule the team has flown to the US for their next schedule. On Mahesh Babu's birthday, the makers revealed first look and teaser where the superstar is seen in never seen avatar in a college look, sporting beard. He looks handsome and is winning our hearts as always.After spending some time with his family in New York, the actor will resume the shooting of the 'Maharshi' soon.
---
Vikas Bahl Accuses Anurag Kashyap, Vikramaditya Motwane Of 'Professional Jealousy,' Says Will Sue'''
NEW DELHI:MMNN: 10 October 2018

Filmmaker Vikas Bahl, implicated in #MeToo allegations, and his former business partner Anurag Kashyap took the top spot on the trends list today. Mr Bahl has been outed as an alleged sexual predator and Phantom Films, the production house he co-owned with Mr Kashyap, Vikramditya Motwane and Madhu Mantena, has been dissolved. On Wednesday, ANI reported that Vikas Bahl sent notices to Mr Kashyap and Mr Motwane saying he will sue for defamation unless they apologise for their tweets in which they said they believed him guilty of sexual misconduct. Anurag Kashyap has acknowledged he 'named and shamed' Mr Bahl in film circles. Mr Bahl has accused his former partners of professional jealousy. Earlier today, Anurag Kashyap announced the he is stepping down from his duties as a board member of MAMI Mumbai Film Festival, until is it proved that he was not "complicit in silence" in the Vikas Bahl controversy. As per a Huffington Post India report, the disbanding of Phantom Films is believed to be the endgame of an investigation launched against Mr Bahl based on sexual harassment allegations levelled by a former colleague. On the other hand I vehemently deny to have stayed silent on the issue & not doing anything about it for years. Can't explain further to people who don't understand due process, legalities. Have been resilient through all accusations , keep flinging them my way. The report revealed that Anurag Kashyap played a crucial role to ensure Vikas Bahl was held accountable for his alleged actions. However, the piece was also critical of Mr Kashyap's way of handling the matter, including the delay in calling Vikas Bahl out. In a series of tweets, Mr Kashyap denied being a silent spectator in the case and said he did all he could, including 'naming and shaming' Vikas Bahl, but admitted he had been 'ill-advised' on legalities. After the aforementioned HuffPost expose, both Anurag Kashyap and Vikarmaditya Motwane shared their statements on social media, in which they explained that the partnership contract didn't allow them to fire Vikas Bahl. Here are the previous statements issued by Anurag Kashyap and Vikramaditya Motwane: Since the HuffPost expose, three actresses, including Vikas Bahl's Queen actresses Kangana Ranaut and Nayani Dixit, have accused him of sexual misconduct. Recently, actor Imran Khan also told Indian Express that "everybody in the industry knew about Vikas Bahl's behaviour." Vikas Bahl has also reportedly been taken out from the promotions of Super 30 and he has been ousted from Kabir Khan's work-in-progress '83. Super 30 lead actor Hrithik Roshan has also promised to take "stricter actions" against the filmmaker "if need be." After the #MeToo movement knocked on Bollywood's door, several prominent members of the film industry, including actors Nana Patekar, Alok Nath and Rajat Kapoor, singer Kailash Kher and poet-lyricist Vairamuthu, among others, have been outed as alleged sexual predators. Top film bodies have promised to take proactive measures based on the #MeToo stories. The Indian Film And Television Directors' Association or IFTDA on Tuesday sent a show-cause notice to Vikas Bahl. Meanwhile, the MAMI film body has dropped two films from its line-up - one is Kadakh, which stars actor Rajat Kapoor, who recently apologised after twosexual harassment allegations. The other film is Chintu Ka Birthday, produced by AIB, which has been deeply implicated in #MeToo allegations. Former AIB member Utsav Chakraborty has been accused by women of sending them perverse texts while Gursimran Khamba has been accused of harassment. AIB co-founder Tanmay Bhat, who acknowledged that he knew of Utsav's alleged misconduct and did nothing, has 'stepped away' from the collective.
---
Actor Rajat Kapoor, Accused Of Harassing 2 Women, Apologises For Causing 'Pain, Hurt, Trauma'''
NEW DELHI:MMNN: 8 October 2018

Actor Rajat Kapoor is the latest film industry member to be called out for alleged sexual harassment on Twitter with two women accusing him of inappropriate behaviour and has apologised for 'having slipped.' The accounts were sent to journalist Sandhya Menon, who has been posting #MeToo stories of her own and some sent to her by women who do not want to be identified. One, a journalist, details a telephonic interview in which Mr Kapoor allegedly asked her if she was "as sexy as (she) sounds" and "tell me your vital stats." The second, an assistant director, reveals that the actor allegedly asked her to shoot with him in an empty house and would call her incessantly from actor Saurabh Shukla's phone. On Twitter, Rajat Kapoor posted this: "All my life I have tried to be a decent man, to do the right thing. If however, I have slipped and through my actions or words caused pain or hurt or trauma to absolutely anybody, please accept my apology. I am sorry from the bottom of my heart - and sad that I was the cause of this hurt to another human being. If there is one thing more important to me than even my work, it is to be a good human being. And I have tried to be that person. And now, I will try harder." Here's what Rajat Kapoor, who is a familiar face from films such as Monsoon Wedding and Kapoor And Sons, tweeted: Sandhya Menon's tweet, in which the second woman also says she suspects Saurabh Shukla was complicit: India finally seems to be having its #MeToo moment after Tanushree Dutta accused Nana Patekar of sexual harassment anew two weeks ago. Ms Dutta was allegedly harassed by Mr Patekar on a film set 10 years ago and her complaint to a film body went ignored. Now, not only is she being heard, Twitter has exploded with men from the media and other industries being outed as predators. Sandhya Menon is one of the women leading this charge. Queen director Vikas Bahl has also been accused of sexual misconduct and inappropriate behaviour by three women, one of them actress Kangana Ranaut. Phantom Films, the production house he co-owned with Anurag Kashyap, Vikramaditya Motwane and Madhu Mantena, has been dissolved. Mr Kashyap and Mr Motwane have both tweeted to say they believe Mr Bahl to be guilty of the predatory behaviour he is accused of.
---
Farhan Akhtar's first Hindi single 'Jaane Yeh Kyun Kiya' to release on Oct 5''
NEW DELHI:MMNN: 5 October 2018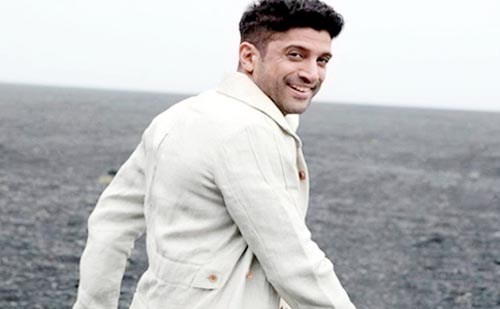 New Delhi, Bollywood's multi-talented star Farhan Akhtar who has time and again impressed the audience with his direction, filmmaking, acting, and singing is currently presenting his fans with back to back musical treats. A few months ago, Farhan Akhtar shared a picture from Iceland where the multi-talented star shot for his first Hindi single in collaboration with Rochak Kohli. Recently, Farhan shared a picture announcing a special surprise for fans. Later, the actor shared a short video crooning a few lines from the song asking the audience to guess the name of the song. The star then shared a picture with scrambled words giving a hint of the song. Titled 'Jaane Yeh Kyun Kiya', Farhan Akhtar's first Hindi single is all set to release on October 5. Besides featuring in the music video the actor has sung the song and has penned down himself. For this single Farhan has collaborated with Rochak Kohli who has produced the song. Making his debut a decade ago as an actor as well as singer with 'Rock On', Farhan has a number of chartbusters to his credit, including "Rock On", "Socha Hai", "Tum Ho To", "Pichle Saat", "Senorita"and "Dil Dhadakne Do". Earlier this year, Farhan sung his first Telugu song, "I Don't Know" for Mahesh Babu's political-thriller, Bharat Ane Nenu. The fast-paced catchy number introduced Mahesh Babu's character. On the work front, Farhan Akhtar is gearing up for his upcoming 'The Sky Is Pink' where the actor will be starring alongside Priyanka Chopra after 'Dil Dhadakne Do'.The multi-talented star will also be presenting 'Gully Boy' next year.
---
Tanushree Dutta Gets Legal Notices From Nana Patekar, Vivek Agnihotri; Calls It 'Price For Speaking Out''
NEW DELHI:MMNN: 4 October 2018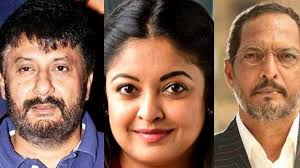 Tanushree Dutta has received two legal notices from Nana Patekar and filmmaker Vivek Agnihotri respectively, reports news agency ANI. Ms Dutta called it 'the price for speaking out against harassment.' The 34-year-old actress has accused Nana Patekar of harassing and threatening her on a film set a decade ago; Vivek Agnihotri allegedly told her to strip off camera for a scene while filming 2005 movie Chocolate. A lawyer for Nana Patekar, currently filming Housefull 4 with Akshay Kumar in Jaisalmer, said last week that a legal notice had been sent to Tanushree Dutta demanding she apologise. Ms Dutta said then she had not received the notice. Today, she said in a statement, "I have been slapped with two legal notices. One from Nana Patekar and another from Vivek Agnihotri. Both their teams are on a smear campaign against me by constructing outright lies and misinformation on social media platforms and other public platforms," Tanushree Dutta said in a statement, ANI reports. "This is the price you pay for speaking out against harassment, humiliation, and injustice in India," she added. Like Mr Patekar, Vivek Agnihotri has denied the allegations against him. His lawyer Nidhish Mehrotra said that they have sued the actress on the charge of defamation, reports PTI: "The allegations levelled against my client Vivek Agnihotri by Tanushree Dutta for misbehaviour and/or harassment are absolutely false, frivolous and vexatious. These allegations are deliberate and have been borne with an intent to attract publicity and wreak personal vendetta against my client with mala-fide intentions. On the instruction of my client, we have served a legal notice to initiate defamation action against her." A film industry member who worked on Chocolate as associate director has defended Mr Agnihotri in a long Facebook post suggesting that Ms Dutta is not credible because she had 'major mood swings' and couldn't 'understand commands and instructions' on set. Tanushree Dutta has also alleged that she has been getting violent threats from the Maharashtra Navnirman Sena (MNS) and that two people recently tried to barge into her home. The Raj Thackeray-led MNS is the same political outfit allegedly involved in vandalising Tanushree Dutta's van and car when she had opted out of the 2008 film (Horn 'Ok' Pleasss) in question. Violent threats are being issued against me by the MNS. Today, while I was at home and the police personnel posted outside my home were on a lunch break two unnamed suspicious individuals tried getting into our home uninvited but were stopped just in time by security personnel. I'm being threatened to be dragged to the court and legal system of India as we all know can keep a woman and her supporters as well as media silent on the pretext of 'matter sub judice'," Tanushree Dutta said, ANI reports. On Wednesday, MNS also handed over a letter to the makers of the reality show Bigg Boss 12 on their set in Lonavla, threatening violence if Tanushree Dutta participates. Bigg Boss 12 is hosted by Salman Khan, who, when asked about the Tanushree Dutta and Nana Patekar controversy, had said, "I'm not aware of this, my dear. Let me know and understand what is happening..." Meanwhile, the Aashiq Banaya Aapne actress told ANI, "Court cases can run for decades without a hope for a conclusion. In the end, an empty shell remains with broken hopes. A life wasted, defeated- this is the age-old saga of survivors in our nation." Nana Patekar, accused of harassing Tanushree Dutta while filming a song sequence in 2008 and then sending political thugs after her, was defended yesterday by Maharashtra Home Minister Deepak Kesarkar who told the media that the actor "is also a social activist who has done tremendous work for the state. You just cannot level allegations against anybody." While several film industry members have publicly supported Tanushree Dutta - many of them citing an eyewitness account from a female journalist who said she was on set Mr Patekar allegedly harassed the actress - actors such as Amitabh Bachchan, Salman Khan and Shakti Kapoor have made headlines because of their poor responses to the controversy.
---
Aamir Khan's Thugs Of Hindostan Look Reviewed By Twitter. Verdict: Firangi Is 'Desi Jack Sparrow''
NEW DELHI:MMNN: 24 September 2018

Those who were waiting to scrutinise Aamir Khan's look from Thugs Of Hindostan is making 'Firangi' trend on Twitter - that's the character Aamir plays in the movie. A quick glance at Aamir's 'thug' life has reminded Twitter of yet another seafarer - it's none other than Johnny Depp's Jack Sparrow from Pirates Of The Caribbean. Twitter has now assigned Firangi from Thugs Of Hindostan the title of "desi Jack Sparrow", as is mentioned in a few tweets: "There comes desi Jack Sparrow Aamir Khan," reads one while another says Aamir is "Gareebon ka Jack Sparrow." Meanwhile, a fan tweeted: "Meet our very own Jack sparrow. Aamir Khan as Firangi." However, not everybody did let the matter rest after pointing out the similarities. A section of Twitter was clearly not impressed with how Firangi resembles Jack Sparrow. "A child can see similarity between Aamir Khan's character in Thugs Of Hindostan and Jack Sparrow. Excitement gone kaboom. Another copy or as they say 'inspired'," wrote a user. Meanwhile, Twitter will never let a chance to troll a celebrity slip away, which explains the tweets mentioned below. While some may not be impressed with Aamir's new look, many on Twitter are cheering for his unique Thug-special get-up: Aamir Khan's Thugs Of Hindostan co-stars - Amitabh Bachchan, Katrina Kaif, Fatima Sana Shaikh and Lloyd Owen - were introduced in their onscreen characters earlier this week. Directed by Vijay Krishna Acharya, Thugs Of Hindostan hits screens on November 8
---
Stree Movie Review: Shraddha Kapoor, Rajkummar Rao Are Terrific In Madcap Film'
NEW DELHI:MMNN: 31 August 2018

A zany supernatural parable that is both strongly feminist and uproariously funny, Stree, Amar Kaushik's self-assured first feature, delivers shocks and laughs in equal measure. Despite its repeated to-ing and fro-ing between conflicting tones, the horror comedy glides along a firm and steady arc almost all through its runtime of two hours and a bit. The film's fear quotient, like its comic flourishes, varies pretty wildly - in the climatic moments, it even wobbles just a touch - but the sight of fully grown men cowering in panic at the very mention of the spectral figure who gives the film its title is always hilarious, even when it tilts towards the terrifying. The director harnesses his resources to their fullest: the lighting, the camera movements, the sound design and the editing all serve the purpose of heightening the film's seamless tonal duality. It goes repeatedly swings between spine-chilling and hysterical, alarming and absurd without losing its grasp. Stree is a tour de force enlivened enormously by solid contributions from each and every technical department and the superlative turns from the principal actors. The cast is led admirably well by the splendid Rajkummar Rao and that man for all seasons who invariably seems to be a step ahead of the demands of the screenplay - the magnificently malleable Pankaj Tripathi. Filmed entirely on location in Chanderi, Madhya Pradesh, Stree combines the tangibility and the rough and tumble of a real small-town ambience and the flights of fancy of a weird fantasy based, as we are told at the start of the opening credits, "on a ridiculous phenomenon". Written by Raj Nidimoru and Krishna DK (also the film's co-producers with Dinesh Vijan), the script pulls wonderful tricks out of its bag to deliver an unconventional entertainer that uses the devices of Mumbai commercial cinema in ways that turn everything on its head. The hoary town has a dark secret that it wants to forget but can barely live down. This chapter in its long history of patriarchy, misogyny and toxic masculinity - it centres on a beautiful prostitute violently thwarted in her attempt to find true love - lies behind the terror that strikes the hearts of the men of Chanderi during a four-day annual religious festival. So, it is the time of year when the men are either on the run or are forced to hide behind closed doors, not daring to step out of their homes at night. It is a case of a woman getting her own back, and entirely on her own terms. There is no escaping the attention of Stree when she is out to make her ominous presence felt. Every home in this haunted area has "O Stree kal aanaa (O Woman, come tomorrow)" written on its walls with red ink created with special ingredients meant to keep evil away. The vengeful ghost is obviously literate and is very, very civil - a woman, even as a wild wraith, does not believe in using force and waits for the consent of her victims before abducting them, leaving only their clothes behind. She whispers a man's name and as soon as he turns around, she is upon him in a flash. The guy vanishes without a trace Vicky (Rajkummar Rao), a young man famed in the region for his exceptional tailoring skills, works in his father's shop when he isn't gallivanting around town with his two best pals, Bittu (Aparshakti Khurrana) and Jana (Abhishek Banerjee). Their carefree ways are disrupted when a mysterious, unnamed woman (Shraddha Kapoor) appears from out of the blue and sweet talks Vicky into agreeing to stitch a lehenga for her in two days flat. I want to wear it on the last day of the festival, she says. The guy, on his part, falls head over heels in love with the light-eyed lass. There is more to her than meets the eye, Bittu warns Vicky. But Jana eggs him on - with disastrous results Bittu's fears are strengthened when the town's resident know-all Rudra, a bakwaas baaton ka expert who owns a pustak bhandar, reminds Bittu and Jana of the legend of the avenging spirit on the loose and tells them what they need to do to ward her off. But that is easier said than done. It is hunting season for the wandering spirit and the men resort to desperate measures to stay out of harm's way. This construct is as crazy as it is comical, but the director injects just the right dose of goofiness to make it all consistently quirky and playful. The quality of the performances that Kaushik extracts from his actors lends Stree infectious flounce. Rajkummar Rao is terrific. Whether he is flummoxed, frightened or simply going along with the flow, he delivers with minimum apparent effort. Shraddha Kapoor is suitably icy as the enigmatic woman who traipses into the protagonist's life and sets off the tremors. Aparshakti Khurrana, full of beans, steals many a scene. Abhishek Banerjee delivers a high-energy yet controlled performance as the friend who suffers the most at the hands of the eponymous ghost. Pankaj Tripathi is in cracking form, giving the narrative a booster-charge whenever he is on the screen. Atul Srivastava in the role of Vicky's father leaves an impression in the handful of scenes he has in the film. Stree plays an unwavering hand in demonstrating that dread can be unbridled fun when it serves a larger thematic purpose. Go watch this spine-tingling film. It is completely madcap but there is method in its manic madness
---
A R Rahman, Tabrez Noorani come together for 'Love Sonia'
NEW DELHI:MMNN: 29 August 2018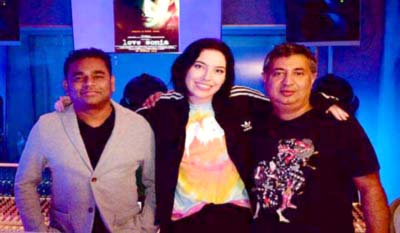 New Delhi, After previously collaborating on Slumdog Millionaire filmmaker Tabrez Noorani and Grammy Award-winning composer A R Rahman have come back together for Noorani's directorial debut 'Love Sonia'. Mr Rahman along with breakout artist Bishop Briggs will record new song entitled I Am More for the film. The song is penned by Rianjali.Its round two for director Tabrez and Rahman, the two have previously worked together for the film 'Slumdog Millionaire' (2008). Rahman's work gained him even more global prominence with the extraordinary success of his score for the film. Rahman will create the song along with young American-British singer Bishop Briggs who is best known for her popular single River. I have known Tabrez since 'Slumdog Millionaire and then we went on to work on a couple of other projects. With this, he makes his directorial debut and I'm happy for him because projects like these happen with a lot of good intention to propel positive changes in the society," Rahman said. It was a pleasure working with Tabrez, Academy nominated producer David and the talented artist Bishop Briggs for the song 'I Am More'," Rahman added. I Am More is truly magical and sung powerfully by Bishop Briggs. Its a wonderful combination of ARs Indian aethetics and the powerful voice of emerging international star, Bishop. Working with AR finally as a director was such an enriching experience, after hearing about various Directors talk about what it was like to work with him," Tabrez said. He is truly a genius, understated, humble and so sensitive when it comes to representing the matter of the film. It was a truly unique experience to work with both AR, Bishop and Rianjali who wrote a truly beautiful song. I can't wait for people to hear it," Tabrez added.
---
Lakme Fashion Week: Esha Deol Walks Out After Being Interrupted By Organisers
NEW DELHI:MMNN: 28 August 2018

Hema Malini and her daughter Esha Deol walked the ramp for designer Sanjukta Dutta over the weekend at the Lakme Fashion Week in Mumbai. After the ramp walk, the mother-daughter duo, wearing beautiful Assamese silk saris, interacted with the media backstage, wherein Hema Malini spoke about their outfits and Esha's upcoming film Cakewalk. As soon as she handed over the mic to Esha, the anchor interrupted and categorically mentioned that it's not a media interaction but a photo op and asked the designer to take over. In the videos going viral on social media, Esha Deol, visibly upset, walked off, followed by mother Hema Malini. Walking the ramp with my most comfortable partner my mother Hema Malini for the awesome talented designer Sanjukta Dutta! Our best wishes to you," Esha had posted after the show. Of making an appearance with Hema Malini at the Lakme Fashion Week, Esha earlier told news agency IANS, "I am very excited to be back on the ramp with my mom Hema Malini for designer Sanjukta Dutta to promote my film Cakewalk, directed by Ram Kamal Mukherjee. The film deals with a certain issue which every women and men in our country will be able to relate." Cakewalk is a short film that tracks the story of a chef Shilpa Sen, played by Esha, who juggles between her professional and personal lives. Esha Deol hasn't made any screen appearance after 2015's Kill Them Young. She is married to businessman Bharat Takhtani. The couple are parents to daughter Radhya.
---
Genius Movie Review: Nawazuddin Siddiqui's Most Forgettable Film
NEW DELHI:MMNN: 25 August 2018

The film is written, directed and produced by his dad Anil Sharma. Utkarsh Sharma's launch vehicle is understandably loaded heavily in his favour. A father's love knows no bounds. The film frequently grinds to a halt to allow papa's boy to launch into veritable monologues. The trouble is that in the end Genius - has a Hindi movie title ever been more presumptuous? - does no real favours to the debutant. By over-burdening the callow actor, this atrociously misshapen film only exposes his chinks. It doesn't help that the acting skills of the female lead (Ishitha Chauhan) is even more rudimentary - she simply doesn't have the chops to push her co-star to excel. The IIT Roorkee girl that she plays goes from uncompromisingly ambitious and snooty to cloyingly lovey-dovey and faithful in next to no time. Wish this insufferably long film - it clocks 165 minutes - had the same pace. The actors are stuck in the innards of a stupendously sloppy screenplay in which anything goes in a way that is reminiscent of the excesses that Bollywood would routinely foist upon audiences in the era in which Anil Sharma began making movies. Utkarsh Sharma, bearing the load of a bloated film, is condemned to mouthing lines like "bachpan hai toh bachpana toh hoga" and "aapke liye toh muft mein bik jaoonga". The former is pearl of wisdom is addressed to his RAW bosses who are exhausted with his youthful enthusiasm, the latter show of generosity is directed at his girlfriend after she enquires if he is free and he responds with "mehenga hoon". That is how smart this young man is. He has mastered both Ved and vigyan (the Vedas and science). He even declares something akin to Garv se kaho hum prachin hai (be proud to be ancient). Nor is that all. In a crucial scene in the second half, having gone rogue, the Indian security agency's hotshot agent corners a compromised minister and crooked RAW official and thunders: This is the business of patriots, yahaan sirf sanskaar hote hain, woh bhi antim. John Abraham's dialogue-baazi in Satyameva Jayate sound extraordinarily good. The writing in Genius is that abysmal. It seeks to turn an ordinary looking, slightly built young man into a destructive, insuperable mean machine endowed with abilities of the body and mind that do not sit pretty on his shoulders. Action hero, super spy, lover boy, computer whiz and an invincible patriot, the male protagonist is a man for all seasons and all reasons. When push comes to shove, the protagonist, Vasudev Shastri, an orphan raised by a Mathura temple priest after the death of his parents in communal rioting, is not averse to feigning insanity. Not that anything he ever does is normal. Right at the outset, after a physically bruising mission in Porbander leaves him with a pronounced limp and tinnitus-induced amplified hearing, is declared "medically unfit to be in the secret services", he is dismissed as delusional. He could be brain-dead soon, the doctor rules. Well, well, isn't the man already a basket case? As he is wheeled into a psychiatric ward for some quick shock treatment, the script intersperses his dramatic convulsions with a love song on a beach. Talk of the lack of dimaagi santulan (mental balance) - the malady afflicts the makers of Genius as much as it does the film's characters. The presence in the cast of Nawazuddin Siddiqui - he dons the guise of a terror mastermind who has an old score to settle with India's national security adviser Jaishankar Prasad (Mithun Chakraborty) and schemes to use the hero to serve that end - makes matters worse. Even at half tilt, Siddiqui operates in a zone entirely his own. Yet, Genius will quickly go down as the most forgettable movie he has ever been in. One cannot but laugh when the younger actor, in a bloodied and badly mauled state, snarls at the baddie: "Tu mujhe rok sakega (Can you stop me)?" No wonder Siddiqui isn't allowed to enter the fray until only a few minutes before the intermission. It is another matter that he, too, cannot do much to salvage Genius. What do you expect a villain to do when he supposed to exude menace by saying "Dhyaan se sun meri baat, nahin maani toh udda doonga sabko" (Listen to me with care, if you do not heed my words, I'll blow everything up?" The film itself needs no help to implode. Its first half is composed of a string of fuzzy flashbacks designed to showcase Utkarsh's range as an actor, a dancer, a campus star, and a combination of a geek and a cool guy. The emotional spectrum of the character is wide indeed, but do not expect a demonstration of a wide gamut of expressions. The performance stays steadfastly rooted in the same place. The second half of Genius is unabashed cinematic poop. It is so asinine that it is hard to believe that in this day and age there still are people in the Mumbai movie industry willing to sink money into such a travesty of an action film. In this maddeningly inept battle of Genius-giri between the good guy and the bad, the deshbhakt and the deshdrohi, the tricolour inevitably gets dragged in a few times. It needs no great intelligence to grasp the sheer shallowness of the posturing. The worse a Bollywood film is these days the more desperate it seems to be to fall back on patriotic fervour as a ploy to gloss over its glitches. But no amount of flag-waving and chest-thumping can deflect from the fact that Genius is an unspeakably shoddy film. Show some self-love and stay away from it. India will take care of itself.
---