Brainpower Club

Forwardindiaforum.org

Think Madhya Pradesh Forum
Agriculture Minister handed over the award to Chief Minister Shri Chouhan
28 March 2023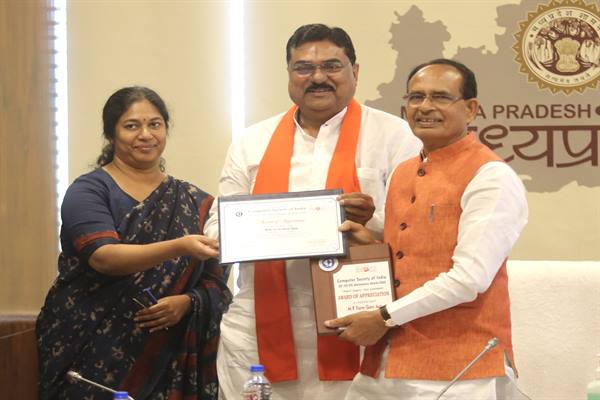 Chief Minister Shri Shivraj Singh Chouhan congratulated the Farmers' Welfare and Agriculture Development Minister Shri Kamal Patel and the Agriculture Department on Madhya Pradesh receiving the award for the Farm Gate App. Today in Mantralaya, Chief Minister Shri Chouhan was met by Agriculture Minister Shri Patel and MD Mandi Board Smt. G.V. Rashmi handed over the award received in Delhi. It is noteworthy that Madhya Pradesh has been awarded the 20th CSI-SIG e-Governance Award-2022 by the Computer Society of India for the Form Gate app in the project category of state governments.

MP. farm gate app

This app is android based application. The farmer can download it for free on his Android mobile. With this, the farmer has been able to sell his produce from his home, barn, godown as per his wish. Along with selling their produce in the market, the farmers have got the freedom to sell their produce sitting at their home at their own price. Madhya Pradesh is the only state in the country to do this. The said system has been highly appreciated by the Government of India. M.P. operated in Agricultural Produce Market Committees of Madhya Pradesh. The Farmgate app was started in 8 mandis of the state Bhopal, Harda, Indore, Dewas, Guna, Sagar, Jabalpur and Satna from August 1, 2022 as a pilot through Android app. Along with this, Ujjain Mandi has been included in the pilot scheme from September 27, 2022. MP. Farm Gate App is being operated in all the 259 Agricultural Produce Market Committees of Madhya Pradesh. 64 lakh quintals of various agricultural produce have been sold by 12981 farmers using the MP Farm Gate app. Direct purchase from the farmers from the farm gate has been done earlier from April 2021 through the Sauda Patrak portal. A total of 91 lakh tonnes of various agricultural produce have been traded till date. Gradually this app is being used by most of the farmers. So far, up to 16 percent revenue has been collected in the market premises by using this app.
---
UMA CELEBRATES 34th FOUNDATION DAY ON 1 ST NOVEMBER 2017.
30 October 2017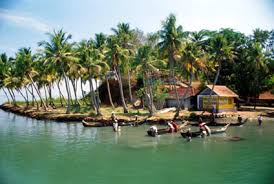 United Malayalee Association (UMA), Bhopal, will celebrate its 34 th foundation day along with Kerala and Madhya Pradesh foundation days which synchronizes with on 1 st November, 2017 at Campion School Auditorium, Bhopal. Upholding the rich cultures and traditions of Kerala and the rights and dignity of individuals from all classes and ages, the program will start with diverse forms of traditional and musical arts of Kerala performed by a group of more than 60 renowned artists from Nirupam Theaters, Thiruvananthapuram. To commemorate the event, a procession comprising drum beats, Kathakali, theyyam, Mayilattam (peacock dance), Martial Arts etc will take place on the same day from ICUF Ashram/Campion School premises and pass through Arera Colony, Bittan Market areas and culminate at Campion School. Dr. Lakshmidasan D.Lit from Kerala will be the Chief Guest, Shri P.P. Varghese, OSD to Finance Minister, Madhya Pradesh, will be the Guest of Honour, President, UMA Mr. C. Ashokan and Shri Thomas Kochupurackal, General Secretary will address the programme..

---
AGM Held AT Greencity
15 December, 2014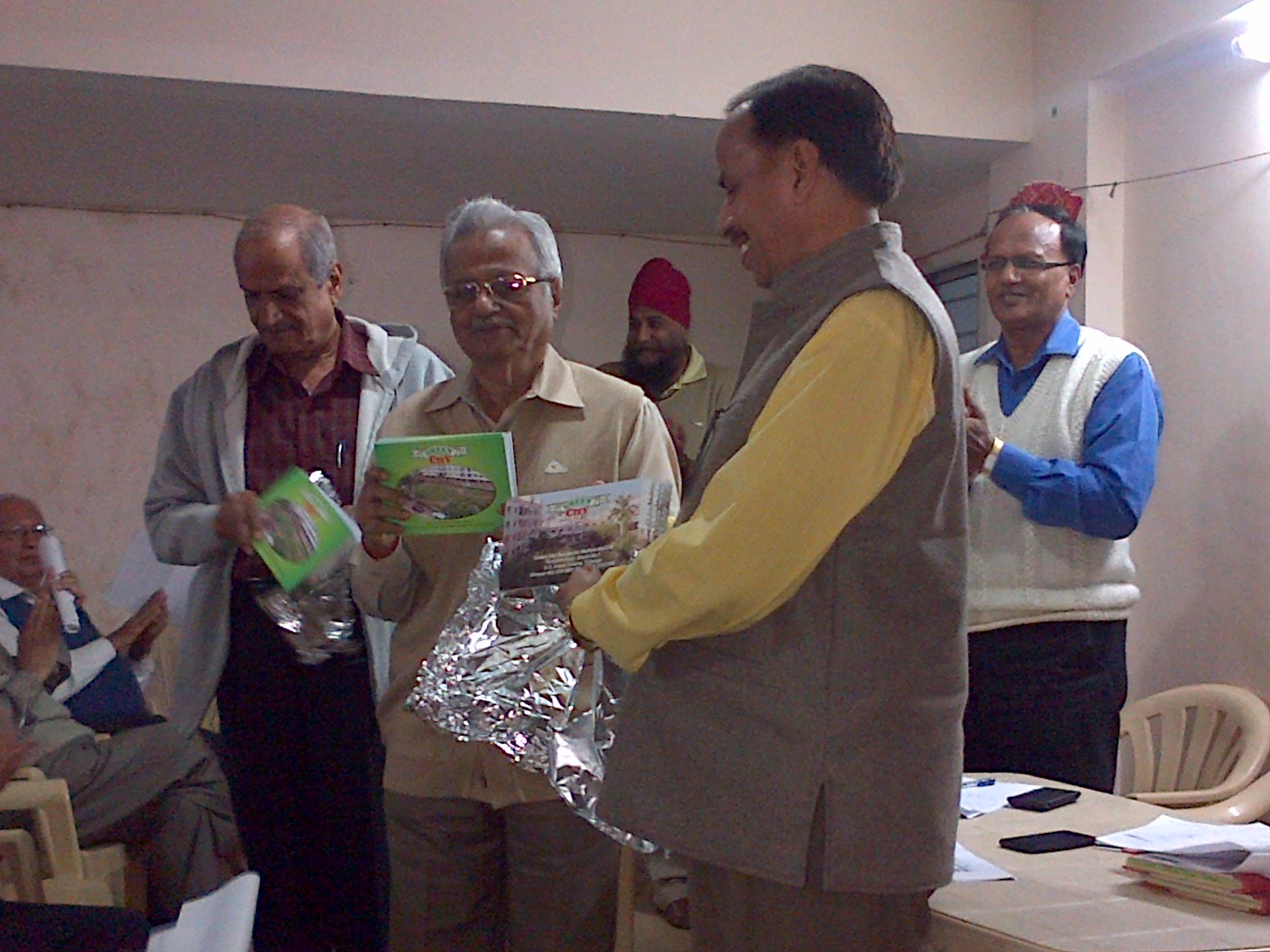 Dr. Verma, President, Greencity Residents Welfare Association, along with two Past-Presidents released the Directory of Greencity at the AGM held on 14 Dec, 2014. Efforts of Mr. Maheshwari, secretary, were lauded by the members.

Major decisions taken
- To install CCTV cameras in the campus
- To have intercoms to directly connect all flats with security
- To display the list of defaulters who have not paid maintaenance charges for along-time.

---
Lions Club Bhopal observed "Lions Sewa Week"
MM Correspondent Bhopal, 6th Oct 2014
Lions Club Bhopal observed "Lions Sewa Week" ( 2nd Oct- 8th Oct) 2014. campaign at Rishabhdev Park, Near Shahpura Lake, Bhopal here today.The campaign aims at introducing the best practices for cleanliness and making Bhopal a greener city.
District Governor and Lions Club Bhopal Members held a broom in their hands as they encouraged everyone to actively participate in the campaign. He urged the members to not just clean their houses while also ensuring that their surroundings are cleaned on a regular basis to get rid of all kinds of diseases, vectors and other problems.
Addressing the function, Lion Dr Prakash Seth , District Governor and Lion Pradeep Karambelkar, Region Chairperson said " Our mission is to keep the Bhopal and its surroundings clean and beautiful. We are confident that this unique initiative will be a great success with the help of public support.We Wish to undertake more public parks for cleaning in coming months.The cooperation of masses is a must to maintain cleanliness. In fact, Lions Club Members have always shown great support for anything we do in this city.We can stay healthy physically and mentally, only by keeping our environment clean.
In addition, the cleaner communities would lead to a more pleasant lifestyle, keep the residents morale high and sickness rate low, thus creating the necessary social conditions for higher economic growth. This campaign will be wide ranging and I am are grateful to my Lions Members for their dedication in promoting this initiative and helping us to take this message across to each and every doorstep.
Yi Bhopal Blood Donation Camp
MM Correspondent Bhopal, 26 February 2013
Yi Bhopal in association with Sant Hirdaram Girls College, Bhopal and Hamidia Government Hospital, organized a Blood Donation Camp, on 26th February 2013. Major participants were the College students. The Girls showed lot of enthusiasm and conveyed through their overwhelming participation that "FEAR" of Blood Donation has only become a myth and there is lot of awareness already about its good results and the small contribution we can make through this little act of ours. Yi members also participated in the camp, contributing their part.

We had over 200 registrations and have collected almost 100 units of blood. This will all help the people in need. Yi members also organized small goodies packet for the participants of the camp.

This camp came in good light and we plan to have more such camps in the coming future.
CII ASCON Survey Addresses Need for Continued Policy Action
MM Correspondent Bhopal, 26 February 2013
The latest CII ASCON survey has brought to light that the economic slowdown is showing no signs of a reversal, considering the low growth rates reported by a large percentage of sectors in the current quarter of January-March 2013. The survey tracks industrial sector growth on a quarterly basis, based on feedback from industry associations.

Commenting on the ASCON report, Dr. R S Goswami, Chairman, CII Madhya Pradesh State Council, said that "Though the figures report a disappointing performance of industrial sectors, the recent government initiatives on policies and softening of core inflation provide reason for optimism. A lot needs to be done on the front of boosting investments and consumption demand, and the Union Budget is coming at an opportune moment to augment policy changes that would provide a thrust to growth"

The survey categorises the growth range in four broad categories, namely excellent (>20%), good (10-20%), low (0-10%), and negative (<0%). Of the 112 sectoral industry associations surveyed, the percentage of sectors reporting "excellent" growth in the current quarter has come down to 2.7% from 6.1% in the same quarter last year. "High" growth reporting sectors have also reduced to 14.3% from last year's 23.5%. Meanwhile, the increase in sectors reporting "low" growth has increased to 65.2% in the current quarter from 52.2% last year.

A majority of sectors in producer goods as well as consumer durables are reported to fall in the "low" growth bracket. This reflects a subdued investment climate along with adverse demand conditions. Segments like earth moving & construction equipment, machine tools, transmission line towers, transformers, textile machinery, motors, tractors and commercial vehicles etc in capital goods sector expect and items like passenger cars, two wheelers, refrigerators, washing machines, air conditioners, TV, Tyres etc in the consumer durables sector are expecting low and negative growth in current quarter.

The alarmingly low growth stem from structural deficiencies accruing from high inflation, escalating raw material costs, high interest rates, tight liquidity conditions, low export levels and an uncertain global economic outlook.

CII stressed on various measures that would be needed to restart the investment cycle. Some of the suggestions include a reduction in policy rates by 50bps, to ease the monetary conditions; pruning non-essential expenditure on subsidies while initiating revenue augmenting measures like disinvestment and unlocking assets of sick PSUs for rapid fiscal consolidation; enhancing depreciation rate on plant and machinery from 15 to 25%, exempting infrastructure and SEZ companies from MAT, fast tracking 50 mega projects and promoting low cost housing to encourage capacity enhancement; and maintain a status quo on customs and excise in the upcoming budget.

Moreover, addressing supply-side bottlenecks in infrastructure, energy, raw materials, agriculture and labour should be high on priority to achieve higher growth rates. The demand side lows also need to be addressed through lower interest rates and schemes like direct cash transfers, MGNREGA etc, suggested the CII ASCON report.

"CII ASCON Survey comes on the heels of economic survey to be tabled in the parliament tomorrow and we're sure that corresponding views will be reflected in the report", said Dr. R S Goswami.
CII's Views on Railway Budget 2013-14
MM Correspondent Bhopal, 26 February 2013
CII has welcomed the Railway Budget 2013-14, which, given the current economic scenario, has proven to be very evenhanded and balanced. With no hike in passenger fares and announcement of 67 new express trains along with 26 new passenger trains, the railway budget has appeased many. Marginal increase in reservation and cancellation charges and supplementary charges for superfast trains and tatkal bookings are expected to make up for some of the revenue losses.

Dr. R S Goswami, Chairman, CII Madhya Pradesh State Council said, "Railways play an integral role in economic growth, and the budget is reassuring in the emphasis on expansion of rail services in terms of reach and frequency. However, we are looking forward to a clearer picture on Public Private Partnerships for the year, which are to raise Rs one lakh crore," With a hike in Diesel prices, the freight rates have been correspondingly increased, while the freight loading traffic has been scaled down because of the economic slowdown. There are a number of welcome facilities being aimed for in the Railway Budget, including SMS alert services, wi-fi facilities in select trains, special train for women, better safety measures, expansion in rail tracks, focus on skill development etc.

However, there has hardly been any thrust from the perspective of Madhya Pradesh. Though there is an introduction of express trains like Bikaner-Chennai Express, Kalka -Sai Nagar Shirdi Express, Hazrat Nizamuddin-Mumbai Express, and Indore-Chandigarh Express to ply through the state, along with a proposed gauge-conversion project on Ratlam-Fatehabad route and surveys for new lines on Astha-Bhopal route and doubling on Satna-Rewa and Mhow-Chittaurgarh, these developments are deemed peripheral.

"There has been no focus on projects like Dahod-Godhra link, which would have facilitated the development of many tribal areas in the state. The lack of provisions for Indore-Manmad corridor and improvement in railway links through Indore is also disappointing, as it is one of the most rapidly developing cities of the state. CII hopes to see an increase in frequency of major trains for passenger and freight traffic in the state over the coming years", said Mr. Ranjan Mimani, Vice-Chairman, CII Madhya Pradesh State Council. The budget has paid due attention to financial viability as well as operational discipline along with adequate focus on passenger amenities and safety, but has been disappointing for the state.
Rotary Club of Bhopal East - Installation Ceremony 08
MM Correspondent Bhopal June 12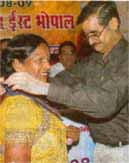 Rotary club of Bhopal East's installation ceremony was held at Hotel Nisarga. Outgoing President Rtn.Palash Surjan handed over the charge to the new President of Club Mrs.Jaya Arya. Mrs. Jaya Arya has been the popular Announcer of the All India Radio. She is also involved with various social activities and is the President of the NGO Shanti Niketan.

On this occasion Rotary Governor Shri.Alok Billore Congratulated Mrs.Jaya Arya and told her that the year 2008-09 should be remembered by the Rotarians as the year of various social activities for the poorest of the society. Mr.Alok Billore also emphasized the need for membership development and retention.

The Chief Guest of the program Mr.Mukesh Nayak has given the message of brotherhood and preached the importance of simplicity and spirituality in life.
BHOPAL MANAGEMENT ASSOCIATION
BUILDING MANAGERIAL EXCELLENCE
In The State Of Madhya Pradesh

In today's rapidly changing environment the need is to improve, impose and inculcate the best practice and ethical values in all professional activity. The professional managers need to constantly evaluate his strength and weakness, his career options, vis--vis opportunities available both from worldly view of success as well as personal view of success. The city of Bhopal is blessed with many engineering colleges, management departments, different types of industries and government departments. But there is no professional association, which can bring the management professionals to a common platform not only to inspire excellence in management education but also to spring board the practicing and potential managers to balance their corporate and social objectives. To fill up this gap a group of professional of the city took up the initiative to from Bhopal Management Association (BMA).
The BMA, a society of management professional of industries, commerce, institute and public has been registered as Bhopal on dated- 22.06.2006 with registrar of societies govt. of M.P. the papers for affiliation to all India Management Association (AIMA) the national body has already been sent and affiliation as expected as any time. The association shall function with the following vision and mission:

VISION
" The city of Bhopal to be a leader in management development movement in the country"
MISSION
" To facilitate individuals organization realizing their potential"

The objectives of the society are as follows:
To promote and develop education of management and related subjects in the city of Bhopal, professionalism in the discipline of management and to provide a good interactive platform to identify skills, pitfalls and opportunities that the management professional face in practical life.
The objective shall be achieved through
1. Discussion forums, expert lecture, research seminars, conference, workshop, training programs, video presentation etc.
2. Collaboration of other educational, research institute/organization dealing with management as discipline and other management association and organization with similar objective.
3. Establishment of library, publishing journal in the field of management, starting news letter and magazines etc.

The association has different categories of Membership such as institutional, individuals, associate, professional individuals, student, NRI and visitors members and the responsibility for managing the association. At present the association is managed by the following adhoc executive committee of founders/ promotes members:

1. President - Shri Bharat Patel - CMD, Sandhya Prakash ltd.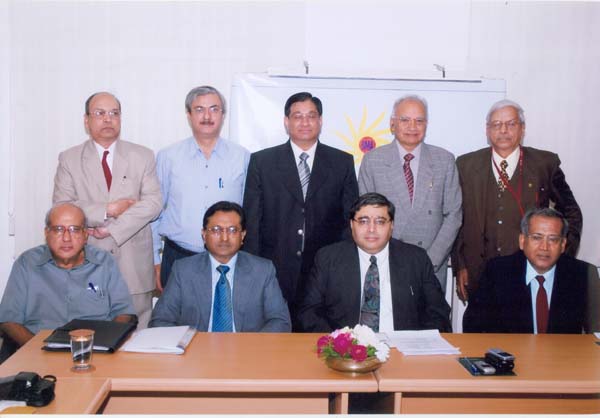 2. Vice President- Shri C. E. Fernandes- CMD, GEI hamon industries.
3. Vice President- Shri Prakash Ramani- CMD, Top & Town.
4. Vice President- Prof. D. K. Bandopadhyay- Director IIFM.
5. Hon. Secretary- Shri P.P. khare- Retd. CGMT BSNL.
6. Jt. Secretary- Shri S Harsh Suhalka- Management Consultant.
7. Treasure- Shri Kanti Gandhi, Chartered Accountant and Financial Consultant.

The other executive members are :
1. Shri Subash Vithaldas. Permali Wallace.
2. Dr. Niraj Kumar. Ayushman Hospital.
3. Col N. P. Dixit, Chairman, Computer Society of India Bhopal Centre.
4. Shri R. H. Gandhi, Executive, Sandhya Prakash.
5. Shri K. L. Thakral, Oriental Group of Institute.

Plan For Immediate Growths:
1. To increase its membership to at least 250 in next two months and ultimately to include all institution, industries dealing with management and management professional of Bhopal.
2. To conduct elections of the executive committee.
3. To establish office of the associations.
4. To start video presentation on topical topics of management.
5. To start lecture series on different aspect of management.
6. To start news letter and magazine.
---
TOP
---