Beetroot Milkshake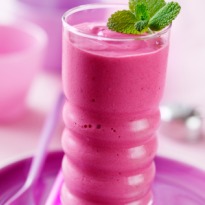 Ingredients:

Beetroot - 1 big (grated)
Milk - 300 ml
Sugar - 4 tsp
Cardamom Powder - a pinch
Whipped cream - (optional)
Ice cream (Optional)
Subja (Basil Seeds) - 1 tsp (soaked in water) *
Method

1. Cook the grated beetroot with 2 cups of water.
2. When it is tender, remove from gas and allow cooling.
3. Blend the same in a mixer/blender nicely.
4. Add the milk, sugar, cardamom powder, whip cream and blend again.
5. Serve chilled with or without ice cream by adding Subja.
Mango Kesari
(Aam ka sheera, Mampazha Halwa)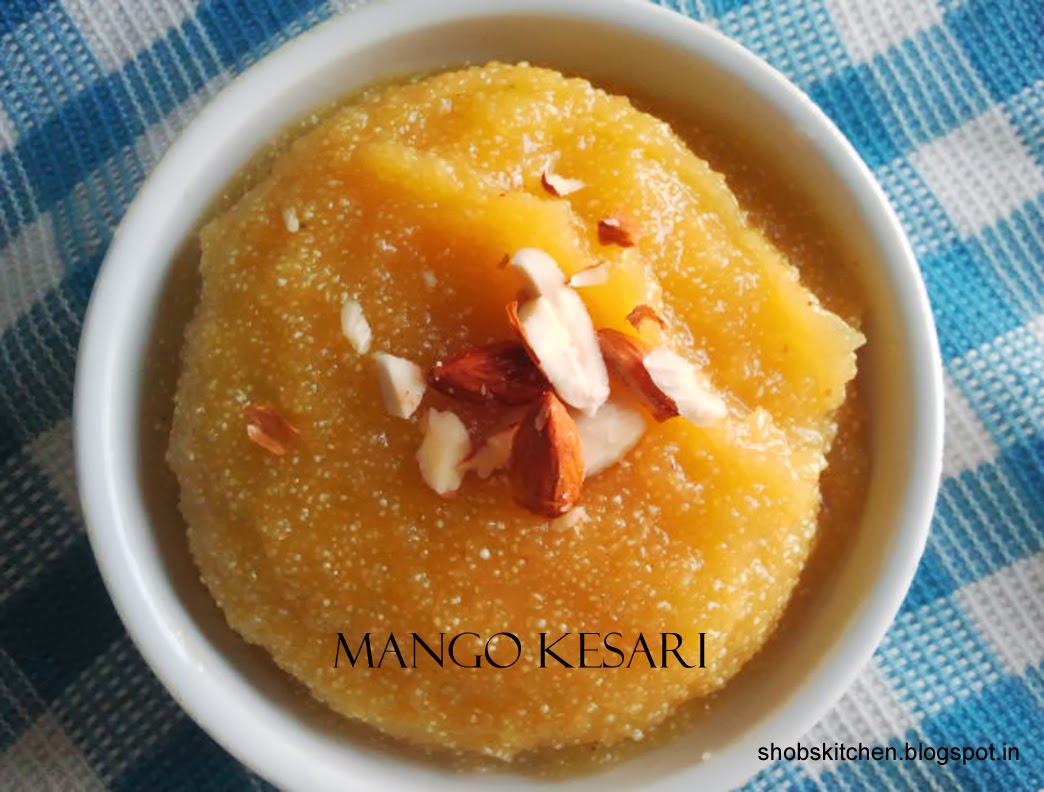 Ingredients:

Semolina (Rava) - 1 cup
Mango Pulp - 1.5 cup (store bought or homemade)
Ghee - 1/2 cup - 1 cup (add according to your health condition and taste)
Sugar - 1 cup (add more if you like it sweeter)
Water - 2.5 cup
Cardamom Powder - 1/2 tsp
Cashews - 1 tblsp
Salt - a pinch
Kesari powder (Orange food color) - a pinch (optional)
Stove top Method

1. Heat 1 tblsp ghee in a heavy bottomed pan and roast the rava till it turns light brown. Do not burn it. You can also use store bought roasted rava.
2. Remove the rava from the pan. Add another tblsp of ghee and fry the cashews till it turns golden brown. Remove it..
3. Add water to the same pan and bring it to a boil.
4. Add the sugar, salt, mango pulp and kesari powder to the water.
5. Slowly add the roasted rava while constantly stirring.
6. Reduce the flame to a simmer. Cover and let it cook for about 5 minutes.
7. Add the ghee little by little and keep mixing till the whole things forms a shiny mass and does not stick to the pan.
8. Add the cardamom powder and roasted cashews and switch off.
Delicious mouth watering mango kesari is ready to serve.
Oven method
- When you are making for a big group this method might be easier. Mix all the above ingredients in a baking dish. Bake it in a 350 degree oven for about 30 minutes. Variations

- You can also make pineapple kesari, strawberry kesari and banana kesari in the same way.







Indian Chilli Chicken Recipe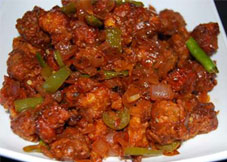 Ingredients:

250 gms boneless chicken breast (cut into 1 inch cubes)
1 egg white
1 tsp salt
4 tsp red chilly sauce
1 tblsp soy sauce
2 tblsp tomato ketchup
1 tsp white vinegar
2 tblsp oil
1/2 tsp ginger paste
1 tsp garlic paste
1 big onion sliced long
1/2 cup capsicum (cut into big cubes)
1 -2 green chilies
Green coriander and green onion for garnish
Oil for frying
How to make chili chicken:

Marinate the chicken pieces in egg white, 1 tsp salt, 2 tsp red chilly sauce and 2 -3 tsp cornflour. Mix well and keep for 10 - 15 minutes.
In a bowl mix 2 tsp red chilly sauce, soy sauce, tomato ketchup and white vinegar. Keep aside for later use.
Now heat oil for frying in a kadai/wok and fry the chicken pieces separately for 2 -3 minutes. Do not over fry otherwise the chicken will get hard. Take them out on a paper tissue.
In a separate pan heat 2 tblsp oil and add garlic and ginger paste. Fry till golden color and then add sliced big onion and capsicum cubes and slit green chilies. Stir fry on high flame for 2 -3 minutes. Do not overcook the vegetables. The vegetables should be crunchy..
Now lower the flame and add the sauce mixture and 1/4 cup of water. Mix well..
When slightly thick and dry, shut the flame and move it in a serving platter.
Garnish with green chopped coriander and greenonion .Serve hot..
Note:
1. Be careful with salt as the soy sauce also has salt.
2. Cook the vegetables on high flame to keep their crunchiness..

"SAY CHEESE"
GRILLED CHEESE AND PATATO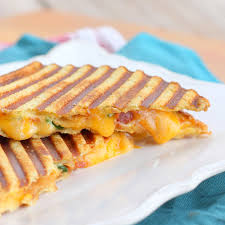 Ingredients:

1 Table Spoonful Sunflower Oil.
25 Gms. Butter
450 Gms. Potatoes, peeled and sliced
2 Onions, thinly sliced
125 Gms. Cheese grated
Process:

Heat butter and oil in a frying pan.
Remove from the flame.
Add potatoes, onions and cheese layer wise to the pan.
Repeat layering finish with a layer of cheese.
Cover the pan and heat on a low flame for 25 min. see that potatoes are tender.
Uncover pan and cook under hot grill.
Serve when golden, with tomatoes and bacon.
Cheese Salad:
One bunch lettuce leaves, One large cucumber cut and sliced tomatoes, 175gr.,One bunch spring onions, Four green capsicums sliced, 175 gr. Potatoes boiled and sliced thickly, 225 gr. Cubed cheese.

Toss together all salad ingredients, potatoes and cheese in a serving bowl.
Mix dressing ingredients together and pour over salad.
"Singhara-Dosa"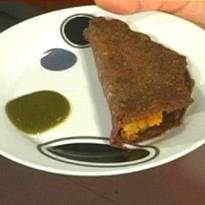 Ingredients:

Singhara-flour- one bowl
Ghee- 250 gm
Salt- 50 gm
Spices- 50 gm
Hari Mirch- 4-5
Shimla Mirch- 2
Carrot- 2(in pieces)
Process:

Make the Singhara-flour thinner with water.
Spread Ghee on the pan.
Thereafter, pour the diluted Singhara-flour on the pan.
Slow down the flames.
Even as the lower surface of the diluted Singhara-flour begins to be baked pour all the vegetables on the upper surface.
Fold it & cover it with a small pot.
After it is cooked serve it with 'Imli ki chatni' & Tea.