27 March 2023
Have you heard or seen ice cream worth 20 lakhs? In July last year, the world's most expensive ice cream was recorded in the Guinness Book of World Records. Whose name is 'Frozen Haute Chocolate Ice Cream Sundae'....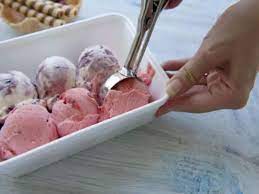 It was prepared by the Serendipity-3 restaurant in the American city of New York, which cost 25 thousand dollars i.e. about 20 lakh rupees.
This expensive ice cream was prepared with the help of Euphoria Jewelers of New York. 28 cocoas were used to make it, out of which 14 were the world's most expensive cocoas.
The ice cream was adorned with 23 carat gold work. The ice cream plate was also 18-karat gold and adorned with a 1-carat white diamond. A gold spoon for eating ice cream was studded with a white diamond. Spoons can be taken with you after eating ice cream.
But keep in mind that nowadays the business of selling frozen desserts in the name of ice cream is progressing quadruple day and night. According to experts, eating frozen desert continuously causes obesity, heart and liver problems.
Ice cream making companies are scared of the rising price of milk. Companies say that despite the cost of milk, they are going to change the prices of only a few flavors of ice cream.
Komal Anand, managing director of 'Havmore' ice cream, says the cost of ice cream is killing us.
We are in a business where the entire cost and profit cannot be passed on to the consumer. Increasing the price of ice cream will reduce its demand, which will have a bad effect on the business.
The Indian Meteorological Department (IMD) and the World Meteorological Organization (WMO) have warned that many parts of the world and India will experience extreme heat this year. When the heat increases, the demand for ice cream is sure to increase.
There is such a shop in Geeta Colony, situated on the banks of Yamuna in Delhi, where ice cream and kulfi are mixed and a wonderful sweet cold dish is made. There is a shop of 'Dhani Ram Kulfi Wale' just in front of Ramlila Ground.
Since this shop has been associated with Chandni Chowk in Old Delhi, it is popularly known as 'Dhani Ram Kulfi Chandni Chowk Wale'.
This roller fruit ice cream is actually made by mixing fruits apart from kulfi and ice cream, in which the flavors of kulfi and rabdi also come.
Watching the preparation of this dish is also a different kind of experience. A drum-shaped roller is packed with ice as well as salt. Then to rotate this roller continuously, it is mounted on a special kind of sander. After that the process of making fruit ice cream starts.
A stream of thick rabri or cream and fruit juice is poured over the rotating roller. As soon as this edge is put on the roller, the layer starts solidifying. After freezing, this layer is scraped in a plate and the delicious roller fruit ice cream is ready to eat. As soon as the ice cream goes into the mouth, sometimes the taste of orange comes, sometimes of rabri and cream and sometimes of other fruits.
Who does not like to eat ice cream. But do you know that humans have been eating ice cream since 4000 years ago. Although there is no trace of its discoverer, but from the tales of Alexander to the Bible, there is mention of ice cream.
It is even said in the Bible that King Solomon was fond of drinking iced drinks during harvest. At the same time, it has been told about Alexander that he used to eat ice cream made of honey and flower syrup.
Nero, who was the ruler of Rome in the first century, was also fond of ice cream made from fruit juices. Many experts attribute the invention of ice cream to Nero. In that period, Nero sent his slaves many times to bring ice from the mountains, so that honey and fruits could be eaten with ice added to it.
There is also a claim that the world's first ice cream was made in China about 5000 years ago. The 7th century Chinese Emperor Tang was the first to eat ice cream made from milk.
When British Emperor Charles II ate ice cream for the first time in 1671, he was so enamored of it that he granted his chef a lifetime pension for keeping its recipe secret.
The first written records of ice cream are found in Syria, a southwest Asian country in the Middle East. About 3803 years ago, it is mentioned in the old script printed on the stone that the king of Mari had built an 'ice house', in which ice was brought from the mountains and stored.
500 years ago in Iran, Iranian people used to collect the snow falling in winter in 'Yakhchal' i.e. 'Ice House'. They used to eat the ice thus preserved by mixing it with grape juice.
In the Indian subcontinent, the Mughal rulers used to get ice from the Hindukush hills. After this ice cream would be made and it would be served in the court like sherbet.
According to Research and Markets, India's ice cream industry is expected to cross Rs 19,400 crore in 2022, which is expected to reach Rs 50,800 crore by 2028. At the same time, the Indian Ice Cream Manufacturing Association, which leads 80 private ice cream manufacturers, says that in 2022, maximum ice cream was purchased in cities like Maharashtra, Uttar Pradesh, Delhi-NCR, Gujarat, Andhra Pradesh, Telangana and Tamil Nadu.
The increase in demand was due to rising heat, opening of restaurants, offices and schools and colleges. Milk ice cream and dairy based beverages both saw a growth of 35-40%.
Parsis and cinema have been a major influence on the ice cream culture in Mumbai. The old city of Mumbai, now called 'Town', was dominated by ice cream and kulfi for a long time.
Elders who have lived in Mumbai since the 1950s say that in those days, eating ice cream was a must if you went to watch a film. Usually people go to see a movie once or half a month and definitely eat ice cream there. At that time only two brands of ice cream were available in theaters across Mumbai. Among these, 'Quality' had almost a monopoly, while the availability of 'Joy' was less. Two flavors were the most popular of these ice creams.
Vanilla would cost four annas i.e. 25 paise, while chocolate ice cream would cost five annas. In those days, even this price would have been heavy on many people's pockets. In such a situation, in the hot weather of Bombay, people used to have kulfi people. People who made Kulfi in the traditional way with salt and ice in pots would go out on the streets and sell Kulfi for less than an anna. By the time the 80s came, the style of cinema changed. It also had a strong impact on Bombay's ice cream industry and its sales decreased. Today, ice cream has been replaced by popcorn and watching movies while eating ice cream in theaters has become just a memory.
Located in the heart of Bombay, near the Brabourne Stadium, K Rustum's ice cream shop has a special place in Bombay's history. People from far and wide come to eat ice cream at this ice cream store that has been present for many decades.
The specialty of their ice cream is that it is flavored with fresh fruit juice and is served like a sandwich by pressing it in the middle of the wafers. However, the popular ice cream of the Parsis also has another name 'Parsi Dairy Farm', which is famous for its Along with all the products, ice cream is also made. By the way, two people changed the game of Bombay's ice cream in such a way that the whole of India got its new taste. Ahmedabad's Vadilal Gandhi had a decades-old ice cream business.
When the idea of ​​establishing this business as a brand came to the Vadilal family, it was a big challenge before them to establish its desi name as a brand. Due to this, a lot of money was spent on its advertisement and this effort was also successful. The credit should go to Raghunandan Kamath of Naturals Ice Cream for bringing a big revolutionary change in the world of ice cream. The new type of ice cream he created by mixing fresh fruits and ice cream was a revolutionary step.
Raghunandan's father had a fruit business and opened an ice cream shop in Mumbai's Juhu area, developing his mother's ice cream making methods. Everything in the ice cream found here is natural. No chemical flavor or taste is added.
Born and brought up in Mumbai, Jameel Gulrej says that even before the arrival of Naturals, Mumbai used to have ice creams with different fruit flavors, but they did not contain fruits. Naturals ice cream has the taste of those fruits as well as the taste of those fruits. If there is coconut then the feeling of coconut will come and if there is chiku then chiku. If the ice cream is made of cashews, berries or cilantro, then you will get a lot of enjoyment from these fruits. Starting from a single shop in 1984, Naturals has grown into an established chain today.
By the way, coconut and guava have a special place in their popular flavors. Especially on guava ice cream, they sprinkle red chillies on top, whose sweet and spicy taste gives different pleasure to the people.
The photo of ice cream became a symbol 3 years ago to spread awareness about the environment in the world. In fact, in 2019,
a photo was posted on the Initiative United North-East page in which ice-cream was served in a packaging made of banana leaves.
Due to this unique packaging, people appreciated this idea a lot on social media. So far this post has been shared by more than 65 thousand people and about 24 thousand people have liked it.
Ice cream in a bowl made of banana leaves and a wooden spoon is enough to make it a better alternative to plastic.
Pizza is available in different varieties for 26 to 79 Rs. and Cake flavours pastries with 12 sorts of tests. At the first sight, you would say ' Jee Lalchaye Rahaa Na Jaye'. Token system, Self service; take it up and get start. Why to get late then? Let us get the Amer Bakery this evening.