---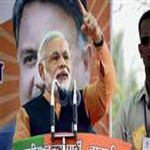 ---
---
Sixteenth Lok Sabha
Members Alphabetical List
Source: Election Commission of India
1

A.T. NANA PATIL
Bharatiya Janata Party
Jalgaon(Maharashtra )

2

ABHIJIT MUKHERJEE
Indian National Congress
Jangipur(West Bengal )

3

ABHISHEK BANERJEE
All India Trinamool Congress
Diamond Harbour(West Bengal )

4

ABHISHEK SINGH
Bharatiya Janata Party
Rajnandgaon(Chhattisgarh )

5

ABU HASEM KHAN CHOWDHURY
Indian National Congress
Maldaha Dakshin(West Bengal )

6

ADHALRAO SHIVAJI DATTATREY
Shiv Sena
Shirur(Maharashtra )

7

ADHIKARI DEEPAK (DEV)
All India Trinamool Congress
Ghatal(West Bengal )

8

ADHIKARI SISIR KUMAR
All India Trinamool Congress
Kanthi(West Bengal )

9

ADHIKARI SUVENDU
All India Trinamool Congress
Tamluk(West Bengal )

10

ADHIR RANJAN CHOWDHURY
Indian National Congress
Baharampur(West Bengal )

11

ADITYANATH
Bharatiya Janata Party
Gorakhpur(Uttar Pradesh )

12

ADSUL ANANDRAO VITHOBA
Shiv Sena
Amravati(Maharashtra )

13

ADV. CHINTAMAN NAVASHA WANGA
Bharatiya Janata Party
Palghar(Maharashtra )

14

ADV. NARENDRA KESHAV SAWAIKAR
Bharatiya Janata Party
South Goa(Goa )

15

ADV.JOICE GEORGE
Independent
Idukki(Kerala )

16

AHIR HANSRAJ GANGARAM
Bharatiya Janata Party
Chandrapur(Maharashtra )

17

AJAY KUMAR
Bharatiya Janata Party
Kheri(Uttar Pradesh )

18

AJAY NISHAD
Bharatiya Janata Party
Muzaffarpur(Bihar )

19

AJAY TAMTA
Bharatiya Janata Party
Almora(Uttarakhand )

20

AKSHAY YADAV
Samajwadi Party
Firozabad(Uttar Pradesh )

21

ALOK SANJAR
Bharatiya Janata Party
Bhopal(Madhya Pradesh )

22

ANANT GEETE
Shiv Sena
Raigad(Maharashtra )

23

ANANTH KUMAR
Bharatiya Janata Party
Bangalore South(Karnataka )

24

ANANTKUMAR HEGDE
Bharatiya Janata Party
Uttara Kannada(Karnataka )

25

ANBUMANI RAMADOSS
Pattali Makkal Katchi
Dharmapuri(Tamil Nadu )

26

ANGADI SURESH CHANNABASAPPA
Bharatiya Janata Party
Belgaum(Karnataka )

27

ANIL SHIROLE
Bharatiya Janata Party
Pune(Maharashtra )

28

ANJU BALA
Bharatiya Janata Party
Misrikh(Uttar Pradesh )

29

ANOOP MISHRA
Bharatiya Janata Party
Morena(Madhya Pradesh )

30

ANSHUL VERMA
Bharatiya Janata Party
Hardoi(Uttar Pradesh )

31

ANTO ANTONY
Indian National Congress
Pathanamthitta(Kerala )

32

ANUPAM HAZRA
All India Trinamool Congress
Bolpur(West Bengal )

33

ANUPRIYA SINGH PATEL
Apna Dal
Mirzapur(Uttar Pradesh )

34

ANURAG SINGH THAKUR
Bharatiya Janata Party
Hamirpur(Himachal Pradesh )

35

ANWHAR RAAJHAA.A
All India Anna Dravida Munnetra Kazhagam
Ramanathapuram(Tamil Nadu )

36

AP JITHENDER REDDY
Telangana Rashtra Samithi
Mahabubnagar(Andhra Pradesh )

37

APARUPA PODDAR (AFRIN ALI)
All India Trinamool Congress
Arambagh(West Bengal )

38

APPA ALIAS SHRIRANG CHANDU BARNE
Shiv Sena
Maval(Maharashtra )

39

ARJUN CHARAN SETHI
Biju Janata Dal
Bhadrak(Odisha )

40

ARJUN RAM MEGHWAL
Bharatiya Janata Party
Bikaner(Rajasthan )

41

ARJUNLAL MEENA
Bharatiya Janata Party
Udaipur(Rajasthan )

42

ARKA KESHARI DEO
Biju Janata Dal
Kalahandi(Odisha )

43

ARPITA GHOSH
All India Trinamool Congress
Balurghat(West Bengal )

44

ARUNMOZHITHEVAN.A
All India Anna Dravida Munnetra Kazhagam
Cuddalore(Tamil Nadu )

45

ARVIND SAWANT
Shiv Sena
Mumbai-South(Maharashtra )

46

ASADUDDIN OWAISI
All India Majlis-E-Ittehadul Muslimeen
Hyderabad(Andhra Pradesh )

47

ASHOK GAJAPATHI RAJU PUSAPATI
Telugu Desam Party
Vizianagaram(Andhra Pradesh )

48

ASHOK KUMAR DOHAREY
Bharatiya Janata Party
Etawah(Uttar Pradesh )

49

ASHOK KUMAR.K
All India Anna Dravida Munnetra Kazhagam
Krishnagiri(Tamil Nadu )

50

ASHOK MAHADEORAO NETE
Bharatiya Janata Party
Gadchiroli-Chimur(Maharashtra )

51

ASHOK SHANKARRAO CHAVAN
Indian National Congress
Nanded(Maharashtra )

52

ASHWINI KUMAR
Bharatiya Janata Party
Karnal(Haryana )

53

ASHWINI KUMAR CHOUBEY
Bharatiya Janata Party
Buxar(Bihar )

54

B. S. YEDDYURAPPA
Bharatiya Janata Party
Shimoga(Karnataka )

55

B. SREERAMULU
Bharatiya Janata Party
Bellary(Karnataka )

56

B.B. PATIL
Telangana Rashtra Samithi
Zahirabad(Andhra Pradesh )

57

B.N.CHANDRAPPA
Indian National Congress
Chitradurga(Karnataka )

58

B.V.NAYAK
Indian National Congress
Raichur(Karnataka )

59

BABUL SUPRIYA BARAL (BABUL SUPRIYO)
Bharatiya Janata Party
Asansol(West Bengal )

60

BABULAL
Bharatiya Janata Party
Fatehpur Sikri(Uttar Pradesh )

61

BADARUDDOZA KHAN
Communist Party of India (Marxist)
Murshidabad(West Bengal )

62

BADRUDDIN AJMAL
All India United Democratic Front
Dhubri(Assam )

63

BAHADUR SINGH
Bharatiya Janata Party
Bharatpur(Rajasthan )

64

BAIJAYANT PANDA
Biju Janata Dal
Kendrapara(Odisha )

65

BALABHADRA MAJHI
Biju Janata Dal
Nabarangpur(Odisha )

66

BALKA SUMAN
Telangana Rashtra Samithi
Peddapalle(Andhra Pradesh )

67

BANDARU DATTATREYA
Bharatiya Janata Party
Secunderabad(Andhra Pradesh )

68

BHAGAT SINGH KOSHYARI
Bharatiya Janata Party
Nainital-Udhamsingh Nagar(Uttarakhand )

69

BHAGWANT MANN
Aam Aadmi Party
Sangrur(Punjab )

70

BHAGWANTH KHUBA
Bharatiya Janata Party
Bidar(Karnataka )

71

BHAIRON PRASAD MISHRA
Bharatiya Janata Party
Banda(Uttar Pradesh )

72

BHANU PRATAP SINGH VERMA
Bharatiya Janata Party
Jalaun(Uttar Pradesh )

73

BHARAT SINGH
Bharatiya Janata Party
Ballia(Uttar Pradesh )

74

BHARATHI MOHAN R.K
All India Anna Dravida Munnetra Kazhagam
Mayiladuthurai(Tamil Nadu )

75

BHARTRUHARI MAHATAB
Biju Janata Dal
Cuttack(Odisha )

76

BHOLA SINGH
Bharatiya Janata Party
Bulandshahr(Uttar Pradesh )

77

BHOLA SINGH
Bharatiya Janata Party
Begusarai(Bihar )

78

BIDYUT BARAN MAHATO
Bharatiya Janata Party
Jamshedpur(Jharkhand )

79

BIJOY CHANDRA BARMAN
All India Trinamool Congress
Jalpaiguri(West Bengal )

80

BIJOYA CHAKRAVARTY
Bharatiya Janata Party
Gauhati(Assam )

81

BIREN SINGH ENGTI
Indian National Congress
Autonomous District(Assam )

82

BIRENDRA KUMAR CHAUDHARY
Bharatiya Janata Party
Jhanjharpur(Bihar )

83

BISHNU PADA RAY
Bharatiya Janata Party
Andaman and Nicobar Islands(Andaman and Nicobar Islands )

84

BODHSINGH BHAGAT
Bharatiya Janata Party
Balaghat(Madhya Pradesh )

85

BRIJ BHUSAN SHARAN SINGH
Bharatiya Janata Party
Kaiserganj(Uttar Pradesh )

86

BUTTA RENUKA
Yuvajana Sramika Rythu Congress Party
Kurnool(Andhra Pradesh )

87

C R CHOUDHARY
Bharatiya Janata Party
Nagaur(Rajasthan )

88

C. L. RUALA
Indian National Congress
Mizoram(Mizoram )

89

C. N. JAYADEVAN
Communist Party of India
Thrissur(Kerala )

90

C. R. PATIL
Bharatiya Janata Party
Navsari(Gujarat )

91

C.S.PUTTARAJU
Janata Dal (Secular)
Mandya(Karnataka )

92

CAPTAIN AMARINDER SINGH
Indian National Congress
Amritsar(Punjab )

93

CH.MALLA REDDY
Telugu Desam Party
Malkajgiri(Andhra Pradesh )

94

CHAND NATH
Bharatiya Janata Party
Alwar(Rajasthan )

95

CHANDRA PRAKASH JOSHI
Bharatiya Janata Party
Chittorgarh(Rajasthan )

96

CHANDRAKANT BHAURAO KHAIRE
Shiv Sena
Aurangabad(Maharashtra )

97

CHANDRAKASI, M
All India Anna Dravida Munnetra Kazhagam
Chidambaram(Tamil Nadu )

98

CHANDU LAL SAHU (CHANDU BHAIYA)
Bharatiya Janata Party
Mahasamund(Chhattisgarh )

99

CHARANJEET SINGH RORI
Indian National Lok Dal
Sirsa(Haryana )

100

CHAUDHARY HARIBHAI PARTHIBHAI
Bharatiya Janata Party
Banaskantha(Gujarat )

101

CHAUHAN DEVUSINH JESINGBHAI (CHAUHAN DEVUSINH)
Bharatiya Janata Party
Kheda(Gujarat )

102

CHAUHAN PRABHATSINH PRATAPSINH
Bharatiya Janata Party
Panchmahal(Gujarat )

103

CHAVAN HARISHCHANDRA DEORAM
Bharatiya Janata Party
Dindori(Maharashtra )

104

CHAVDA VINOD LAKHAMASHI
Bharatiya Janata Party
Kachchh(Gujarat )

105

CHHEDI PASWAN
Bharatiya Janata Party
Sasaram(Bihar )

106

CHHOTELAL
Bharatiya Janata Party
Robertsganj(Uttar Pradesh )

107

CHIRAG KUMAR PASWAN
Lok Jan Shakti Party
Jamui(Bihar )

108

CHOUDHARY MAHBOOB ALI KAISER
Lok Jan Shakti Party
Khagaria(Bihar )

109

CHOUDHURY MOHAN JATUA
All India Trinamool Congress
Mathurapur(West Bengal )

110

CHUDASAMA RAJESHBHAI NARANBHAI
Bharatiya Janata Party
Junagadh(Gujarat )

111

COL. SONA RAM
Bharatiya Janata Party
Barmer(Rajasthan )

112

D K SURESH
Indian National Congress
Bangalore Rural(Karnataka )

113

D.V SADANANDA GOWDA
Bharatiya Janata Party
Bangalore North(Karnataka )

114

DADDAN MISHRA
Bharatiya Janata Party
Shrawasti(Uttar Pradesh )

115

DALPAT SINGH PARASTE
Bharatiya Janata Party
Shahdol(Madhya Pradesh )

116

DANVE RAOSAHEB DADARAO
Bharatiya Janata Party
Jalna(Maharashtra )

117

DARSHANA VIKRAM JARDOSH
Bharatiya Janata Party
Surat(Gujarat )

118

DASRATH TIRKEY
All India Trinamool Congress
Alipurduars(West Bengal )

119

DEEPENDER SINGH HOODA
Indian National Congress
Rohtak(Haryana )

120

DEVENDRA SINGH @ BHOLE SINGH
Bharatiya Janata Party
Akbarpur(Uttar Pradesh )

121

DEVJI PATEL
Bharatiya Janata Party
Jalore(Rajasthan )

122

DHANANJAY BHIMRAO MAHADIK
Nationalist Congress Party
Kolhapur(Maharashtra )

123

DHARAMBIR S/O BHALE RAM
Bharatiya Janata Party
Bhiwani-Mahendragarh(Haryana )

124

DHARMENDRA KUMAR
Bharatiya Janata Party
Aonla(Uttar Pradesh )

125

DHARMENDRA YADAV
Samajwadi Party
Badaun(Uttar Pradesh )

126

DHOTRE SANJAY SHAMRAO
Bharatiya Janata Party
Akola(Maharashtra )

127

DILEEPSINGH BHURIA
Bharatiya Janata Party
Ratlam(Madhya Pradesh )

128

DILIP PATEL
Bharatiya Janata Party
Anand(Gujarat )

129

DIMPLE YADAV
Samajwadi Party
Kannauj(Uttar Pradesh )

130

DINESH KASHYAP
Bharatiya Janata Party
Bastar(Chhattisgarh )

131

DINESH TRIVEDI
All India Trinamool Congress
Barrackpur(West Bengal )

132

DR MAHENDRA NATH PANDEY
Bharatiya Janata Party
Chandauli(Uttar Pradesh )

133

DR PANDULA RAVINDRA BABU
Telugu Desam Party
Amalapuram(Andhra Pradesh )

134

DR. ARUN KUMAR
Rashtriya Lok Samta Party
Jahanabad(Bihar )

135

DR. BANSHILAL MAHTO
Bharatiya Janata Party
Korba(Chhattisgarh )

136

DR. BHAGIRATH PRASAD
Bharatiya Janata Party
Bhind(Madhya Pradesh )

137

DR. BHAMRE SUBHASH RAMRAO
Bharatiya Janata Party
Dhule(Maharashtra )

138

DR. BHARATIBEN DHIRUBHAI SHIYAL
Bharatiya Janata Party
Bhavnagar(Gujarat )

139

DR. BOORA NARSAIAH GOUD
Telangana Rashtra Samithi
Bhongir(Andhra Pradesh )

140

DR. DHARAM VIRA GANDHI
Aam Aadmi Party
Patiala(Punjab )

141

DR. HARSH VARDHAN
Bharatiya Janata Party
Chandni Chowk(Delhi )

142

DR. J. JAYAVARDHAN
All India Anna Dravida Munnetra Kazhagam
Chennai South(Tamil Nadu )

143

DR. JITENDRA SINGH
Bharatiya Janata Party
Udhampur(Jammu and Kashmir )

144

DR. K.C.PATEL
Bharatiya Janata Party
Valsad(Gujarat )

145

DR. KAKALI GHOSHDOSTIDAR
All India Trinamool Congress
Barasat(West Bengal )

146

DR. KIRIT P SOLANKI
Bharatiya Janata Party
Ahmedabad West(Gujarat )

147

DR. MAMTAZ SANGHAMITA
All India Trinamool Congress
Bardhaman-Durgapur(West Bengal )

148

DR. MRIGANKA MAHATO
All India Trinamool Congress
Purulia(West Bengal )

149

DR. NEPAL SINGH
Bharatiya Janata Party
Rampur(Uttar Pradesh )

150

DR. RAM SHANKAR KATHERIA
Bharatiya Janata Party
Agra(Uttar Pradesh )

151

DR. RATNA DE (NAG)
All India Trinamool Congress
Hooghly(West Bengal )

152

DR. SANJAY JAISWAL
Bharatiya Janata Party
Paschim Champaran(Bihar )

153

DR. SANJEEV KUMAR BALYAN
Bharatiya Janata Party
Muzaffarnagar(Uttar Pradesh )

154

DR. SATYA PAL SINGH
Bharatiya Janata Party
Baghpat(Uttar Pradesh )

155

DR. SHASHI THAROOR
Indian National Congress
Thiruvananthapuram(Kerala )

156

DR. SUNIL BALIRAM GAIKWAD
Bharatiya Janata Party
Latur(Maharashtra )

157

DR. THOKCHOM MEINYA
Indian National Congress
Inner Manipur(Manipur )

158

DR. VIRENDRA KUMAR
Bharatiya Janata Party
Tikamgarh(Madhya Pradesh )

159

DR.A .SAMPATH
Communist Party of India (Marxist)
Attingal(Kerala )

160

DR.GAVIT HEENA VAIJAYKUMAR
Bharatiya Janata Party
Nandurbar(Maharashtra )

161

DR.MAHESH SHARMA
Bharatiya Janata Party
Gautam Buddha Nagar(Uttar Pradesh )

162

DR.MURLI MANOHAR JOSHI
Bharatiya Janata Party
Kanpur(Uttar Pradesh )

163

DR.SHRIKANT EKNATH SHINDE
Shiv Sena
Kalyan(Maharashtra )

164

DUSHYANT CHAUTALA
Indian National Lok Dal
Hisar(Haryana )

165

DUSHYANT SINGH
Bharatiya Janata Party
Jhalawar-Baran(Rajasthan )

166

E. AHAMED
Indian Union Muslim League
Malappuram(Kerala )

167

E. T. MOHAMMED BASHEER
Indian Union Muslim League
Ponnani(Kerala )

168

FAGGAN SINGH KULASTE
Bharatiya Janata Party
Mandla(Madhya Pradesh )

169

FATEPARA DEVAJIBHAI GOVINDBHAI
Bharatiya Janata Party
Surendranagar(Gujarat )

170

FEROZE VARUN GANDHI
Bharatiya Janata Party
Sultanpur(Uttar Pradesh )

171

G M SIDDESHWARA
Bharatiya Janata Party
Davanagere(Karnataka )

172

GADDIGOUDAR PARVTAGOUDA CHANDANAGOUDA
Bharatiya Janata Party
Bagalkot(Karnataka )

173

GADKARI NITIN JAIRAM
Bharatiya Janata Party
Nagpur(Maharashtra )

174

GAIKWAD RAVINDRA VISHWANATH
Shiv Sena
Osmanabad(Maharashtra )

175

GAJANAN CHANDRAKANT KIRTIKAR
Shiv Sena
Mumbai-North-West(Maharashtra )

176

GAJENDRASINGH SHEKHAWAT
Bharatiya Janata Party
Jodhpur(Rajasthan )

177

GANDHI DILIPKUMAR MANSUKHLAL
Bharatiya Janata Party
Ahmednagar(Maharashtra )

178

GANESH SINGH
Bharatiya Janata Party
Satna(Madhya Pradesh )

179

GAWALI BHAVANA PUNDLIKRAO
Shiv Sena
Yavatmal-Washim(Maharashtra )

180

GIRIRAJ SINGH
Bharatiya Janata Party
Nawada(Bihar )

181

GODAM NAGESH
Telangana Rashtra Samithi
Adilabad(Andhra Pradesh )

182

GODSE HEMANT TUKARAM
Shiv Sena
Nashik(Maharashtra )

183

GOKARAJU GANGA RAJU
Bharatiya Janata Party
Narsapuram(Andhra Pradesh )

184

GOPAL CHINAYYA SHETTY
Bharatiya Janata Party
Mumbai-North(Maharashtra )

185

GOPAL. DR. K
All India Anna Dravida Munnetra Kazhagam
Nagapattinam(Tamil Nadu )

186

GOPALAKRISHNAN, C.
All India Anna Dravida Munnetra Kazhagam
Nilgiris(Tamil Nadu )

187

GOURAV GOGOI
Indian National Congress
Kaliabor(Assam )

188

GUTHA SUKHENDER REDDY
Indian National Congress
Nalgonda(Andhra Pradesh )

189

H.D. DEVEGOWDA
Janata Dal (Secular)
Hassan(Karnataka )

190

HARI MANJHI
Bharatiya Janata Party
Gaya(Bihar )

191

HARI OM PANDEY
Bharatiya Janata Party
Ambedkar Nagar(Uttar Pradesh )

192

HARI, G.
All India Anna Dravida Munnetra Kazhagam
Arakkonam(Tamil Nadu )

193

HARINARAYAN RAJBHAR
Bharatiya Janata Party
Ghosi(Uttar Pradesh )

194

HARINDER SINGH KHALSA
Aam Aadmi Party
Fatehgarh Sahib(Punjab )

195

HARIOM SINGH RATHORE
Bharatiya Janata Party
Rajsamand(Rajasthan )

196

HARISH CHANDRA ALIAS HARISH DWIVEDI
Bharatiya Janata Party
Basti(Uttar Pradesh )

197

HARISH CHANDRA MEENA
Bharatiya Janata Party
Dausa(Rajasthan )

198

HARSIMRAT KAUR BADAL
Shiromani Akali Dal
Bathinda(Punjab )

199

HEMA MALINI
Bharatiya Janata Party
Mathura(Uttar Pradesh )

200

HEMENDRA CHANDRA SINGH
Biju Janata Dal
Kandhamal(Odisha )

201

HUKM DEO NARAYAN YADAV
Bharatiya Janata Party
Madhubani(Bihar )

202

HUKUM SINGH
Bharatiya Janata Party
Kairana(Uttar Pradesh )

203

IDRIS ALI
All India Trinamool Congress
Basirhat(West Bengal )

204

INDERJIT SINGH RAO
Bharatiya Janata Party
Gurgaon(Haryana )

205

INNOCENT
Independent
Chalakudy(Kerala )

206

J.C. DIVAKAR REDDI
Telugu Desam Party
Anantapur(Andhra Pradesh )

207

JADHAV PRATAPRAO GANPATRAO
Shiv Sena
Buldhana(Maharashtra )

208

JADHAV SANJAY (BANDU) HARIBHAU
Shiv Sena
Parbhani(Maharashtra )

209

JAGDAMBIKA PAL
Bharatiya Janata Party
Domariyaganj(Uttar Pradesh )

210

JAI PRAKASH NARAYAN YADAV
Rashtriya Janata Dal
Banka(Bihar )

211

JANAK RAM
Bharatiya Janata Party
Gopalganj(Bihar )

212

JANARDAN MISHRA
Bharatiya Janata Party
Rewa(Madhya Pradesh )

213

JANARDAN SINGH "SIGRIWAL"
Bharatiya Janata Party
Maharajganj(Bihar )

214

JASVANTSINH SUMANBHAI BHABHOR
Bharatiya Janata Party
Dahod(Gujarat )

215

AYADEV GALLA
Telugu Desam Party
Guntur(Andhra Pradesh )

216

JAYANT SINHA
Bharatiya Janata Party
Hazaribagh(Jharkhand )

217

JEYASINGH THIYAGARAJ NATTERJEE.J
All India Anna Dravida Munnetra Kazhagam
Thoothukkudi(Tamil Nadu )

218

JHINA HIKAKA
Biju Janata Dal
Koraput(Odisha )

219

JITENDRA CHOUDHURY
Communist Party of India (Marxist)
Tripura East(Tripura )

220

JOSE K. MANI
Kerala Congress (M)
Kottayam(Kerala )

221

JUAL @ JUEL ORAM
Bharatiya Janata Party
Sundargarh(Odisha )

222

JUGAL KISHORE
Bharatiya Janata Party
Jammu(Jammu and Kashmir )

223

JYOTI DHURVE
Bharatiya Janata Party
Betul(Madhya Pradesh )

224

JYOTIRADITYA M SCINDIA
Indian National Congress
Guna(Madhya Pradesh )

225

K C VENUGOPAL
Indian National Congress
Alappuzha(Kerala )

226

K.H.MUNIYAPPA
Indian National Congress
Kolar(Karnataka )

227

KACHHADIYA NARANBHAI BHIKHABHAI
Bharatiya Janata Party
Amreli(Gujarat )

228

KADIYAM SRIHARI
Telangana Rashtra Samithi
Warangal(Andhra Pradesh )

229

KALIKESH NARAYAN SINGH DEO
Biju Janata Dal
Bolangir(Odisha )

230

KALRAJ MISHRA
Bharatiya Janata Party
Deoria(Uttar Pradesh )

231

KALVAKUNTLA CHANDRASEKHAR RAO
Telangana Rashtra Samithi
Medak(Andhra Pradesh )

232

KALVAKUNTLA KAVITHA
Telangana Rashtra Samithi
Nizamabad(Andhra Pradesh )

233

KALYAN BANERJEE
All India Trinamool Congress
Serampore(West Bengal )

234

KAMAKHYA PRASAD TASA
Bharatiya Janata Party
Jorhat(Assam )

235

KAMAL NATH
Indian National Congress
Chhindwara(Madhya Pradesh )

236

KAMALBHAN SINGH MARABI
Bharatiya Janata Party
Surguja(Chhattisgarh )

237

KAMARAJ. K
All India Anna Dravida Munnetra Kazhagam
Kallakurichi(Tamil Nadu )

238

KAMBHAMPATI HARI BABU
Bharatiya Janata Party
Visakhapatnam(Andhra Pradesh )

239

KAMLA PATLE
Bharatiya Janata Party
Janjgir-Champa (Chhattisgarh )

240

KAMLESH PASWAN
Bharatiya Janata Party
Bansgaon(Uttar Pradesh )

241

KANWAR SINGH TANWAR
Bharatiya Janata Party
Amroha(Uttar Pradesh )

242

KAPIL KRISHNA THAKUR
All India Trinamool Congress
Bangaon(West Bengal )

243

KAPIL MORESHWAR PATIL
Bharatiya Janata Party
Bhiwandi(Maharashtra )

244

KARADI SANGANNA AMARAPPA
Bharatiya Janata Party
Koppal(Karnataka )

245

KARIA MUNDA
Bharatiya Janata Party
Khunti(Jharkhand )

246

KAUSHAL KISHORE
Bharatiya Janata Party
Mohanlalganj(Uttar Pradesh )

247

KAUSHLENDRA KUMAR
Janata Dal (United)
Nalanda(Bihar )

248

KESHAV PRASAD MAURYA
Bharatiya Janata Party
Phulpur(Uttar Pradesh )

249

KESINENI SRINIVAS
Telugu Desam Party
Vijayawada(Andhra Pradesh )

250

KHADASE RAKSHA NIKHIL
Bharatiya Janata Party
Raver(Maharashtra )

251

KHAN SAUMITRA
All India Trinamool Congress
Bishnupur(West Bengal )

252

KHER KIRRON ANUPAM
Bharatiya Janata Party
Chandigarh(Chandigarh )

253

KIREN RIJIJU
Bharatiya Janata Party
Arunachal West(Arunachal Pradesh )

254

KIRIT SOMAIYA
Bharatiya Janata Party
Mumbai-North-East(Maharashtra )

255

KIRTI AZAD
Bharatiya Janata Party
Darbhanga(Bihar )

256

KIRTI VARDHAN SINGH
Bharatiya Janata Party
Gonda(Uttar Pradesh )

257

KODIKUNNIL SURESH
Indian National Congress
Mavelikkara(Kerala )

258

KONAKALLA NARAYANA RAO
Telugu Desam Party
Machilipatnam(Andhra Pradesh )

259

KONDA VISHWESHWAR REDDY
Telangana Rashtra Samithi
Chelvella(Andhra Pradesh )

260

KOTHAPALLI GEETHA
Yuvajana Sramika Rythu Congress Party
Araku(Andhra Pradesh )

261

KRISHAN PAL
Bharatiya Janata Party
Faridabad(Haryana )

262

KRISHNA PRATAP 'K.P.'
Bharatiya Janata Party
Jaunpur(Uttar Pradesh )

263

KRISHNA RAJ
Bharatiya Janata Party
Shahjahanpur(Uttar Pradesh )

264

KRISTAPPA NIMMALA
Telugu Desam Party
Hindupur(Andhra Pradesh )

265

KRUPAL BALAJI TUMANE
Shiv Sena
Ramtek(Maharashtra )

266

KULAMANI SAMAL
Biju Janata Dal
Jagatsinghpur(Odisha )

267

KUMAR.P
All India Anna Dravida Munnetra Kazhagam
Tiruchirappalli(Tamil Nadu )

268

KUNDARIYA MOHANBHAI KALYANJIBHAI
Bharatiya Janata Party
Rajkot(Gujarat )

269

KUNWAR BHARTENDRA
Bharatiya Janata Party
Bijnor(Uttar Pradesh )

270

KUNWAR PUSHPENDRA SINGH CHANDEL
Bharatiya Janata Party
Hamirpur(Uttar Pradesh )

271

KUNWER SARVESH KUMAR
Bharatiya Janata Party
Moradabad(Uttar Pradesh )

272

KUWAR HARIVANSH SINGH
Apna Dal
Pratapgarh(Uttar Pradesh )

273

L.K.ADVANI
Bharatiya Janata Party
Gandhinagar(Gujarat )

274

LADU KISHORE SWAIN
Biju Janata Dal
Aska(Odisha )

275

LAKHAN LAL SAHU
Bharatiya Janata Party
Bilaspur(Chhattisgarh )

276

LALLU SINGH
Bharatiya Janata Party
Faizabad(Uttar Pradesh )

277

LAXMAN GILUWA
Bharatiya Janata Party
Singhbhum(Jharkhand )

278

LAXMI NARAYAN YADAV
Bharatiya Janata Party
Sagar(Madhya Pradesh )

279

LILADHARBHAI KHODAJI VAGHELA
Bharatiya Janata Party
Patan(Gujarat )

280

LOKHANDE SADASHIV KISAN
Shiv Sena
Shirdi(Maharashtra )

281

M .K RAGHAVAN
Indian National Congress
Kozhikode(Kerala )

282

M B RAJESH
Communist Party of India (Marxist)
Palakkad(Kerala )

283

M I SHANAVAS
Indian National Congress
Wayanad(Kerala )

284

M VEERAPPA MOILY
Indian National Congress
Chikkballapur(Karnataka )

285

MAGANTI VENKATESWARA RAO (BABU)
Telugu Desam Party
Eluru(Andhra Pradesh )

286

MAHEISH GIRRI
Bharatiya Janata Party
East Delhi(Delhi )

287

MAHENDRAN.C
All India Anna Dravida Munnetra Kazhagam
Pollachi(Tamil Nadu )

288

MAJ GEN (RETD.) BHUWAN CHANDRA KHANDURI (AVSM)
Bharatiya Janata Party
Garhwal(Uttarakhand )

289

ALA RAJYA LAXMI SHAH
Bharatiya Janata Party
Tehri Garhwal(Uttarakhand )

290

MALLIKARJUN KHARGE
Indian National Congress
Gulbarga(Karnataka )

291

MALYADRI SRIRAM
Telugu Desam Party
Bapatla(Andhra Pradesh )

292

MANEKA SANJAY GANDHI
Bharatiya Janata Party
Pilibhit(Uttar Pradesh )

293

MANOHAR UNTWAL
Bharatiya Janata Party
Dewas(Madhya Pradesh )

294

MANOJ RAJORIA
Bharatiya Janata Party
Karauli-Dholpur(Rajasthan )

295

MANOJ SINHA
Bharatiya Janata Party
Ghazipur(Uttar Pradesh )

296

MANOJ TIWARI
Bharatiya Janata Party
North East Delhi(Delhi )

297

MANSHANKAR NINAMA
Bharatiya Janata Party
Banswara(Rajasthan )

298

>MARAGATHAM K
All India Anna Dravida Munnetra Kazhagam
Kancheepuram(Tamil Nadu )

299

MARUTHARAJAA, R.P.
All India Anna Dravida Munnetra Kazhagam
Perambalur(Tamil Nadu )

300

MAUSAM NOOR
Indian National Congress
Maldaha Uttar(West Bengal )

301

MD. SALIM
Communist Party of India (Marxist)
Raiganj(West Bengal )

302

MEENAKASHI LEKHI
Bharatiya Janata Party
New Delhi(Delhi )

303

MEHBOOBA MUFTI
Jammu and Kashmir Peoples Democratic Party
Anantnag(Jammu and Kashmir )

304

MEKAPATI RAJAMOHAN REDDY
Yuvajana Sramika Rythu Congress Party
Nellore(Andhra Pradesh )

305

MOHAMMAD ASRARUL HAQUE
Indian National Congress
Kishanganj(Bihar )

306

MOHAMMED FAIZAL P.P.
Nationalist Congress Party
Lakshadweep(Lakshadweep )

307

MOHITE PATIL VIJAYSINH SHANKARRAO
Nationalist Congress Party
Madha(Maharashtra )

308

MUDDAHANUMEGOWDA.S.P.
Indian National Congress
Tumkur(Karnataka )

309

MUKESH RAJPUT
Bharatiya Janata Party
Farrukhabad(Uttar Pradesh )

310

MULAYAM SINGH YADAV
Samajwadi Party
Azamgarh(Uttar Pradesh )

311

MULAYAM SINGH YADAV
Samajwadi Party
Mainpuri(Uttar Pradesh )

312

MULLAPPALLY RAMACHANDRAN
Indian National Congress
Vadakara(Kerala )

313

MUNDE GOPINATHRAO PANDURANG
Bharatiya Janata Party
Beed(Maharashtra )

314

MURALI MOHAN MAGANTI
Telugu Desam Party
Rajahmundry(Andhra Pradesh )

315

MUTTAMSETTI SRINIVASA RAO (AVANTHI)
Telugu Desam Party
Anakapalli(Andhra Pradesh )

316

MUZAFFAR HUSSAIN BAIG
Jammu and Kashmir Peoples Democratic Party
Baramulla(Jammu and Kashmir )

317

N.K.PREMACHANDRAN
Revolutionary Socialist Party
Kollam(Kerala )

318

NABA KUMAR SARANIA (HIRA)
Independent
Kokrajhar(Assam )

319

NAGARAJAN, P.
All India Anna Dravida Munnetra Kazhagam
Coimbatore(Tamil Nadu )

320

NAGENDRA KUMAR PRADHAN
Biju Janata Dal
Sambalpur(Odisha )

321

NAGENDRA SINGH
Bharatiya Janata Party
Khajuraho(Madhya Pradesh )

322

NALIN KUMAR KATEEL
Bharatiya Janata Party
Dakshina Kannada(Karnataka )

323

NANABHAU FALGUNRAO PATOLE
Bharatiya Janata Party
Bhandara-Gondiya(Maharashtra )

324

NANDKUMAR SINGH CHOUHAN (NANDU BHAIYA)
Bharatiya Janata Party
Khandwa(Madhya Pradesh )

325

NARAMALLI SIVAPRASAD
Telugu Desam Party
Chittoor(Andhra Pradesh )

326

NARENDRA MODI
Bharatiya Janata Party
Varanasi(Uttar Pradesh )

327

NARENDRA MODI
Bharatiya Janata Party
Vadodara(Gujarat )

328

NARENDRA SINGH TOMAR
Bharatiya Janata Party
Gwalior(Madhya Pradesh )

329

NEELAM SONKAR
Bharatiya Janata Party
Lalganj(Uttar Pradesh )

330

NEIPHIU RIO
Nagaland Peoples Front
Nagaland(Nagaland )

331

NIHALCHAND
Bharatiya Janata Party
Ganganagar(Rajasthan )

332

NINONG ERING
Indian National Congress
Arunachal East(Arunachal Pradesh )

333

NIRANJAN JYOTI
Bharatiya Janata Party
Fatehpur(Uttar Pradesh )

334

NISHIKANT DUBEY
Bharatiya Janata Party
Godda(Jharkhand )

335

NITYANAND RAI
Bharatiya Janata Party
Ujiarpur(Bihar )

336

OM BIRLA
Bharatiya Janata Party
Kota(Rajasthan )

337

OM PRAKASH YADAV
Bharatiya Janata Party
Siwan(Bihar )

338

P K SREEMATHI TEACHER
Communist Party of India (Marxist)
Kannur(Kerala )

339

P KARUNAKARAN
Communist Party of India (Marxist)
Kasaragod(Kerala )

340

P P CHOUDHARY
Bharatiya Janata Party
Pali(Rajasthan )

341

P.C. MOHAN
Bharatiya Janata Party
Bangalore Central(Karnataka )

342

P.K.BIJU
Communist Party of India (Marxist)
Alathur(Kerala )

343

P.V.MIDHUN REDDY
Yuvajana Sramika Rythu Congress Party
Rajampet(Andhra Pradesh )

344

PANKAJ
Bharatiya Janata Party
Maharajganj(Uttar Pradesh )

345

PANNERSELVAM.V
All India Anna Dravida Munnetra Kazhagam
Salem(Tamil Nadu )

346

PARASURAMAN.K
All India Anna Dravida Munnetra Kazhagam
Thanjavur(Tamil Nadu )

347

PARESH RAWAL
Bharatiya Janata Party
Ahmedabad East(Gujarat )

348

PARTHIPAN, R.
All India Anna Dravida Munnetra Kazhagam
Theni(Tamil Nadu )

349

PARVESH SAHIB SINGH VERMA
Bharatiya Janata Party
West Delhi(Delhi )

350

PASHUPATI NATH SINGH
Bharatiya Janata Party
Dhanbad(Jharkhand )

351

PATEL JAYSHREEBEN KANUBHAI
Bharatiya Janata Party
Mahesana(Gujarat )

352

PATEL LALUBHAI BABUBHAI
Bharatiya Janata Party
Daman and Diu(Daman and Diu )

353

PATEL NATUBHAI GOMANBHAI
Bharatiya Janata Party
Dadra and Nagar Haveli(Dadra and Nagar Haveli )

354

INAKI MISRA
Biju Janata Dal
Puri(Odisha )

355

PONGULETI SRINIVASA REDDY
Yuvajana Sramika Rythu Congress Party
Khammam(Andhra Pradesh )

356

POONAM MAHAJAN ALIAS POONAM VAJENDLA RAO
Bharatiya Janata Party
Mumbai-North-Central(Maharashtra )

357

POONAMBEN HEMATBHAI MAADAM
Bharatiya Janata Party
Jamnagar(Gujarat )

358

PRABAKARAN.K.R.P
All India Anna Dravida Munnetra Kazhagam
Tirunelveli(Tamil Nadu )

359

PRABHAS KUMAR SINGH
Biju Janata Dal
Bargarh(Odisha )

360

PRAHALAD SINGH PATEL
Bharatiya Janata Party
Damoh(Madhya Pradesh )

361

PRAKASH BABANNA HUKKERI
Indian National Congress
Chikkodi(Karnataka )

362

PRALHAD JOSHI
Bharatiya Janata Party
Dharwad(Karnataka )

363

PRASANNA KUMAR PATASANI
Biju Janata Dal
Bhubaneswar(Odisha )

364

PRASUN BANERJEE
All India Trinamool Congress
Howrah(West Bengal )

365

PRATHAP SIMHA
Bharatiya Janata Party
Mysore(Karnataka )

366

PRATIMA MONDAL
All India Trinamool Congress
Jaynagar(West Bengal )

367

PREM DAS RAI
Sikkim Democratic Front
Sikkim(Sikkim )

368

PREM SINGH CHANDUMAJRA
Shiromani Akali Dal
Anandpur Sahib(Punjab )

369

PRIYANKA SINGH RAWAT
Bharatiya Janata Party
Barabanki(Uttar Pradesh )

370

PROF. AZMEERA SEETARAM NAIK
Telangana Rashtra Samithi
Mahabubabad(Andhra Pradesh )

371

PROF. CHINTAMANI MALVIYA
Bharatiya Janata Party
Ujjain(Madhya Pradesh )

372

PROF. K.V. THOMAS
Indian National Congress
Ernakulam(Kerala )

373

PROF. SADHU SINGH
Aam Aadmi Party
Faridkot(Punjab )

374

PURNO AGITOK SANGMA
National Peoples Party
Tura(Meghalaya )

375

R. DHRUVANARAYANA
Indian National Congress
Chamrajanagar(Karnataka )

376

R. RADHAKRISHNAN
All India N.R. Congress
Puducherry(Puducherry )

377

R.GOPALAKRISHNAN
All India Anna Dravida Munnetra Kazhagam
Madurai(Tamil Nadu )

378

RABINDRA KUMAR JENA
Biju Janata Dal
Balasore(Odisha )

379

RADADIYA VITHALBHAI HANSRAJBHAI
Bharatiya Janata Party
Porbandar(Gujarat )

380

RADHA MOHAN SINGH
Bharatiya Janata Party
Purvi Champaran (Bihar )

381

RADHAKRISHNAN P.
Bharatiya Janata Party
Kanniyakumari(Tamil Nadu )

382

RADHAKRISHNAN T
All India Anna Dravida Munnetra Kazhagam
Virudhunagar(Tamil Nadu )

383

RADHESHYAM BISWAS
All India United Democratic Front
Karimganj(Assam )

384

RAGHAV LAKHANPAL
Bharatiya Janata Party
Saharanpur(Uttar Pradesh )

385

RAHUL GANDHI
Indian National Congress
Amethi(Uttar Pradesh )

386

RAHUL KASWAN
Bharatiya Janata Party
Churu(Rajasthan )

387

RAHUL RAMESH SHEWALE
Shiv Sena
Mumbai-South-Central(Maharashtra )

388

RAJ KUMAR SAINI
Bharatiya Janata Party
Kurukshetra(Haryana )

389

RAJ KUMAR SINGH
Bharatiya Janata Party
Arrah(Bihar )

390

RAJ NATH SINGH
Bharatiya Janata Party
Lucknow(Uttar Pradesh )

391

RAJEEV SHANKARRAO SATAV
Indian National Congress
Hingoli(Maharashtra )

392

RAJEN GOHAIN
Bharatiya Janata Party
Nawgong(Assam )

393

RAJENDRA AGARWAL
Bharatiya Janata Party
Meerut(Uttar Pradesh )

394

RAJENDRAN S
All India Anna Dravida Munnetra Kazhagam
Viluppuram(Tamil Nadu )

395

RAJESH KUMAR DIWAKER
Bharatiya Janata Party
Hathras(Uttar Pradesh )

396

RAJESH PANDEY URF GUDDU
Bharatiya Janata Party
Kushi Nagar(Uttar Pradesh )

397

RAJESH RANJAN @ PAPPU YADAV
Rashtriya Janata Dal
Madhepura(Bihar )

398

RAJESH VERMA
Bharatiya Janata Party
Sitapur(Uttar Pradesh )

399

RAJIV PRATAP RUDY
Bharatiya Janata Party
Saran(Bihar )

400

RAJU SHETTY
Swabhimani Paksha
Hatkanangle(Maharashtra )

401

RAJVEER SINGH (RAJU BHAIYA)
Bharatiya Janata Party
Etah(Uttar Pradesh )

402

RAJYAVARDHAN SINGH RATHORE
Bharatiya Janata Party
Jaipur Rural(Rajasthan )

403

RAKESH SINGH
Bharatiya Janata Party
Jabalpur(Madhya Pradesh )

404

RAM CHANDRA PASWAN
Lok Jan Shakti Party
Samastipur(Bihar )

405

RAM CHARITRA NISHAD
Bharatiya Janata Party
Machhlishahr(Uttar Pradesh )

406

RAM KRIPAL YADAV
Bharatiya Janata Party
Pataliputra(Bihar )

407

RAM KUMAR SHARMA
Rashtriya Lok Samta Party
Sitamarhi(Bihar )

408

RAM PRASAD SARMAH
Bharatiya Janata Party
Tezpur(Assam )

409

RAM SWAROOP SHARMA
Bharatiya Janata Party
Mandi(Himachal Pradesh )

410

RAM TAHAL CHOUDHARY
Bharatiya Janata Party
Ranchi(Jharkhand )

411

RAMA CHANDRA HANSDAH
Biju Janata Dal
Mayurbhanj(Odisha )

412

RAMA DEVI
Bharatiya Janata Party
Sheohar(Bihar )

413

RAMA KISHORE SINGH
Lok Jan Shakti Party
Vaishali(Bihar )

414

RAMACHANDRAN, K.N. THIRU
All India Anna Dravida Munnetra Kazhagam
Sriperumbudur(Tamil Nadu )

415

RAMCHARAN BOHARA
Bharatiya Janata Party
Jaipur(Rajasthan )

416

RAMDAS CHANDRABHANJI TADAS
Bharatiya Janata Party
Wardha(Maharashtra )

417

RAMEN DEKA
Bharatiya Janata Party
Mangaldoi(Assam )

418

RAMESH BAIS
Bharatiya Janata Party
Raipur(Chhattisgarh )

419

RAMESH BIDHURI
Bharatiya Janata Party
South Delhi(Delhi )

420

RAMESH CHANDER
Bharatiya Janata Party
Sonipat(Haryana )

421

RAMESH JIGAJINAGI
Bharatiya Janata Party
Bijapur(Karnataka )

422

RAMESH POKHRIYAL NISHANK
Bharatiya Janata Party
Hardwar(Uttarakhand )

423

RAMESWAR TELI
Bharatiya Janata Party
Dibrugarh(Assam )

424

RAMMOHAN NAIDU KINJARAPU
Telugu Desam Party
Srikakulam(Andhra Pradesh )

425

RAMSINH RATHWA
Bharatiya Janata Party
Chhota Udaipur(Gujarat )

426

RAMVILAS PASWAN
Lok Jan Shakti Party
Hajipur(Bihar )

427

RANJEET RANJAN
Indian National Congress
Supaul(Bihar )

428

RANJIT SINGH BRAHMPURA
Shiromani Akali Dal
Khadoor Sahib(Punjab )

429

RATHOD DIPSINH SHANKARSINH
Bharatiya Janata Party
Sabarkantha(Gujarat )

430

RATTAN LAL KATARIA
Bharatiya Janata Party
Ambala(Haryana )

431

RAVINDRA KR. RAY
Bharatiya Janata Party
Kodarma(Jharkhand )

432

RAVINDRA KUMAR PANDEY
Bharatiya Janata Party
Giridih(Jharkhand )

433

RAVINDRA KUSHAWAHA
Bharatiya Janata Party
Salempur(Uttar Pradesh )

434

RAVNEET SINGH BITTU
Indian National Congress
Ludhiana(Punjab )

435

REKHA
Bharatiya Janata Party
Dhaurahra(Uttar Pradesh )

436

RENUKA SINHA
All India Trinamool Congress
Coochbehar(West Bengal )

437

RITA TARAI
Biju Janata Dal
Jajpur(Odisha )

438

RITI PATHAK
Bharatiya Janata Party
Sidhi(Madhya Pradesh )

439

RODMAL NAGAR
Bharatiya Janata Party
Rajgarh(Madhya Pradesh )

440

S.P.Y REDDY
Yuvajana Sramika Rythu Congress Party
Nandyal(Andhra Pradesh )

441

S.R. VIJAYAKUMAR
All India Anna Dravida Munnetra Kazhagam
Chennai Central(Tamil Nadu )

442

S.S.AHLUWALIA
Bharatiya Janata Party
Darjeeling(West Bengal )

443

SADHVI SAVITRI BAI FOOLE
Bharatiya Janata Party
Bahraich(Uttar Pradesh )

444

SAKUNTALA LAGURI
Biju Janata Dal
Keonjhar(Odisha )

445

SAMBASIVA RAO RAYAPATI
Telugu Desam Party
Narasaraopet(Andhra Pradesh )

446

SANDHYA ROY
All India Trinamool Congress
Medinipur(West Bengal )

447

SANJAYKAKA PATIL
Bharatiya Janata Party
Sangli(Maharashtra )

448

SANKAR PRASAD DATTA
Communist Party of India (Marxist)
Tripura West(Tripura )

449

SANTOKH SINGH CHAUDHARY
Indian National Congress
Jalandhar(Punjab )

450

SANTOSH AHLAWAT
Bharatiya Janata Party
Jhunjhunu(Rajasthan )

451

SANTOSH KUMAR
Janata Dal (United)
Purnia(Bihar )

452

SANTOSH KUMAR GANGWAR
Bharatiya Janata Party
Bareilly(Uttar Pradesh )

453

SANWAR LAL JAT
Bharatiya Janata Party
Ajmer(Rajasthan )

454

SARBANANDA SONOWAL
Bharatiya Janata Party
Lakhimpur(Assam )

455

SATABDI ROY
All India Trinamool Congress
Birbhum(West Bengal )

456

SATISH CHANDRA DUBEY
Bharatiya Janata Party
Valmiki Nagar(Bihar )

457

SATISH KUMAR
Bharatiya Janata Party
Aligarh(Uttar Pradesh )

458

SATYAPAL SINGH
Bharatiya Janata Party
Sambhal(Uttar Pradesh )

459

SAUGATA ROY
All India Trinamool Congress
Dum Dum(West Bengal )

460

SAVITRI THAKUR
Bharatiya Janata Party
Dhar(Madhya Pradesh )

461

SELVAKUMARA CHINNAYAN S
All India Anna Dravida Munnetra Kazhagam
Erode(Tamil Nadu )

462

SENGUTTUVAN, B.
All India Anna Dravida Munnetra Kazhagam
Vellore(Tamil Nadu )

463

SENTHILNATHAN PR
All India Anna Dravida Munnetra Kazhagam
Sivaganga(Tamil Nadu )

464

SHAILESH KUMAR URPH BULO MANDAL
Rashtriya Janata Dal
Bhagalpur(Bihar )

465

SHANTA KUMAR
Bharatiya Janata Party
Kangra(Himachal Pradesh )

466

SHARAD BANSODE
Bharatiya Janata Party
Solapur(Maharashtra )

467

SHARAD TRIPATHI
Bharatiya Janata Party
Sant Kabir Nagar(Uttar Pradesh )

468

SHATRUGHANA SINHA
Bharatiya Janata Party
Patna Sahib(Bihar )

469

SHER SINGH GHUBAYA
Shiromani Akali Dal
Ferozpur(Punjab )

470

SHIBU SOREN
Jharkhand Mukti Morcha
Dumka(Jharkhand )

471

SHOBHA KARANDLAJE
Bharatiya Janata Party
Udupi Chikmagalur(Karnataka )

472

SHRIMANT CHH. UDAYANRAJE PRATAPSINHA BHONSALE
Nationalist Congress Party
Satara(Maharashtra )

473

SHRIPAD YESSO NAIK
Bharatiya Janata Party
North Goa(Goa )

474

SHYAMA CHARAN GUPTA
Bharatiya Janata Party
Allahabad(Uttar Pradesh )

475

SIDHANT MOHAPATRA
Biju Janata Dal
Berhampur(Odisha )

476

SIRAJ UDDIN AJMAL
All India United Democratic Front
Barpeta(Assam )

477

SONIA GANDHI
Indian National Congress
Rae Bareli(Uttar Pradesh )

478

SREEMATI DEV VARMA (MOON MOON SEN)
All India Trinamool Congress
Bankura(West Bengal )

479

SUBHASH BAHERIA
Bharatiya Janata Party
Bhilwara(Rajasthan )

480

SUBHASH PATEL
Bharatiya Janata Party
Khargone(Madhya Pradesh )

481

SUBRATA BAKSHI
All India Trinamool Congress
Kolkata Dakshin(West Bengal )

482

SUDARSHAN BHAGAT
Bharatiya Janata Party
Lohardaga(Jharkhand )

483

SUDHIR GUPTA
Bharatiya Janata Party
Mandsour(Madhya Pradesh )

484

SUDIP BANDYOPADHYAY
All India Trinamool Congress
Kolkata Uttar(West Bengal )

485

SUGATA BOSE
All India Trinamool Congress
Jadavpur(West Bengal )

486

SUKHBIR SINGH JAUNAPURIA
Bharatiya Janata Party
Tonk-Sawai Madhopur(Rajasthan )

487

SULTAN AHMED
All India Trinamool Congress
Uluberia(West Bengal )

488

SUMEDHANAND SARASWATI
Bharatiya Janata Party
Sikar(Rajasthan )

489

SUMITRA MAHAJAN (TAI)
Bharatiya Janata Party
Indore(Madhya Pradesh )

490

SUNDARAM P.R
All India Anna Dravida Munnetra Kazhagam
Namakkal(Tamil Nadu )

491

SUNIL KUMAR MONDAL
All India Trinamool Congress
Bardhaman Purba(West Bengal )

492

SUNIL KUMAR SINGH
Bharatiya Janata Party
Chatra(Jharkhand )

493

SUPRIYA SULE
Nationalist Congress Party
Baramati(Maharashtra )

494

SUSHIL KUMAR SINGH
Bharatiya Janata Party
Aurangabad(Bihar )

495

SUSHMA SWARAJ
Bharatiya Janata Party
Vidisha(Madhya Pradesh )

496

SUSHMITA DEV
Indian National Congress
Silchar(Assam )

497

SWAMI SACHCHIDANAND HARI SAKSHI
Bharatiya Janata Party
Unnao(Uttar Pradesh )

498

TAMRADHWAJ SAHU
Indian National Congress
Durg(Chhattisgarh )

499

TAPAS MANDAL
All India Trinamool Congress
Ranaghat(West Bengal )

500

TAPAS PAUL
All India Trinamool Congress
Krishnanagar(West Bengal )

501

TARIQ ANWAR
Nationalist Congress Party
Katihar(Bihar )

502

TARIQ HAMEED KARRA
Jammu and Kashmir Peoples Democratic Party
Srinagar(Jammu and Kashmir )

503

TASLEEM UDDIN
Rashtriya Janata Dal
Araria(Bihar )

504

TATHAGATA SATPATHY
Biju Janata Dal
Dhenkanal(Odisha )

505

THAMBIDURAI,M.
All India Anna Dravida Munnetra Kazhagam
Karur(Tamil Nadu )

506

THANGSO BAITE
Indian National Congress
Outer Manipur(Manipur )

507

THOTA NARASIMHAM
Telugu Desam Party
Kakinada(Andhra Pradesh )

508

THUPSTAN CHHEWANG
Bharatiya Janata Party
Ladakh(Jammu and Kashmir )

509

UDASI SHIVAKUMAR CHANNABASAPPA
Bharatiya Janata Party
Haveri(Karnataka )

510

UDAY PRATAP SINGH
Bharatiya Janata Party
Hoshangabad(Madhya Pradesh )

511

UDHAYA KUMAR .M
All India Anna Dravida Munnetra Kazhagam
Dindigul(Tamil Nadu )

512

UDIT RAJ
Bharatiya Janata Party
North West Delhi(Delhi )

513

UMA BHARATI
Bharatiya Janata Party
Jhansi(Uttar Pradesh )

514

UMA SAREN
All India Trinamool Congress
Jhargram(West Bengal )

515

UPENDRA KUSHWAHA
Rashtriya Lok Samta Party
Karakat(Bihar )

516

V.ELUMALAI
All India Anna Dravida Munnetra Kazhagam
Arani(Tamil Nadu )

517

V.SATHYABAMA
All India Anna Dravida Munnetra Kazhagam
Tiruppur(Tamil Nadu )

518

VANAROJA R
All India Anna Dravida Munnetra Kazhagam
Tiruvannamalai(Tamil Nadu )

519

ARAPRASAD RAO VELAGAPALLI
Yuvajana Sramika Rythu Congress Party
Tirupati(Andhra Pradesh )

520

VASANTHI.M
All India Anna Dravida Munnetra Kazhagam
Tenkasi(Tamil Nadu )

521

VASAVA MANSUKHBHAI DHANJIBHAI
Bharatiya Janata Party
Bharuch(Gujarat )

522

VASAVA PARBHUBHAI NAGARBHAI
Bharatiya Janata Party
Bardoli(Gujarat )

523

VEENA DEVI
Lok Jan Shakti Party
Munger(Bihar )

524

VENKATESH BABU .T.G
All India Anna Dravida Munnetra Kazhagam
Chennai North(Tamil Nadu )

525

VENUGOPAL.P. DR
All India Anna Dravida Munnetra Kazhagam
Tiruvallur(Tamil Nadu )

526

VICHARE RAJAN BABURAO
Shiv Sena
Thane(Maharashtra )

527

VIJAY KUMAR HANSDAK
Jharkhand Mukti Morcha
Rajmahal(Jharkhand )

528

VIJAY KUMAR SINGH
Bharatiya Janata Party
Ghaziabad(Uttar Pradesh )

529

VIJAY SAMPLA
Bharatiya Janata Party
Hoshiarpur(Punjab )

530

VIKRAM DEV USENDI
Bharatiya Janata Party
Kanker(Chhattisgarh )

531

VINAYAK BHAURAO RAUT
Shiv Sena
Ratnagiri-Sindhudurg(Maharashtra )

532

VINCENT H. PALA
Indian National Congress
Shillong(Meghalaya )

533

VINOD KHANNA
Bharatiya Janata Party
Gurdaspur(Punjab )

534

VINOD KUMAR BOINAPALLY
Telangana Rashtra Samithi
Karimnagar(Andhra Pradesh )

535

VINOD KUMAR SONKAR
Bharatiya Janata Party
Kaushambi (Uttar Pradesh )

536

VIRENDER KASHYAP
Bharatiya Janata Party
Shimla(Himachal Pradesh )

537

VIRENDRA SINGH
Bharatiya Janata Party
Bhadohi (Uttar Pradesh )

538

VISHNU DAYAL RAM
Bharatiya Janata Party
Palamu(Jharkhand )

539

VISHNU DEO SAI
Bharatiya Janata Party
Raigarh(Chhattisgarh )

540

Y.S. AVINASH REDDY
Yuvajana Sramika Rythu Congress Party
Kadapa(Andhra Pradesh )

541

Y.V.SUBBA REDDY
Yuvajana Sramika Rythu Congress Party
Ongole(Andhra Pradesh )

542

YASHWANT SINGH
Bharatiya Janata Party
Nagina(Uttar Pradesh )

543

YELLAIAH NANDI
Indian National Congress
Nagarkurnool(Andhra Pradesh )
---
CWC meeting begins to review party's worst ever electoral performance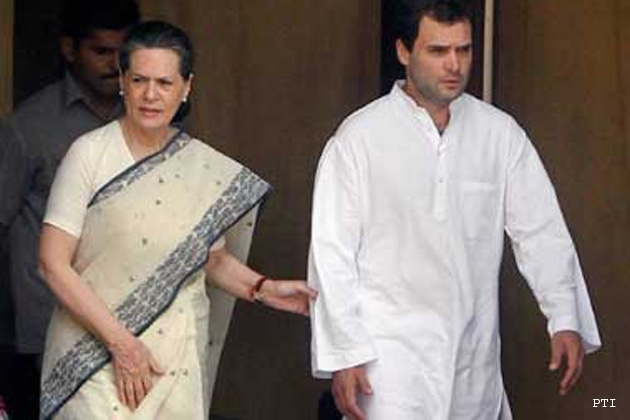 New Delhi: The Congress Working Committee began on Monday to review party's worst ever electoral performance in the Lok Sabha polls as the party just won 44 seats in the 543-member House. The meeting is being held at the party headquarters.
Sources said that the Congress Working Committee may resign en masse over the humiliating defeat the party suffered. Sources added that the CWC members will endorse their president Sonia Gandhi's line of taking collective responsibility in a bid to shield their Vice President Rahul Gandhi who led the party campaign for the elections.
The party has also refuted reports that only Sonia and Rahul will quit over the debacle. "The question of Sonia and Rahul resigning does not even arise. It's a collective responsibility. I am equally responsible," party leader Manish Tewari said.
Renuka Chowdhury seconded him. She said, "There is no question of us evaluating Rahul Gandhi. We have to hit the ground as we have Assembly elections coming in six months. We have to get our act together and have to deliver."
The Bharatiya Janata Party (BJP), however, has trained its guns on Sonia and Rahul. "The Congress has lost all its credibility. That is why Sonia and Rahul are shirking responsibility," party leader Giriraj Singh said.
The lone Congress leader to pin the blame for the electoral defeat on Rahul Gandhi was former Law Minister Ashwani Kumar. He told CNN-IBN that the party's "campaign managers" made mistakes. He also said that it was high time Sonia led the party.
---
Congress advises party leaders not to lose nerves in defeat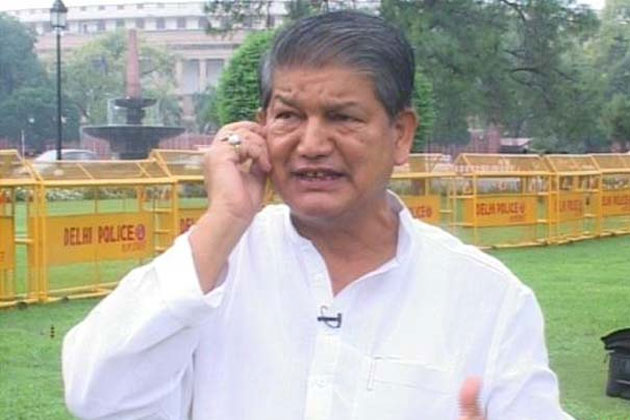 With several Congress leaders in Uttarakhand attacking each other in public following the party's rout in Lok Sabha polls, state unit of the party on Monday asked them not to lose their nerves in defeat and practise restraint.
"We should not lose our nerves in defeat. We should accept the mandate of the people with dignity and abstain from issuing statements against each other," PCC disciplinary committee chief and spokesman Dhirendra Pratap said.
Pratap's appeal comes in the wake of Cabinet Minister Harak Singh Rawat telling a local news channel recently that Satpal Maharaj's wife Amrita Rawat who is his ministerial colleague, did not campaign for him whole-heartedly in Pauri-Garhwal Lok Sabha constituency, where he lost to BJP heavyweight and former chief minister Bhuvan Chandra Khanduri with a comprehensive margin.
"We should not lose our cool in the face of defeat. There is the party platform to discuss and sort out every issue. Issuing irresponsible statements against each other in public must be avoided," Pratap said.
Amrita's husband Maharaj who was the sitting Congress MP from Pauri-Garhwal had defected to the BJP in March this year dealing a blow to his former party ahead of the Lok Sabha polls. The PCC spokesman also criticised the BJP for demanding chief minister Harish Rawat's resignation owning moral responsibility for the party's dismal poll showing in the hill state where it lost all the five Lok Sabha seats.
"It is not at all fair to demand the CM's resignation. He has done a wonderful job despite being in power for just a few months. Moreover, his chief ministership is not due to BJP's mercy," he said advising the party not to let its success get to its head.
---
About 60 lakh voters chose NOTA in Lok Sabha 2014 elections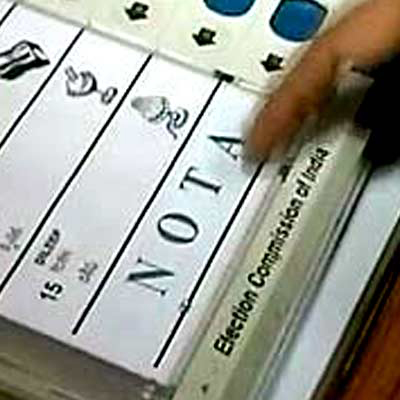 Close to 60 lakh voters opted for the None of The Above (NOTA) option across the country while exercising their franchise in the 16th Lok Sabha polls with the maximum percentage of the electorate going for this choice in Puducherry.
As per data updated till 11:20 P.M., the NOTA vote share stood at 1.1% of the total votes polled, which boils down to a total of 59,78,208 votes.

A total of 3% of voters in Puducherry, or 22,268 votes, opted for the NOTA. This was followed by Meghalya with 2.8% (30,145), Gujarat 1.8% (4,54,880) Chhattisgarh 1.8% (2,24,889), Dadra and Nagar Haveli 1.8% (2,962). The other states included: Odisha- 1.6% (3,28,060), Bihar- 1.6% (5,76,348), Mizoram- 1.5% (6,495), Jharkhand- 1.5% (1,90,241), Daman and Diu- 1.5% (1,316), Madhya Pradesh- 1.3% (3,91,837), Sikkim 1.4-% (4,259), Tamil Nadu- 1.4% (5,74,712).

Also, Tripura- 1.2% (23,783), Kerala- 1.2% (2,10,561), Goa- 1.2% (10,103), Rajasthan- 1.2% (3,27,902), Uttarakhand- 1.1% (48,043), West Bengal- 1.1% (5,68,276), Arunachal Pradesh 1.1% (6,216).
Assam- 1.0% (1,47,057), Maharashtra- 0.9% (4,32,181), Himachal Pradesh- 0.9% (29,156) and Delhi- 0.5% (39,690), among other states.
---
Lok Sabha Polls 2014: Stop reading too much, high polling shows nothing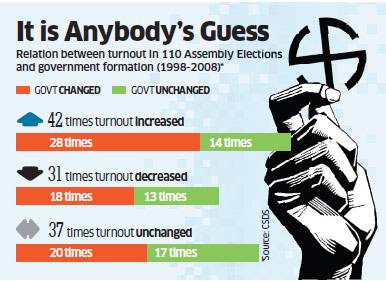 NEW DELHI: With voting over in 438 seats in seven phases of the nine-phase Lok Sabha polls 2014, the balloting percentage has not shown a distinct pattern. In some states' percentages have shown a trend similar to earlier patterns, while ups and downs in others have led to speculation on the nature of the mandate being handed out. Does higher voting percentage indicate an anti-incumbency sentiment as is the conventional wisdom or does it mean that voters are more aware and the process of voting has become less cumbersome than it used to be? There is no evidence to back any supposition related to high or low percentage of voting, said psephologist Sanjay Kumar at the Centre for the Study of Developing Societies (CSDS). "There is more noise than substance on the rise in voting percentages. For 2014, we expect polling to stabilise at 65% on an average, which is admittedly 8% higher than before, but states which normally show high turnouts likes Tamil Nadu and West Bengal have peaked and stabilised while, other states are showing results of initiatives to facilitate voting," he said. A study carried over 20 years by CSDS demonstrates this (see box). "In the period between 1998-2008, we studied polling patterns in 110 elections held in that period. In cases where incumbent governments were voted out, which is 66 elections out of these 110, the turnout was up in 28 cases, it declined in 18 cases and was the same in 20. Similarly, in cases where the government remained unchanged, which was in 44 cases out of 110, turnouts increased in 14 cases, decreased in 13 and remained unchanged in 17. What can you infer from that?" Kumar said. Dr Neeraja Gopal Jayal from the Centre for Law and Governance, JNU, concurs with this view holding the example of the recently concluded assembly polls in five states in December. During those polls a higher vote percentages in Delhi and Rajasthan, which resulted in the exit of an incumbent government, was matched by equally high percentages in Madhya Pradesh and Chattisgarh which voted back the old governments. The theory that people now do not give out "fractured verdicts" but decisively vote for one or the other does not apply equally everywhere, Javal said. "In UP the trend is certainly of giving a decisive mandate on one hand since 2007, and since there are more than two political forces fighting it out, it can be considered a trend. In states like Rajasthan where there are only two forces, verdict in favour of one or the other is normal. In Delhi in 2013, the AAP factor, a third force in Delhi threw up a fractured mandate, despite high polling," she added. So what can be inferred from polling percentages, if not the prospective verdict? Former chief election commissioner SY Quraishi is quite clear that the Election Commission's efforts at promoting high voter turnouts and interventions were solely repsonsibile for the popularity of voting. "Voter education was launched four years ago, and in 22 Assembly elections since then there have been record turnouts, in 17 states, women voters cast their ballots more than men, and around 35-38 million voters have been added every year," Quraishi said. Distribution of polling slips by the EC and the deployment of paramilitary have been seen as contributory factors, he said. That of course leaves analysts very little head room to speculate on the nature of the verdict being delivered over the last month. May 16th it will have to be.
---
Lok Sabha Elections: Unknown parties mushrooming in Gujarat during poll season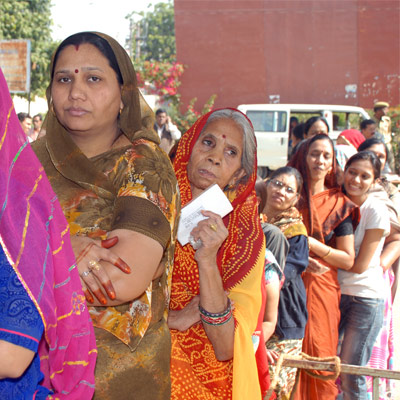 Armed with out-of-the box manifestos that promise abolition of income tax and unemployment allowance to educated youth, 48 Lok Sabha candidates of 21 lesser known parties have jumped in the poll fray in Gujarat.
Some of these parties include Apna Desh Party (ADP), Yuva Sarkar, National Youth Party (NYP), Adivasi Sena Party (ASP), Bhartiya National Janta Dal (BNJD), Bahujan Mukti Party (BMP), Bahujan Suraksha Dal (BSD), Bahujan Mukti Dal (BMD), Vishwa Hindu Sangathan (VHS), Loktantrik Samajwadi Party (LSP), Hindustan Nirman Dal (HND), Hindustan Janta Party (HJP), among others.
Among these 'lesser known' parties, BMP has shown huge confidence by fielding candidates on 13 Lok Sabha seats, followed by BNJD with 4 seats, VHS(3), ADP(3), HND(3), HJP(3), BSD(2). Other such parties have fielded one candidate each.
Each of these party has a unique, fascinating and 'out-of the box' manifesto to attract voters. For instance, complete abolition of Income Tax is one of the main agenda of BNJD candidates.
"BNJD is a 14-year-old party being run from Gandhinagar by our president VM Gajera. Our party's mission statement includes abolition of Income Tax, abolition of either toll tax or road tax, reduction in VAT, and reduction in electricity bills," party candidate from Mehsana Girish Dabhi said.
NYP also has a unique agenda. "We registered this party in 2008 and fought elections in Rajasthan and Delhi earlier.
Our prime motive is to give power to youngsters. India has 70% youngsters," state party president Prateek Chavelikar said.
"Big parties take all the work from their young party workers, but, hardly give ticket to them. Thus, we have pitted a college student, Piyush Patel, as our candidate against (veteran BJP leader) L K Advani in Gandhinagar," he said.
On a similar tune, Yuva Sarkar party has fielded their sole candidate from Surat.
"The party came into existence 11 months back and fought Assembly elections in Delhi. We want old politicians to retire at the age of 60 and give chance to youth. We also demand that reservation must be based on economic condition, not cast," Yuva Sarkar candidate from Surat, Kirit Vaasni said.
Besides, the South Gujarat-based Adivasi Sena Party (ASP) is determined to bring justice for tribals. Party president and founder Dr Pankaj Patel is also contesting from Valsad-ST seat.
"There is one more candidate fielded from Bardoli-ST seat by the party. I founded this party 8 years back to get justice for tribals, who are ignored by every government. We lost with close margin in previous Assembly election. But this time, I am confident that tribals will vote for us," said Patel, a qualified doctor who belongs to the tribal community.
---
Lok Sabha elections: Assam records 35% polling till noon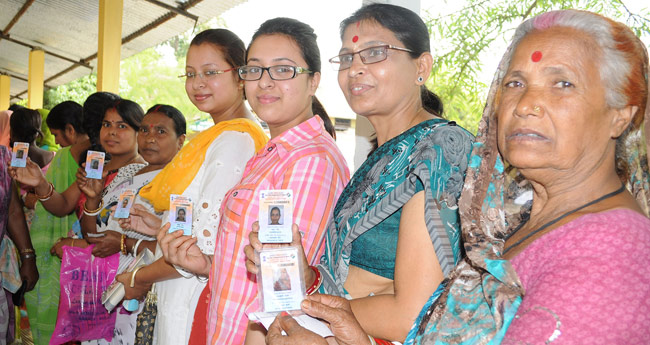 The first of the nine-phase polls off the mainstream combat zone, which covers five of 14 Lok Sabha seats in Assam and one of two in Tripura, saw brisk voting in the two northeastern states in the first few hours on Monday, officials said.
Woman holding her son inside a polling booth in Majuli, Assam In Assam, 35% of the 64,41,634 voters exercised their franchise till noon in five Lok Sabha constituencies of Assam where four persons clashed with CRPF personnel demanding that they be allowed to cast their vote first in Kaliabor constituency.
Voters are expected to exercise their franchise at 8,588 polling stations in Assam.
In Tripura, 41% of the 12,46,794 voters exercised their franchise till noon, amid complaints of malfunctioning of EVMs at some places.
Election office sources said 27% voting was registered in Tezpur, 45% in Jorhat, 32% in Lakhimpur, 38% in Dibrugarh and 30% in Koliabor during the first phase of elections in the state.
Security forces were deployed in adequate number in all the polling stations and no untoward incident was reported from any part of the poll-bound areas.
There were reports of EVMs malfunctioning in Assam's Dibrugarh, Kaliabor, Tezpur and Lakhimpur constituencies. The machines were later replaced and voting continued uninterrupted, the sources said.
Assam chief minister Tarun Gogoi, his wife as well as his son and Koliabor constituency Congress candidate Gaurav Gogoi cast their vote in Jorhat, while union minister and contestants Paban Singh Ghatowar and Ranee Narah also exercised their franchise in Dibrugarh and Lakhimpur constituencies, respectively.
Voters wait in line outside a polling station in Dibrugarh during Lok Sabha elections. (AFP photo) Talking to reporters after casting his vote, the CM asserted that the Congress would sweep the polls in the state winning more than ten seats.
There is "no Modi magic but Tarun Gogoi magic in Assam. Earlier, I had said we will win ten seats but now I am sure the Congress will get more than that", he said.
Former union minister and sitting MP Bijoy Krishna Handique, contesting as Congress nominee from Jorhat, also cast his vote with his family members.
The Congress, BJP, Trinamool Congress, AIUDF, AGP, AAP, SUCI, CPI(M), AIFB and SP are contesting in the five seats during the first phase of elections in the Congress-ruled state.
Among the 51 candidates are union ministers Ranee Narah and Paban Singh Ghatowar, sitting MP Bijoy Krishna Handique, CM Gogoi's son Gourav Gogoi and Bhupen Kumar Bora from the Congress. Congress rebel and Independent candidate Moni Kumar Subba is also in the fray.
For the BJP, its unit president Sorbananda Sonowal and Kamakhya Prasad Tasa are contesting, while AGP's nominees are Arun Kumar Sarma, Pradip Hazarika and Joseph Toppo.
For the first time in the northeast region and the third time in the country after Kashmir and Bihar, all polling booths have been declared smoking free.
---
Lok Sabha polls 2014: Every 4th contestant in UP is tainted; 'literate' Kerala fields maximum corrupt candidates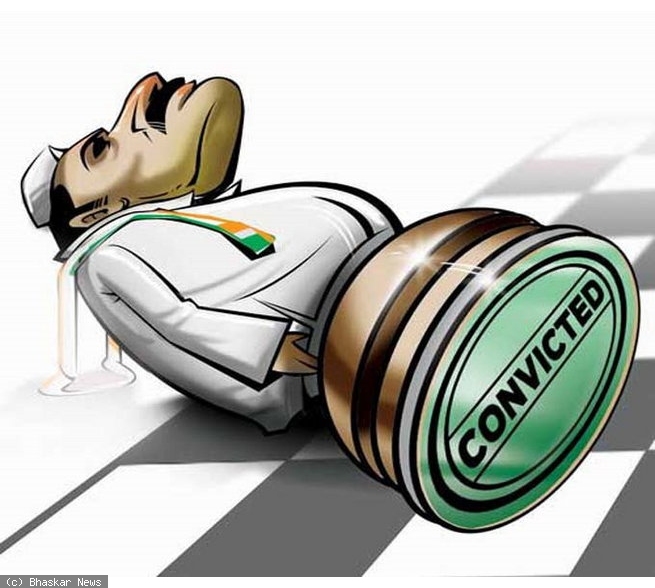 New Delhi: According to the survey figures provided by Association for Democratic Reforms, it is revealed that nearly 20 percent candidates contesting in the 3rd phase of Lok Sabha elections are tainted.

These candidates have also mentioned in the affidavit about the criminal cases against them. The survey which was done in 13 states reveals that Kerala has the most number of corrupt candidates in the nomination list.
According to the survey, every 4th candidate contesting from Uttar pradesh is also tainted. The list does not only consists of candidates from Bjp, Congress or SP but also from Aam Aadmi Party.
---
Lok Sabha polls: BJP fields Smriti Irani against Rahul Gandhi in Amethi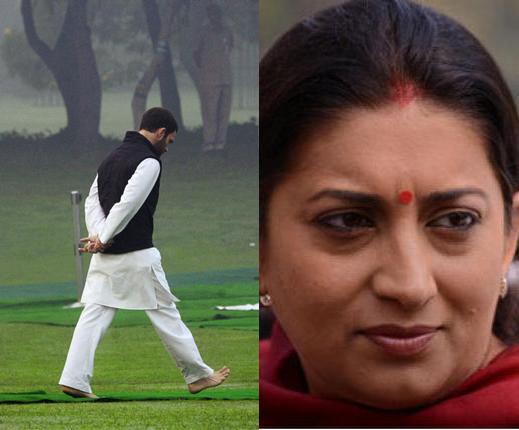 Ending suspense, BJP last night fielded actor-turned-politician Smriti Irani to take on Congress Vice-President Rahul Gandhi in Amethi.
It also nominated Supreme Court lawyer Ajay Aggarwal against Sonia Gandhi in Rae Bareli.
Earlier, there was speculation that the party may field Uma Bharti from Rae Bareli. Sources said Bharti was not keen to leave her Jhansi seat to contest from Rae Bareli and there was no consensus on making her contest from two seats.
The decision on Irani and Aggarwal was taken at a meeting of the party's Central Election Committee, where top BJP leaders Narendra Modi, L K Advani, Rajnath Singh and Arun Jaitley were present.
The party decided to field Bhairon Prasad Mishra from the Banda Lok Sabha seat in UP.
New Justice Party (NJP) President A C Shanmugam will contest from Vellore Parliamentary constituency in Tamil nadu on BJP's Lotus symbol, said BJP General Secretary J P Nadda.
The CEC also announced that its state general secretary Karuappa M Muruganantham will contest from the Thanjavur Lok Sabha seat.The party is also in advance talks with TDP for an alliance in Andhra Pradesh, but a decision on the issue would be taken by today, party sources said.
After the party announced her nomination, Irani said, "In the name of the 'family', the people of Amethi have been kept away from the fruits of development for too long. I think it is an extreme shame."She said that a change will brought about in the country under the leadership of Narendra Modi.
---
Parties in Delhi fail to impress voters from Northeast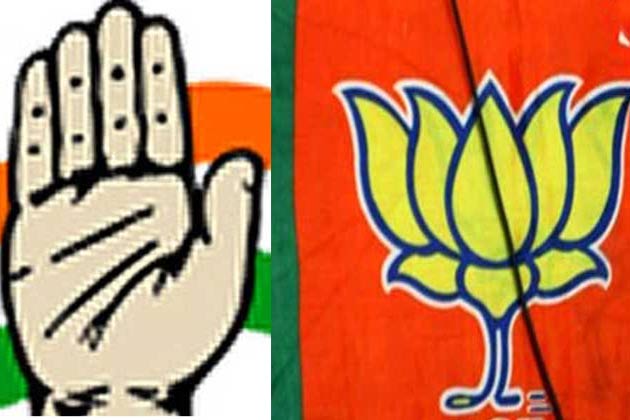 The As the campaign for Lok Sabha polls reaches a fever pitch for seven Lok Sabha seats, candidates are having a tough time wooing voters from the Northeast who feel almost all political parties have failed to address their "key" concerns.
People from the eight NE states of Assam, Nagaland, Manipur, Arunachal Pradesh, Meghalaya, Mizoram, Tripura and Sikkim, who have settled in New Delhi for better education and job opportunities, say it is time political parties took concrete steps to address their grievances concerning lack of adequate security and rising instances of racial abuse.
Though Delhi Election Commission said it does not have the figure of voters hailing from the Northeast in Delhi, NGO Manipur Women Gun Survivors Network puts the number at around five lakh.
A senior Delhi BJP leader said though the number of people from Northeast may not be very significant, they may matter in case of "tight fights".
Youngsters from Northeastern states say they have been facing racial abuse in various parts of the national capital and nothing has been done by political parties to ensure they can live in the city just like any other Indian citizen.
"I want my elected representative to make sure that people from the Northeast are treated as Indian citizens and we are not discriminated against because of our accent or features. Also, I would want my representative to bring up the anti- racial discrimination law in Parliament," says D Apao of Manipur.
Apao said political parties in Delhi have not addressed issues of racial discrimination faced by those from Northeast, primarily due to the lack of a robust electorate.
Last month, around 5,500 eligible voters hailing from Northeastern states registered themselves for voter identity cards in a drive jointly launched by the Delhi Election Commission and the North Eastern Council, the nodal agency for economic and social development of the region.
With the theme being 'inclusive voting', the drive was launched with an aim to register voters from sections which are sidelined, including those from the Northeast. "With the theme of inclusive voting, we had a special focus on adding to the voter list people from the Northeast. More than 5,500 girls and boys from Northeast applied in the recent drive to register themselves as voters for the upcoming Lok Sabha elections," Vijay Dev, Delhi's Chief Electoral Officer told PTI.
New voters can collect voter cards by April 4, he said. Asked about grievances of people from Northeast, DPCC Chief Spokesperson Mukesh Sharma said Congress party has been "vocal" in condemning cases of racial discrimination and was doing its best to help the community.
"If we come to power again, an anti-racial discrimination law will be on our agenda," said Sharma. Aam Aadmi Party's Nagendra Sharma said Arvind Kejriwal had expressed solidarity with the cause of Northeast people in Delhi following the death of Nido Tania, who hailed from Arunachal Pradesh.
"We believe Delhi belongs to everyone and there should be no alienation and our party will work towards this issue," Sharma said. Delhi BJP's North East coordinator Manas Deka said they would select some families in every constituency and make them work as links with Northeast people.
"So, in case of emergency or any aberration, NE people can contact these local families. Additionally, we will also press for implementation of an NE security cell in every major police station in Delhi," he said.
J Maivio, Vice President of the Naga Students Union in Delhi, says there was a need for greater interaction between the community and Resident Welfare Associations (RWAs) of various areas in Delhi. Political representatives of Northeast can play a key role in this regard, he added. "We are being discriminated against because people here do not know we belong to the country," says Maivio. He further called for leaders to ensure sensitisation of Delhi police personnel. In the aftermath of Tania's death in February this year, the city had seen a series of protests where students and activists demanded safer spaces for those hailing from NE.
Other issues that came to the fore included several cases of sexual harassment of young girls from the Northeast. Be it public transport, educational institutions or workplaces, Northeast women continue to feel threatened.
"The issue of safety applies to all women in Delhi and that would be a deciding factor. Additionally, for Northeastern women, we need an increase in the number of hostels for us to stay in. This will help make residential areas safer for us," says Sunny Tayeng, general secretary, women's division, Arunachal Students' Union Delhi.
In the aftermath of the Tania case, AICC Vice President Rahul Gandhi and former Delhi Chief Minister Arvind Kejriwal had joined the protesters and expressed solidarity with their cause.
People from the Northeast now hope that concrete measures will be introduced by the three major political parties -- BJP, Congress and AAP -- to address their concerns.
---
Press Release on Guna Candidate and 3 Gwalior Office Bearer Issue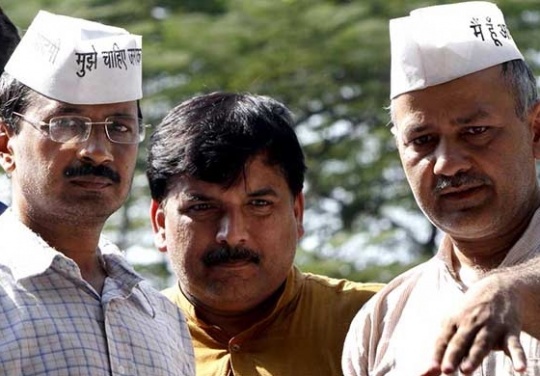 The Madhya Pradesh unit of the Aam Aadmi Party has requested the Election Commission to direct the concerned authorities to thoroughly and swiftly investigate the allegations levelled against the party's Lok Sabha candidate from Guna and three members of the district level committee of Gwalior. It has been brought to the notice of the party that a woman member has filed a police complaint alleging rape between December 2012 and January 2013. The party office bearers who met the district police authorities were informed that the complaint date is more than a year old.
Therefore, in accordance with the law, which states that any complaint which is more than three months old cannot be converted into an FIR without preliminary investigation, the AAP demands that the investigation be completed in 3 days. Since the allegation has been levelled after the candidate filed his nomination, the element of mischief cannot be ruled out and the party wants to get to the root of the issue. Some news reports have alleged that the complainant brought the issue to the notice of the party leadership. AAP categorically denies this. Such an issue was never brought to the notice of either the state or the national leadership.
---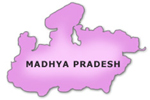 MADHYA PRADESH,
State of Politics

* Collision between ruling BJP, in power since Dec 2003, and Congress which has two faced two debacles in consecutive assembly polls
* Contest between BJP mascot Shivraj Singh Chouhan (CM since 2005) and Union MoS energy Jyotiraditya Scindia, Cong's state poll team head
* Chouhan took a knock with Congress going all out to pit Sunday's Ratangarh temple stampede that killed over 100 as Chouhan's biggest administrative failure. Questions raised over Chouhan's ambitious 'Mukhya Mantri Teerth Darshan Yojana' that helps the elderly go on pilgrimage at state expense
Election 2013

2008 Results Total Seats 230

Poll date

Seats

Electorate

BJP

Cong

Others

Nov 25

230

4.6cr

143

71

16

* Cong's 22-member poll campaign committee has kept out Digvijay Singh (MP's CM from 1993 to 2003). Old war-horses such as Kamal Nath, former Union minister Kantilal Bhuria and leader of Opposition Ajay Singh (Arjun Singh's son) given lesser heft
* Turf struggle : Digvijay battling to ensure the Scindia-Nath combo doesn't walk away with bulk of tickets. Several rising sons hopeful : Diggy's son 26-yr-old Jaivardhan and Kamal Nath's son Nakul. State Congress chief Kantilal Bhuria wants a ticket for his son Vikrant
* Scindia's name for CM in Rahul camp
* MP Cong leader Laxman Singh, Diggy's brother, gearing up to take on the CM in Sehore's Budhni, help by Chouhan
* In BJP, Modi-Chouhan tussle on. Modi to campaign for five days in MP last leg
* Modi-Chouhan rift went public when Chouhan asked BJP leaders to postpone announcing Modi's PM nomination till after MP polls as it'd make BJP's position difficult in 25 seats with sizeable Muslim population
* Advani supported Chouhan as PM candidate
* After Modi was made BJP's PM candidate, Advani shared stage with him first at a rally in MP. Modi touched a dismissive Advani's feet
---
Lok Sabha polls: Congress now fields Madhusudan Mistry against Narendra Modi in Vadodara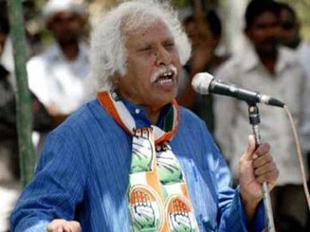 NEW DELHI/MUMBAI/AHMEDABAD: Congress is fielding senior leader and AICC general secretary Madhusudan Mistry against BJP prime ministerial candidate Narendra Modi from the Vadodara Lok Sabha seat after withdrawing its original candidate Narendra Ravat.
The move to pit a heavyweight candidate who's also a close Rahul Gandhi aide against Modi shows that the ruling party is raising its game to try and counter the BJP's key leader. It's also a sign that it will look for a suitably high-profile candidate to stand in Varanasi, the other Lok Sabha seat that Modi is contesting and in which the Aam Aadmi Party's Arvind Kejriwal will be vying for votes as well.
This strategy could also be aimed at trying to make sure that Modi will need to focus on both constituencies, perhaps to the detriment of his campaign elsewhere in the country, analysts said. Mistry is a Gujarati and wellknown as a vocal critic of Modi.
The AICC has also fielded former Maharashtra chief minister Ashok Chavan from Nanded despite his name figuring in the Adarsh housing scam, which has given rise to criticism. Meanwhile, Youth Congress leader and Lok Sabha member Ranveet Singh Bittu has been shifted to the Ludhiana seat in place of union information and broadcasting minister Manish Tewari, who is said to be unwell. Senior Congress leader Digvijaya Singh has already said he's ready to fight Modi from Varanasi.
Congress leaders have already called upon the SP and BSP to ensure a united fight against Modi from Varanasi but the party is yet to name a candidate for the seat.
AICC named Mistry as its candidate in Vadodara after the party leadership felt Ravat wouldn't be a strong enough opponent to Modi. Incidentally, Ravat had become the Congress candidate from Vadodara after he won a "party primary". "I am happy to fight against Modi and I am confident of a victory," Mistry said soon after his candidature was announced.
Before the AICC announcement, Ravat issued a statement in Vadodara announcing his desire to withdraw."Now that the Narendra Modi has chosen to contest from here, I request the Congress leadership to withdraw me from the contest and nominate an appropriate candidate to contest against Modi," he said.
---
In Nagpur, pay Rs 10,000 for dinner with Kejriwal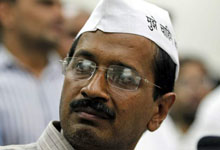 Nagpur: The Aam Aadmi Party (AAP) is organising a fund-raising dinner with its national president Arvind Kejriwal as host at a price of Rs 10,000 per person on March 13 at a luxury hotel in Sadar in Nagpur.
The party is getting response for the event and the number of those likely to attend it could be between 150 and 200, AAP's media coordinator and fund-raising dinner organiser Girish Nandgaonkar and spokesperson Prajakta Atul said. The registrations are going on and Nagpur Lok Sabha candidate Anjali Damania will also be present at the dinner.
"The dinner is basically for our donors and we will put up all names on our AAP Nagpur website," a release from AAP said in Nagpur on Monday. Kejriwal will be arriving in the city on March 13 on a two-day tour of the region.
The former Delhi chief minister will be touring Chandrapur and Bhandara Lok Sabha constituencies and attend the dinner the same night with donors. On March 14, the AAP leader will be joining a road show in the city, party sources said.
---
BJP clarifies its position on MNS to Shiv Sena after warning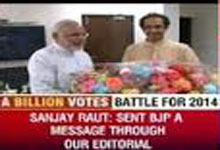 New Delhi: All is well between the BJP and the Shiv Sena, it seems. Just days after BJP leader Nitin Gadkari met Raj Thackeray, the chief of MNS - Shiv Sena's rival - both BJP and Sena scrambled to portray a united front.
"I met Uddhavji at Matoshree. I conveyed to him that the Sena was a natural and trusted ally of the BJP," Maharashtra BJP chief Devendra Fadnavis said.
"There is no issue between the BJP and the Shiv Sena. We had sent a message to the BJP through our editorial. The BJP has now clarified that we are their trusted ally," Shiv Sena leader Sanjay Raut said.
The message Raut was referring to was in fact, a warning, sources said. A warning to the BJP that the Sena will contest from all 48 seats if it did not clarify its position on the MNS.
The BJP was quick to calm the ruffled feathers. It said its cadres will work only for Mahayuti - the alliance between BJP, Sena, RPI and other regional parties.
Not only that, BJP will also send its Maharashtra in-charge Rajiv Pratap Rudy to Mumbai on Tuesday to meet Uddhav. The Sena had earlier blamed the MNS of trying to split their alliance.
"The efforts of some to break the alliance and split the Hindu vote has gone in vain. There were differences at times as well, but the alliance survived all that," Shiv Sena leader Rahul Narvekar said.
"We are looking forward to the elections and what happened before is being put behind us. We will be contesting the elections with the BJP," he added.
---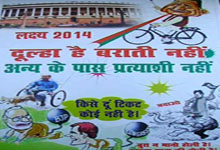 Snapshot: SP posters mock other parties for not having candidates
Ahead of the Lok Sabha elections, the parties are trying means to woo voters and hit out at each other.
The Samajwadi Party posters put up across Allahabad are taking a dig at other parties for not having enough candidates for the upcoming elections.
---
Rebel RJD leader Ram Kripal Yadav meets BJP chief Rajnath Singh
New Delhi: Even as former Rashtriya Janata Dal (RJD) leader Ram Kripal Yadav hinted that he may soon join the Bharatiya Janata Party (BJP), the party put up a brave face saying his exit won't impact the party.
"RJD is a strong party. Ram Kripal Yadav's exit won't impact our party," Rabri Devi, wife of party chief Lalu Prasad, said. The rebel RJD leader reportedly met BJP chief Rajnath Singh on Tuesday.
"I met Rajnath Singh at the airport. I will tell you the details of the meeting later," Yadav, seemingly in a hurry, said.
The RJD had made attempts to mollify the embittered leader, with Lalu's daughter Misa Bharati reaching out to him. All attempts failed, however, and Kripal Yadav announced that he will fight elections against Misa from the Pataliputra seat in Bihar.
Lalu has not commented so far.
---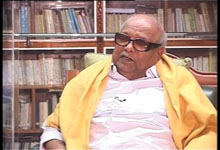 DMK releases poll manifesto, proposes abolition of death sentence
Chennai: Abolition of death sentence, statehood to Puducherry, implementation of Sethusamudhram project and making Tamil the local official language are some of the promises made by the Dravida Munnettra Kazhagam (DMK) in its Lok Sabha election manifesto which was released on Tuesday in Chennai.
The M Karunanidhi-led DMK has been opposed to the death sentence to the killers of former prime minister Rajiv Gandhi. The DMK has also been backing the demand for the killers to be released from jail.
The DMK has also said that it is against FDI in retail and education. The manifesto also talks about the Tamils in Sri Lanka. The party will urge India to take immediate action for conducting a referendum among Northern and eastern province Tamils. On being asked as to who the DMK will project as PM candidate among Congress Vice President Rahul Gandhi and BJP PM candidate Narendra Modi, DMK chief Karunanidhi said, "Neither of them."
DMK chief Karunanidhi has also said that the party is not looking at any pre-poll alliances.
On Monday, the DMK had released its first list of candidates, fielding 2G accused A Raja from his current constituency Nilgiris and Dayanidhi Maran from Central Chennai.
A Raja has been defiant, saying that there is no evidence against him and that he is confident of doing well in the elections. "Yes, it is true that the 2g trial is still going on. Have you come out with any concrete evidence against me? It has been admitted by the CBI that Raja did not have any disproportionate assets," A Raja said.
"The finance secretary came, deposed before court saying there was this much exchequer loss. The trial is going on and I have full faith for the elections," Raja added.
---
2G trial on, but confident of doing well in elections, says A Raja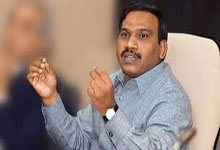 Chennai: 2G scam accused A Raja, who has has been given a Lok Sabha ticket by the DMK, remains defiant. A Raja said that there is no evidence against him and that he is confident of doing well in the elections.
"Yes, it is true that the 2g trial is still going on. Have you come out with any concrete evidence against me? It has been admitted by the CBI that Raja did not have any disproportionate assets," A Raja said.
"The finance secretary came, deposed before court saying there was this much exchequer loss. The trial is going on and I have full faith for the elections," Raja added.
The DMK has decided to field former telecom minister and 2G scam accused A Raja and Dayanidhi Maran in Lok Sabha elections. Raja will contest from his current constituency Nilgiris, a reserved seat for the Scheduled Castes (SCs), while Maran will contest from Central Chennai.
Karunanidhi exuded confidence in his leaders and rubbish allegations of corruption against them. "Already the case is shaky. There is no concrete evidence against Raja and others," he said.
---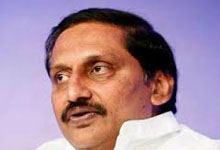 Won't ally with anyone responsible for AP's division: Ex-CM Kiran Reddy
Former Andhra Pradesh chief minister Kiran Kumar Reddy launched his party on Monday.
Jai Samaikyandhra Party will work for a united Andhra Pradesh, Reddy declared.
---