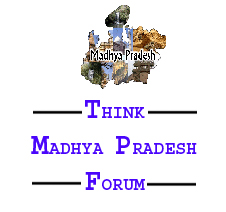 Think - Tank for Pragmatic, Peaceful Prosperous
Madhya Pradesh
A

INITIATIVE
---
---
Vision/Objectives:
• To act as the influential Think –tank and Watchdog of Madhya Pradesh leading to the Pragmatic , Prosperous , and Peaceful MP .
• Better image of MP among Indian states and within the state in the eyes of General Public , Professionals , Entrepreneurs , Tourists & students community .
• To keep watch on government Budget / Public property & resources to ensure proper utilization of the budget & resources for true development & prosperity .
• To Collaborate with likeminded Professional , Social and Corporate bodies to achieve the objectives by jointly organising Research , Special studies , Seminars ,workshops and Training programs.
• Any activity leading to improvement of standard of living , Education , Health , Urban and rural infrastructure , Business and Entrepreneurship , Tourism , Governance and Transparency .
• To think and ACT as the Brand Ambassadors of Madhya Pradesh .

Achieving the vision / Objectives :
Our all members , Patrons and Advisors will provide their experience and expertise /resources towards achieving the objectives through advocacy / Research / Special studies / Seminars and workshops. All activities will be implemented through various committees .

Financing the activities of the Forum :
Contributions from our Members , Partners , and donations / sponsorships from corporate and government sectors.

Membership
Membership is open to a matured individual above 25 years / or corporate body engaged in any legal activity / job/profession / business and would like to contribute his /her experience and expertise /resources for achieving the objectives of the forum.
There is no membership fee.
WE INVITE- THINK TANK MEMBERS
All those who would like to contribute their Experience, Expertise or ideas to turn MADHYA PRADESH into No. 1 state - modern , corruption-free & prosperity for all.

Readers who send their valuable suggestions would be invited to attend the Activities / Events organised by the Forum and express their opinion.
SMS "TMPF" to 09893096880 FOR MEMBERSHIP
with Name, Address and Email.
For SPONSORSHIP OPPORTUNITIES
Please Send Email or SMS
Please write to :- thinkmadhyapradesh@gmail.com,
editormetromirror@gmail.com
An Initiative by
Brainpower Media Group
Publishing * Public Relations * Education & Training
Consulting for Media * IT * Brand-Activation.

Online Media Partner
Honorary Knowledge Partners
MindsOf India
__________.com
Advertising/Communication PROSPERITY
COMMUNICATIONS
Information Technology PSR I

NFO

T

ECH

Management

HWA Consulting