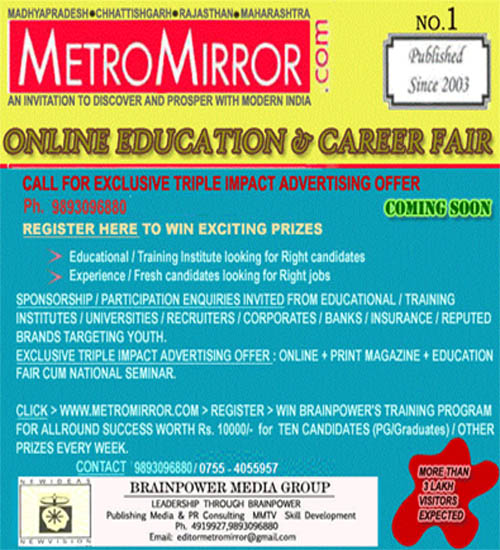 CAMPUS MIRROR
JOB MIRROR
---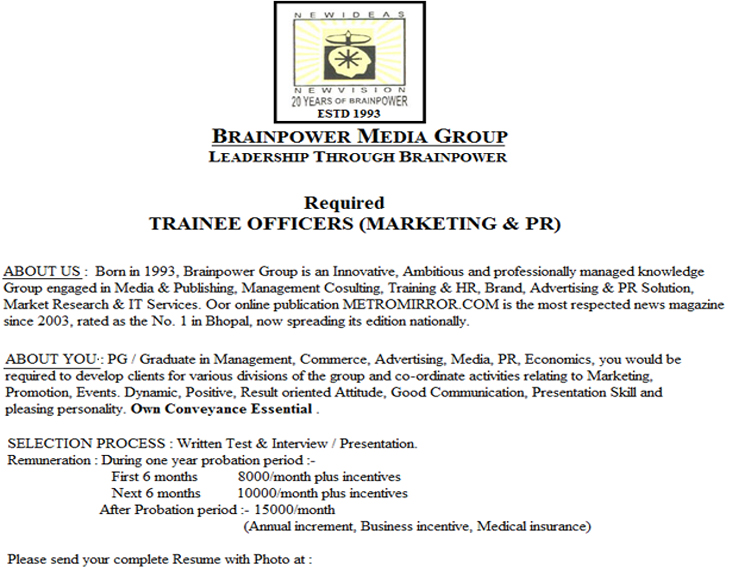 BrainPower Media India Pvt. Ltd.- Public Complaints Cell Admin. Office : Bungalow -35 , Navdoorsanchar Colony,Palash Parisar, E-8 gulmohar Bhopal-462039. Phone - 0755-4942880,0755-4919927, Mob-98930-96880 Email - editormetromirror@gmail.com, metromirror@gmail.com
---

PUBLIC RELATION OFFICER
(ALL STATE CAPITALS)
(MALE/FEMALE)
You will work as the eyes and ears of the organisation, build relationship with Government, Corporate, Media, NGO, various National and International Institutions for collaboration. Your another key role would be to generate financial resources through sponsorships of the events, and Institutions/corporate membership. You should be dynamic lady/gentleman/graduate with good communication, presentation skills and pleasing personality.
---
Please send your C.V (with photo) to forwardindiaforum@gmail.com cc: shsbhopal@gmail.com
---
SECRETARY - PRO TO EDITOR
Dynamic , Ambitious , Highly dedicated , Positive Attitude Graduate (M/F) 30 -40 , Pleasing Personality , Selfmotivated , Systematic , good Spoken / Written English , Public Relations , Coordination , Multitasking , Computer skills. Responsibilities include meeting Senior Govt. / Corporate officers to discuss exclusive Proposals. Send Resume , Photo , References , write up on Skills , Attitude. EMAIL : shsbhopal@gmail.com , SMS : 9893096880
---
WEBDEVELOPMENT / DESIGN / MOBILE APPLICATION TRAINERS
MCA / BCA with thorough experience of development and Training using latest Technology tools. Working Hours 3 to 8. Brainpower Group , Bungalow -35 , Navdoorsanchar Colony,Palash Parisar, E-8 gulmohar Bhopal-462039.. (Above Kothari Diagnostic). EMAIL: bmiplindia@gmail.com , sms : 9893096880
---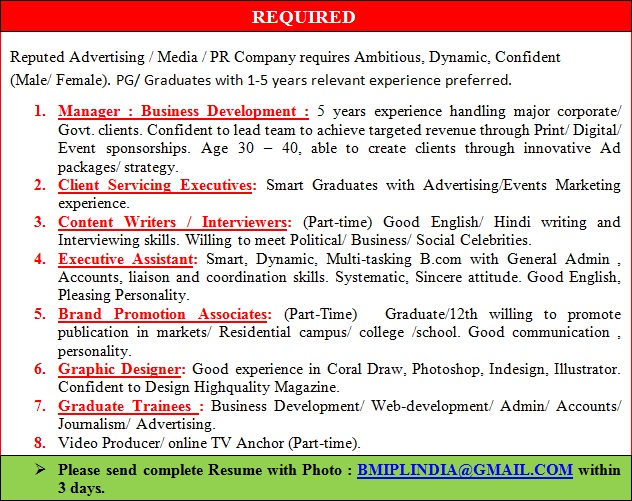 VALUE FOR MONEY APPOINTMENTS ADVERTISING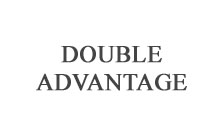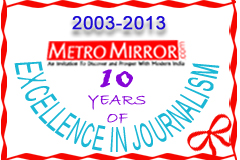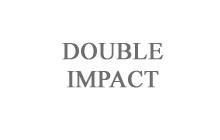 Ad tie-up in Metromirror.com Appointments Free Ad in Any other Media
Published Every Thursday

Published Every Thursday

Annual Amount

Monthly Amount

Annual Amount

Monthly Amount

3,00,000/-

60,000/-

2,70,000/-

45,000/-
- Minimum 50,000/- Ad amount to be used every month under Annual contract.
- Single Ad Should be minimum Rs. 15,000/- under monthly contract.
- Ad will be released only after clearance of the cheque.
- Ad will be published under METROMIRROR.COM - Appointments | Move-UP
- Appointments | Walk-in Interviews in both online and Print Media.
---
---
रिपोर्टर/सिटीज़न रिपोर्टर बनें (पार्ट-टाइम)
हमें ऐसे उत्साही स्नातक की आवश्यकता हैं जो पढ़ने लिखने, बातचीत करने और शहर मे हो रही विभिन्न गतिविधियों पर नज़र रखते हो, और रोज शहर के विभिन्न व्यक्तियों / अधिकारियों से मिलकर रिपोर्ट दे सके | आपके पास अपना स्कूटर / बाईक और डिजिटल केमरा होना चाहिय| अनुभवी व्यक्तियों को प्राथमिकता दी जाएगी| महिला/ पुरुष (25 से 50 वर्ष) आवेदन और फोटो सहित मिलें|
JOIN AS REPORTER | CITIZEN REPORTER
We need enthusiastic, Dynamic Graduates who are good in English/Hindi communication, Actively oberve city activities/events and interested to meet various people/officers of the city,and can prepare the report.You must have own vehicle and digital camera. Experienced persons will be preferred.
Male/Female(25-50 years) should submit Application with photo or meet after apointment on phone: 9893096880(time 5:00 to 7:00PM)

BrainPower Media India Pvt. Ltd.- Public Complaints Cell
Admin. Office : Bungalow -35 , Navdoorsanchar Colony,Palash Parisar, E-8 gulmohar Bhopal-462039.
Phone - 0755-4942880,0755-4919927, Mob-98930-96880
Email - editormetromirror@gmail.com, metromirror@gmail.com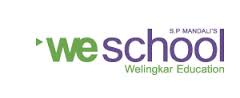 JUST LIKE IN MUSIC,
MANAGEMENT TOO NEEDS A MASTER
Welingkar's vision is "To nurture thought leaders and practioners through inventive education". This requires maintaining a fine balance like the maestro heading an orchestra, fine tuning individual excellence to produce collective creativity, delivering masterpieces. Welingkar along its joumey to becoming an institute of excellence globally is always looking for professionals with this rare ability.
GENERAL MANAGER - ACCREDITATION (MUMBAI)
Accreditation is key to scaling the Institutes practices and processes while continuing to maintain its uniqueness. We are looking tor a General Manager - Accreditation whose role broadly involves overseeing the institute accreditation goals. It involves, planning, aligning and executing all activities and processes required for international and national accreditations. The position requires you to take initiative, nurture and lead associated persons and teams, work with internal and external accreditations. The position pequires you to take initiative, nurture and lead associated persons and teams, work with internal and external experts. The positon will require mature handling of various categories of stakeholders and working on tight timeframes.
Excellent communication skills and ability to use Informational technology effectively is a pre-requisite. Previous experience in leading or managing accreditation processes at management institutes, connect with the accreditation community would be valued.

Qualificatons:
Doctorate / Post Graduate with 10-15 years of sound exprience in teaching/industry/research/quality assurance or a fellowship of an acclaimed Institute.
Application must upload their resume on 'Work with us' link in the Faculty section at www.welingkar.org; or courier the resume with the position and campus applied for super scribed on the envelope and send it to:

Prin. L.N. Welingkar institute of Management Development & Research
L Napoo Road, Matunga(C.Rly), Mumbai 400 019. For more details contact: Tel.: 022-24198300;
Mr. Pradeep Kumar Remanan, Extn.- 8282; Mr. Mohan Vast Exth -8283
---
PART-TIME ASSIGNMENT

BE OUR BRAND AMBASSADOR ? WORK WITH US AS CITIZEN REPORTER / READER RELATIONS OFFICER ?
Invites Graduate working / Retied persons / College students / Teachers / Housewives with following skills & Attitude

1. You would be required to meet & interview Jhuggi dwellers to officers, Entrepreneurs, Social Activists & celebrities of the city.

2. Report the activities happening in your area with photograph.

3. Meet & interact with our readers / others in your area about their problems and complaints with the Public authorities / govt. / civic departments

4. Coordinate Educational, Social awareness, Cultural activities & contests.

5. Should be able to spare 2-3 hours daily. Suitable honorarium will be payable per month.



Please Send us your details with photo to:

Public Relations Officer

Bungalow -35 , Navdoorsanchar Colony,Palash Parisar, E-8 gulmohar Bhopal-462039..
Ph. 0755-4942880,0755-4919927, Mob-98930-96880
Email : editormetromirror@gmail.com


APPOINTMENT

Reputed Media / Advertising / Public Relations company Requires Self-motivated, Versatile, Result-oriented candidates with good communication skills, pleasing personality, below 35 years :

A. Business Development : Level : Head / Manager / Executives, 1-7 years experience : services / concept Marketing .

B. Public Relations Officer : Should be able to work as the Eyes, Ears & Mouth of the group, meet top officers for building image, discuss tie-up proposals. 2 years relevant experience.

C. Junior Trainee Executives : ( Marketing / Administration / Accounts / IT-web Technology / Public Relations / customer care / Telemarketing ) Bright Graduates willing to learn on the job, Positive Attitude



Please apply with complete CV & Photo ( mention post in subject line ) to :

BMIPLINDIA@GMAIL.COM , VISIT WWW.METROMIRROR.COM / Appointments.

Invitation to write in English / Hindi (Freelance)

We invite all to write on any area of your interest from Lifestyle, Politics & Politicians, Business, Management, Travel, Films & TV, Career & Success, Campus, Investigation, Women & Home, Fashion & Trends, Health & Beauty, to Property, Personal Finance & Government working.

1. All articles / special assignments should be with relevant photographs and interactions / opinions with the relevant authorities and cross – section of the society.

2. Please get in touch with the Editor about your story / idea / article / special assignments / interview to discuss about the specific requirements

3. All assignments will receive suitable remuneration from Rs. 200/- to 1000/- depending upon the assignments.



Contact :

editormetromirror@gmail.com, Cell: 9893096880


Be our Reporter/Citizen Reporter (Freelance)

We invite Professionals, Professors, Teachers, Retired, Students & Housewives who always keep their eyes & ears open as to what's happening in your city: Political meet, Business conference, Cultural programme, Celebrity visit, Campus activities, Civic problems of the city or simply anything that is NEWS for our readers.

1. You would be required to represent us and report us on a regular basis by devoting 2 – 3 hours daily. Written / Spoken English / Hindi is essential.

2. Suitable remuneration per month will be paid depending upon your Skills, Attitude and the ability to report & write as per requirement.



Please Submit Resume to--

Contact :editormetromirror@gmail.com, Cell: 9893096880

R E Q U I R E D

English/Hindi NewsMagazines Launching soon by reputed group invites talented candidates looking for right opportunity and growth.

1.Assistant Editor :
5-10 yrs Exp., versatile personality, below 40 yrs.

2.Senior Reporters/Sub Editors :
3-5 yrs exp., below 35 yrs.

3.Freelance journalists/Writer/Interviewers :
Caliber and confidence to complete the special story/Feature as per requirements & in time.

4.Trainee Journalists :
PG/Graduates with good command over English/Hindi,G.K and determined to make career in journalism.

5.Public Relation Officers :
Confident to plan,execute and coordinate various image management activities, events sponsorship and liaison with corporates/Govt./Institute/Clubs, 2-3 yrs exp. below 35 yrs.

6.Graphic Designer :
Good at CoralDraw, Photoshop, illustrator Dreamweaver,QuarkExpress.

7.10+2/Undergraduates Trainees for pomotions :

Please SUBMIT RESUME WITH PHOTO,PRESENT/EXPECTED SALARY TO

shsbhopal@gmail.com(Mention Post/Date of Birth/Mobile in Subject line)


R E Q U I R E D

Invited Versatile Dynamic(M/F) with Right Attitude,Skills,Commitment to grow with the organization.Good Communication,Computer Skills ,Presentable Personality and strong Belief in results are essential for all.

A.Advertising/Event Marketing
1.Assistant Manager(Corporate)
Exp:3 to 5 years Age:Below 35
2.Executives/Trainee Executives
Exp:0 to 2 years Age:Below 26
3. Advertising Sales Consultants

B.EDITORIAL
1.SubEditor/Reporters/Interviewers
2.Exclusive Cover Story/Feature/ Column Writers.

C.TRAINERS/FACULTY/VISITING PROFESSIONALS.
1.Journalism(Print/TV/Internet)
2.Advertising/Public Relation
3.Newsreading/Anchoring
4.English Comm. & Soft Skills
5.Television Production
6. Web Design &Development.
7.Media/Event Management
8.Graphic Design & Multimedia

D.OTHERS
1.P.R.O(F)Age:Below 30
2.Graduates/10+2 for Survey/ Promotions/Advertising
3.Liaison Officer(Corporates)
4. Anchor/Videographer

Please SUBMIT RESUME AT E-mail: bmiplindia@gmail.com (Please mention Post, Date of Birth & mobile no. in the subject line.)

HWA-HR
Bungalow -35 , Navdoorsanchar Colony,Palash Parisar, E-8 gulmohar Bhopal-462039 &
36/3 Greencity,E-8 Gulmohar, BHOPAL-462039.