Pratap Bose, Mandeep Malhotra & 2 others launch advertising conglomerate 'The Social Street'
Advertising honcho and ex Chief Operating Officer of DDB Mudra, Pratap Bose, Outdoor and Experiential guru Mandeep Malhotra, Arjun Reddy an entrepreneur who owns and runs a diversified portfolio of businesses, and Pradeep Uppalapati, who was a Senior Director and India Lead for Global Corporate Development Team at Accenture, team up to launch India's maiden advertising conglomerate 'The Social Street'.
Positioned as a digitally driven agency, The Social Street embraces the best in technology processes and systems, across its service offerings which include Branded Content & Entertainment, Shopper Marketing, Media, Out-of-home, Retail, Sport Marketing, Events & Promotions, Rural Marketing, Trade Marketing and Youth Marketing, with operations in Mumbai, Delhi and Bangalore.
The conglomerate will add Advertising, Digital and Social to its offerings by the end of the financial year with more offices spread out across the country.
The name 'The Social Street' springs from the thought that every brand's story starts on the street. They are inspired by the lives of consumers. They are born on the crossroads, where the lives of consumers meet the purpose of the brand.
In today's world that thrives on co-creation, two of advertising's most sought after names - Josy Paul, Chairman & CCO, BBDO India and Bobby Pawar, Director & CCO, Publicis South Asia came in to help with the name and the brand identity respectively, of The Social Street.
On the launch of The Social Street, Pratap Bose, Managing Director and Chairman said, "Everybody today wants to start something they can call their own. Something they can create from scratch. And thankfully for me, this dream has come true. It's been a year of hard work and patience, but the fruits of it have started to pay off. This wouldn't have been possible without Mandeep, Arjun, Pradeep and all the employees who have put their faith and trust in me.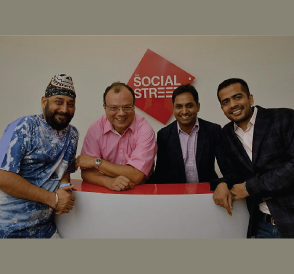 I would also like to thank Josy and Bobby especially, for helping out in their own affectionate way. A big thank you to all my friends in the media, advertising and marketing fraternities who have helped and provided me invaluable guidance.
Our aim at The Social Street is to find, tell and amplify the stories that are inspired by the lives of consumers and intersect them with brands. We are here to connect the streets that make brands social. And nobody will be able to navigate these streets as well as we can. Here's to a crazy ride with The Social Street."
Mandeep Malhotra said, "I am very excited and am looking forward to being a part of this unique agency and hope to build The Social Street into one of the hottest agencies in the years to come. ''
Said Pradeep Uppalapati, "Social Street is an agency that is capable of addressing the entire suite of client marketing requirements. It is all about latest technologies and processes to offer our clients nothing but the best. Our strong and diverse team is fully geared up with fresh and innovative ideas to serve our clients. I am really looking forward and excited to be working with Pratap and the team. This will be one of the most exciting journeys of my professional career so far."
Arjun Reddy said, " I am personally very excited about this venture and looking forward to the exciting times ahead of all of us. I am very confident that we will be creating immense value to our clients in this space."